5-axis CNC machines are industrial units designed for manufacturing complex mechanical parts. The 5-axis motion can achieve ultimate precision that their older siblings (3-axis and 4-axis) can't. Not only precision, but they're also superior in terms of speed.
However, such machines require a substantial investment. Therefore, you need to go the extra mile when it comes to researching and prospecting.
After extensive research and asking CNC machining experts, I compiled the best units available for you to purchase.
In this article, I list 5 options you should consider for your project. These are rated highly in the CNC machining space for both speed and accuracy.
What are 5-Axis CNC Machines?
Before looking at the available options, it's better to get clarity on what exactly 5-axis CNC machines are and how they operate.
A 5-axis CNC machine has two more rotational axes in addition to the typical X, Y, and Z axes of the 3-axis CNC machine. Hence, it's called a 5-axis machine.
If you've seen a 4-axis machine in operation, you should know the A-axis. It rotates along the X-axis. The other two axes are the B-axis and C-axis, which alternate along the Y-axis and Z-axis.
The 5-axis CNC machine can have any two of the three additional axes, depending on the configuration. As you'll see later, there are different types of 5-axis CNC machines, each intended for specific purposes.
Related: Best Laser Engraving Machine: Top 10 Versatile Engravers
What is 5-axis Machine Used For?
5-axis machines are not the typical CNC machines you find at home. These are used for specialized tasks requiring intricate designs and high precision. It can work on both milling and tuning, which opens up the possibilities for production. You'll find 5-axis machines in the aerospace, medical technology, automotive, military, and architecture industries.
Here are a few things 5-axis machines are used for making:
Turbine and compressor blades

Submarine parts

High-performance engine parts

Energy equipment

Crowns and bridges

Hydraulics components
Related: Best 3D Laser Engraving Machine in 2023: An Extensive Guide
What Are the Different Types of 5-axis Machines?
5-axis machines are sophisticated units employed for particular types of jobs. Thus, there are several types of 5-axis CNC machines. While all of them more or less follow the same mechanism, there's a significant difference in the movement of the rotary axes. That is where the rotational axes are placed. And this is what you should know when purchasing a 5-axis CNC unit.
In general, there are four types of 5-axis machines. These are:
Rotary table + pivoting spindle head
In this type of 5-axis CNC machine, a B-axis rotary table is placed right below the workpiece. This rotates 360 degrees and can feed through the cut. Along with that, an A-axis pivot feeds the spindle head. There are other intricate components as well. This results in more axes of positioning.
In this type, the main table is extra large, which enables the A-axis unit to be positioned in different locations. This increases flexibility and precision. Operators can remove the A-axis unit to make more room. And when the A-axis unit isn't in place, double rotary table units can still cut large parts since there's no enclosure.
Double pivot spindle table
This type of 5-axis CNC machine has two pivots at the spindle head. These are the C-axis and B-axis pivots. It enables the workers to increase the rotary axis rigidity level. The double-pivot spindle table units are often employed for non-rounded parts. But they can be used for rounded parts as well.
Rotary table + table trunnion
This type of 5-axis CNC machine is similar to the double rotary table machines. They have two pivots placed beneath the workpiece with nothing on the spindle head. There's a trunnion axis which is referred to as the B-axis. Compared to others, this type is smaller and often employed for smaller, inexpensive parts.
Besides the above, manufacturers often come up with different axes combinations to create other types of 5-axis CNC machines. You should know that one type may or may not perform the task of the other 5-axis machine type. So always select a type as per the task at hand.
Related: Best Laser Engraving Machine for Metal in 2023
How Much is a 5-axis CNC?
5-axis CNC machines are industrial units. Hence, the cost is on the higher side. On average, the 5-axis machines cost $120,000. This can go upwards of $200,000 for specific models. You should always seek a quote before buying 5-axis machines and negotiate.
Best 5-Axis CNC Machines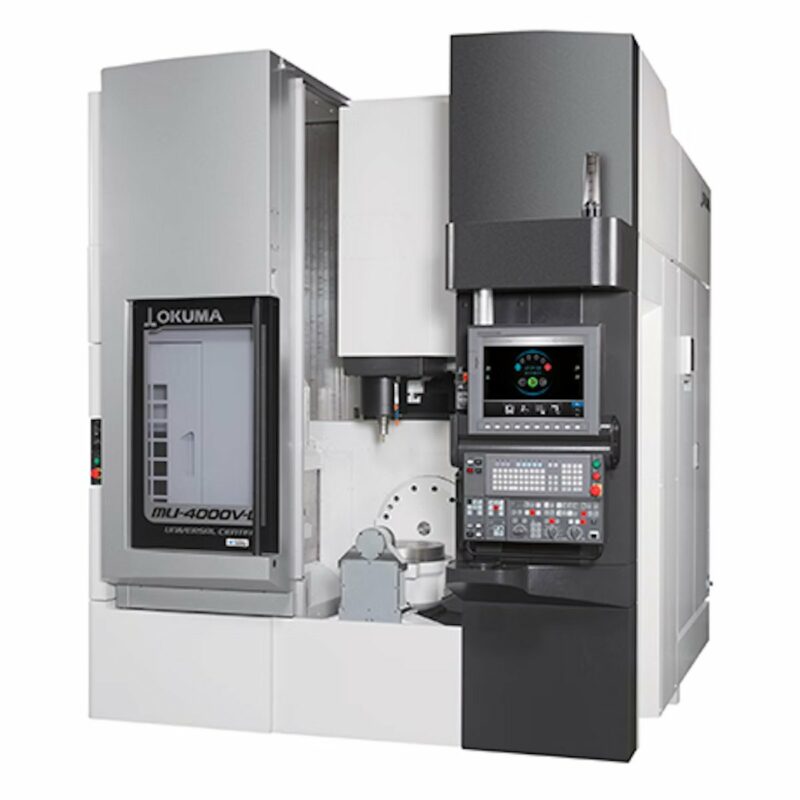 Specifications
Brand – Okuma

Weight – 21,385 lbs

Spindle taper – CAT-40

Work support – Table

Spindle speed – 15,000 rpm, 20,000 rpm, 25,000 rpm
This 5-axis vertical machining center (VMC) is an all-around machine with many machined portions. It is known in the industry for its outstanding surface quality and dimensional accuracy, which makes it a must-have for any industrial manufacturing unit of aerospace or medical appliances.
The MU-4000V has one of the most significant work envelopes in its category. So you have the flexibility to work on a variety of workpieces. And that too at a minimal footprint.
As far as design is concerned, it follows a double-column design. This makes it highly accurate and grants full 5-axis functionalities. At the same time, it makes the working area easy to access, thus reducing the burden on the operator.
The unit incorporates the advanced simultaneous control system for 5-axis CNC machines, OSP-P300. It enhances the functionalities. Additionally, you can purchase a high-speed motor with specific taper spindles. You also have the option to turn the mode on the C-axis table, which would further add processing capability.
The MU-4000V was named one of the best 5-axis CNC machines by Nikkan Kogyo Shimbun's Business & Tech Daily News in 2015. And since then, it has maintained a solid reputation in the CNC space.
With the Okuma brand and reliable customer support, you can surely invest in the MU-4000V as your first 5-axis CNC machine.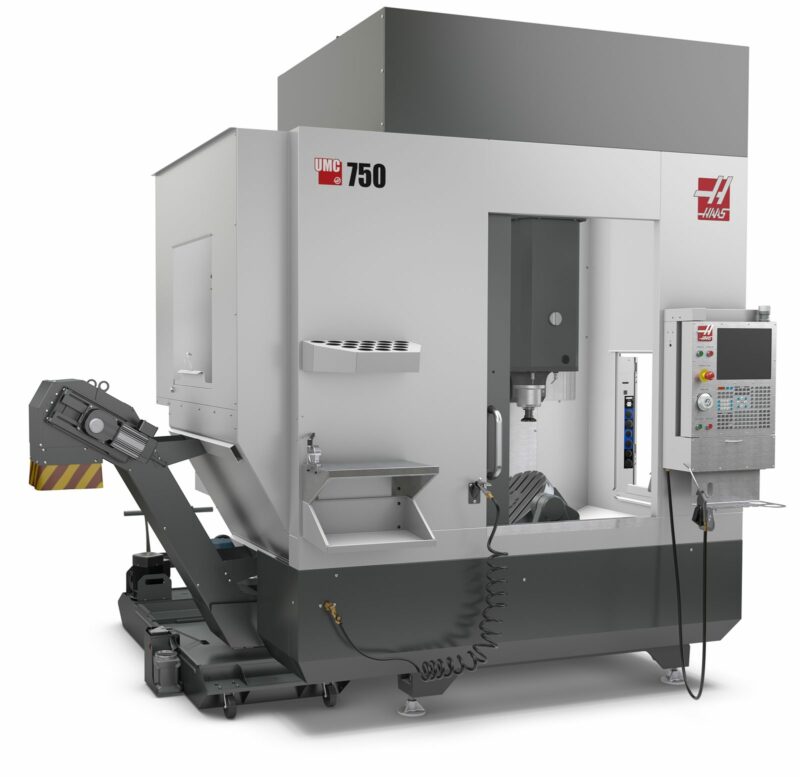 Specifications
Brand – Haas

Weight – 19,100 lbs

Spindle taper – CAT-40

Work support – Rotary table

Spindle speed – 12,000 rpm, 12,000 rpm, 12,000 rpm
The UMC-750 comes from the house of Haas Automation, the company behind the Haas F1 Team. This hints at this 5-axis CNC machining center's powerful and advanced capabilities.
The vertical machining center has 5 axes and a 2-axis trunnion rotary table. As mentioned, this makes this unit more compact than others in the category while increasing the reach and tool clearance. The UMC-750 is equipped with a 40+1 mounted tool changer as well.
It can work for prolonged hours. There's a 75-gallon flood coolant system to disperse heat, prevent damage to the workpiece, and keep the workplace safe.
Lastly, the user interface is impressive. You'll operate it with a 15″ colored LED monitor and connect to it via a USB port. The 1 MB program memory is enough for the most part. You have Haas's wireless intuitive probing system to quickly set up this 5-axis CNC machine. It reduces setup time in half and comes with dozens of built-in templates.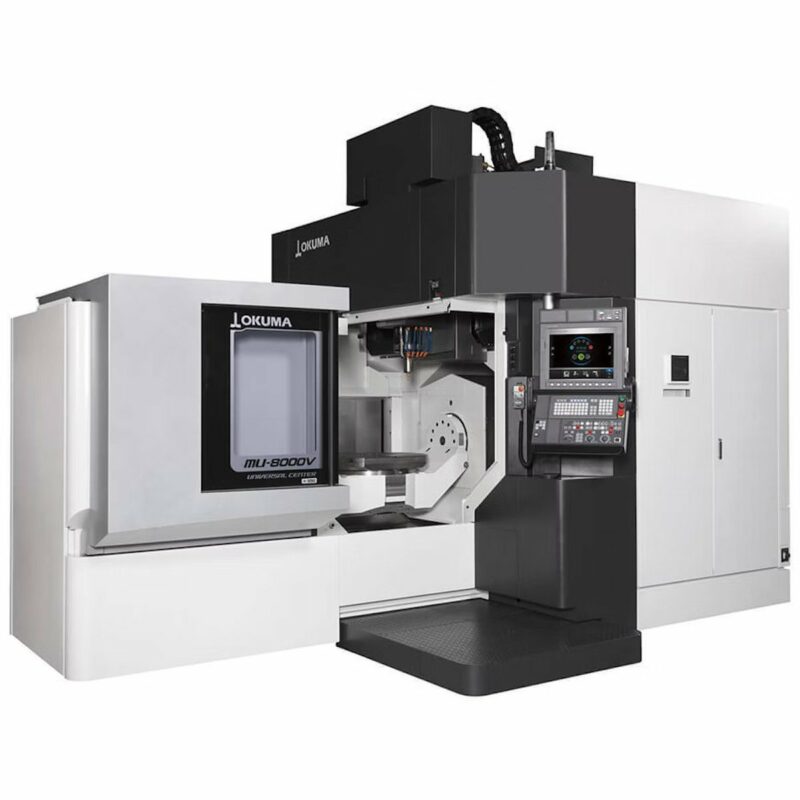 Specifications
Brand – Okuma

Weight – 23,100 lbs

Spindle taper – CAT-40/CAT-50

Work support – Table

Spindle speed – 15,000 rpm, 20,000 rpm, 25,000 rpm
The MU-8000V is among the most potent and utilitarian 5-axis CNC machines.
The VMC is suitable for most types of 5-axis machining as you can use both 40 or 50 spindles. Moreover, the well-balanced table and feed shaft arrangement make it very efficient in compactness performance.
Along with being efficient, the MU-8000V is also designed to be highly accurate. The double-column structure and the left-right mobile trunnion table enable precise machining to prepare complex and intricate parts easily. The accessibility to the workpiece is good and hence doesn't put much burden on the operator either.
You can further ease the responsibilities of the operator. The CNC machine is compatible with many automation tools like ATC, robotics, FMS, and multi-pallet APC.
Other high-tech features you'd appreciate in the MU-8000V are the Okuma's thermo-friendly concept and collision avoidance system. The former helps regulate the temperature and keep the unit and workpieces safe, while the latter prevents any component from colliding with another.
The low center of gravity of this unit is another positive. It allows you to work on complex materials and different types of workpieces.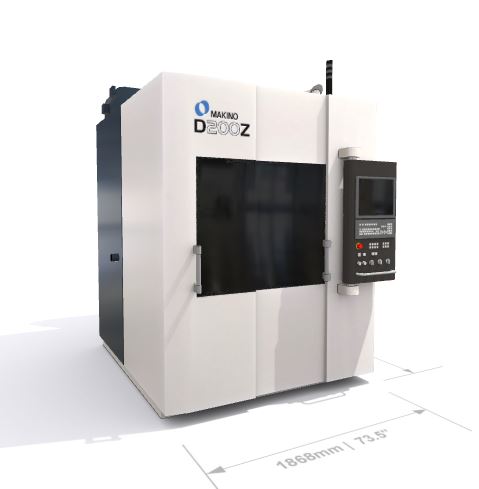 Specifications
Brand – Makino

Weight – 19,400 lbs

Spindle taper – HSK–E50

Work support – Table

Spindle speed – 15,000 rpm, 20,000 rpm, 25,000 rpm
Another state-of-the-art 5-axis CNC machine that marries speed with precision is Makino D200Z. Upgraded with the latest tech, it is seeing rapid acceptance in mold tooling and medical part processing.
The foremost thing that makes the D200Z stand out is the compact design. It is 1500 mm wide and 2220 mm deep, making it one of the close-packed 5-axis CNC machines.
You can fit both the 20-tool and 40-tool capacity ATC within the same unit. This also helps minimize the machine footprint, making it ideal for clumsy or small-sized workshops.
The intuitive control mechanism is another perk of D200Z. Equipped with Makino's proprietary Pro6 Control, it streamlines screen layouts and assists the operator at every stage of the process.
Also, this machine is faster compared to conventional 4- and 5-axis CNC machines. This is due to highly refined AC digital servos and advanced software, which enables the machine to feed faster. It can go upwards of 3 million PPR during the execution of the toolpath.
Lastly, you'll benefit from the Collision Safe Guard technology. The proprietary software performs real-time checks and ensures the spindles don't crash into each other. This protects both the workpiece and the operator from sustaining damage.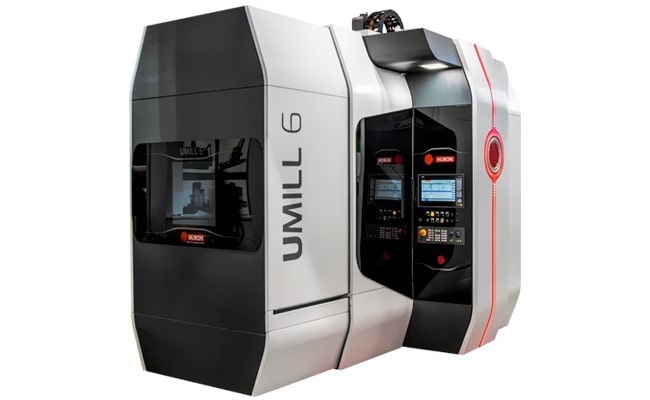 Specifications
Brand – Jyoti CNC Automation

Weight – 28,660 lbs

Spindle taper – SK-40

Work support – Table

Spindle speed – 10,000 rpm, 10,000 rpm, 10,000 rpm
The last recommended 5-axis CNC machine on this list is the U Mill 6 from Jyoti Automation. The Indian brand is innovative in the CNC machining space, serving clients like ArcelorMittal and Boyd Corporation.
The U Mill 6 is a modern 5-axis machine with a portal structure and swiveling rotary table mounted on the cradle. The primary benefit is a minimal machine footprint, which is suitable for smaller factories or workshops. And the secondary benefits are better accuracy and faster operation.
The cast iron body and maximum structure rigidity maximize damping and harmonic stability. These are necessary for demanding cutting materials. Furthermore, the swiveling rotary table enables you to work on workpieces that weigh 1322 lbs.
The company lately acquired HURON, another CNC machining center manufacturer with advanced capabilities. Jyoti has incorporated many of them into the U Mill 6. This includes a modular design that allows you to reconfigure the machine to meet the project's technical requirements.
Thus, you'll be making the right investment with this machine. It is suitable for various industries, specifically aerospace, automotive, and energy.
Key Takeaways
You need to know everything to choose the best 5-axis CNC machine. All the machines I've reviewed belong to popular brands and are renowned for their quality and precision.
Whether you are into aerospace, medicine, or any other industry that requires CNC machining for production, one of these 5-axis CNC machines will fit the bill.