Have you ever wondered what would happen if CNC machines weren't around? For one, massive output increases in the metal and plastics industry would not have been possible.
The Computer Numerical Control machine, also known as a CNC machine, is the Holy Grail of the industrial sector. Since it is a sophisticated machine, it is controlled by a computer, significantly improving its productivity and precision.
CNC machines can consistently produce materials that would be impossible to make by hand. Different types of CNC machines, each optimized for a unique set of tasks, such as manufacturing a particular component, are readily accessible.
If you want to know more about the CNC machine, read on!
What is a CNC machine?
A CNC machine is commonly understood as having less waste, less scope for human mistakes, and more output in a shorter time.
To be more precise, it is a machine controlled by pre-installed software, after setting up, the machine functions autonomously, much like a robot.
Porting tools and machinery used in production is easy with CNC machines. Cutting in three dimensions is CNC's primary use, and it can be programmed with a single set of instructions. Because of the high degree of automation, it doesn't need much human input.
What are the Advantages of CNC Machining?
Besides high efficiency and speed, the fourth industrial revolution is about sustainability. Automated data-driven machines like CNC will cater to innovation and promote modernized manufacturing.
Such a great endeavor has its advantages. Here are the benefits of CNC machining:
CNC Machining Leaves Little To No Waste
Because of their pre-programmed nature, these machines include systems that allow them to do their tasks with minimal waste. =
Aside from that, these machines are run by repeatable software programs and adhere to the predetermined tool and route protocols. Therefore, it makes efficient use of raw materials, reducing waste.
CNC Machining Ensures Consistency And Accuracy
When it comes to precision, computers are lightyears ahead of humans. CNC machines are the same; they maintain uniformity, improving the finished product's quality and guaranteeing accuracy. You may repeat the process endlessly with more precision than any form of physical labor.
CNC Machining Promises Speed
Besides being efficient, a machine needs to be speedy. Computers are always good at speed, and CNC machines are no exception.
Since the work is automated, it increases product quality and speed compared to human labor. Moreover, machines require little to no rest as they don't get tired like humans. So, bulk production is possible without worry!
CNC Machining Provides Safety
Being modern leaves you with a big challenge – safety! CNC machines assure safer operations than any other manual machines. These devices either have a safety valve or a door. Some of them are even covered with a guard wall.
What are the Disadvantages of CNC Machining?
Like all machines, CNC machines have disadvantages too, but they are fewer. Let's check them out.
CNC Machines Can Be Expensive
Everything that has benefits is expensive, and CNC machines are no expectation. Reducing the manual labor with these machines and getting much more accuracy in work will cost you more.
CNC Machines Can Eliminate the Need for Manual Labor
Being an automated machine, CNC does not require much human labor except supervision and operation.
This can create unemployment. Besides that, new learners are not taught detailed skills of manual operation of milling or lathe machines. So these skills are also being lost.
Types of CNC Machines
While hearing about CNC machines, you must have wondered what types they are available. CNC machines are available in various types, and each type has some impressive features that help you efficiently manufacture different items.
However, since they are no average machines, they require proper supervision to produce precise items and good-quality commercial products. The different types of CNC machines understand the G-code language in which commands are set.
Let's look at the types:
CNC Milling Machine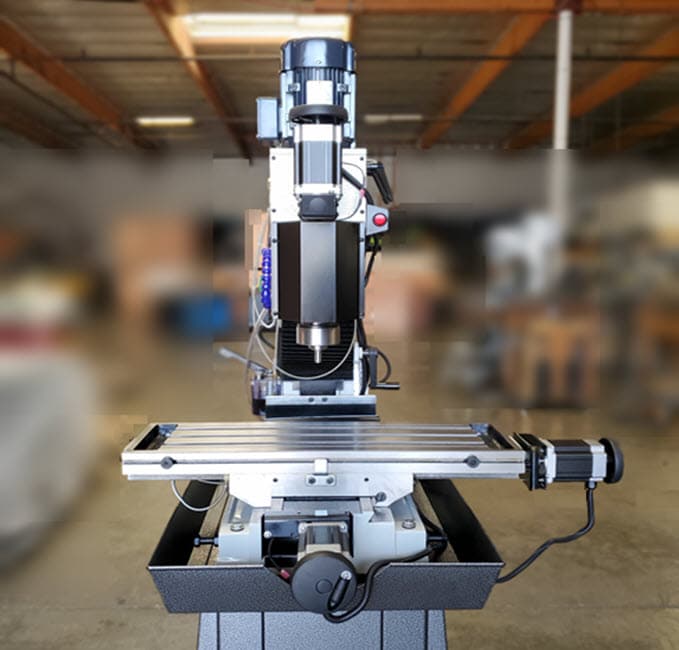 It is a widely popular CNC machine where the software is programmed to command the machine to cut different materials. The mill transfers varied numbered programs and letters to let the spindle move in all directions. As mentioned earlier, mills also use G-code language, the most standardized language for these machines.
The CNC mill can perform different functions like shoulder and face milling, turning, tapping, and drilling. They are available in three to six-axis configurations but are huge compared to other tools.
CNC Lathe
The lathe machine performs by cutting out pieces when the machine is rotated. By utilizing different tools, CNC lathes create quick and precise cuts. The most amazing part about these machines is that they create compelling products, precise in cuts, and are much better than the manual ones.
Besides, they are compact as they have less axis than the CNC mills. Though the framework is similar to the manual lathe, CNC lathes can understand other programming languages apart from G-code.
CNC Router
A router is also a standard machine, and the CNC router is similar to the handheld manual router. It is utilized for cutting different types of materials. Using this machine, you can cut steel, aluminum, wood, plastic, foam, and composites. Unlike the CNC mill, the CNC router also uses numerical control to route the path of the tool and allow the machine to perform.
Other than that, the routers are productive and reduce waste. The best part of a CNC router is that it can perform in three dimensions on a particular material. It is also best for complex designs and prototype models. They are available in 3,4,5, and 6-axises.
CNC Plasma Cutter
A CNC plasma cutter cuts heavy materials like steel, alloy, and other metals. There's a Plasma torch that is used during cutting. The plasma cutter works differently than the other CNC machines. Gas is disseminated from the nozzle at high speed, and there's an electrical arc on the material's surface due to the gas coming out.
The gas that comes out gets converted to plasma, with temperatures ranging from 10,000 to 50,000 degrees. With such a hot temperature, the plasma can quickly cut the material. However, it only works on a two-dimensional surface, and its size and shape are similar to the CNC Router.
CNC Electric Discharge Machine
As the name suggests, Electric Discharge Machine or EDM uses electrical discharges or sparks on a material to create a shape within some material. This method removes the material from a workpiece by sending an electrical current back and forth between two electrodes.
A dielectric fluid separates these electrodes and is charged electrically. In this machine, the material is put between two electrodes, and the machine figures out how much electrical discharge each electrode needs to make.
CNC Laser Cutters
The last type of CNC machine is the CNC laser cutter, similar to the plasma cutters. Nonetheless, there's a difference between the functioning of both machines.
The plasma cutter is best at cutting metals and steel, but the laser cutters can cut plastic and hardwood besides metals. You can adjust the laser's intensity depending on the material's strength and density.
Things You Can Make Out of CNC Machines
CNC helps you produce various types of items, either for your home or office. You can also create industrial items using this machine. Below are some of the items you can create from the CNC machines.
Signs can be easily carved out of wooden products and are the most widely used CNC product. They are useful both in your homes and offices. They create a long-lasting impression of you on the visitor.
No matter how many jacks or ports, cameras, or speakers your phone has, you can easily produce phone cases for all sorts of phones using a CNC machine. You can also add engravings to your case to make it look more brilliant.
Whether binge-watching a series or watching a movie, you can use a phone stand to keep your phone on it and watch. You can watch anything comfortably. CNC machines are great at producing phone stands, whether metal, plastic, or wood.
You can even get them in various sizes and shapes and use these stands in your kitchen, garden, or bathroom.
One of the essential parts of the usage of CNC machines is industrial use. CNCs are often used to carve out different types of machine parts easily and in large amounts.
Did you spot any decorative fences in your locality? Well, they are also a creation of CNC machines. Using the laser cutter, you can create fences, benches, and partition walls that have ornamented designs and are available in adjustable sizes. You can get them according to your need.
Whether you own a big or a small company, you will need a seal or stamp for various official purposes. Besides that, stamps also help in your work. Stamps are created by CNC machines in different materials like wood and metal. They are durable and can be made very quickly.
Various toys can be made using CNC machines. They can be of different shapes and sizes. Using the CNC machine, you can produce miniature vehicles, animals, doll houses, and spinners.
Is a 3D Printer a CNC Machine?
No, a 3D printer is not a CNC machine. There might be some similarities in their functioning, but generally, they differ greatly. They also satisfy the needs of various projects in different ways.
Whenever there's a need to create heavy-duty products with preciseness, a CNC machine is the best choice. It is widely used to make machinery in industries like airplanes, engines, and others where there is a need to create robust parts. Nonetheless, it is also very popular in the engraving, lettering, and woodworking industries.
On the other hand, a 3D printing machine is famous for additive manufacturing, i.e., producing building products, including layering. It is a 1980 invention that is also used in prototyping. 3D printing is also popular in medicine, where the machine creates models of different organs, etc.
Besides that, this machine is also popular among artists and fashion designers who use them to produce various kinds of apparel and jewelry. Even the food industry uses 3D printing to produce food items.
Is CNC Cheaper Than 3D Printing?
3D printers are cheaper than CNC, but the materials for CNC machines are cheaper than the 3D printers. However, CNC machines require specialists to handle and monitor the process, which increases the cost of the end product. On the other hand, 3D printing does not need that.
Thus, despite being fast in production and producing quality items, 3D printing becomes preferable to CNC machines. Though the materials and consumables for 3D printing are costly compared to CNC machines, the end product cost is much less, so CNCs are more profitable to industry people.
When to Use CNC and When to Use 3D printing?
Whether to use CNC or 3D printing will solely depend on your application if you are confused about what to use and when we recommend that you evaluate your requirement.
You might find that the 3D printing machine will sometimes serve better; in others, you'll notice the CNC machine is the best option.
There might be cases where you would require both CNC and 3D printing for manufacturing. Though there is a general rule that 3D printing is used where traditional methods don't work, it is not always the same!
What Is The Most Popular CNC Machine?
After knowing the various details about CNC machines, you might wonder which are the most popular machines available. Here we present you with the most popular CNC machines you can get your hands on:
Best CNC Machine For Wood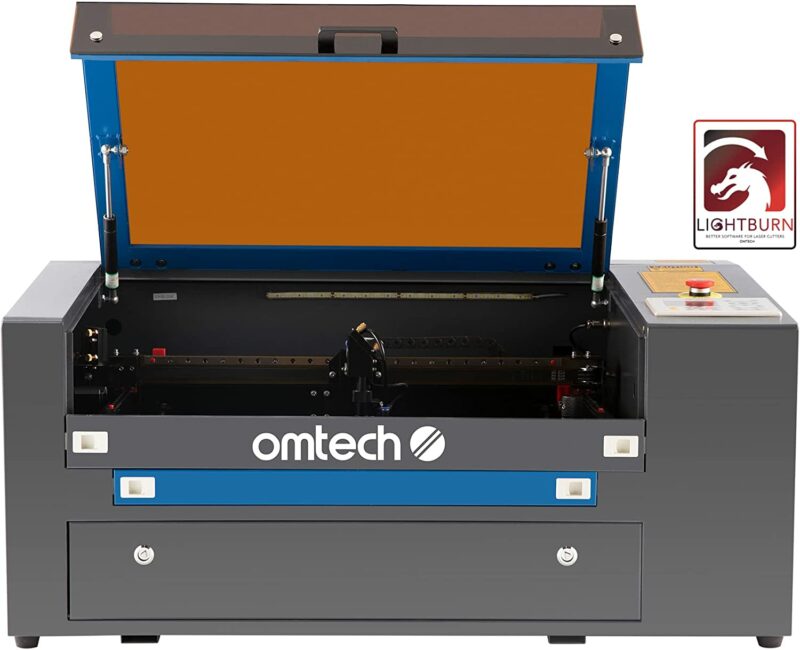 If you have upgraded your shop for advanced projects instead of DIY works, you can go for the OMTech 50W CO2 Laser Engraver with Rotary Axis. Though it is famous among wood engravers, you can also use it for plastic and leather engraving. Compatible with non-metallic materials, this best wood engraving machine is the perfect choice for working on irregular surfaces.
It is compatible with commercial work due to this device's Lightburn software. The most promising part is that you get noiseless operation using this machine.
Specifications
Good for: Wood

Size: 41" x 25.6" x 20"

Technology: CO2 Laser

Size – 41" × 25.6" × 20"
Check the OMTech 50W CO2 Laser Engraver's latest prices on Amazon
Best CNC Machine For Metal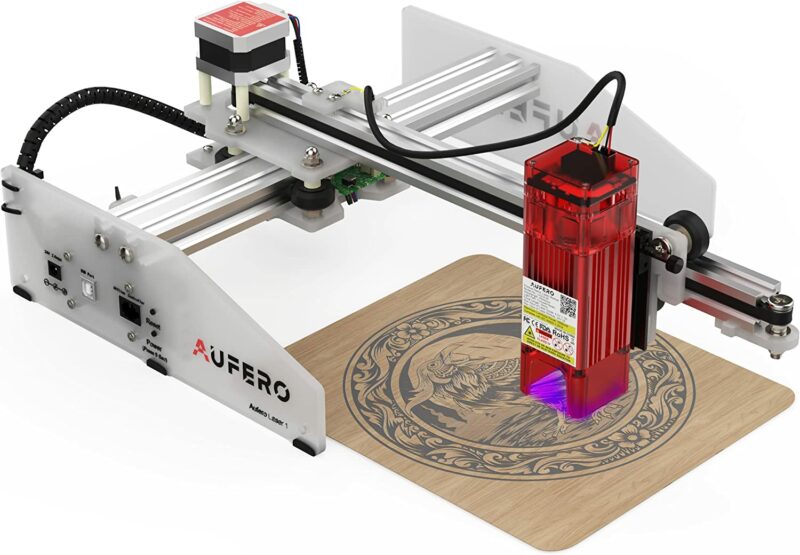 If you want a small yet light in weight and portable CNC machine for metal engraving, nothing can be a better choice than Aufero LU2-2 32-bit Motherboard Mini Laser Engraver Machine.
Besides having various safety features, it has glasses for eye protection and a UV light filter cover. Moreover, Aufero LU2-2 supports many engraving software and comes pre-assembled for use. As it is an entry-level machine, you can handle it without worries.
Specifications
Good for: Metal

Technology: LU2-2 ORTUR Laser

Size: 18.89" x 14.96" x 6.69"
Check the Aufero LU2-2 32-bit's latest prices on Amazon
Best CNC Machine For Glass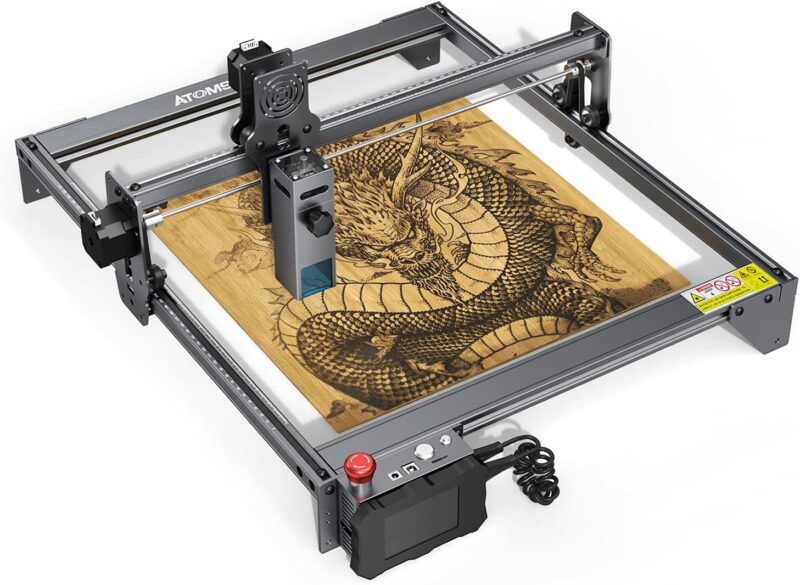 Whether you are a beginner or a specialist, you can handle ATOMSTACK X7 Pro 50W Laser Engraver easily. It has eye protection against UV rays, and you can craft intricate designs smoothly with this machine.
You can adjust the height of the laser beams of these CNC machines with a sturdy knob. Besides ensuring high-speed engraving, ATOMSTACK X7 Pro has a stop button for emergencies and a limit switch that prevents accidental start-offs and assures running at a steady speed.
Specifications
Good for: Glass

Technology: 10-11W Fixed Focus Laser

Size: 22.44" x 23.62" x 10.63"
Check the ATOMSTACK X7 Pro 50W's latest prices on Amazon
What is a CNC Machine FAQs
Is G-code the only language that CNC machines understand?
No, there are alternatives to G-code language. Any company can use the specially developed language edited by them for their work methodology.
Is it easy or challenging to install the CNC machine?
It solely depends upon the machine you are about to install. If the machine is a bit complex, it can take time to install. However, the supervisor of the machine should be able to install it with low to moderate difficulty, depending on the machine.
Is it mandatory to buy CNC processing equipment for a company?
Though most companies have their own set of equipment, it is not mandatory to buy. If a company does not have the CNC equipment, it can outsource the work to a company specializing in it.
Is a 3D printer a CNC machine?
No, a 3D printer is not a CNC machine. They might have similar working methodologies, like creating three-dimensional products and operating on software-driven commands. Still, they differ significantly in their usage.
Which is better? 3D printing or CNC?
There is no straightforward answer to this question. It can be yes or no. This question can be answered depending on what is being created and what the business owners are comfortable with. Some industries even use both of these machines together.
Key Takeaways
A large number of industries and manufacturers have started using CNC machines. The biggest reason behind it is their ability to increase production.
Besides that, they can replace manually operated machines and opens the door for modernization with effectiveness and sustainability. Moreover, by 2025, CNC machines will advance to a 100.9 billion dollar market!