Engraving machines are essential for jewelry makers, allowing them to add intricate details and personalization to their pieces. However, with so many options on the market, it can be difficult to know which machine is the best for your needs. In this article, we will take a closer look at the most important features when choosing the best engraving machine for jewelry.
First and foremost, precision is critical when it comes to engraving jewelry. Look for a machine with a high resolution and a small engraving tip to ensure that you can create precise, detailed designs. Additionally, consider a machine with various engraving modes, such as rotary or diamond drag, which will allow you to create different types of engravings on different types of materials.
Another vital feature to consider is the size of the engraving area. Jewelry is often small and delicate, so it's essential to have a machine with a small engraving area that can accommodate these small pieces. Additionally, look for a machine with a high-quality camera or a built-in microscope to see your work in great detail.
Finally, consider the durability of the machine. Jewelry engraving requires a high level of precision, so you want a machine built to last and withstand the rigors of daily use. Look for a machine made with high-quality materials and a solid warranty.
Overall, when looking for the best engraving machine for jewelry, it is essential to consider precision, engraving modes, size of engraving area, ease of use, and durability. By keeping these features in mind, you can find a machine to help you create beautiful, personalized jewelry pieces for years to come.
How Does A Jewelry Engraving Machine Work? 
Jewelry engravers are tools to carve designs or letters on ornaments made of various materials. There are mainly two types of jewelry engraving machines—manual tools chip off the surface with rotary tips or router bits. Laser tools use laser beams to burn off the object.   
With manual tools like push-engraving pens, air-powered handheld engravers, etc., you have to draw the design on the object, much like traditional engraving with a chisel and a hammer. In CNC tools, you must use a computer to design and operate the tool.
Jewelry Engraver Buyer's Guide: Factors to Consider  
At the time of choosing an engraving machine, consider the following aspects. 
a) Purpose 
An engraver can add letters or designs to the ornaments of your gift personalization business clients. It can help add your company logo or the buyer's name if you have a jewelry or pawn shop. It's also ideal for crafters. So consider how you'll use the tool.
b) Jewelry Material
Fiber and diode laser engravers are commonly used for metal engravers. You can also use CNC routers or engravers with rotary tips for metal. But specialized metal engravers are not needed if you handle ornaments of non-metal materials like wood, glass, etc.
c) Ornament Type
If you only deal with rings, a ring engraver that can etch on the ring's inner side can be helpful. If you also handle bangles and bracelets, find a multi-purpose tool with a rotary axis. Handheld pens are great for all ornaments, including pendants, neckpieces, etc.
d) Handheld vs. Desktop
A hand engraver is ideal if you want to mimic the results of traditional chisel-and-hammer engraving. It is also a light and easy-to-control option for small jewelry or tight spaces like the inner ring. But large desktop tools are fast, high-yielding, and precise. 
e) Manual vs. Computerized
Manual engravers are used to chip away the surface. They offer maneuverability and flexibility, and cost lower. But you must be in control and know the craft well for complex designs. But computerized tools work on digital information without your interference. 
Related: Best Rolling Mill for Jewelry Making – Buying Guide 2023
Best Engraving Machine for Jewelry: Our Top 6 Recommendations
Best Business Engraving Machine for Jewelry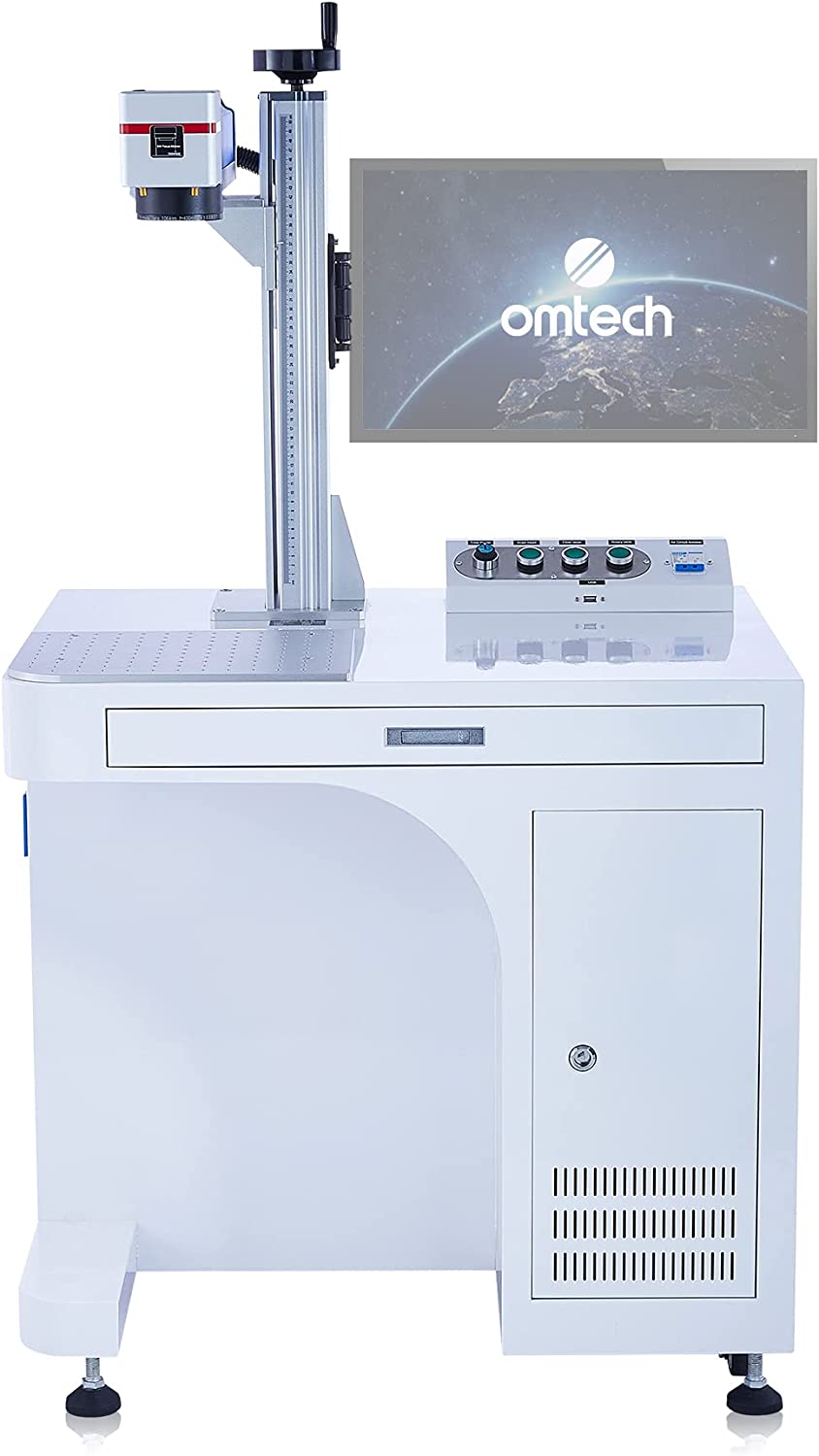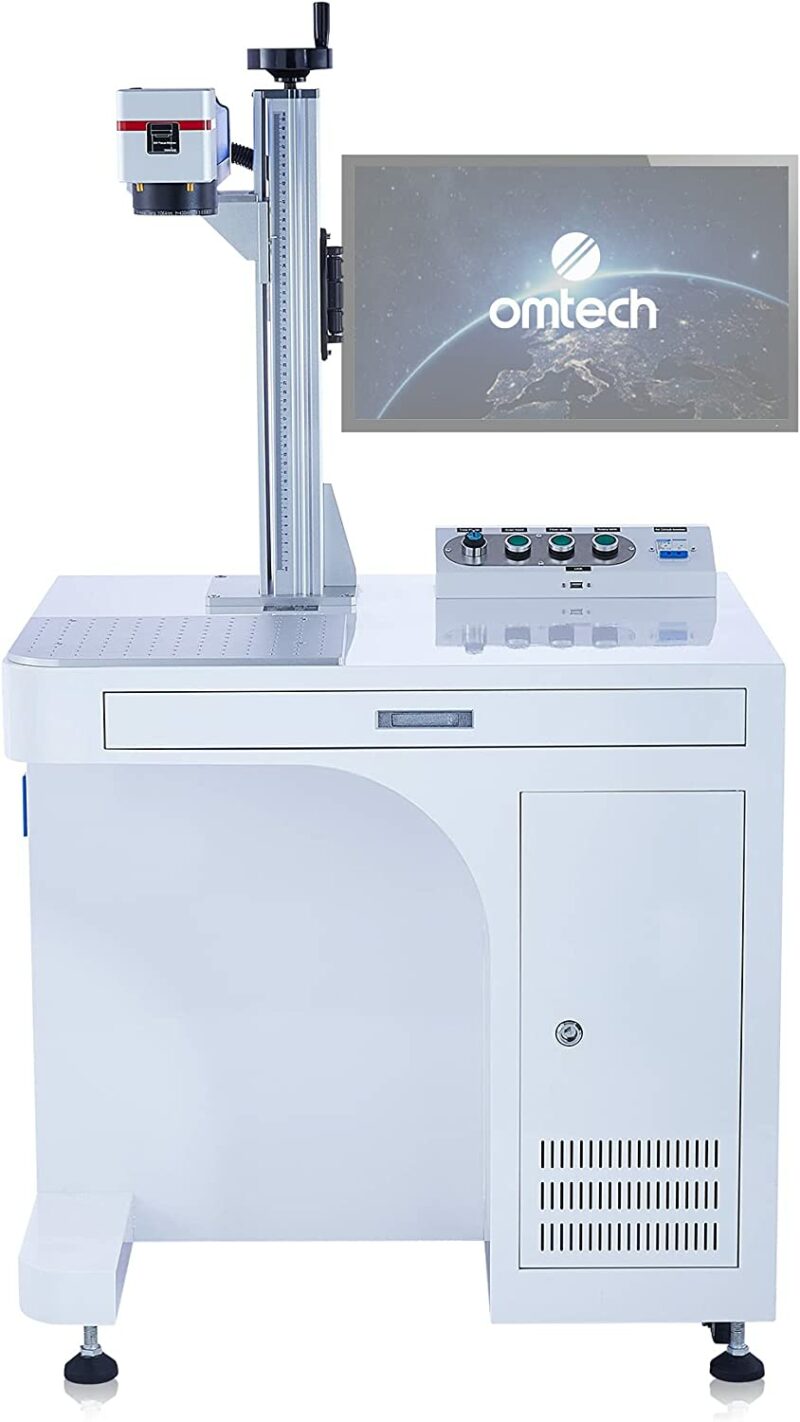 If your jewelry and gift engraving business has grown substantially, it's time to get an engraver that can handle bulk work efficiently. We suggest OMTech FM7979-30S Fiber Laser Engraver. It is a fiber laser engraver that brings accuracy, speed, and durability to the table.   
Its super-fine spot size of 65μm lets it cut deep into any metal or non-metal object with unparalleled accuracy. Its precision is further enhanced by its red light guidance, manual focus scale, and the Fθ lens. It even scans with less than a 1% distortion level. 
It has a state-of-the-art galvanometric system for an impressive 7000 mm/s speed. Thus, it will complete more projects in a shorter time frame for more productivity. This computerized jewelry engraving machine is also super easy to use.
Specifications
Technology – Fiber Laser Engraver

Engraving Speed – 7,000mm/s
Pros
Supports rotary axis for curved jewelry

Easy to focus the laser on materials

Large and expandable work bed

Supports leading design programs

Smooth, quick, and precise designing
Cons
Expensive due to advanced features

Not engineered for beginners
Check the OMTech FM7979-30S' latest prices on Amazon
Best Entry-Level Hand Engraver for Jewelry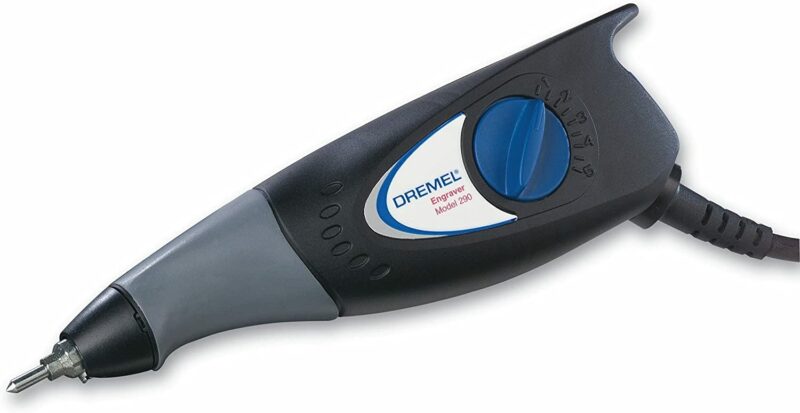 One of the most famous names in the world of rotary engravers is Dremel. And its Lite 7760 N/10 Engraver Rotary Tool is one of the highest-rated tools in this category. Besides the incredible quality assurance from the brand, the tool's price is another attractive feature. 
It is undoubtedly the most affordable jewelry engraving machine that can transfer the patterns in your imagination to a wide range of materials, including metal, wood, glass, plastic, stones, and more. Thus, it's the ideal personalization tool for any jewelry. 
The lightweight and ergonomic design and the soft grip of the crafting machine allow you to work for long hours with it and maneuver it as your design may demand. Plus, it comes with all the components you may need for engraving jewelry – or any object.   
Specifications
Technology – Mechanical Rotary Engraver

Speed – 7,200 Strokes/m
Pros
Ideal handheld tool for DIY projects 

Easy to use on various materials

Light, portable, and ergonomic design

Includes a stencil for letters and alphabets

5-position depth with a dial for realistic etching 
Cons
Limited jewelry tools in the basic kit

Few reports of initial issues with screw 
Check the Dremel 290-02's latest prices on Amazon
Best Pneumatic Engraving Machine for Jewelry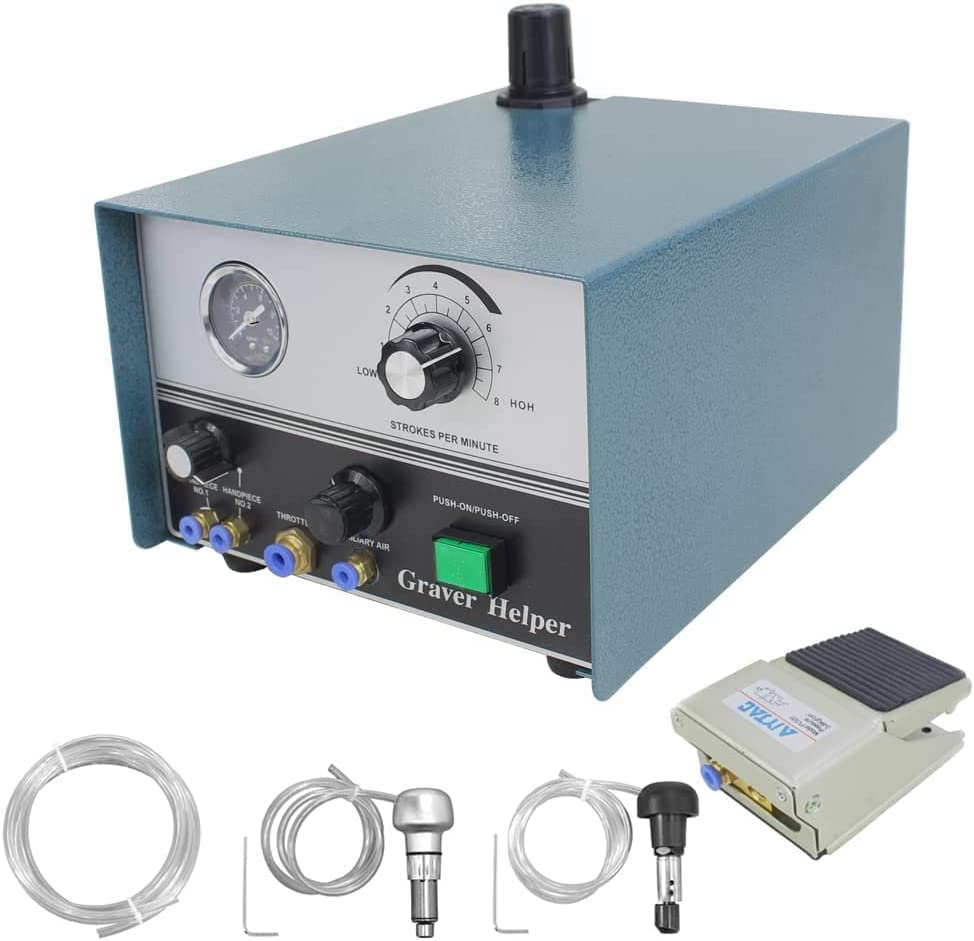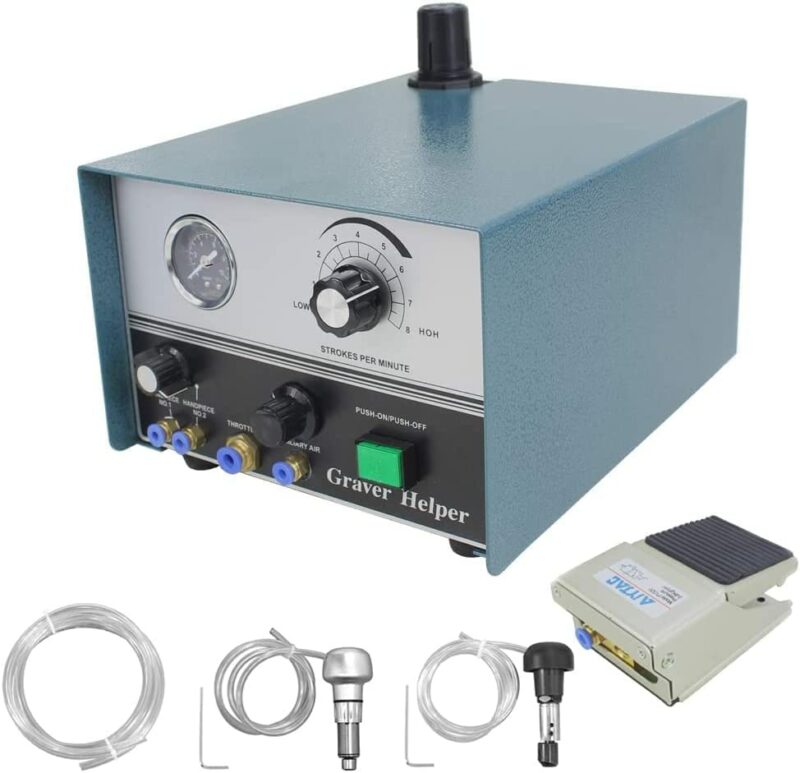 Do you love the engraving with a chisel or a push-graver because of its effect when you "draw" with it? Then, the Mayiya Pneumatic Jewelry Engraver can be an excellent tool for you. This air-powered tool brings you the freedom of a manual jewelry engraving machine. 
As a double-ended machine, it accommodates two handpieces. So your requirement to change engraving bits to cater to your various design needs will reduce to half. The adjustable speed, depth, pressure, and stroke rate will let you enjoy incredible flexibility while engraving. 
Even though it's an underrated engraver, we love how versatile it is. It can etch different materials, including metal, wood, crystals, and stone. Plus, it performs various tasks like stippling, etching, and adding a matte finish to shiny surfaces.
Specifications
Technology – Air-Powered Pneumatic Engraver

Speed – 4,000 Strokes/m
Pros
Foot pedal to adjust the speed easily 

Two handpieces for a reduced bit change

Easy to adjust for custom engraving

Outstanding precision in designs

Effectively etches various materials 
Cons
A slight air leak reported

Not enough user feedback to predict issues
Check the Mayiya Pneumatic Jewelry Engraver's latest prices on Amazon
Best Mid-Range Engraving Machine For Jewelry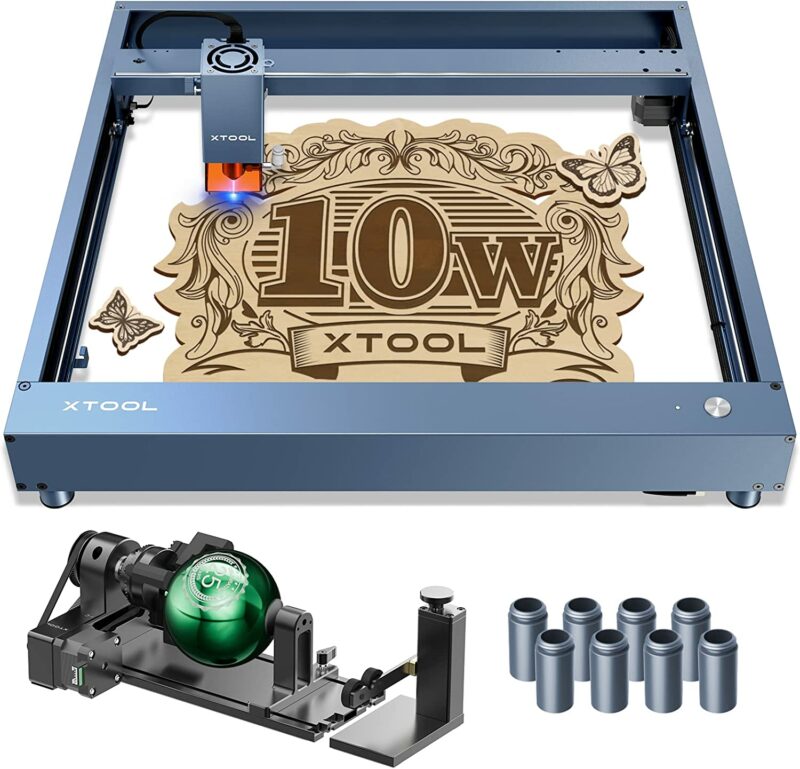 The Makeblock xTool D1 Pro Laser Engraver is a famous laser engraving machine for jewelry. We recommend the bundle, including the RA2 Pro 4-in-1 Rotary Axis. While it is not a cheap product, it's a reasonably priced item with unique DIY and pro projects features.  
The dual laser mechanism combines two beams for effective cutting, so you can also make jewelry from scratch using materials like wood, acrylic, etc. As it is a high-speed engraver, you can accomplish more in a shorter time without compromising on quality or precision. 
It offers a super-fine compression spot of 0.08mm*0.06mm for an incredible 0.1mm accuracy. Plus, it adds vibrant colors to metal beyond gray and black! The rotary axis combines ring, sphere, chuck, and roller tools. So you can engrave anything, from rings to bracelets.     
Specifications
Technology – Diode Laser Engraver

Speed – 24000mm/m 
Pros
Adds 340+ colors to metal surfaces

Sturdy and long-lasting structure

Instant stop feature if there's smoke or tilting

Software compatibility for beginners and experts

Compatible with multi-use rotary axis
Cons
No eye protection feature or gear

Needs ventilated workstation due to smoke
Check the Makeblock xTool D1 Pro's latest prices on Amazon
Best CNC Router & Laser Engraver For Jewelry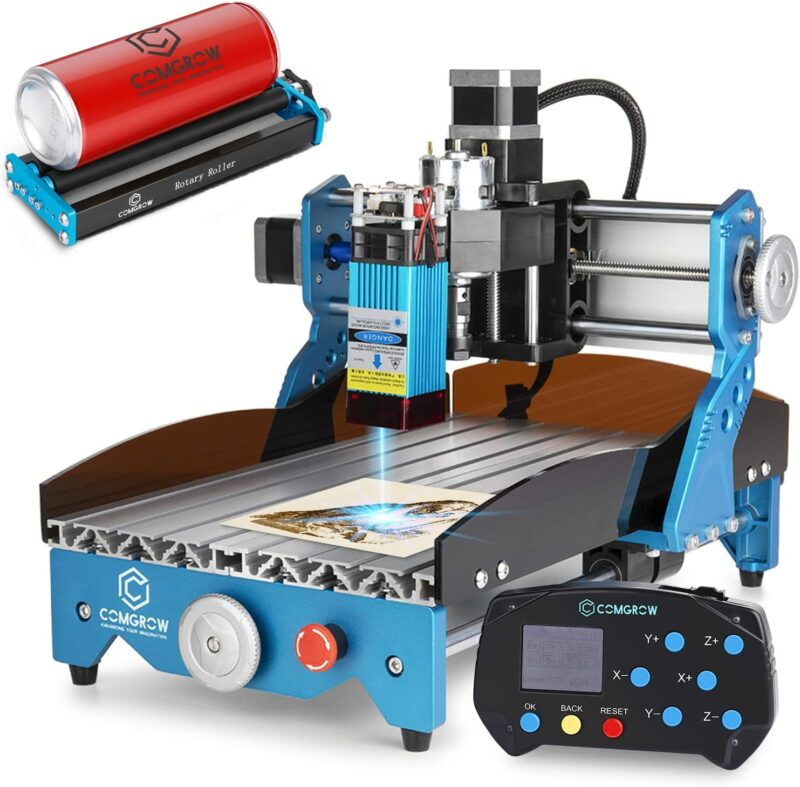 A CNC router and a laser engraving machine rolled into one – the Comgrow 2-in-1 Engraver is a 3-axis engraver that etches on various materials. The bundle, including the rotary module, is an affordable multi-purpose engraver that can etch on metal, glass, and wood. 
Thus, this tool will allow you to personalize a wide range of ornaments and gifts. Plus, the rotary axis will help you engrave bangles and bracelets with exceptional precision. It is a CNC machine with three axes capable of three-dimensional designs.
The laser module is equipped with a compressed laser spot of 0.08*0.08mm and can deliver an accuracy of 0.1mm. Additionally, the spindle moves at high speed for superior friction and super-fine carving. Thus, it's a versatile tool for hobbyists and pros. 
Specifications 
Technology – CNC Router with Laser Module

Speed – 10,000 rpm
Pros
A versatile tool for CNC carving and laser etching

Compatible with a rotary tool for cylindrical objects

Sturdy and lightweight aluminum body

Remarkable speed and accuracy level

3-axis machine for 3D designs
Cons
Bed alignment issues reported

It may have adjustment problems with skewing axes 
Check the Comgrow 2-in-1 Engraver's latest prices on Amazon
Best Inner Ring Engraving Machine for Jewelry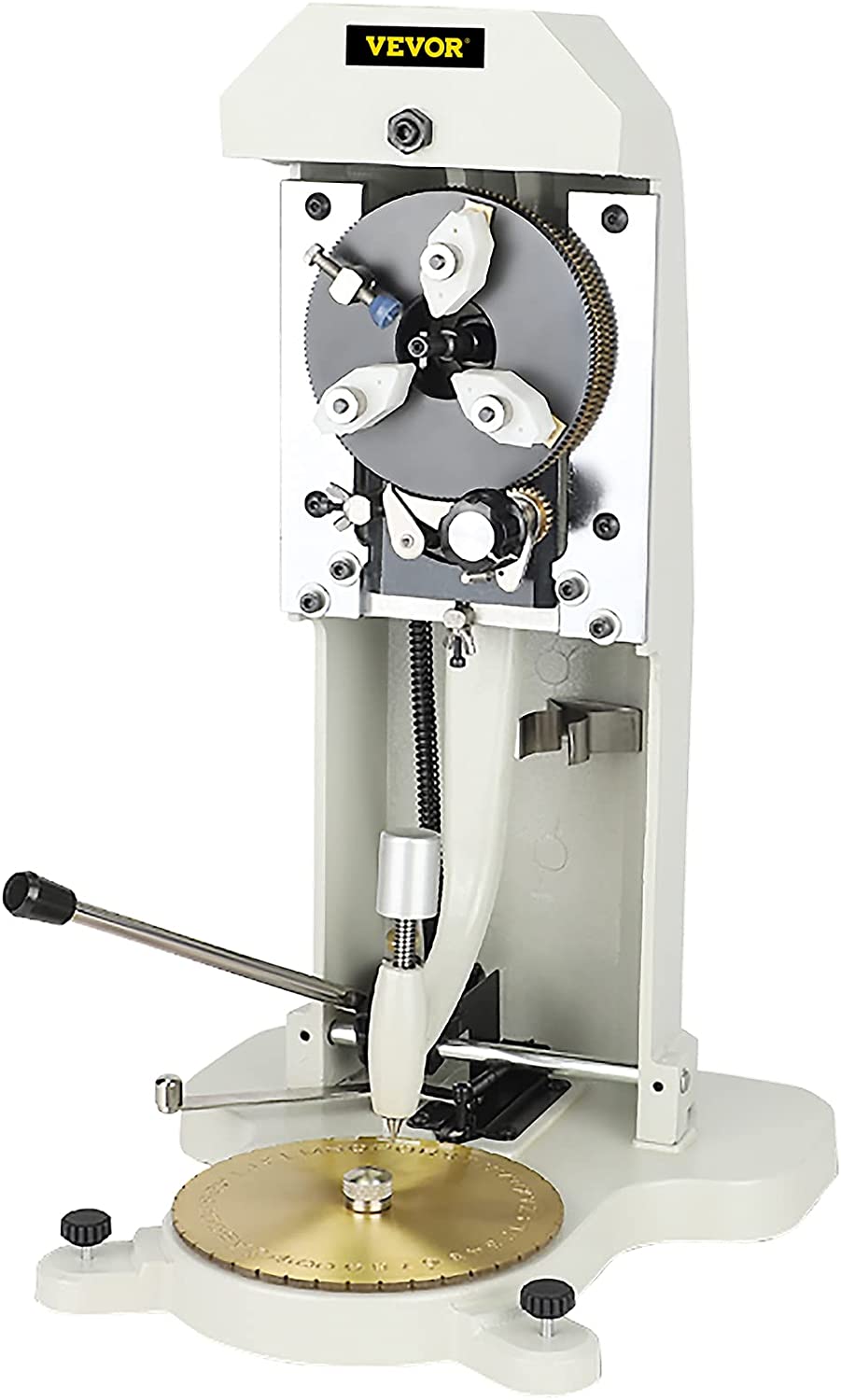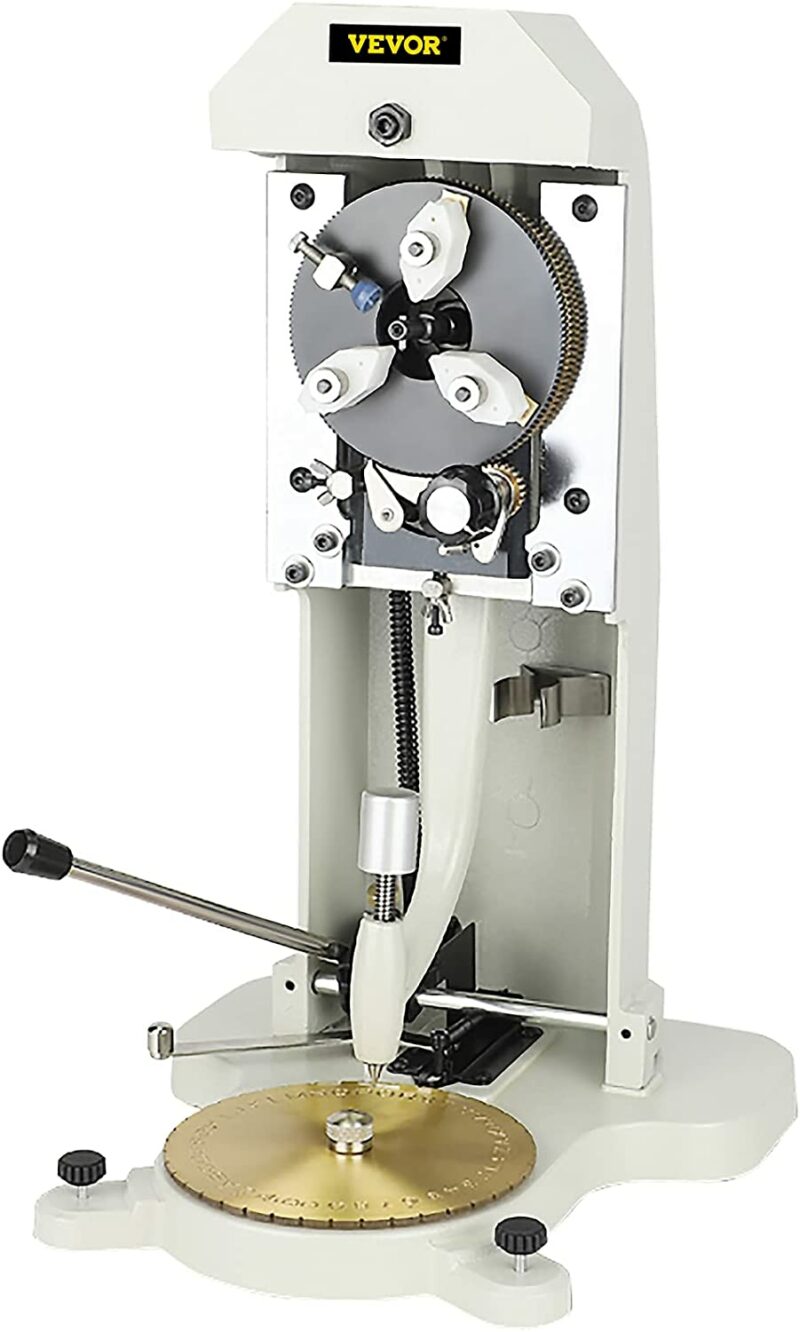 Ring engraving is probably the most common customization request you'll get – as a jeweler, pawn shop owner, or gift personalization business owner. The VBENLEM Ring Engraver is a one-stop solution to this demand for adding letters to rings.  
Adding letters on the inner side of a small ring is not an easy task – but this ring engraver can do it with finesse. It's an excellent option if you only need to engrave rings and don't have to deal with other jewelry personalization requests. Its results mimic manual hand drawing.
Its sharp diamond bit can etch on materials like gold and silver. The needle offers a precision of 1.5-2mm for attractive engravings. It's also quick and easy to operate. All you need to do is place the ring on the chuck – and use the pen and hand to trace the letters.  
Specifications
Technology – Manual Stamping

Speed – Not Applicable 
Pros 
Engraves rings on the inside and outside

Stainless steel pen and diamond tip for solidity

All-metal body for stability and durability

User-friendly tool to make manual etching easy

Flexible spring for depth control and convenience
Cons
Usage is limited to ring engraving only

The letter disk is to be flipped to change the case 
Check the VBENLEM Ring Engraver's latest prices on Amazon
Engraving Machine for Jewelry FAQs
1. Can you engrave your own jewelry?
If you want to add a personal touch to your own jewelry, you can use an engraver that is commonly available. Handheld push-engraving pens with rotary tips are the most inexpensive. But we recommend not to attempt it on a ring with a width of 3mm or less.
2. How do you start engraving on jewelry?
To start engraving on jewelry, you must first invest in a good engraver. You can choose a handheld engraving pen or a laser engraver, preferably equipped with the diode, DPSS, or fiber laser for metal. You must first practice the art on different materials and surfaces.
3. Can a Cricut engrave jewelry?
You can use a Cricut to engrave motifs or monograms on ornaments like necklaces and pendants. A Cricut engraving tool can be used on various materials, including soft metals, plastic, wood, and more. Its cutting abilities can also help you in jewelry making!
Final Words
With a good engraver, you can etch on metal, glass, wood, acrylic ornaments, etc. You can run a business to personalize gifts for clients – or add your logo to your jewelry store products. You may even be a crafter who likes to jazz up boring jewelry with engravings.
The possibilities are endless – as long as you have the best laser engraving machine for jewelry. Whether a DIYer or a jewelry and gifting business owner, you must pick an appropriate engraver that can be a game-changer for you!