Cricut Maker and Cricut Maker 3 are both cutting machines designed for crafting and DIY projects. While they share many similarities, there are a few key differences between the two machines.
One major difference between the Cricut Maker and Cricut Maker 3 is their cutting width. The Cricut Maker can cut materials up to 12 inches wide, while the Cricut Maker 3 can cut materials up to 13 inches wide. This may not seem like a big difference, but it can be useful if you work with larger materials.
Another difference between the two machines is their cutting speed. The Cricut Maker 3 is faster than the Cricut Maker, allowing you to complete your projects more quickly.
The Cricut Maker 3 also has the ability to cut certain materials without a mat, thanks to its built-in Smart Set Dial and its ability to load materials directly into the machine. This can be a real time-saver for certain projects.
One of the biggest differences between the two machines is the technology used to communicate with them. The Cricut Maker uses Bluetooth and USB connections to communicate with your computer or mobile device, while the Cricut Maker 3 has added Wi-Fi connectivity to this list. This means that you can connect to the Cricut Maker 3 wirelessly, making it easier to use in some situations.
Finally, the Cricut Maker 3 is also compatible with the new Smart Materials, which are specially designed to work with the machine without the need for a cutting mat. These materials come in longer rolls, making it easier to create larger projects without the need for multiple cuts and seams.
Overall, the Cricut Maker 3 is a more advanced machine with some significant upgrades over the original Cricut Maker. However, both machines are capable of handling a wide variety of materials and can be a great addition to any crafter's toolkit.
Check out my verdict at the end!
Related: Best Sticker Papers For Cricut – 5 Options And Buying Guide
Cricut Maker Vs. Cricut Maker 3 – Side-By-Side Comparison
The following section reviews these Cricut top-selling models on various parameters, from design to the number of blades.
Let's find out which fares well in the "best Cricut machine battle."
Cricut's die-cutting machines are admired for their stylish and easy-to-use functionality. But like any other brand, Cricut doesn't resist introducing specific structural changes in its latest models.
Talking about Maker & Maker 3, the latter is slightly bigger than the former, but this difference isn't much significant, to be honest.
Additionally, Maker 3 is slightly heavier, weighing 6.9kg rather than 4.8kg, the original Maker's weight. If mobility is essential to you, the original Maker could be easier to transport; otherwise, go with the new model.
The buttons are also the same. There are buttons for turning off the machine, loading and unloading materials, starting and pausing the cutting process, and more.
Related: How To Unweld On Cricut – Follow These Quick Steps
Smart Material Compatibility
The two machines are nearly identical in terms of functionality, except for the Cricut Maker 3's Smart Materials capability and enhanced speed.
Smart Materials are slightly bigger and have more robust support than standard materials, allowing them to flow directly into the device without using a mat.
Since you can make a single extended, ongoing cut up to 12 feet long, your large projects will move quicker than if you had to stack and reload your mats.
Furthermore, when using Smart Materials, the cutting speed of the Cricut Maker 3 is significantly faster, roughly twice as fast.
Related: Best Laptop For Cricut Maker – 5 Top Picks Reviewed
The cutting speed is another notable change between the Cricut Maker and Maker 3. While the former has long been recognized for its quick vinyl cutting, the latter is 2x efficient, allowing you to complete your projects promptly.
This could be incredibly helpful for those who run a home-based business with significant demands. If you're accustomed to crafting in small bursts throughout the day, the Maker 3 ensures every minute counts.
Related: How To Make Business Cards On Cricut? The Complete Guide
With the Maker 3, Cricut introduced two new accessories: a larger portable cutter and a roll holder.
Because Smart Materials are mostly 13″ wide, and the initial trimmer was only 12″, a new handheld trimmer is required. Of course, you can use the larger trimmer to cut relatively small materials.
The new roller holder is designed to aid in feeding Smart Materials into the Cricut Maker 3 and is not consistent (or required) with the original Maker.
It keeps your Smart Materials neatly in place and trims the roll when your project is finished. None of these accessories is required if you purchase a Cricut Maker 3, although they are pleasant.
Related: What Can I Make With A Cricut Machine? 15 Ideas For All Levels
Cricut Maker includes two blades:
Premium Fine-Point Blade – This is the most commonly used blade option for handicraft needs. It's a solid performer, simple to use, and easy to clean.
Rotary Blade – Typically used for fabric cutting, it'll be your second favorite blade for general crafting because it quickly cuts through any sewing patterns.
Cricut Maker 3 includes just one blade.
The Cricut Maker 3 comes with a more solid power adapter to produce up to 3A output. This is sufficiently powerful to enable high-speed mat-less cutting.
The older Maker's battery pack produces only 2.5A of output.
Note: Take into account that the electrical cords for the Maker and Maker 3 cannot be swapped.
Moreover, it's worth noting that the receptacles and connectors are all various shapes. Thus, you won't be able to use Cricut Maker's power cord with Maker 3.
Cricut Maker Vs. Cricut Maker 3 Prices & Bundles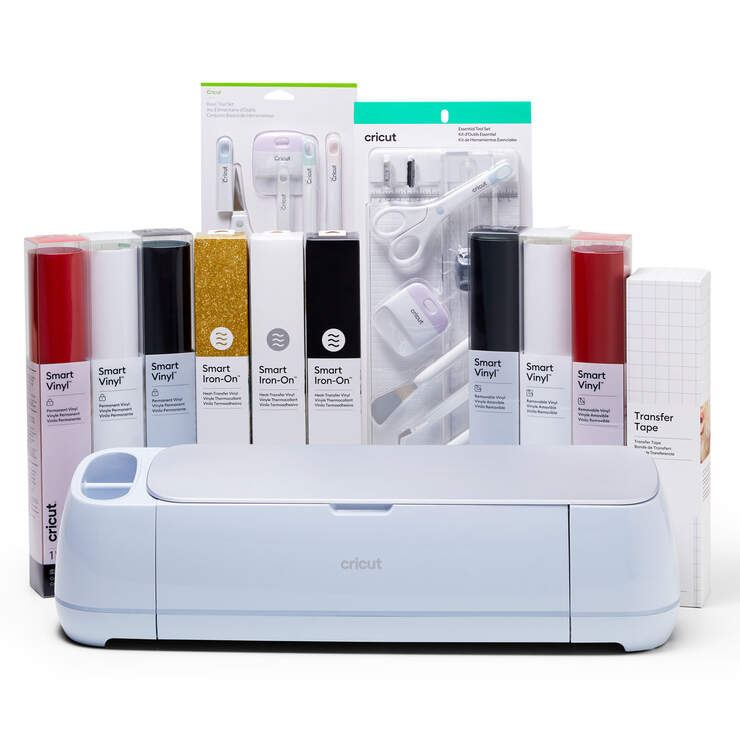 Check latest prices on Cricut & Amazon
---

Check latest prices on Cricut & Amazon
---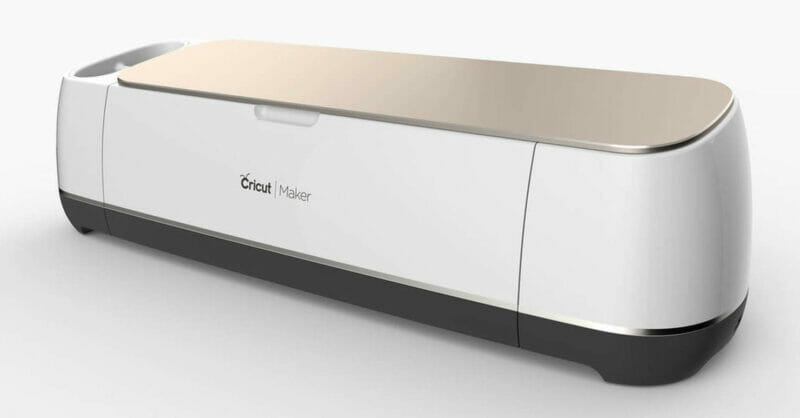 Check latest prices on Cricut & Amazon
---
Cricut Maker Vs. Cricut Maker 3 – Comparison Table
The following table summarizes the differences in tabular format.
Comparison Parameters
Cricut Maker 
Cricut Maker 3
Size
22.6″x 7.09″ x 6.22″
22.6″x 7.09″ x 6.22″
Cutting Speed
Standard
2x faster
Larger Projects
No
Yes
Smart Cutting Machine
No
Yes
Emboss
Yes
Yes
Adaptive Tool System
Yes
Yes
Score
Yes
Yes
Etch
Yes
Yes
Compatibility
Cricut Maker is compatible with 300 materials, including cardstock, heat transfer material, corrugated paper, photo paper, fabric, vinyl, chipboard, etc.
Cricut Maker 3 is compatible with the same materials as Maker.
Mat-less Cutting
No
Yes, for Smart Materials longer than 6″ in length.
Fabric Cutting
Yes
Yes
Cut Size 
12″ x 2″
With mat: 12: x 2″

Without mat: 12″ x 12″
Related: How to Clean a Cricut Mat – A Step-By-Step Illustrated Guide
Is There Anything Similar Between Cricut Maker And Maker 3?
As we said before, Cricut Maker 3 is an improved version of the original Cricut Maker. It's the same product in structure. But there are some additional features and improvements to boost the overall operational efficiency, particularly for those who deal with large-sized projects regularly.
There are some similarities between the two Cricut Maker products, including the following:
On both Maker models, you can collaborate with over 300 materials. Popular materials include balsa wood, leather, fabric, cardstock, vinyl, etc.
Because the blades are the same, you can similarly make custom design ideas on the components.
Again, the cutting force of the classic Cricut Maker and the new Cricut Maker 3 is the same. They both have a 4000-gram cutting force.
The original Maker's blades and tools are compatible with the Maker 3. Because Cricut did not release any new blades with the Maker 3, the blades are exchangeable.
Any new tools or blades developed will almost certainly be consistent with Maker's designs.
So, as you can see from the points above, Maker 3 is identical to the original Maker.
Related: What Does Flatten Mean On Cricut? All The Answers
Cricut Maker Vs. Cricut Maker 3 – Who's Better?
If you regularly work on significant projects and want matless cutting with Smart Materials, the Maker 3 is well worth the money.
Compared to the previous Maker, its quicker cutting speed makes it worth it if you trim many projects or use your machine for any home-based businesses.
These benefits are only available if you work with Smart Materials. If your crafting doesn't require any of the 4 Smart Materials presently available, use the original Maker if you already own it or wish to save money.
Related: How to Make Stickers with a Cricut – A Step-By-Step Illustrated Guide
Cricut Maker Vs Cricut Maker 3 FAQs
Is Cricut Maker 3 Better Than Cricut Maker?
Ans: Although Cricut Maker and Maker 3 employ the same techniques, are equally weighted, and can snip the same substances, you might wonder which is better and worth purchasing between the two.
Of the two, Cricut Maker 3 is better as it can cut without a Cricut Mat and is twice as fast when using Smart Materials.
If your budget is constrained, you can choose the cheaper Maker.
Is Cricut Maker Being Discontinued?
Ans: With the release of Cricut Maker 3, many among you must have wondered if the Cricut Maker would be phased out. However, Cricut has stated that there have been no plans to terminate Cricut Maker anytime shortly.
Can You Engrave With Cricut Maker 3?
Ans: Yes, you can engrave with Cricut Maker 3. The built-in "Engraving" tip in the machine allows you to engrave on multiple materials, including aluminum, card, metallic leather, and more.
You can add text to materials, design logos, and create elegant drawings without any external device.
Does Cricut Maker 3 Need A Printer?
Ans: Cricut Maker 3 needs a printer to Print and Then Cut. For all Print Then Cut projects with any Cricut machine, I suggest an inkjet printer and 8.5′′ x 11′′ white materials.
Does Cricut Maker 3 Cut Wood?
Ans: Cricut Maker 3 can cut wood, provided it's up to 2.4 mm (3/32′′) thick. Some standard wood types are fabri-tex, balsa wood, hardboard, poster board, thin vinyl, etc.
The Rotary Blade in the machine is developed explicitly for cutting wood. Another blade you can utilize to cut wood is the Blade+. It's a versatile blade that you can employ on a wide range of materials, which include wood.
Related: Cricut Vs. Silhouette: Exploring the Key Differences
Conclusion
So, here you go. If you already own the Maker, you must consider whether it's worth purchasing a new machine to substitute it. It'll only be worthwhile if you intend to take advantage of the Smart Material compatibility, which will speed up your crafting times and eliminate the need for a mat.
If you're new to Cricut and want to know which machine is best for you, the Maker 3 is the answer. It's an upgraded Maker with more connectivity to Cricut's line of materials and faster cutting.