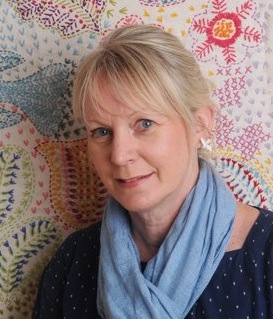 Have you been enjoying Craft Book Month 2013?

We couldn't help but feature an expert Q&A from Shirley McLauchlan, author of the new book Girls Get Stitching (FunStitch Studios / C&T). Read more about what this author has to say about writing a craft book.

Shirley, welcome to Craft Buds! Can you tell me a little bit about how your got started in the craft industry?

I studied Textiles at The Glasgow School of Art, then went on to study fashion and textiles at St Martin's London. I then worked in a commercial textile design studio for several years before setting up own studio with two partners. We ran a commercially successful design studio. During my time, I traveled and helped to manage the studio, which was successful for over 10 years.

After closing the studio, I returned to Scotland to be near my family. I became a mother and helped look after my lovely mum who sadly was suffering from Parkinson's disease. At this point, I would say my need to design had to be a balanced with family life. I love cooking and being at home. So the change from painting to stitching became quite an easy process. I was very keen to work around my daughter Kitty and husband Rory. I had to also make sure I had time to spend with my sick mum who was right to the end of her life planning a new project. She was the inspiration to "make something." My mum was always sewing/baking.

I have inherited this passion. I genuinely love stitching and making something that will last. It is a response to the commercial background that I came from. I now love creating something that will last forever, to be passed from generation to generation. The actual starting point was when a very dear friend was getting married. She was passionately Scottish. I wanted to make her something special, so I stitched a wedding blanket for her, which was full of places they went and all their favorite things.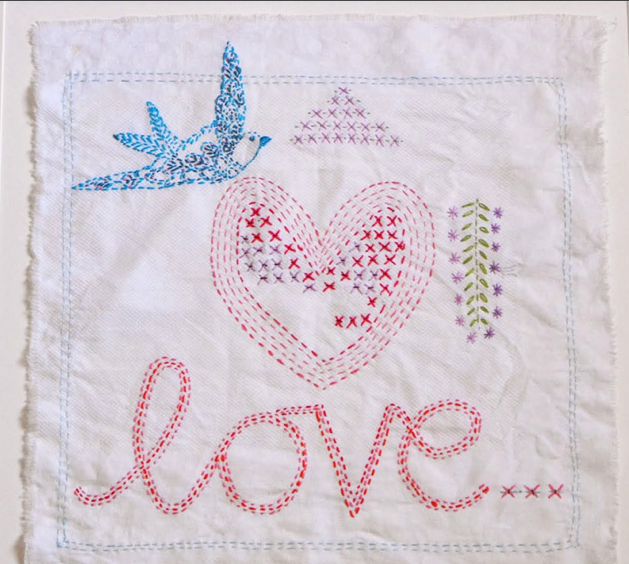 How did you become interested in writing a book and what made you decide to work with C&T and FunStitch Studio?
I was looking for another way of working, and a friend of mine said I should write/design a book! I contacted Susan Berry and we then worked together to produce this first book. I was keen to design a book that was visual and inspiring. I wanted to encourage the reader to "have a go" and not be put off with too much technique.
What was your process for writing the book and making all the projects?
The design process was first thinking of some projects that girls would like to make. I had lots of discussions with my daughter Kits. Then, it meant getting the artwork ready. My lovely husband was hugely supportive and was able to help with the actual drawings. I had lots of encouragement from Susan Berry, as this was the first time I had worked in this medium.
Time-wise, I started the initial work in August 2012. The sample pieces were to be complete by that December. The illustrations were the most difficult, and they were to be completed by February 2013. But again, I had great support from my family and Susan. I was very keen to keep it simple and to allow the reader to interpret their way instead of exactly copying what I have done.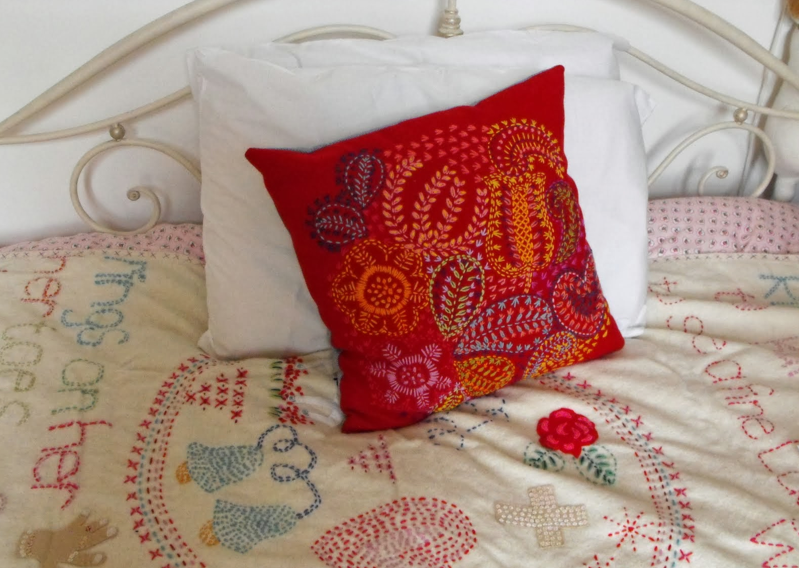 Is there anything about writing a sewing book that you've discovered which might surprise the average person?
The most surprising thing about this process was… I did it! I have never been formally trained in embroidery I am self taught. My back ground is printed textiles.
Shirley, what's next for you?
Whats next? My new website is up, and I am also very keen to write another book. I am just about to start another semester at Edinburgh College of Art tutoring textile students from first year to Masters Level. I am currently working on three private commissions, which all need to be finished ASAP! Then I really must launch my Christmas campaign, which will involve hand-stitched, personalized stockings.
Giveaway!
Would you like to win a copy of Shirley's sewing book? Leave a comment telling us one thing you've learned from our Q&A with Shirley, and we'll choose one random winner a week from the date of this post. Good luck! Giveaway open to U.S. only.