During our bias tape giveaway, we had many requests from people asking about how to make bias tape. Bias tape is wonderful for adding to the edges of clothing, blankets, potholders, whatever you can think of! It gives your piece a nice finished look. The process is not complicated (a little tricky at the seams), but it does tend to be time-consuming, so be ready to spend some quality time with your iron. It was great to hear what people would like to see on Craft Buds, so as requested, here's a tutorial!
If you wonder what to do with Bias Tape, I encourage you to check my tutorial: How to Make a Headband? 2 in 1 Tutorial where I use my homemade bias tape.
What you need to make bias tape at home
Here are a few tools that make the job much more manageable: cutting mat, ruler, rotary cutter, bias tape tool. You can still make the tape without any of these (except the ruler), but they will all make the job easier. You will also need an iron.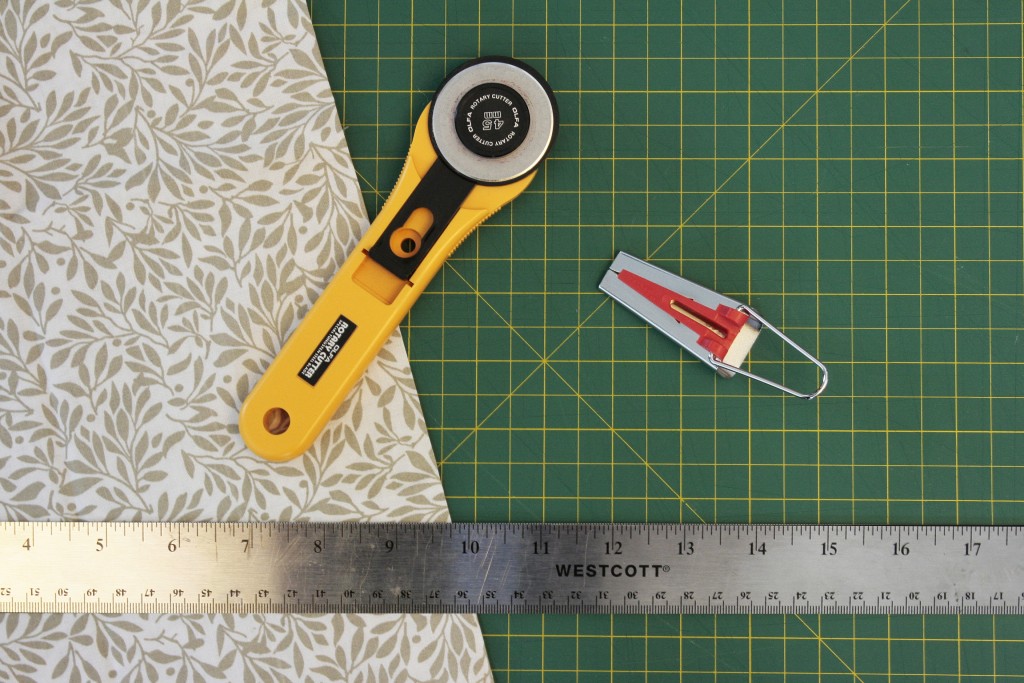 Step 1
Trim the edges of your fabric, so it is square.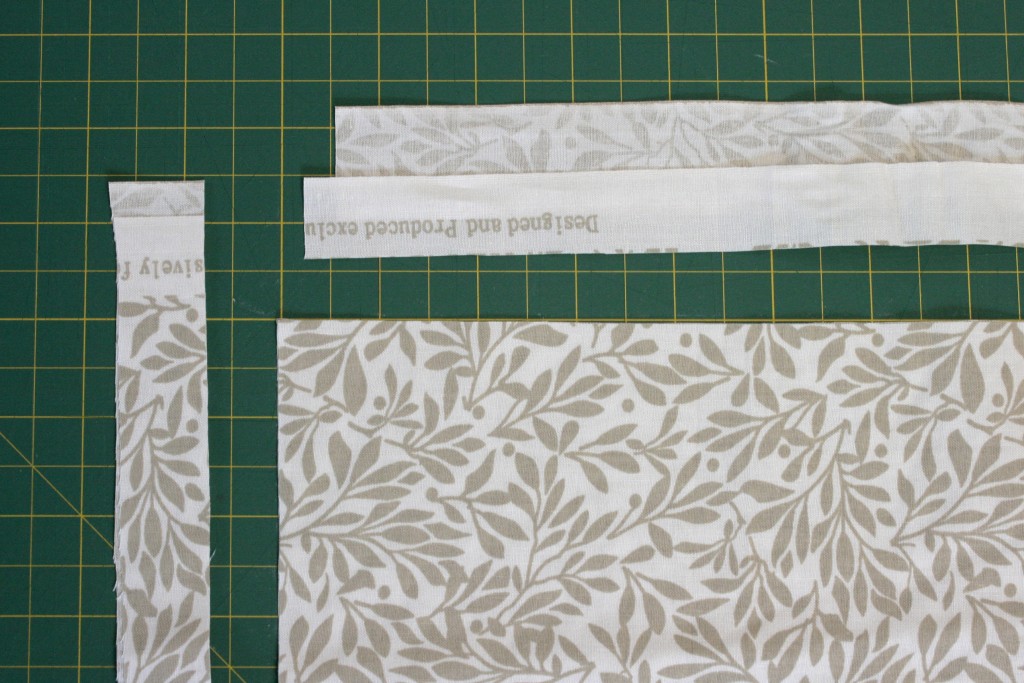 Step 2
Use the lines on your cutting mat to set your ruler at a 45-degree angle. If you don't have a cutting mat, measure an equal distance in both directions from the corner and make your first cut.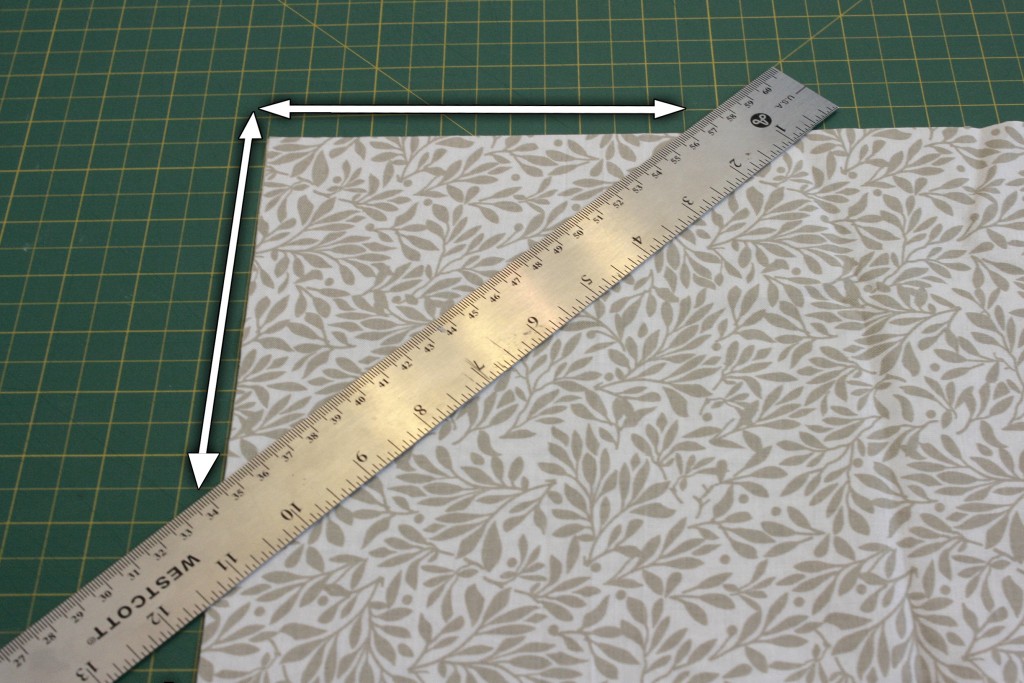 Step 3
After making that first cut, measure out your desired width. You can either mark the measurements (left image below) or use a second ruler to help you figure out where to place the first ruler (right image below).
To figure out your width to cut, first, decide the width you want your final bias tape to be. For single fold bias tape, cut the fabric strips to twice the final width minus 1/8″. For double fold bias tape, cut the fabric strips to four times the final width desired minus 1/8″. The 1/8″ allows for a bit of a gap between the folds toward the center in step 6*. Here's a list of double fold bias tape measurements:
1/2″ bias tape cut 1 7/8″ strips
3/8″ bias tape cut 1 3/8″ strips
1/4″ bias tape cut 7/8″ strip
* Edited to add: The 1/8″ gap is optional, you can leave that out, and it'll still turn out fine! If using a full measurement for double-fold tape (2″ for 1/2″ tape, 1 1/2″ for 3/8″ tape, 1″ for 1/4″ tape) in step 6 you'll fold the fabric all the way to the center crease so the edges will be lined up rather than with a gap between.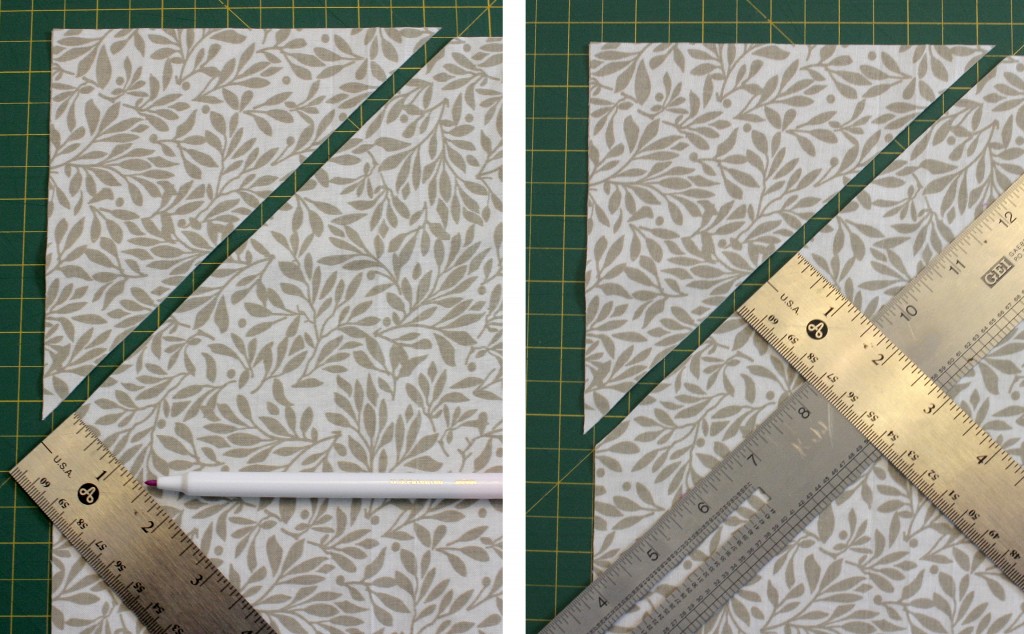 Step 4
Sew all your strips together. To do this, overlap with right sides together with 1/4″ sticking out to either side. Stitch across where the arrows show below.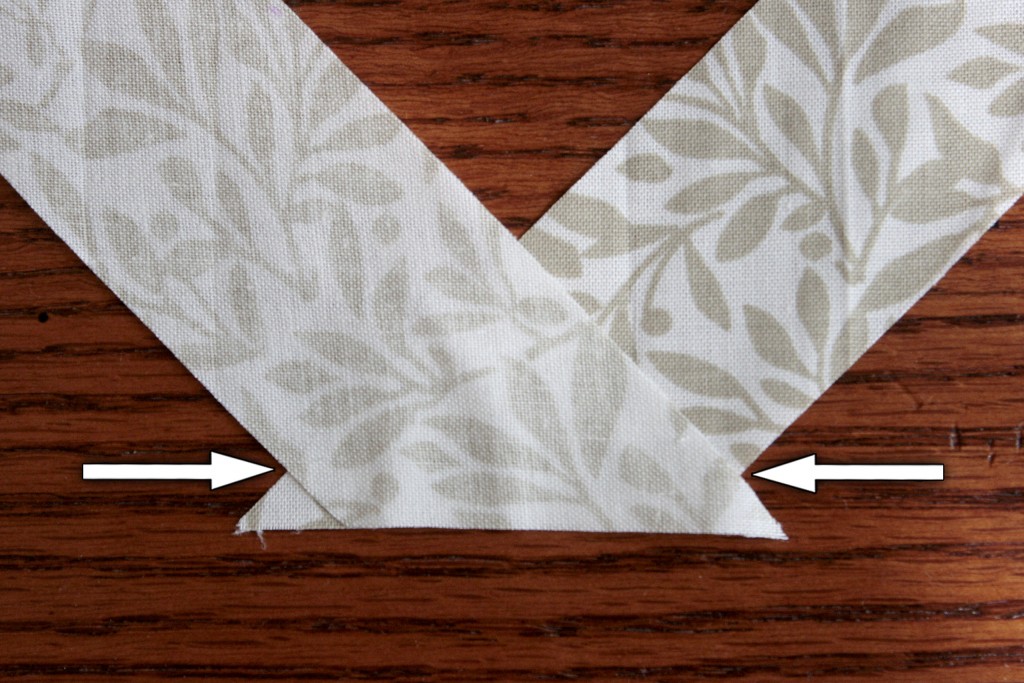 Step 5
Trim the corners off, and when you open the strip up, it will look like the right photo below.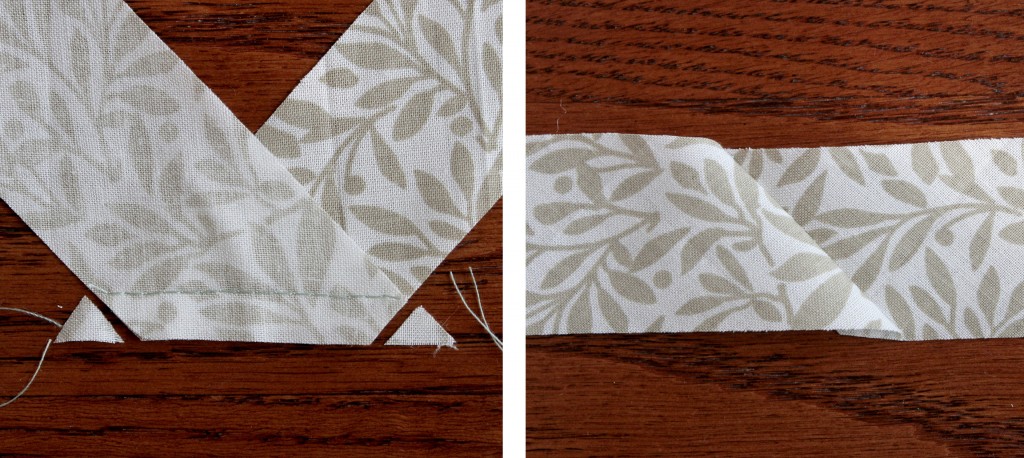 Step 6
Heat up your iron. If you don't have a bias tape tool, you'll first fold your strip of fabric in half and use the iron to crease. Open it back up and fold one side toward the center. Crease with the iron and then do the other side. There should be about a 1/8″ gap between the two sides.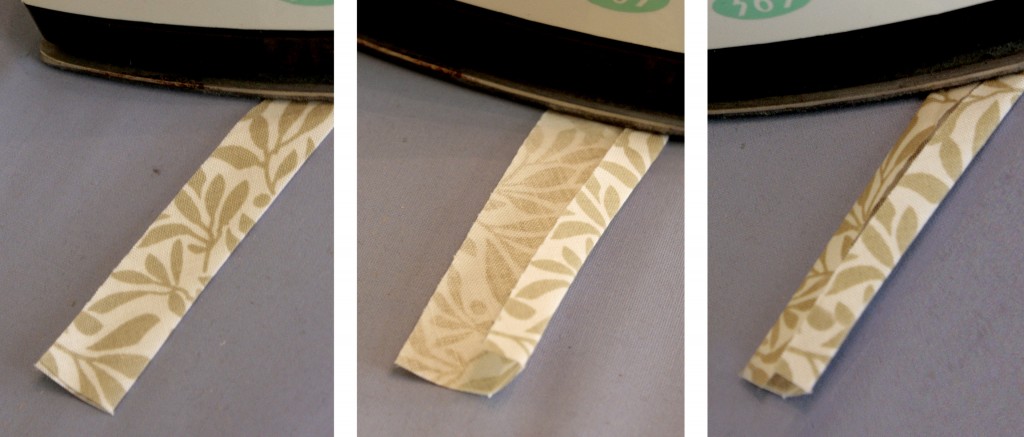 If you have the bias tape tool, just feed your fabric through the tip and then drag it along the strip of fabric with the iron right behind.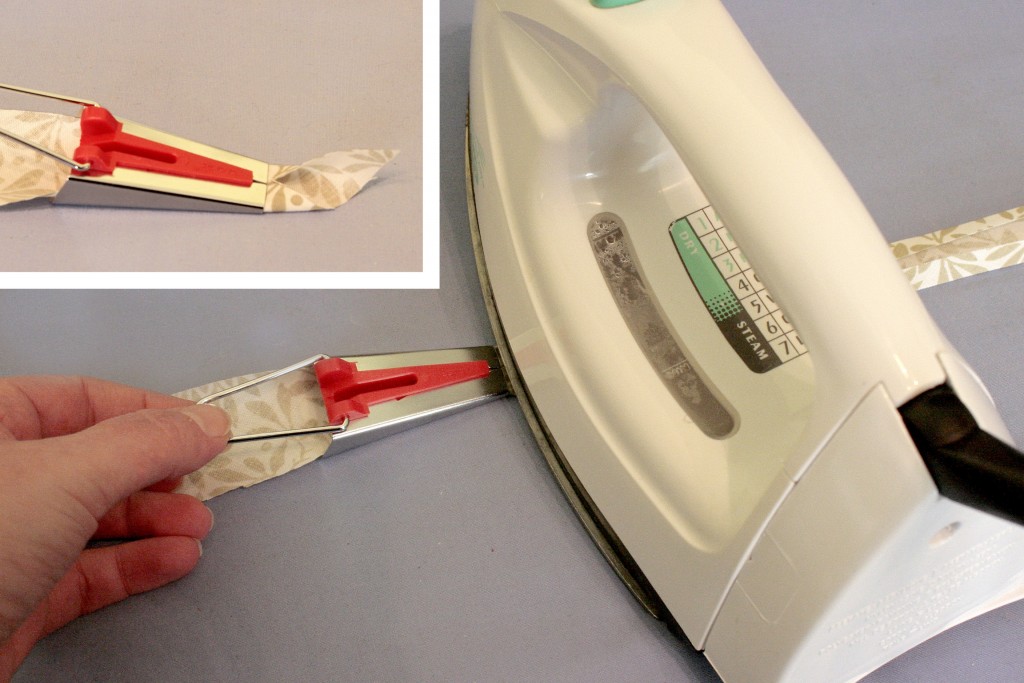 Step 7
With either method in step 6, you now have single-fold bias tape. If you want it to be double-fold (and you probably do), fold it in half and iron.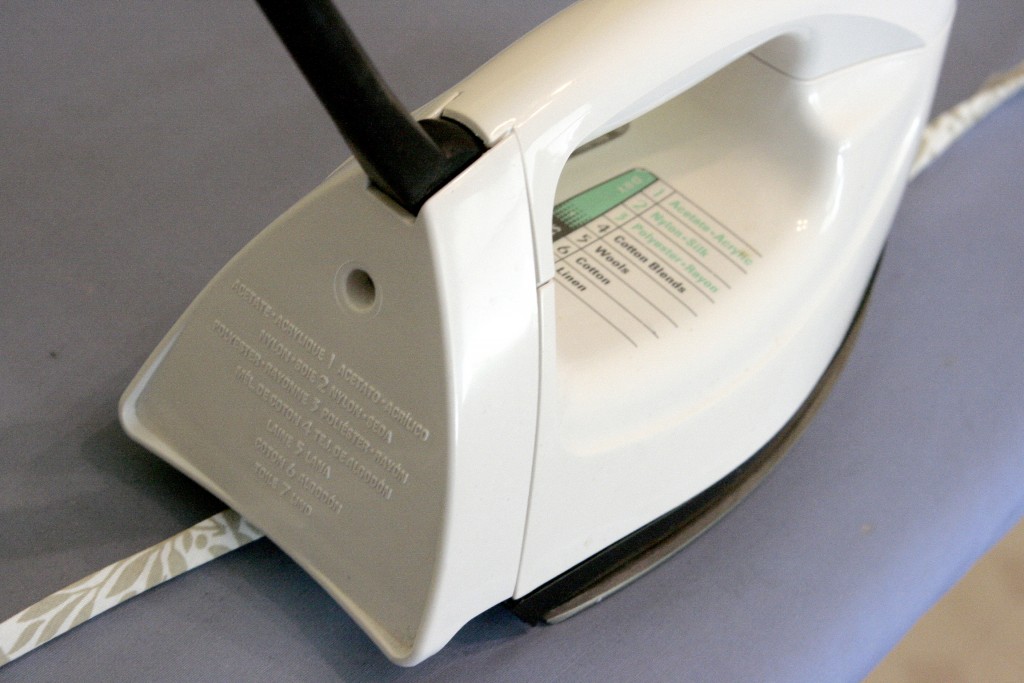 Additional notes
If you are using your bias tape on a project that is just straight lines, you don't need to worry about cutting the fabric at a 45-degree angle. Just cut the fabric in straight strips rather than at an angle for straight lines. The angle gives the fabric a stretchiness to go around curves easier.
The creases on your homemade bias tape won't be as good as those in storebought.
I purchased my bias tape tool on Amazon.com, but I've also seen them at Hobby Lobby. The one in the photos is the Clover Bias Tape Maker, 3/4″. When purchasing a bias tape tool, remember that you'll have to fold the bias tape in half for double-fold tape so a 3/4″ tool actually makes 3/8″ double-fold bias tape.