Today, we are continuing the fun of Craft Book Month with a Q&A from two authors of a modern quilting book that you are going to love! Kelly Biscopink and Andrea Johnson are co-authors of the new release Modern Designs for Classic Quilts: 12 Traditionally Inspired Patterns Made New (F+W Media). We are thrilled to help them kick of the blog tour of their book, which begins today.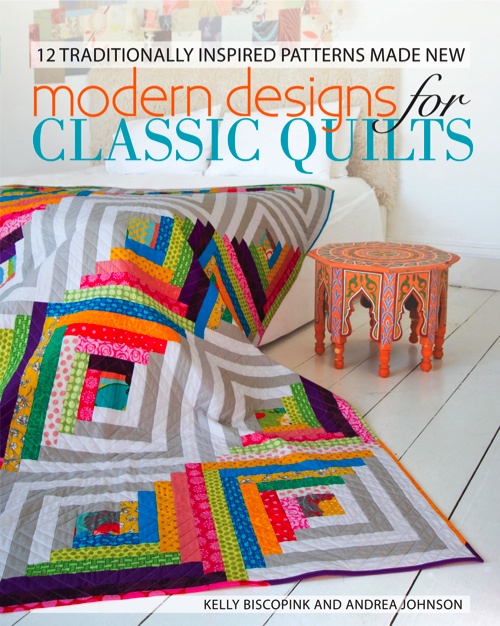 Ladies, congratulations on the release of your new quilting book! How did you both meet, and can you tell me a little bit about your blogging and how that played a role?
Andie: I work at Cincinnati Children's Hospital in the Bone Marrow Transplant unit. Kelly works at the College of Charleston's Sottile Theatre. The two of us met through the Cincinnati Modern Quilt Guild and became fast friends. It was just one of those instant connections!
We both have the same love of traditional quilts but are really excited about the modern scene that's been booming over the last few years. We do have blogs (AndieJohnsonSews and Stitchy Quilt Stuff) and enjoy them as both a creative outlet and a way to expand our sewing circle of friends. Our blogs have given us a voice in the sewing community, and we love being connected to sewists and quilters all over the world.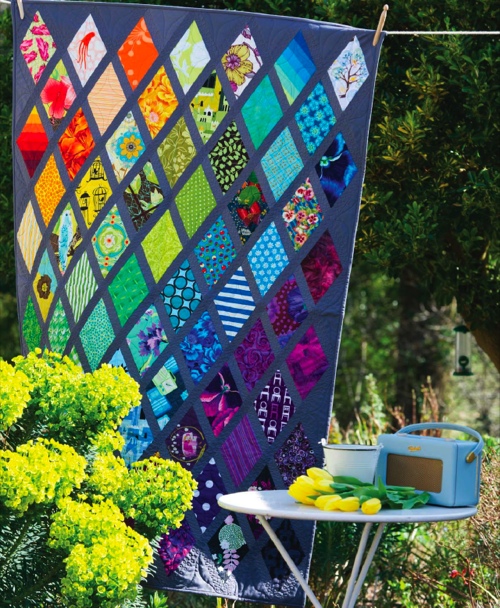 Can you tell me a little bit about how you got this book idea off the ground?
We were at a sew-in event one Saturday and started talking about why we love quilting, and realized we both had very traditional quilting backgrounds but love the modern aesthetic. The idea for our book was born out of that conversation. A few weeks later over coffee, the book outline was nailed down and we started putting together a proposal. After a lot of back and forth and some crazy twists of fate, it was acquired through F+W Media.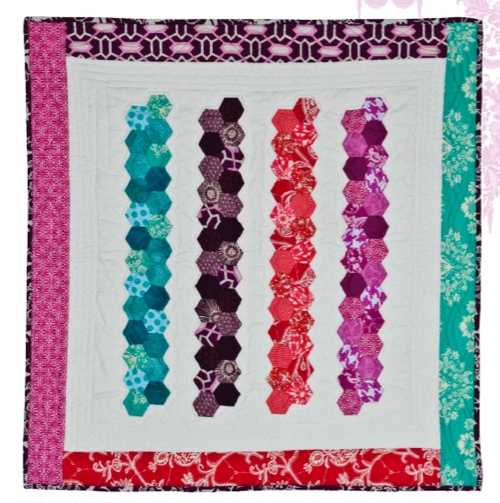 Were there any surprises along the way when it came to the work that goes into writing a book?
Shockingly, the surprises were few. We worked so well with each other, and our editors and our publishing company staff were great at guiding us through each step.
Andie: As far as the projects go – creating pieces that I thought would be scrutinized by quilters who bought the book introduced a tiny sliver of self-doubt. I'm used to creating what I want when I want to please me, so when going through this, I put a lot of pressure on myself, which kinda sucked some of the joy out of the process. But overall, it was a pretty amazing experience.
Kelly: Coming from an editorial background, it was fascinating being on the "other side†of the writing process. I had no idea how personal this book would be, how much I would agonize over it. I also can't even tell you how surprisingly emotional it was to see the book for the first time!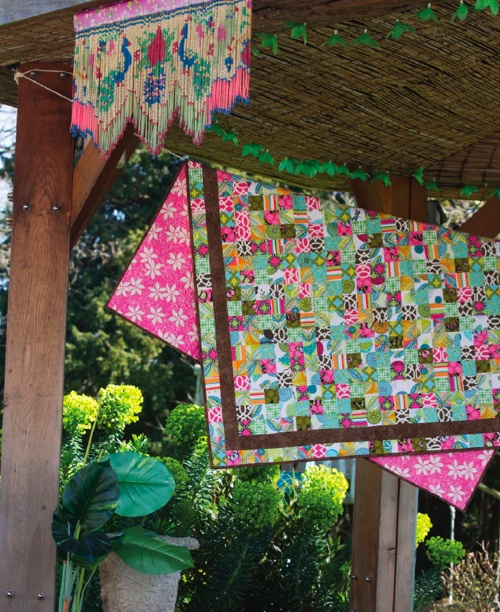 Do you have any advice for someone looking to write a craft book? What lessons have you learned along the way?
Concept is everything. We happened to have an idea that was timely and on trend with what's going on in the quilting community. We both have experience in writing patterns and we're been quilting and sewing for years, so we felt confident that we could execute the design, patterns and writing of the book. Also, it really helped that we knew people in the industry. If you have a great concept with lots of project ideas and can provide examples of your work, submit to a publisher! You never know what can happen.
Blog Tour!
Monday, 11/5 Andie & Kelly, AndieJohnsonSews & Stitchy Quilt Stuff
Tuesday, 11/6 Lindsay of CraftBuds
Wednesday, 11/7 Jill of Darling Jill Quilts
Thursday, 11/8 Faith of Fresh Lemons
Friday, 11/9 Tracy of Generation Q
Saturday, 11/10 Angela of Quilting is my Therapy
Sunday, 11/11 Shannon of Stitch Craft Create
Monday, 11/12 Laurie of Scarlet Fig
Tuesday, 11/13 Kaysie of KZJo's Studio
Wednesday, 11/14 Jessica of A Little Gray
Thursday, 11/15 Mary of The Tulip Patch
Friday, 11/16 Deborah of Whipstitch
Saturday, 11/17 Lindsay of The Cottage Mama
Sunday, 11/18 Jenny of Sew Kind of Wonderful
Monday, 11/19 Carla of LollyQuiltz
Tuesday, 11/20 Thomas of Thomas Knauer Sews
Wednesday, 11/21 Brenda of Pink Castle Fabrics
Thursday, 11/22 Lindsay & Liz Rea of CraftBuds & Inspire Me Grey
Friday, 11/23 Sarah of The Last Piece
Saturday, 11/24 Andie & Kelly, AndieJohnsonSews & Stitchy Quilt Stuff
Cara of Cara Quilts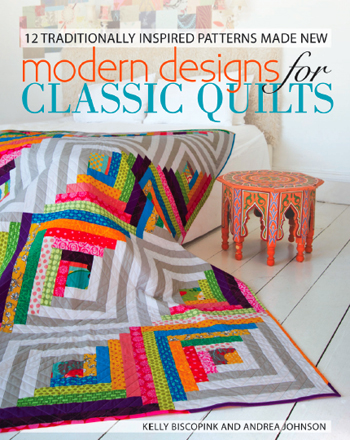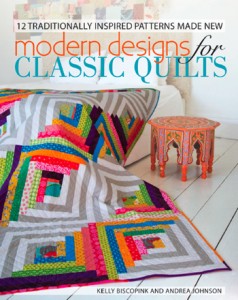 We'll be back later this month with a book review and a sneak peek at Elizabeth's project from the book. If you haven't taken a look at this book yet, it is gorgeous and the ideal project book for your next sew along!
Giveaway!
F+W Media is generously giving away a copy of Modern Designs for Classic Quilts to one lucky Craft Buds reader! Leave a comment below for your chance to win. For your comment, you can tell us your favorite "traditional" quilt block or pattern. Also, let us know if you might be interested in a sew along for the book. Sounds fun, right?! 😉
We'll choose one random winner next Monday, November 12, 2012.
Congrats to our winner, #205 Sherri Noel!