Organizing a craft room can be a daunting task, but with a little planning and forethought, it can be easily accomplished. There are a few key factors to keep in mind when organizing a craft room: storage, light, and space.
Storage is crucial in any craft room as it will house all of your supplies. Make sure to choose storage containers that are easy to access and label them accordingly. Light is also crucial in a craft room as it will allow you to see what you are working on. Natural light is best, but if that is not an option then make sure to invest in some good quality artificial lighting. Lastly, space is important to consider when setting up a craft room. You will need enough space to comfortably work on projects, as well as space to store all of your supplies.
With these key factors in mind, you can now start planning the layout of your craft room. Begin by deciding which furniture pieces you will need and where they will go. Then, start adding in your storage containers and labeling them accordingly. Finally, add in any lighting fixtures or window treatments that you need. With a little bit of planning, your craft room will be organized and ready for all of your creative projects!
My basement craft room project
Because the painting took 2-3 weeks, working on it here and there, my sewing room was a disaster area for much of October. I decided to keep the sewing projects quick and simple, sticking to fabric projects that would help me conceal clutter!
Fabric Cover for Wire Shelves
I sewed a fabric cover for my open wire shelving, which I used to store large cuts of fabric like Minky, Quilt backings, Batting, and home decor. Although I didn't follow a pattern, I basically fitted the 108″-wide white muslin fabric around the shelves like I was working on a dress form. I pinned and stitched a bit here and there.
The trim is, of course, Amy Butler Lotus Wall Flower in Cherry. I will never fall out of love with this print!
Ironing Board Cover
Another easy sewing project was my new ironing board cover! The fabric is Premier Prints Arrow Macon Apache Blue, and I used a couple of layers of quilt batting to make it padded. No fancy sewing here. I just cut a piece of fabric about 3 to 4 inches larger than my ironing board and stitched a casing around it for elastic. Then I realized I didn't have any elastic on hand, so I used baker's twine! Not ideal, but it only bunches a little at the bottom, and I'm so happy with the fun new print that I hardly notice!
Wall Swag of Fabric Strips
For the fabric wall art above, I ripped fabric strips about 1-2″ wide from selvage to selvage. I then cut them into equal lengths and tied them onto another piece of baker's twine. I used fabrics from my other projects, plus added one of my favorite prints from Carol Friedlander, a simple grey crosshatch.
I think this swag of fabric strips would be a fun accent at a wedding, bridal shower, or baby's room. Although I'm definitely a minimalist when it comes to home decor (I'm WAY more Target than Pier 1), this little bit of wall art makes me feel like there's a party in my sewing room!
Window Curtains
Since the basement is our main entrance into the house, I wanted to make sure I had some good window coverings for the door window. Oftentimes, I'm up late sewing, and it feels kind of weird to have the lights on for anyone to see. I made two simple curtain panels and hung a cafe curtain rod on the door, so it's easy to slide them to the side and let the daylight in. The fabric is Joel Dewberry's Modern Meadow Herringbone in Pond.
Cutting Table Skirt
Since it's my favorite, I used more of Amy Butler's Wall Flower print to make a simple table skirt for my cutting table, which is my husband's old computer desk (from IKEA). After measuring the fabric and hemming each of the sides, I pinned the fabric to the table with clear push pins. Since the bottom of the desk is open, it's great for hiding my rolling plastic storage tubs, filled with more fabric.
To help break up the grey wall and cover another small window, I opted for a single long curtain panel in my favorite colors! For the drapes, I sewed them with Premier Prints (an awesome provider of modern and simple home decor fabrics) Suzani Twill in Powder Blue. I want this fabric everywhere.
Since I'm prone to backaches working at the sewing machine (and holding a newborn when I'm not sewing or working), I stitched up a quick pillow cover for lumbar support! This fabric is also a home decor option from Premier Prints called Towers in Coral and White.
Cover a Card Table in Fabric
Do you have an ugly card table around the house? I did! It was pea green with rips in the top, and I was inspired by this pin to recover the top. I used the rest of the Coral Towers fabric, and it was a lot easier than I expected! If you want a surface that's easy to clean, you can cover your fabric in vinyl. I think I'll just try this out and see how it goes. It'll be great to have this extra table to pull out for an extra workspace.
Fabric Ruler Sling
This is one of my favorite projects, and it was SO EASY! Inspired by this pin, I used a set of double curtain rod hangers and a long dowel rod (cut in half). I drilled the hardware into the side of the desk to create my little fabric sling for quilting rulers (I've collected quite a few), and I love how this keeps my cutting table clean and neat.
I'm not naturally a person who tidies up after sewing, but having this fabric sling here motivates me to do so. I have another wall pocket I used to hang up my rotary cutters, which is pictured above.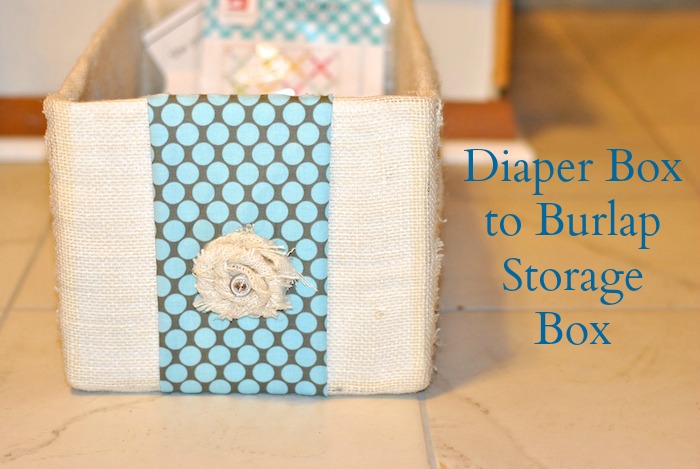 Fabric-Covered Diaper Box
Would you believe this used to be a diaper box? I made two of these boxes and blogged a quick tutorial here. This is probably my second favorite project, right behind the ruler sling!
The fabric is all from Fabric.com, and I used White Burlap and Amy Butler Lotus Full Moon Polka Dot.

The Sewing . . . Nursery?
See that's little pop of color in the sewing room? This was my solution to my biggest sewing challenge . . . keeping my baby boy happy and entertained while I prep some projects to sew during nap time! If he's really interested in a toy, I can sometimes even sew a small project like a pillow cover while he's crawling around the foam floor. He's quickly getting across the room to the ironing station (so I keep the iron covered and in my burlap storage box now, when not in use) and found the kitty litter box, so I can't get into any projects that are TOO involved.
I love how the room arrangement allows me to keep a close eye on him whether I'm sewing or cutting fabric.
Fun Floor Pillows
When planning a little corner of the room for Elliot, I knew I wanted to sew something with Ann Kelle's Super Kids fabric. It's adorable! I stitched up a simple pillow form in muslin, then boxed the corners. I sewed the pillow cover in the same size but made an envelope-style pillow back so I can wash it.
The third patchwork pillow is from the Pleated Boxes Pillow Sew Along. Sometimes it's nice to get out old sewing projects, which have been in a closet for years, and remember them again!
Cover a Roll-Up Window Shade in Fabric
For Elliot's play area, I didn't want any long drapes that he could pull on, so I followed this super easy tutorial to cover a roll-up shade in fabric. I even pulled out the hot glue gun! So easy. This is the Joel Dewberry Herringbone print again.
Under the window, I pinned up a felt flag banner I'd stitched up for a craft show several years ago. The other side of the banners says "Lindsay Sews," but I chose the blank side for a nice little pop of color.