When it comes to sewing, having a comfortable chair is essential. After all, you'll be spending a lot of time sitting in it! There are a few things to look for when choosing a sewing chair, including ergonomics and back support… The chair should be adjustable so that you can adjust the height and angle of the seat and back. This will ensure that you are sitting comfortably while you sew. Additionally, the chair should have a sturdy base so that it does not move around while you sew. Finally, it is crucial to find a chair with a comfortable fabric cover so that you do not get uncomfortable while sitting in it for long periods of time.
An ergonomic chair will help to reduce strain on your body while you're sewing. This is especially important if you have any back pain or other issues. Look for a chair with good lumbar support and adjustable armrests.
Another important consideration is the height of the chair. You'll want to make sure it's tall enough so that your feet can rest flat on the ground when you're seated. This will help to prevent fatigue and keep you comfortable while you sew.
Finally, make sure the chair has a sturdy base and is well-made. You don't want it to wobble or move around while you're working. A good sewing chair should be comfortable, ergonomic, and stable. With these things in mind, you'll find the perfect one for you!
Best overall sewing chair: SewErgo 200SE Ergonomic Task Chair
Best entry-level chair: SMUG Armless Task Office Chair
Best style with storage compartment: Arrow 7019B Wood Sewing and Craft Chair with Storage
Best heavy-duty with style: Rolling Swivel Heavy Duty Adjustable Chair
Best saddle stool style: Kaleurrier Saddle Stool Rolling Swivel Height Adjustable
My top 5 picks for the best sewing and crafting chairs in 2023
This Arrow 7019B Wood Sewing and Craft Chair with Storage is perfect for your crafting needs! The chair features a comfortable fabric seat, plus handy storage compartments beneath the seat to keep your supplies close at hand. The wooden frame is durable and looks great in any room. This chair doesn't feature all the bells and whistles you'll find in the other products I have reviewed here. However, we can all agree that it is the most stylish of the chairs… So I guess this is your trade-off! Check the latest prices on Sewing Machines Plus.
Product dimensions:

30″ Tall/Seat Height is 20″ Tall

Seat Cushion: 18″ wide x 16″ deep

Weight: 23 pounds
Material: Fabric

1-year guarantee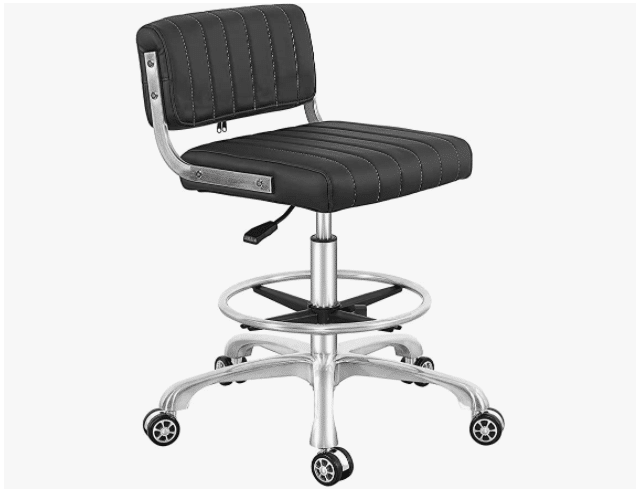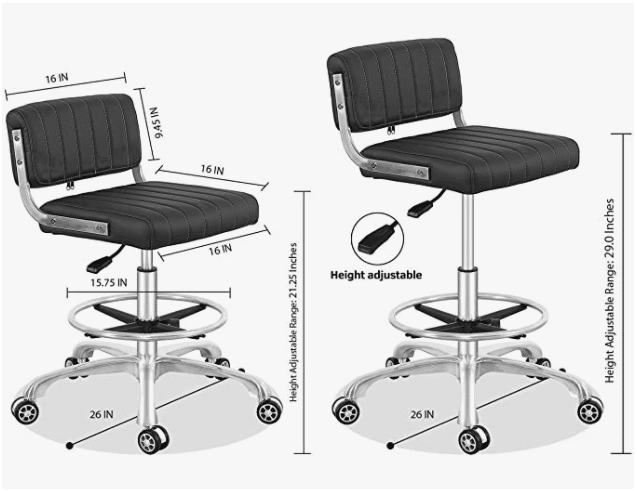 I really like this product. It looks good and strong and you get all of the features you'd require from a crafting/sewing chair. You have lumbar support, it is height adjustable and rotates at 360 degrees. You also get a feet rest, which depending on your style of sitting can be essential for some. The exclusive Molded foam seat base, is thicker and softer to provide extra comfort. The premier leather upholstery with elegant stitching even for your bottom side makes this chair one you'll be proud to display in any room!
Seat material: Sponge coated with finest soft PVC leather

weight: 21lbs

Ergonomic backrest

Smooth Rolling on hard and soft floors

Lifting gas lift cylinder for height adjustment 20.4 to 28.3"

360° rotation swivel

Simple installation, no tools required

1-year guarantee
Check the rolling swivel heavy-duty's latest prices on Amazon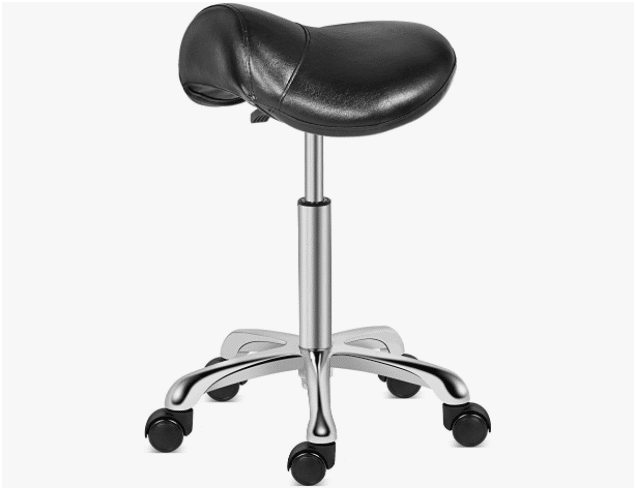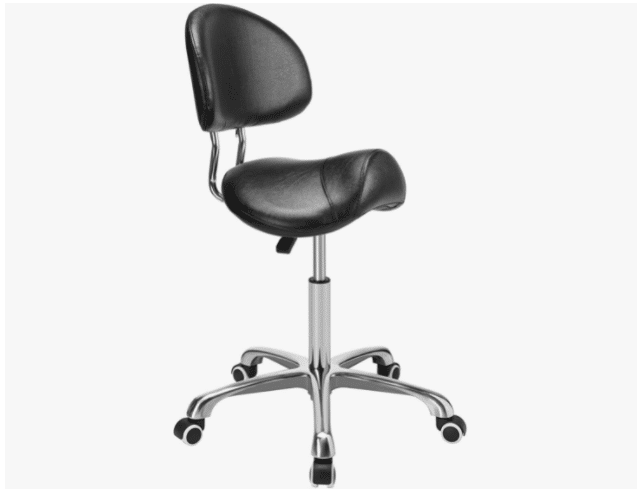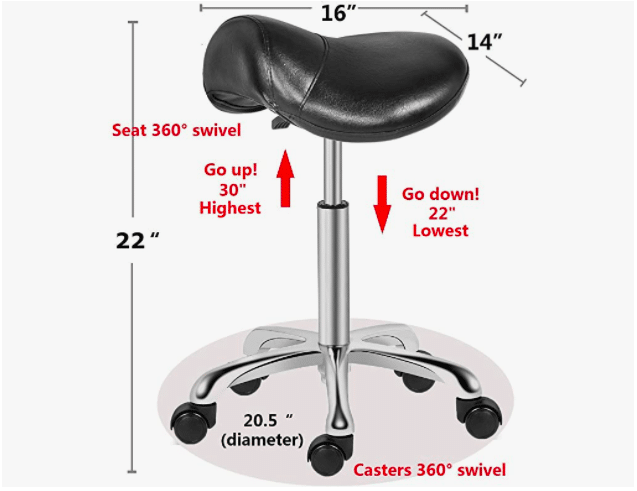 It is a matter of taste but many sewists and crafters feel that Saddle stools are more ergonomic and encourage better posture. They swear it is much more comfortable and relaxing than regular sewing chairs. To me, it sorts of depends on the day I must admit. The good news here with the Kaleurrier saddle still is that you have the choice of adding the back in your purchase and as such you have the luxury to work on your project with and without. I consider This is a heavy-duty still made of high quality made of materials.
Dimensions:

21″D x 21″W x 20″H

Frame: Metal
Seat material: Vinyl

Hydraulic adjustable

Smooth operating gas lift cylinder

Adjusts height from 22" to 30"

360° rotation swivel

Heavy-duty nylon twin-wheel casters

Roll perfectly on hard and soft floors.

Simple installation, no tools required

1-year warranty

Customer service provided
Check the Kaleurrier Saddle Stool's latest prices on Amazon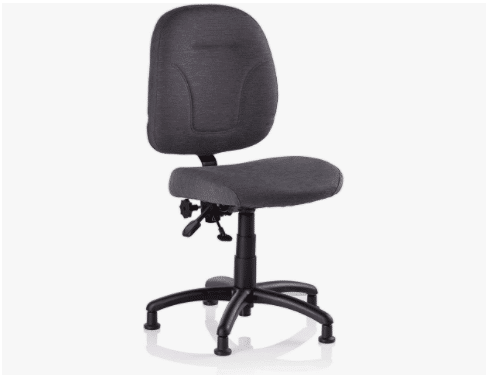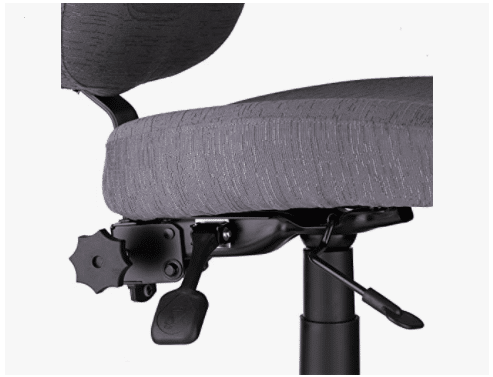 The new Sewergo 200SE sewing chair with its ergonomic design is manufactured in Canada and equipped with footers to keep you safe while doing your favorite hobby: sewing! Ergonomic chairs are the key to a happy and healthy workplace. They can help prevent fatigue, discomfort, and even injury! The SewErgo 200SE has superior cushioning that makes it comfortable enough so you don't have any problems operating in an uncomfortable chair – which means more time spent doing what matters most: working on your project!
the chair is made with 62% recycled polyester, for those looking at green technologies like renewable resources or reducing environmental toxins often found throughout manufacturing processes (such as PVC).
Product dimensions:

23″D x 21″W x 40″H

Weight: 28 pounds
Height adjustment
Back angle adjustment

360° rotation swivel
Check the Sewergo 200SE latest prices on Amazon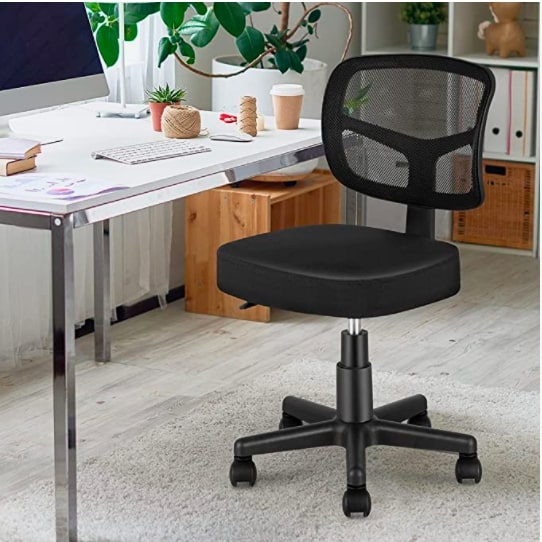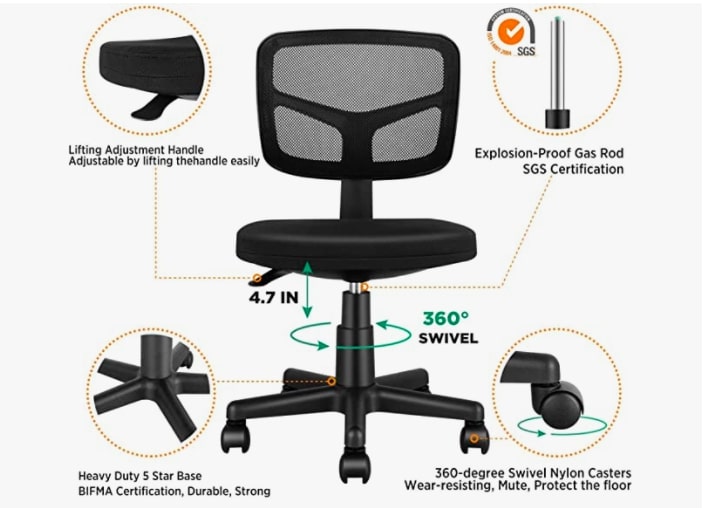 This Armless Office Chair is perfect for those who want to save space and be comfortable at the same time. The ergonomic design ensures that your back won't get sore, while also preventing fatigue from long periods of sitting down! This share is probably the best value for money in my opinion. It is enveloped by high-quality sponge filling, upholstery is made from fabric cloth. The thick seat features an arched integrally molded backrest for lumbar support while its good resilience ensures you stay put all day long—and night too if needed… The 360° swivel moves freely. Plus, the seat height can be adjusted to find that perfect position(16"-20″). This rolling chair is made for carpeted floors with dual nylon wheels so you don't have to worry about marks!
Product dimensions:

21″W x 21″D x 31.1-35.8″H

Weight: 9 pounds
Material: Upholstered
Height adjustment
Back angle adjustment

360° rotation swivel

10 mins at home installation

1-year guarantee
Sewing chairs buying guide and Q&A
What kind of chair is best for sewing with a machine?
When choosing the best chair for sewing with a machine, there are a few things to consider. The most crucial factor is that the chair is comfortable. You don't want to be sitting in an uncomfortable position while you're trying to sew!
Another essential consideration is height. Make sure the chair is adjustable so that you can adjust it to the height that's most comfortable for you. This will help reduce strain on your neck and back while you're sewing.
Finally, consider the type of chair. Some chairs have arms and backs, while others are just simple stools. Choose the type of chair that will be most comfortable for you to sit in for long periods of time.
With these factors in mind, you're sure to find the perfect chair for sewing with your machine!
Should sewing chairs have arms?
My answer would be no, sewing chairs should not have arms. This is because having arms on a sewing chair would get in the way of the person using the sewing machine. The arms would also make it difficult to move the fabric around while sewing. However, I know quite a few sewists who prefer arms on their sewing chairs…
They argue that arms-on sewing chairs provide several benefits that can improve the comfort and productivity of those who sew regularly. First, they can help support the arms and shoulders, which can reduce fatigue during long sewing sessions. Second, they can provide a place to rest the forearms while working, which can also help reduce strain. Third, they can help keep the fabric in place while cutting or measuring, which can save time and frustration. Ultimately, whether or not to have arms on a sewing chair is a personal preference.
Are saddle stools good for sewing?
Saddle stools are great for sewing because they provide a comfortable, ergonomic seat that helps to reduce fatigue. They also offer a variety of height and tilt options to suit different users, and their compact size means they won't take up too much space in your sewing room. If you're looking for a saddle stool that's designed explicitly for sewers, we recommend the Kaleurrier Sewing Stool. It has a padded seat and backrest and adjustable height.
What is the proper ergonomic way to sit on a sewing machine?
When you're sitting at a sewing machine, it's important to maintain good posture to avoid fatigue and discomfort. Here are a few tips on how to sit correctly:
1. Sit up straight with your shoulders relaxed.
2. Keep your feet flat on the floor and slightly apart.
3. Rest your arms lightly on the armrests or tabletop in front of you.
4. Make sure the height of your chair or stool is adjustable so that you can adjust it to fit your body size and work style.
5. Use a footstool if needed to raise your feet so that they are level with the machine pedal.
6. Tilt your chair or stool back a little bit to relax your back.
7. Make sure the light is shining directly on your work area, and that there is enough room to move around freely.
Following these tips will help you stay comfortable while sewing and prevent any long-term injuries from occurring. Happy sewing!
How do you prevent back pain when sewing?
Sewing can be a fun and rewarding hobby, but it's important to take precautions to prevent back pain. Here are a few tips:
1. Make sure your work surface is at the right height. You should be able to comfortably reach your work without having to hunch over or stretch.
2. Use a chair with good back support.
3. Keep your body in alignment as you sew. Don't twist or lean to one side while you work.
4. Take breaks often and move around to stretch your muscles.
5. Wear comfortable clothing and supportive shoes while sewing.
By following these tips, you can enjoy sewing without worrying about developing back pain.
What height should a sewing table be?
When it comes to choosing the height of your sewing table, there are a few things to keep in mind. The most important factor is how comfortable you want to be while working. If you're tall, you'll probably want a taller table so you don't have to hunch over. You'll want a lower table that doesn't require too much stretching if you're short. Other factors to consider include the type of tasks you'll be completing at the table and the amount of storage space you need. Ultimately, the height of your sewing table should be based on what works best for you. The rule of thumb is that while sitting at a 90-degree angle your elbows should rest directly on the table without having to move your arms up or down or tilt your body back or forward.