Sewing machines come in all shapes and sizes, and many different types are available on the market. It is, therefore, quite challenging to point to the best machine overall. It all depends on what your end goal is. In this article, I will look at the different applications for your machine. You need to look for the various features based on the usage and in light of your level. I don't think the "magic machine" exists. What's important is to find a suitable sewing machine for your needs.
Summary
Best sewing machine overall: The Singer Stylist 7258 is packed with all the necessary features and is suitable for beginners and more advanced sewers alike. 25-year warranty for under $300 you just can't beat it.
Best entry-level sewing machine: The Brother CP60X for about $170 you get to sew on a Brother Computerized machine with 60 built-in stitches and a 25-year warranty. Not bad if you ask me.
Best affordable heavy-duty machine: The SINGER 4423 is the right option if you work with tough fabrics, upholstery, or quilting for a prolonged time. At $250 This one will never let you down.
Best quilting sewing machine: The Janome MC6650 If your true love lies in quilting, but you still want to enjoy your sewing, then this Janome machine is the perfect compromise. If you're a serious quilter, then you'll know that the suitable machine doesn't come on the cheap. at $1500 it is not for everyone, but you'll get what you paid for.
Best portable sewing machine: The Janome Sew mini Make no mistake, the Janome Mini isn't a toy. At $100, It is a proper sewing machine that will suit any sewist, from a child to a beginner to a more advanced crafter looking for a light, portable sewing machine.
Best all-rounder Premium machine: The Singer Quantum Stylist 9960. You found your true love if you're an all-rounder, sewist, quilter, or embroiderer looking for a machine proficient in all three arts.
Best sewing machine for advanced sewers:  The Janome 4120QDC Computerized Sewing Machine. You name it she has it! This machine is designed for the advanced sewist whose level of exigency brought them to look for that perfect companion. As you would expect, this isn't an entry-level option, but at $750 it is worth every penny.
Related: Best Sewing Machine Cases, Bags, and Totes in 2023
Related: Best sewing machine for wig making –  top 6 picks in 2023
Sewing machine types and applications
Standard sewing machines
As its name suggests, a standard sewing machine is a straightforward machine designed for basic stitching needs. It is ideal for those who want light sewing at home. These machines are also perfect for beginners just learning how to sew. Simple sewing machines are easy to use and usually have fewer features than more advanced models. This makes them an excellent choice for those who don't need all the bells and whistles that come with more expensive machines. While they may not be able to handle complex projects, these machines can still get the job done for basic projects.
Key features for standard/beginner machines: Reasonable price (under $300), Automatic needle threader, Complete kit including a few feet, threads, and built-in stitches
Heavy-duty sewing machines
Heavy-duty sewing machines are designed for more challenging materials and thicker fabrics. They usually have a more powerful motor to handle heavier workloads. We use Heavy-duty sewing machines for upholstery, quilting, and other projects that require more power than a standard machine. If you do a lot of sewing or need to sew through tough fabric, then a heavy-duty machine is the right choice.
Key features for heavy-duty sewing machines: Strong engine, Heavy Metal structure, Wider Throat (7″ min), Free motion quilting facilities
Sewing machines for advanced sewers
If you're an experienced sewer, you'll look for a high-quality computerized machine. These machines will feature over 100 stitches, variable speed control, adjustable needle position, high stitch quality, automatic end of the stitch, good workspace, free motion quilting, heavy-duty structure, and more.
Key features for advanced sewists machines: High number of computerized built-in Stitches, High speed (1000 Stitches per minute min), variety of feet, strong engine, and heavy-duty feel.
Related: Singer Quantum Stylist 9960 – The Ultimate Sewing Machine: A Full Review
Quilting sewing machines
Quilting is the process of sewing together multiple layers of fabric to create a thick, padded fabric. A quilting sewing machine will allow you to handle all of the projects a Standard sewing machine would. In addition, those machines make quilting a lot easier and more enjoyable. Quilting sewing machines have a wider throat than regular sewing machines, which allows them to sew large quilts easily. They also have unique features that enable you to quilt quickly and easily, such as an automatic needle threader and a speed control slider.
If you want to start quilting, you'll need a quilting sewing machine. Several different models are available, so you can find one that fits your needs and budget. Quilting sewing machines can be expensive, but they are worth the investment if you quilt regularly.
Key features for quilting sewing machines: Wider throat space (7″ min), Free motion quilting ready, Heavy-duty feel, and strong engine.
Serger sewing machines
Sergers machines or overlockers are sewing machines used to finish the edges of the fabric. We use them to sew a hem, or seam, or create a rolled edge. Sergers are different from other sewing machines because they have multiple needles that work together to stitch the fabric. This allows them to create a very finished-looking edge, so they are often used for garments and other projects that need a neat finish. If you want to know more about serger/overlocker machines, I have an article dedicated to these types of devices.
Sewing embroidery machines
An embroidery machine is used for embroidering designs onto fabric. It has a variety of built-in stitches and can be used to create detailed designs.
This type of machine can sew and embroider fabrics. It is an ideal machine for those who love to sew and embroider, as it allows them to do both with the same device. This machine is versatile and ideal for creating various projects, from simple garments to complex quilts. If you are looking for a machine specifically designed for embroidery, you may consider investing in a dedicated embroidery machine.
However, these machines are much more expensive than Sewing embroidery combo machines. Long story short, a sewing embroidery combo machine will handle all your sewing needs and help you get started in embroidery.
Key features for embroidery/sewing machines: All of the features you'd look for in a good sewing machine and a primary embroidery area—a good amount of working space.
Best sewing machine overall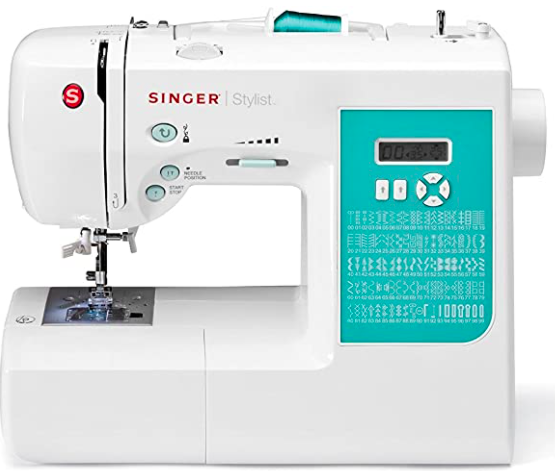 The Singer Stylist 7258 is an excellent choice for beginners and intermediate sewers. It has what I consider to be must-haves in a new machine, with 203 different stitches available and easy threading thanks to its Top Drop Bobbin design. The Top Drop-in Bobbin is easy to thread and see, so you won't run out of thread in the middle of a seam. Programmable Needle Up/Down allows for quilting, sewing appliques, or topstitching with adjustable stitch length & width visible on an LCD screen! You can create and embellish fashions, home decor, or anything else! To me, the best overall machine for the money.
Machine Size: 14.5 x 7.5 x 12
Machine Weight: 14.8 lbs
203 Stitch Applications
100 Built-In Stitches
Free Arm
Automatic needle threader
Fast Drop bobbin placement
One-step buttonhole for consistent results every time
5.5″ sewing space & 3.7″ height
203 stitch applications
6 different styles of buttonholes
High-Speed Stitching (750/min)
 LCD screen
Warranty 25 years
Check the Singer Stylist 7258 prices on Amazon
Best entry-level sewing machine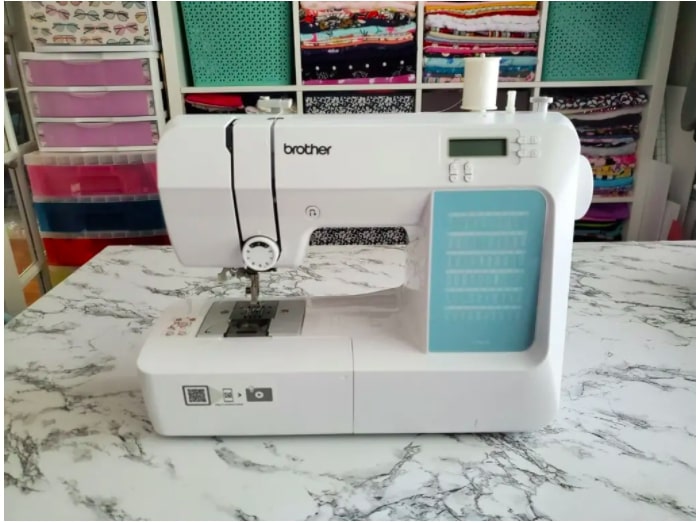 The Brother CP60X Computerized Sewing Machine offers an outstanding balance of features and price, making it an excellent choice for beginners who want to optimize their crafting time or more advanced sewers looking at something more affordable than heavy-duty machines. The model has 60 different stitch functions and 7 one-step buttonholes that you can use to create your design with ease. This lightweight machine also lets users control the stitching speed thanks to its adjustable rates, which allow up to 750 stitches per minute!
Machine size: 12.2″ x 6.65″ x 16.26″
Machine weight: 14.5 lbs
60-Stitch Computerized Sewing Machine
7 styles of auto-size one-step buttonholes
Automatic needle threader
Sharp LCD screen
7 sewing feet included
Hi-Speed 750 SPM
Advanced needle threading
Free arm
Bright LED-lit work area
Quick-Set bobbin
25-year limited warranty
Check the Brother CP60X prices on Amazon
Best affordable Heavy-Duty sewing machine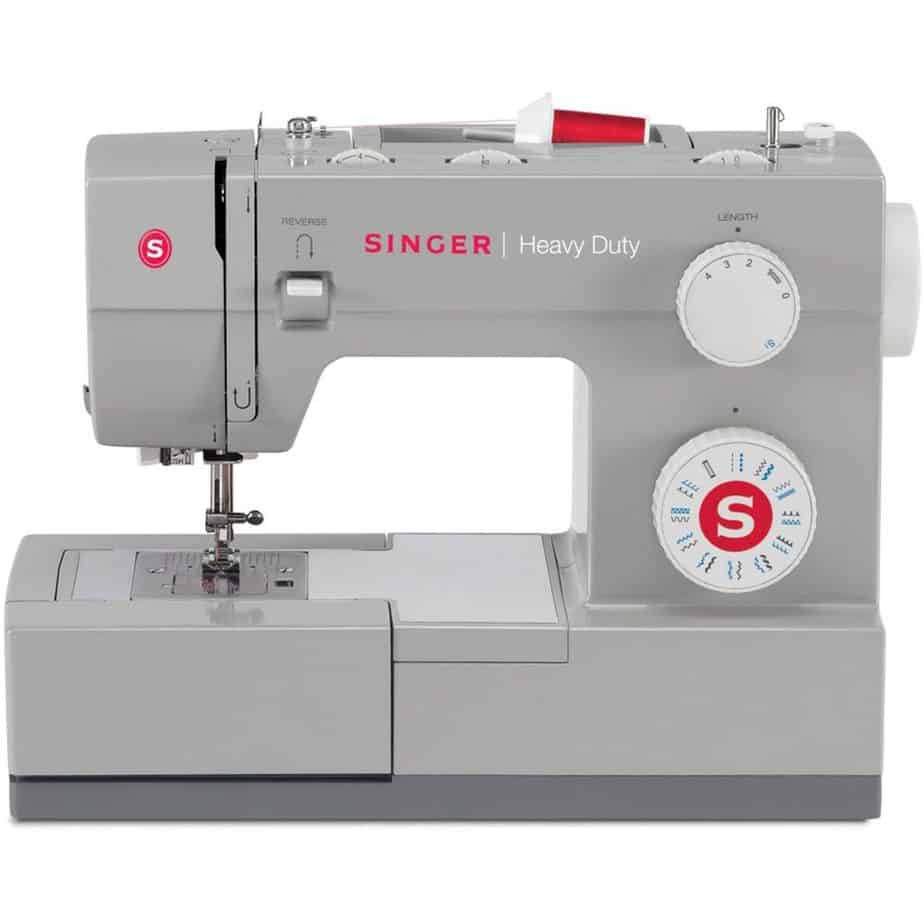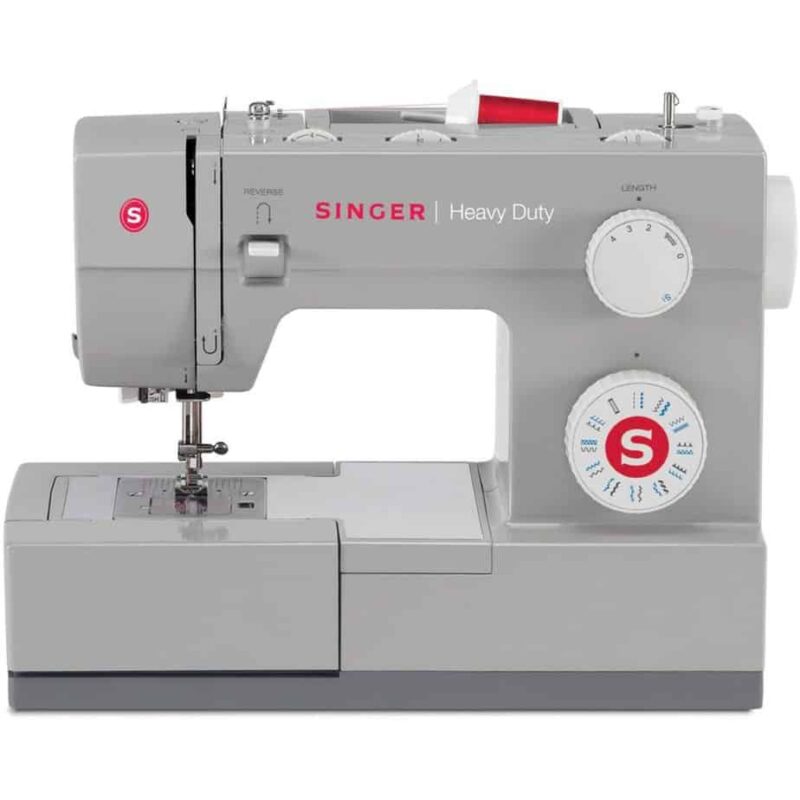 Are you looking for a heavy-duty device for a reasonable budget? The Singer 4423 Heavy Duty Extra-High sewing speed machine with a metal frame and stainless steel bedplate may be what you want. This machine comes with an extra-high sewing speed of 1100 stitches a minute to give a professional speed and faster results. The Singer, 4423 heavy-duty interior metal frame ensures the machine remains stationary while sewing with its 60% stronger motor on any sewing machine table. Choose between its 23 built-in essential, stretch, and decorative stitches for smooth and even sewing on its stainless steel bedplate.
Size: 15.7 x 6.2 x 12 cm
Weight: 14lbs
60% stronger motor than the previous model
1100 SPM
23 built-in basic, stretch, and decorative stitches
Automatic needle threader
Top drop-in bobbin
Clear view cover to monitor the bobbin's thread supply
A fully automatic 1-step buttonhole
Adjustable presser foot pressure gives a new dimension to heavy-duty sewing
Stainless steel bedplate
Heavy-duty metal frame
Included accessories are a quilting guide, needles, bobbins, screwdriver, button sewing, buttonhole, all-purpose and zipper feet, seam ripper, auxiliary spool pin, power cord, and instruction manual
Check the Singer 4423 Heavy-Duty prices on Amazon
Best free motion quilting heavy-duty sewing machine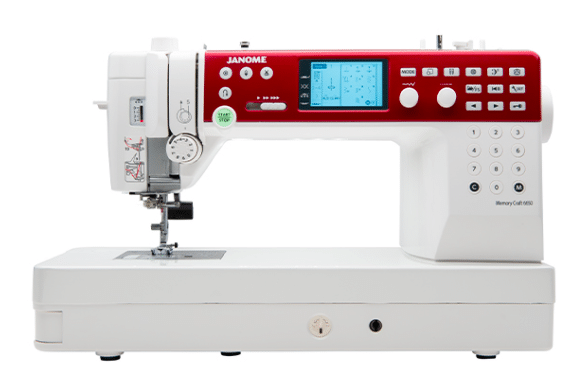 This Janome sewing machine is perfect for beginners and experienced sewers alike. It has a 10″ throat space perfect for free motion quilting, 70 built-in stitches, 6 one-step buttonholes, and additional features such as an extension table to help larger projects go smoothly! The MC6650 can be used without any foot controller, making it easy to thread while offering great options that make your life easier at home or on the go (it also comes in black). The MC6650 is an excellent choice for those who need to quilt large projects, and it can stitch free-form without batting an eyelid. It's not cheap, but if you get your money's worth from this heavy-duty machine, then I reckon that price tag isn't too bad! Check the Janome MC6650 latest prices on Amazon.
Machine size: 20.3″ L x 11.8″ H x 8.6″ D
Weight: 24.5lbs
70 Stitches PLUS 2 alphabets
Top Loading Full Rotary Hook Bobbin
Superior Needle Threader
One-Push Needle Plate Conversion with 2 Included Plates
10″ All-Metal Seamless Flatbed
6 LEDs in 3 Locations
Memorized Needle Up/Down
12 included accessory feet
15 Languages
Knee Lifter
Automatic thread cutter
Drop Feed
1,000 SPM
Foot Pressure adjustment dial
Speed control slider
Removable Stitch Reference Chart
Check the Janome MC6650 prices on Amazon
Best overall Sewing, quilting, and embroidery machine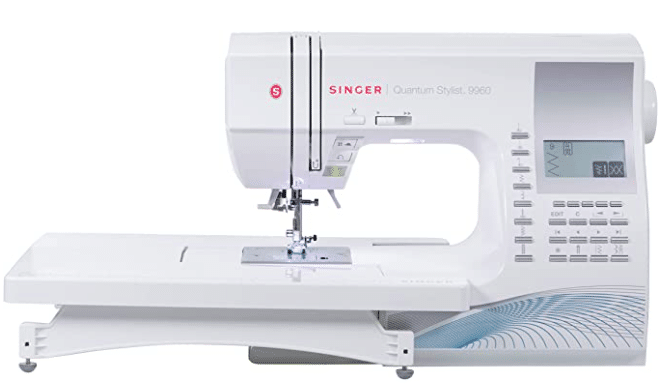 This is a great machine if you want to enjoy your sewing, quilting, and embroidery. It's affordable yet offers excellent value for money as it can do pretty much everything! In terms of price, I would say that if someone was looking at the middle-range models, they'll be happy with what Singer offers here – especially considering how many features come standard in these machines without any extra fees or costs attached (lending themselves well!).
Size: 17.2 x 8.2 x 12
Weight: 20 lbs
600 stitches
850 SPM
Up to 7 mm decorative
Special quilting functions
A large extension table for quilting and larger projects
An automatic needle threader
A built-in thread cutter
A jam-resistant drop-in top bobbin system
An automatic stitch length and width control
Throat size 6.5 inches
Check the Singer Quantum Stylist 9960 prices on Amazon
Best portable sewing machine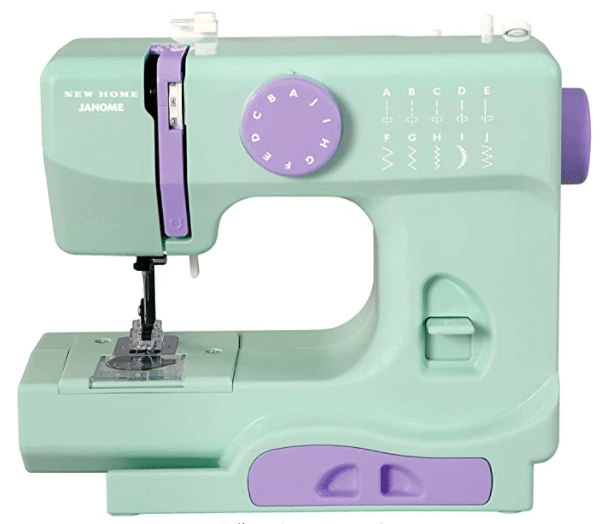 Small, portable, and perfect for on-the-go sewing, the Janome sew mini is excellent for beginner sewers. Featuring an easy-to-use design, this machine is ideal for completing small projects. Thanks to its small size, this machine can be easily transported and is the perfect addition to any crafting collection. This is a step above the "traditional" mini sewing machine and, in my opinion, the ideal choice between a traditional and a mini machine. The machine comes in 2 and 18 stitches.
Dimensions: 10.5 x 5 x 9 inches
Weight 5 Pounds

18 Built-In Stitches including straight, zigzag, crescent with two-needle positions

Free Arm making for free motion quilting easier

Accessory Storage

Easy Reverse

Threading Diagrams

Top Drop-In Bobbin with clear cover

Presser Foot with Finger Guard
Check the Janome Mini Sew prices on Amazon
Best sewing machine for advanced sewers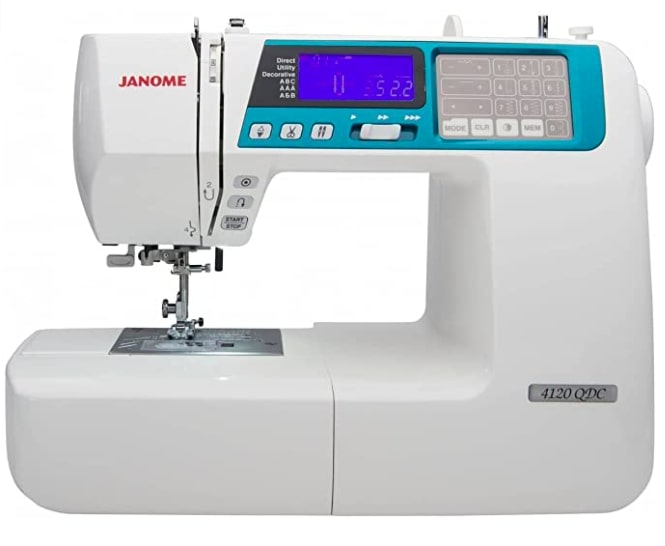 The Janome 4120QDC is full of cutting-edge features and robust technology to help you realize your creative potential. With 120 stitches, twin-needle functionality for superior editing capabilities, and mirror stitching, this particular sewing machine has what it takes! This is your super-premium option recommended for advanced sewers and true sewing lovers.
Machine size: W 15″ x H 8.4″ x D 6.9″
Weight: 14.3 lbs

120 Built-In Sewing Stitches with a Built-In Alphabet

1300 SPM
Automatic needle threader

LCD Panel

Jam Proof Easy-Set Top-Loading Bobbin System

Thread Cutter Button

Reverse Stitch Button

The Lock Stitch Button Finishes the Stitch

The Needle Up/Down Button

Start/Stop Button will Start the Machine without the Need for Foot Control!

Accessories include: Hard Cover, Extension Table, Zig-Zag Foot, Overedge, Sewing Foot, Zipper Sewing Foot, Satin Stitch Sewing Foot, Blind Hem, Sewing Foot
Check the Janome 4120QDC latest prices on Amazon
Features To Look Out For While Buying!
While Singer, Kenmore, and Brother are famous and well-established brands, Bernina, Janome, and Husqvarna Viking have grown in popularity. My advice is to stick with the known brands rather than some imitations you'll find here and there online.
When using a sewing machine, there are many factors to consider to get the best results. One such factor is the weight of the sewing machine. In general, you want a lightweight machine that is easy to move around. I would consider anything below 15lbs lightweight.
However, if you are doing a lot of heavy or large projects, you may need to use a heavier machine. In addition, if you are working with multiple layers of fabric, you will need a device with more weight to help push the fabric through the needle. Weight can also be necessary for machines with decorative stitches or embroidery features, as these features can require more force to work correctly. In this case, a heavy-duty machine would be recommended.
The automatic buttonholer is a feature that automatically creates buttonholes in fabric. It is a great time saver for sewers who need to create multiple buttonholes in a garment. The machine can create different sizes and shapes of buttonholes, so it can be used for various projects. This is ideal for sewists interested in making clothes.
A needle threader is a small tool that helps you thread a needle easily. It consists of a thin wire with a hook on one end. To use it, you insert the wire through the eye of the needle and then hook it onto the thread. The hook pulls the thread through the eye of the needle so that you can start sewing.
An automatic needle threader is a sewing machine accessory that helps thread the needle quickly and easily. It consists of a small lever or arm attached to the needle bar and a guide that helps to guide the thread through the eye of the needle. To use an automatic needle threader, place the thread in the guide and then push the lever or arm down to thread the needle. This is an excellent addition to all machines, but specifically for beginner machines, as threading the needle can initially be pretty challenging.
Different sewing machine stitches serve different purposes. The most basic and commonly used stitch is the straight stitch, simply a line of stitching that goes back and forth in a straight line. A zigzag stitch is a variation of the straight stitch that creates a zigzag pattern instead of a straight line. This type of stitch is often used for reinforcement or decorative purposes.
A blind hem stitch is another common type used to finish the raw edges of the fabric so that they do not unravel. A French seam is sewn so that all raw edges are completely enclosed, giving the finished product a neater appearance. Gathering stitches create gathers or pleats in fabric, and a buttonhole stitch is used to create buttonholes.
Many other types of stitches, such as applique, decorative, and heirloom stitches, can be used for specific purposes. Learning about the different types of stitches and when to use them is essential for becoming a successful sewist. Most machines will come with a set of built-in stitches; as you can imagine, more premium models carry many more variations than entry model devices.
The warranty length is as important as what it covers and excludes! Most of the brands listed above will carry extensive warranty up to 25 years.
All machines usually come with a variety of accessories. The best sewing machines have sufficient bobbins and needles, cleaning tools, and special oil. It's also helpful if you have a few alternative feet for specific fabrics and sewing tasks.
If you use your machine to sew clothes, look for dressmaker sewing machines with a buttonhole, zipper, and blind hem foot as standard attachments. You'll need a walking foot and a ¼" foot to evenly feed the thick fabric through the machine and a freehand embroidery foot if you want to do freehand quilting.
Machines made mostly of plastic will not be able to withstand the wear and tear of a machine with metal parts. Here it would be best if you found the right balance between weight and durability.
Not many people remember to check this aspect. However, if the machine you buy makes too much noise, and you tend to sew only in the evening when you are free, and kids are asleep, you're much less likely to use the machine
There is a wide range of prices when it comes to sewing machines. You can find machines for as little as $50 or as much as $5,000 or more. What you pay for a machine depends on its features and how well it is made. Some lower-priced machines may not have all the features you need, while some higher-priced machines may be overkill for your needs. It's important to decide what features are important to you and then find a machine that fits your budget. That being said, one should expect to pay a minimum of $200 to get a decent machine.
Sewing Machine Parts
The spool pin is a metal or plastic pin that holds your spool of thread and sticks out of the top.
Power switches exist in most machines. However, if you have kids around and the machine doesn't have a switch, plug the machine into a safety strip with a master switch.
The bobbin winder is a smaller metal or plastic pin located to the right of the spool pin. It's next to a small horizontal wheel, the bobbin winder stopper, and they both work together to wind thread to your bobbin before sewing.
Bobbins are now top-loading, where you have to open a panel and drop the bobbin into a shuttle which moves with the machine's rhythm. The panel's clear cover also tells you when the thread is running low.
The thread guide is a geometric metal piece sticking out on the left side of the sewing machine and directs thread from the spool to the bobbin winder.
The stitch adjustment buttons are located in different spots on different devices. In most machines, there are a few physical buttons on the front side of the sewing machine next to a small screen. You can use the buttons to choose the type of stitch to create; its length, and the stitch direction (forward or reverse).
The thread take-up lever has two cut-in grooves and is usually on the front left side of the sewing machine. You use it while threading your device after winding thread from the spool, through the thread guide, and then around it. The levers usually have numbers and arrows printed near them directing the way to thread the machine.
The tension dial is a small numbered wheel near the take-up lever, which controls the thread tension while sewing. The needle gets pulled to the right if the tension is too tight, and if the tension is too loose, the thread loops at the bottom of the fabric you sew.
The needle clamp screw is a metal piece that holds the needle in place while stitching. It looks like a large nail and is found under the unit arm, sticking out of the needle's right side.
The presser foot is a small ski-like metal attachment found under the needle clamp screw, which holds the fabric in place when engaged. It also guides the fabric through the sewing machine while you sew. Choose your machine based on the number and types of presser feet it has.
Find out how many feet come with the machine. A multi-purpose foot lets you do straight and zigzag stitches for basic sewing, but you'll want a zipper foot and buttonhole foot if you start making garments.
An adjustable presser foot regulates how tightly the machine holds the fabric while you sew, preventing puckering in delicate fabrics and stretching in knits. A multi-purpose foot lets you do straight and zigzag stitches and is enough for basic sewing, but you may also require a buttonhole and zipper foot.
FAQs
After how long should I service my sewing machine?
Many factors determine the frequency of servicing the machine. If your machine sews cotton and thread, the tendency of having lint build-up in the machine is easy. You'll need to service it frequently.  Additionally, if you store the machine for a long time, the lubricants tend to dry, requiring maintenance before you use it again.
Why is the sewing machine skipping stitches?
This problem occurs if you've not maintained your machine well. First, check if the needle is bent or blunt or if you might have inserted it incorrectly. This calls for a review of the manual on how to set the needle correctly for usage. Another issue could be the insufficient pressure applied on foot.
What makes the needles break frequently?
Sewing depends on the kind of materials you are working on and the quality of the needle you intend to use for the process. If you insert the needle incorrectly, the chances of breaking are high. Additionally, using the wrong size of the needle could lead to breaking.
Are sewing machines durable?
The machines are made to ensure a long usage time and serve you for extended periods under good care. You need consistency with serving, and the machine will last longer.
Conclusion
Sewing machines are a significant investment, so it's essential to do your research before buying one.  If you're in the market for a new sewing machine, I hope this guide helps you sort through the options and find the best machine for your needs. I've covered everything I thought was important, from budget to features top brands, so you can make an informed decision when buying.