The best sewing table for small spaces should be compact and convenient to carry around. The work surface should have a pressure-resistant frame that supports different materials. It must also come with safety features such as safety pins, loops, and clips; it should also feature adjustable height settings (if needed) and storage compartments such as drawers and shelves.
That's a lot to ask, but don't worry I have you covered! I have lived in New York City for a while, so I am qualified to speak for small spaces! On a side note, I also have an article listing the best small and portable sewing machines on the market. If you're dealing with a small space, then I figure you might be interested.
Best folding sewing desk overall: Arrow 98611 Gidget II Sewing
Best corner sewing desk: Kangaroo Kabinets – Kangaroo and Joey II
Best extreme space saver: Sew Steady Large table 18″ X 24″
Do I need a special table for a sewing machine?
Yes, if you want an easy time while working on it. If your machine is not correctly placed on its designated surface, you'll end up with pieces that don't fit or get sewn unevenly. The best surfaces for placing your sewing machine are flat and sturdy, like tables and dressers. For a better and easy sewing experience, you can put it on top of a tablecloth or large piece of fabric.
Why are sewing tables so expensive?
It is a question I often hear, and the truth is that they aren't. If you are looking for a good table with all the features, bells, and whistles that will last you for years, then prices can be high. If you just want something simple to tackle those sewing projects now and again at a reasonable price point, many options are available to help fit your needs. Take a look at some of these simple but great options for sewing tables when you are ready to create your little sewing nook.
Folding sewing tables
Consider a folding sewing table if you're short on space but need a dedicated sewing place. This is the option I recommend. These tables are typically small and fold up for easy storage when not in use. They're also lightweight and easy to move around your sewing room. Folding sewing tables typically have a built-in thread cutter, making it easy to quickly cut threads without searching for scissors.
Some also come with a built-in ironing board, which is a convenient feature if you do a lot of your sewing at home. One of the great features of a folding sewing table is that you won't have to stare at it all day, which means it doesn't have to be particularly pretty. Since we're dealing with a small space, I suggest picking a multi-purpose desk that can handle your sewing while being used for your computer or other craft hobbies.
Corner sewing tables
Anyone who lived in a small space understands the importance of optimizing the corners! A corner sewing table is perfect for making the most of your sewing space. These tables are designed to fit into a corner, making them a great option for small spaces. They typically have a large work surface and plenty of storage, making them ideal for beginner and experienced sewers.
When shopping for a corner sewing table, consider the size of your space and how you plan to use the table. If you plan to use your table as a cutting surface, find one with a stable surface and plenty of room to work. If you need a lot of storage, look for a model with built-in drawers or shelves.
Best corner sewing table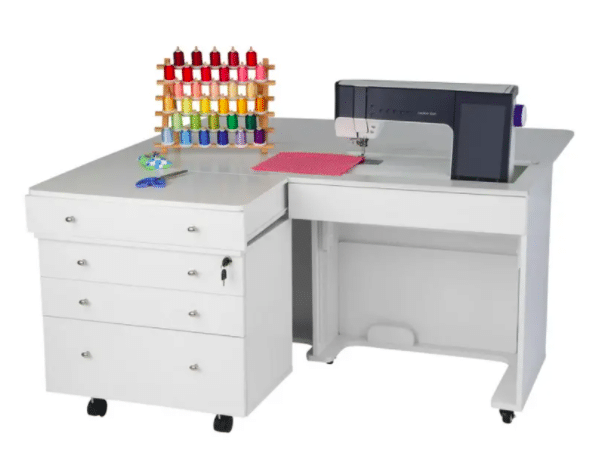 In the market for a quality and affordable cabinet? Look no further than Kangaroo Kabinets! We offer various cabinets in various styles and colors to fit your needs. Plus, all our cabinets are made from high-quality materials, ensuring that they will last for years. Our Kangaroo and Joey II line of cabinets is perfect for anyone looking for a stylish and affordable option. These cabinets are available in wood and vinyl finishes, making them ideal for any room in your home. Plus, they are effortless to assemble, so you can have them up and running in no time!
Dimensions:
Kangaroo II Dimensions Open (Quilt Leaf Opened):55 " W x 40 ½" D x 29 ½ H
Kangaroo II Dimensions (Closed):55 " W x 21" D x 29 ½ H
Joey II (Storage Cabinet) Dimensions: 25 ¾" W x 16 ½" D x 24 H
Lift Opening (23 3/4″ W x 12 1/2″ D)
Features
3-position hydraulic lift allows you to go between free arm, flatbed, and storage positions
Compatible with custom acrylic sewing inserts to create a flush sewing surface
A large lift opening accommodates most standard sewing machines on the market, up to 55lb
The rear quilt leaf expands the work surface to keep large projects from pulling or laying on the floor
The large top drawer includes a removable cover to create additional workspace
Includes wood panel to place over sewing well, increasing workspace when the machine is in the storage position
The large top drawer pulls out to store notions and accessories
Includes Joey II rolling storage caddy for additional storage, expanded workspace, and drawer support
Joey II storage caddy features three locking drawers to keep sharp notions safe and out of reach
Sturdy design with locking heavy-duty casters for stability and easy mobility
Lifetime warranty, worry-free performance
Check the Kangaroo & Joy II latest prices on Amazon
Best folding sewing table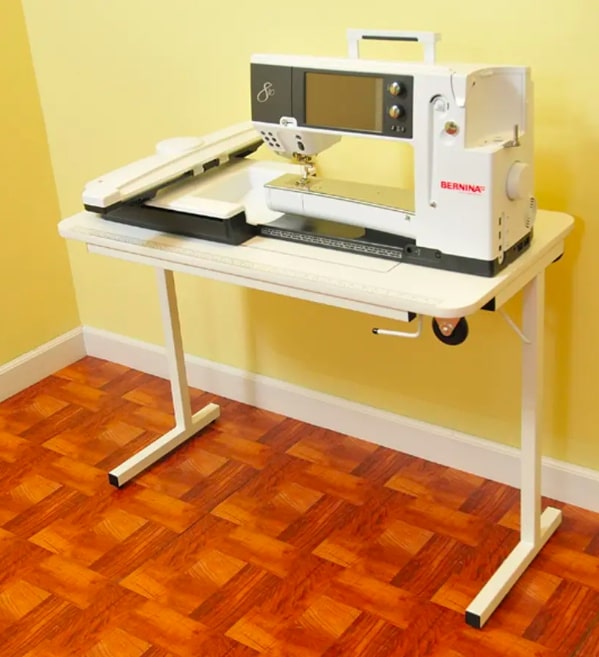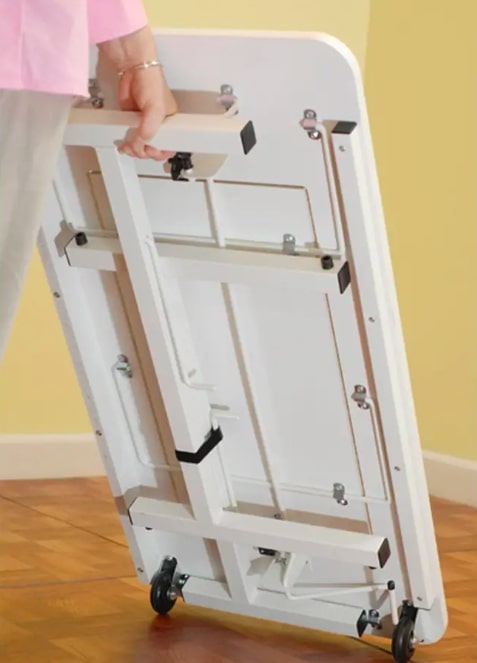 The Arrow 98611 is the perfect addition to your crafting space. This handy sewing desk has a single drawer to store your sewing supplies. The desk has a comfy fabric armrest and a metal frame for stability. The platform can adjust to fit your sewing machine, non-slip mat, or computer keyboard, making it a perfect all-in-one folding desk for a small space. It can also accommodate any style of sewing chairs which is also an advantage.
40 W x 19 ¾" D x 28 ¼" H
Dimensions (closed): 40 W x 19 ¾" D x 4 ½" H
Lift opening: (23 3/4″ W x 12 1/2″ D)
Weight: 45 lbs
Guarantee: 3 years!
Check the Arrow 98611's latest prices on Amazon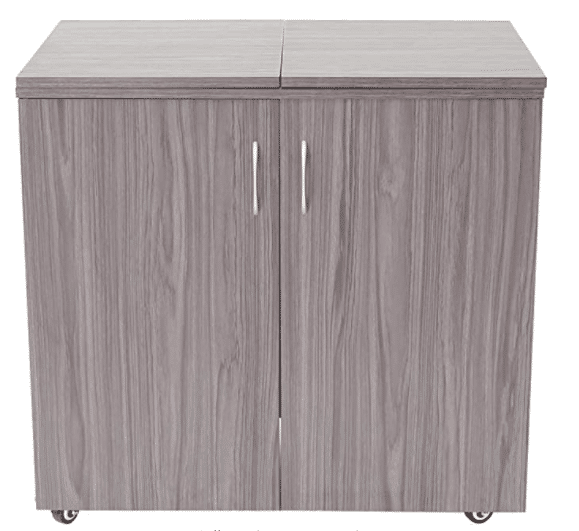 This sewing and quilting cabinet with a lift is perfect for anyone who loves to sew or quilt. The large work surface and generous storage make it easy to keep your supplies organized and within reach. The built-in lift allows you to raise and lower your project quickly, making it an excellent choice for those who have difficulty bending or sitting for long periods. Plus, the kangaroo bandicoot design is sure to add a touch of fun to your crafting space.
Cabinet Dimensions Open: 60 3/4″ W x 17 3/8″ D x 29 3/8″ H

Cabinet Dimensions Closed: 30 3/8″ W x 29 3/8″ D x 30 7/8″ H

Lift Opening: 20 15/16″ W x 11 3/8″ D x 14″ H

Door Cubby (x2): 8 5/8″ W x 6 1/4″ D x 4 1/2″ H

Shelf (x2): 12 1/4″ W x 4 1/8″ D x 9 3/4″ H
Some key features of this sewing and quilting cabinet include:
Large work surface
Generous storage space
Built-in lift
Kangaroo bandicoot design
Check the Kangaroo Bandicoot's latest prices on Amazon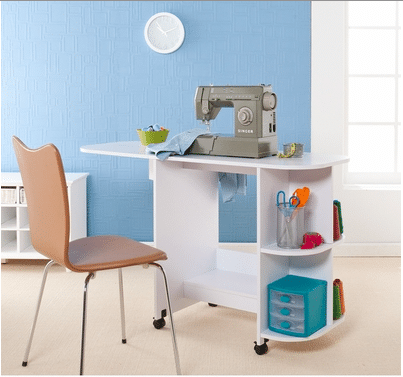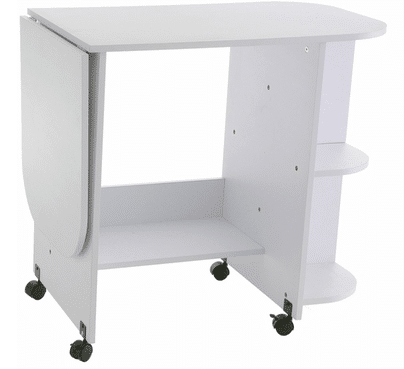 This sleek and stylish sewing table is perfect for small spaces! The Holly & Martin Lydia White Sewing Table features a fold-out tabletop with an adjustable height, making it perfect for sewing and crafting. The two drawers provide plenty of storage for your supplies, and the caster wheels make it easy to move from room to room. Whether a beginner or a pro, this sewing table is a great addition to your home!
Dimensions:
19″L x 31.5″W x 29.5″H
Check the Holly & Martin Lydia White Sewing Table's latest prices on Amazon
Best extreme space saver sewing table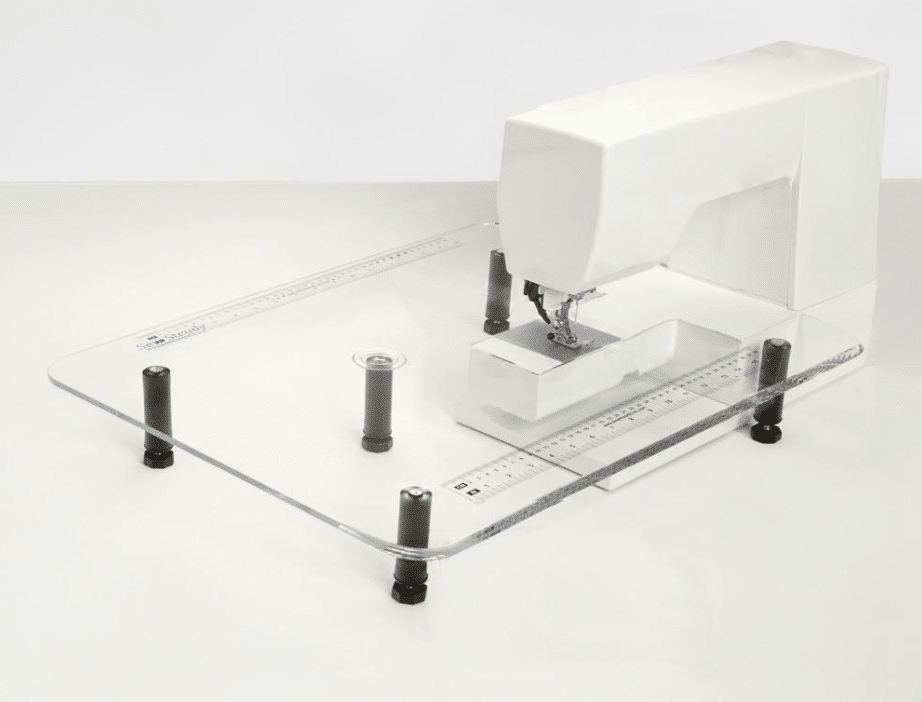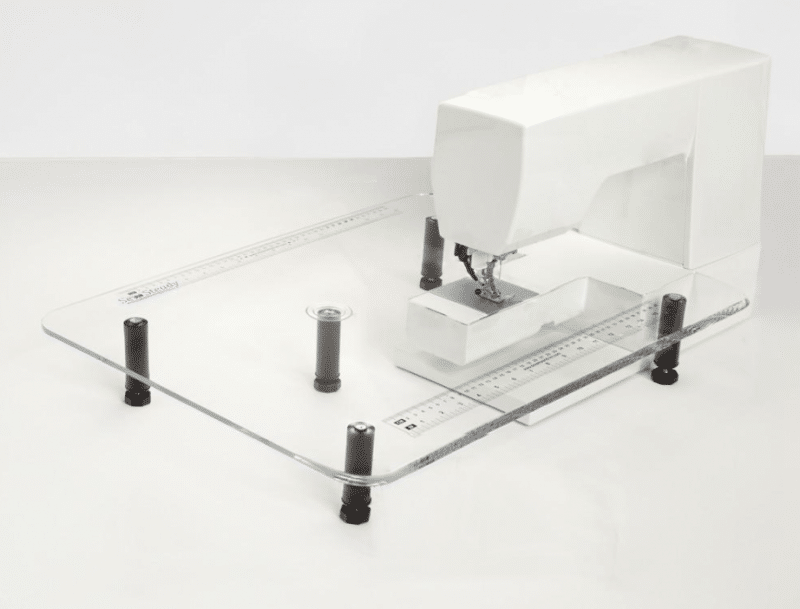 This is an excellent table for larger projects yet smaller spaces! The 18″x24″ size is perfect for larger quilts and other projects. The table is also lightweight and easy to move around, making it an excellent option for restrained sewing spaces. Plus, the built-in ruler makes it easy to get accurate measurements when you need them. Whether a beginner or an experienced sewer, this table is an excellent addition to your sewing arsenal.
Dimensions:
18 x 24″
Check the Sew Steady Large Sewing Table's latest prices on Amazon