Human beings have strong sensory receptors, which is why aromatherapy significantly contributes to our overall well-being. 
And the easiest way to fill your home with pleasant aromas is by using scented candles. Aromatherapy through scented candles brings in a zen vibe while making your home smell fresh. 
And to add magical aromas to your candles, you need candle-making oils. But not all oils have enough fragrance. Therefore, knowing about some of the best oils for candle-making is crucial to get the desired outcome. 
I have discussed below some of the best scented and essential oils for candle making. I have also shared additional information that will come in handy while buying candle oils. Keep reading to find some of the best premium candle-making oils without spending a fortune. 
Related: Best Wax Melter For Candle Making: Tested & Reviewed in 2023
What Kind Of Oil Is The Best For Candle Making? 
Natural essential oils are best for candle making. Fragrances like- citrus, lemon, lavender, and tea tree have very calming notes. They are very relaxing and fill your space with pleasant smells. 
Pure essential oils have been used for years for spiritual and emotional well-being. The aroma of essential oils constantly spreads when the candle burns and lasts for some time after blowing out the flame. 
Essential oils can also kill bacteria or insects, making them the best replacement for chemical solutions. 
And we all know about the effectiveness of essential oils in promoting good sleep and reducing stress, anxiety, headaches, etc. 
Related: Best Candle-Making Kit: Tried And Reviewed (2023)
7 Best Oils For Candle Making To Try In 2023
Best Overall Oils For Candle Making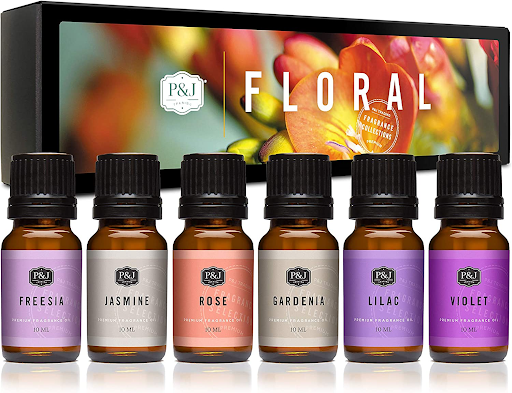 The P&J Trading Store floral fragrance oils include- freesia, jasmine, rose, lilac, gardenia, and violet. Each scent has a high concentration so a little drop will go a long way. 
The set includes all-natural oils that are best used in soy wax candles. The scents smell great alone, but you can also mix them to make your customized scent. 
Each bottle has an easy dispensing euro dropper for precise dropping, reducing candle soot, and providing better burn quality. 
Apart from adding fragrance to your candles, you can also use these oils for bath and body care, cleaning products, and aroma diffusers. 
P&J is one of my best picks for candle oils, as the brand has been in the industry for over 20 years. They bring you the best fragrances and make your candles smell divine. 
Pros 
All fragrances are natural 

Highly concentrated for better scent throw 

The dropper reduces oil spillage 
Cons 
Fragrances don't last very long 
Check P&J Trading Store Set Of 6 Premium Grade Fragrance Oils on Amazon
Best Budget-Friendly For Candle Making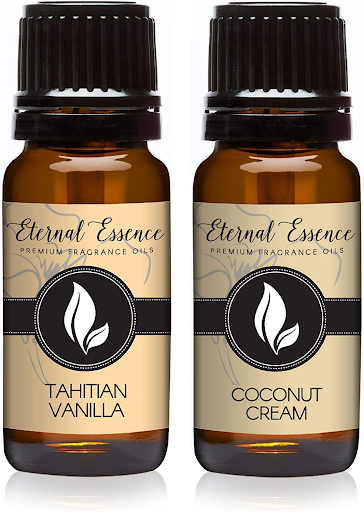 If you're looking for the best luxury fragrance oil for candles, the Eternal Essence Premium Fragrance Oils are my top choice. The warm notes of Tahitian vanilla and coconut cream will instantly uplift your mood. 
The duo combines tropical and sweet fragrances that can be blended or used separately. The coconut cream scent is sweet and delicious, with notes of burned sugar, cinnamon, and peach that will transform your space into a tropical paradise. 
Related: Best Coconut Wax For Candle Making – 5 Choices for 2023
Every vanilla lover will fall in love with this sweet Tahitian vanilla scent with a hint of tropical flowers. Both the bottles have a dropper for a clean and precise drop and to get the right amount of fragrance oils. 
With these fragrance oils, you can easily make your batch of luxury candles and save the money you spend on high-end candle brands. 
Pros 
Mild and calming scents 

Highly concentrated fragrances 

It can also be used in skin care, diffusers, air fresheners, scented soaps, etc. 
Cons 
Bottles are not very durable; hence handle them carefully 
Best User-Friendly Oils For Candle Making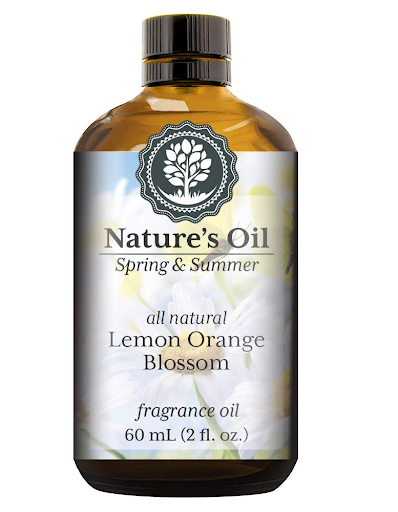 =If citrusy, tangy fragrances are your vibe, there is nothing better than Nature's Oil Lemon Orange Blossom Fragrance Oil. 
The oil has a sweet orange and lemon blend for that perfect citrusy smell in your candles. The highly concentrated fragrance works best with most wax types like- soy, beeswax, paraffin, etc. 
Oil spillage is a common issue with fragrance oil bottles. The brand designed a glass amber bottle with a safety seal and a European-style inset dropper cap to prevent that. The dropper lets you adjust the fragrance quantity preventing spillage. 
The fragrance oil is highly scented, so it'll last you a long time, making it a cost-effective option. 
Pros 
Free from any harmful substance like Phthalate 

Quality packaging to reduce wastage 

It has a strong scent, so a little goes a long way 
Cons 
It does not work with coconut wax 
Best Luxury Oils For Candle Making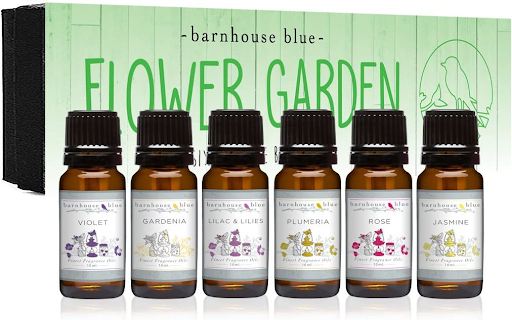 The Barnhouse Blue soothing fragrance oil set has the best unique candle fragrance oils. The floral scent box includes- violet, gardenia, lilac & lilies, plumeria, rose, and jasmine scents. 
Barnhouse ensures that each of their fragrant oils is high-quality to give a lux feel to your homemade candles. You can create a variety of scents by mixing in the fragrances. 
These highly concentrated oils have a long-lasting fragrance, so you won't have to repurchase them frequently. 
Moreover, all the bottles come with Euro-style droppers for accurate oil dropping. 
Pros
Great packaging 

Calming and relaxing scents 

Multiple fragrances in one set 
Cons 
The bottles do not come adequately sealed 
Best Sweet Fragrance Oils For Candle Making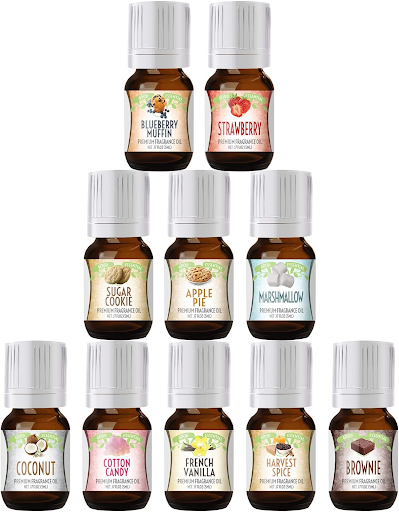 Want to make some delicious-smelling candles? The Good Essential Oil Store sweet scents fragrance oil set has every fragrance you would love. 
The premium oil set includes- cotton candy, French vanilla, strawberry coconut, blueberry muffin, marshmallow, apple pie, brownie, harvest spice, and sugar cookie. 
Each has such a creamy and delicious smell that it will make you want to eat your candles. If you want to blend in your favorite fragrances from the package, you're free to do so. 
This candle oil set is also the perfect aromatherapy gift for anyone obsessed with fragrances. These can be added to bath and body care items, incense sticks, diffusers, and other art & craft projects. 
Pros 
Fragrances are highly scented 

It can be used with both soy and paraffin wax 

The dropper makes it easy to use 
Cons 
Quantity is not very impressive 
Best Holiday Edition Oils For Candle Making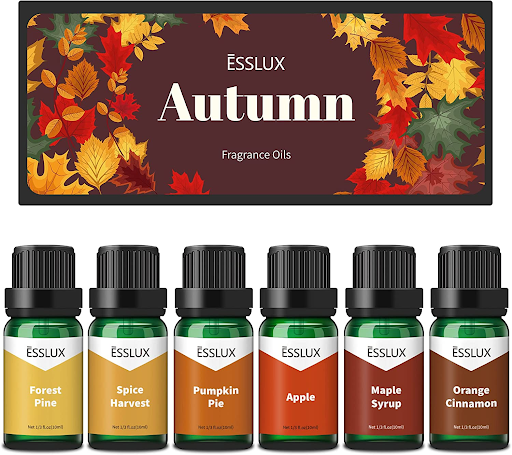 Make your home extra cozy with the Esslux Store autumn fragrance oils set. The set features six scents: pumpkin pie, orange cinnamon, maple syrup, apple, spice harvest, and forest spine. 
The premium quality fragrances are paraben-free and manufactured according to the IFRA standards. These fragrances are best both for professional use or to make your own set of DIY candles. 
Professional candle makers can create unique holiday edition candle sets with these fragrances. All the fragrance oils are concentrated to create highly fragrant candles. 
Moreover, the bottles have excellent packaging with dark glass, insert droppers, and screw top lids. The scents are super long-lasting, making them best for aromatherapy as well. 
Best Oil Set For Candle Making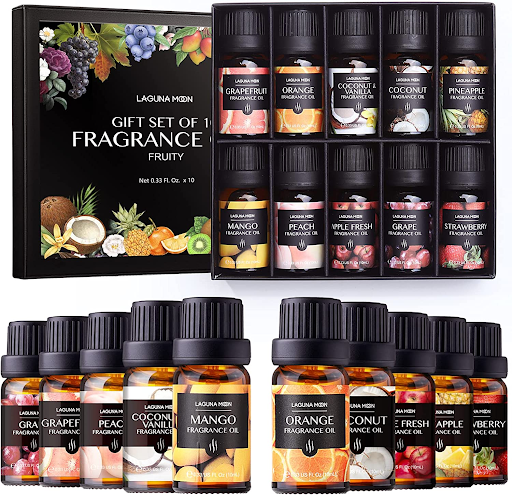 This fragrance oil set from Lagunamoon Store has everything in one packaging. You'll find sweet, tropical, and fruity fragrances all within this set. 
The ten scented oils included in this package are- uplifting orange, zingy grapefruit, warm coconut & vanilla, vibrant peach, aromatic mango, fresh apple, delicious strawberry, shooting coconut, tropical pineapple, and sweet grape. 
Instead of synthetic fragrances that are not very healthy for us, Lagunamoon oils are vegan and made from all-natural sources. 
Fragrance oils quickly become rancid if heat, oxygen, or light are exposed. To prevent this, Lagunamoon Store scented oils are packaged in FrostProtect amber-tinted bottles for UV protection. It keeps the oils stable for more than two years. 
Moreover, the unique manufacturing formula makes these oils last two times more, which is best for making highly fragrant candles. 
Pros 
The oils come in special UV protection bottles 

No unexpected odors 

It provides 2x more fragrance 
Cons 
The droppers don't work very well 
Related: Candle-Making Supplies: Best Wax, Wicks, Melter, Oils & More
Best Oils For Candle Making FAQs
1. What Is The Best Oil To Use For Soy Candles? 
Scents like- lemon, orange, cinnamon, lavender, rosemary, etc., are the best fragrance oils for soy candles. 
2. How Can I Make My Candles Smell Stronger? 
Different wax types need different percentages of scented oils. Make sure you add the recommended amount for a stronger fragrance throw. Moreover, add the scented oil at 185°F and stir it well for a strong and even fragrance. 
3. What Is The Difference Between Fragrance Oils Vs. Essential Oils? 
The primary difference between fragrance and essential oils is that essential oils are sourced from natural substances, and fragrance oils are made in the lab. Essential oils have pure plant extracts, while fragrance oils are a concoction of different synthetic chemicals. 
4. Where To Buy Essential Oils For Candle-Making? 
Essential oils for candle-making are readily available in most craft stores. You'll also find them in eCommerce stores like Amazon. 
Related: The Art of Soap Making: Homemade Soap Recipes With & Without Lye
Final Thoughts!
Those were my favorite picks for best oils for candle making. All the items I mentioned have high fragrance concentrations that are ideal for making aromatic candles. Also, I picked items with minimum synthetic component keeping; hence, they should be perfect for all users. 
Did you find your favorite pick? If yes, let me know which one is in the comments!