A wax melter is an essential tool for candle making. It is used to melt wax safely and efficiently to make candles. There are different types of wax melters available in the market, including electric, stovetop, and microwave wax melters.
Electric wax melters are the most popular type and are easy to use. They come in different sizes and shapes, ranging from small melters for home use to large industrial melters for commercial use. Electric wax melters have a heating element that heats the wax and keeps it at a consistent temperature. They also have a thermostat to regulate the temperature and prevent the wax from overheating.
Stovetop wax melters are another type of wax melter that uses a double boiler system. The wax is melted in a pot or a metal container that is placed in a larger pot filled with water. The water is then heated on the stovetop, which in turn melts the wax. This method is affordable but requires more attention and monitoring.
Microwave wax melters are also available and are ideal for small-scale candle-making. They are simple to use and can melt wax quickly, but they are not suitable for large batches of wax.
When choosing a wax melter, consider the size of your candle-making project, the type of wax you are using, and your budget. It is also important to follow the manufacturer's instructions and safety guidelines to prevent accidents and ensure the longevity of your wax melter.
In this article, we will provide tips for choosing the right wax melter for your needs so that you can make the perfect candles every time. Whether you're a beginner or an experienced candle maker, the right wax melter can make all the difference in the quality of your candles.
Related: Best Candle-Making Kit: Tried And Reviewed (2023)
What Is The Best Way To Melt Wax For Candles? 
An electric wax melter is the best way to melt wax for candles. Electric wax melters make the job a lot easier. There is a lot less mess, and the process is very fast. 
An electric wax melter melts candle wax within minutes compared to a double boiler. You can also melt all types of wax, like- soy, paraffin, coconut wax, and beeswax, in an electric pitcher. 
But people also opt for a double boiler. Using a double boiler, you must fill a large utensil halfway with water to melt your wax. Then it would be best if you placed another utensil (glass or metal one) where you'll melt the wax. 
The double boiling method takes more time, and there are chances of accidents. 
Using the microwave is another way to melt the wax. You have to half-fill a microwave-safe bowl with wax and melt it for approximately two minutes or until it's completely melted. 
Even though the double boiling and oven methods give you a good result, the electric pitcher lets you monitor the melting procedure continuously. Hence, there are fewer chances of errors. Plus, it saves a lot of time and boosts your productivity.  
Related: Candle-Making Supplies: Best Wax, Wicks, Melter, Oils & More
Now that you're clear about different ways of melting wax, let's see some of the best wax melters to get your hands on. 
Best Wax Melters For Candle-Making
Best Overall Wax Melters For Candle-Making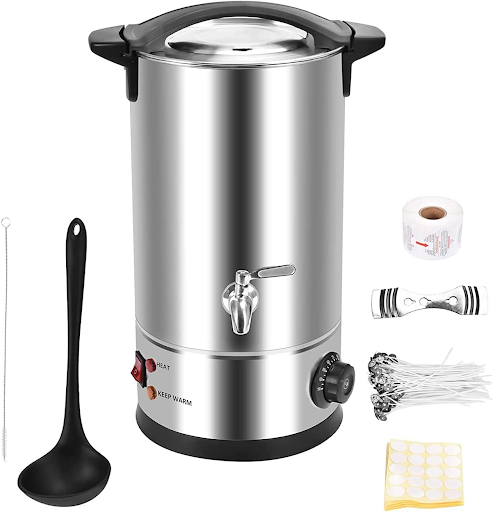 This large SNNPLAPLA melting pot is the best professional wax melter for candle-making. You can melt up to 10 liters of wax in one go, which is excellent for small to average candle businesses. 
Further, it has an excellent heating efficiency that will melt your candle faster than a double boiler or oven. For candle businesses, one must boost productivity by having an electric wax melter like the SNNPLAPLA. 
If wax overflow were an issue with double boiling or in the oven, you'd no longer have it. The lid on the top of this wax melter is the perfect seal that prevents wax from spilling. 
To make your job even more accessible, it has a pour spout that makes pouring wax in candle molds efficient and hassle-free.
The inner tank is made from high-quality heat-resistant stainless steel. A plastic handle on the top lets you easily remove the lid even when the candle melter is working. 
Also, the red and yellow indicators show the melting status, so you don't have to take a peek multiple times. You can use this candle melter to melt all wax types like- soy, paraffin, coconut, beeswax, etc. 
It has a convenient temperature control system ranging from 86 to 230 degrees Fahrenheit. Different wax types need different melting temperatures so this feature will come in handy. 
Lastly, you get wicks, silicon spoons, glue dots, a brush, and candle warning labels with this SNNPLAPLA wax melter. 
Pros 
Faster heating 

High-quality tank 

Can melt all wax types 
Cons 
The valve does not drain all the wax  
Check the SNNPLAPLA 10QTS's latest prices on Amazon
Best Designed Wax Melters For Candle-Making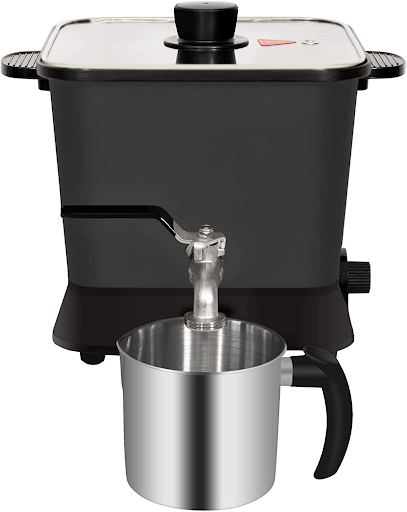 Are you searching for a mess-free wax-melting system? You should check out this Byoowndiy best electric wax melter for candle-making. 
This fantastic wax melter has a 4.5-quart capacity that lets you make 50 4oz jars of candles at once. Talking about the design, this one gives a premium feel with a sleek black body. 
You will also get a pitcher or pouring jar with the wax melter, adding to the convenience. Further, the wax pouring valve makes transferring the wax into the pitcher or directly into the candle molds very convenient. 
The Byoowndiy wax melter is user-friendly. So irrespective of whether you're an expert candle maker or about to start working with wax, you'll have no issues handling this electric wax melter. 
It also has a temperature control range of 0 to 400°F, which is excellent for melting all wax types. 
Pros 
Large capacity 

Durable body and sleek design 

Easy to use 
Cons 
No light indicators to show the melting status 
Check the Byoowndiy's latest prices on Amazon
Best Feature Rich Wax Melters For Candle-Making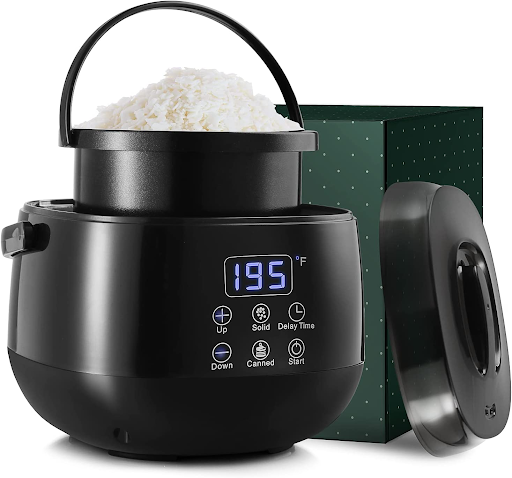 =If you want to upgrade your old wax melter, the Health & Harbor Electric wax melter is one of the best choices. 
This insulated wax melting pot is best for shifting from your old wax melter. There is a large enough LED display on the front of the wax melter to view the temperature, preset mode, and more. 
The touch control buttons let you adjust the temperature in one-degree increments, which is rare. Further, there are four presets with a temperature range of 86 to 275°F. 
Additionally, the delay start time feature will boost your productivity even more. Using this feature, you can program the machine to start from 30 minutes to 24 hours in advance. 
Cleaning the melting pot becomes difficult sometimes, and rough rubbing can damage the inner coating. But the removable inner pot is non-stick, which makes cleaning the pot super easy. You won't have to spend hours getting rid of the sticky wax. 
Lastly, even and fast heating melts the wax super quick, leaving no lumps. However, there is no pouring tap in the wax melter, which is a drawback. 
Pros 
Large LED display lets you monitor everything 

The delay start feature increases work efficiency 

Separate heating features for canned and solid wax 
Cons 
Check Health & Harbor's latest prices on Amazon
Best Beginner-Friendly Wax Melters For Candle-Making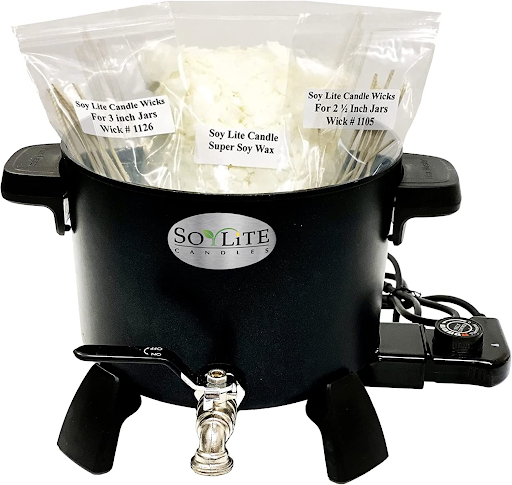 A growing candle business needs advanced appliances. An electric wax melter is one of the crucial investments you must make if you want to cope with your orders, and the Soylite Candle Wax would be the right pick for you. 
The melter's large bowl can hold up to 6 Qts wax in one go, letting you make large batches of candles. The fast heating technology melts wax within minutes, irrespective of the wax type. 
The power cord on the bottom comes with an adapter and temperature regulator for user convenience. The melter heats up to 400 degrees Fahrenheit, so melting wax to reduce candle frosting became easier.
Cleaning the interior bowl is super easy due to the non-stick coating. And finally, the pouring valve ensures there is no hot wax spilling. 
Pros 
Comes with other candle-making accessories 

Faster melting 

The lid prevents wax overflow 
Cons 
The temperature control button is not very efficient 
Check Soylite's latest prices on Amazon
Best Small Business Wax Melters For Candle-Making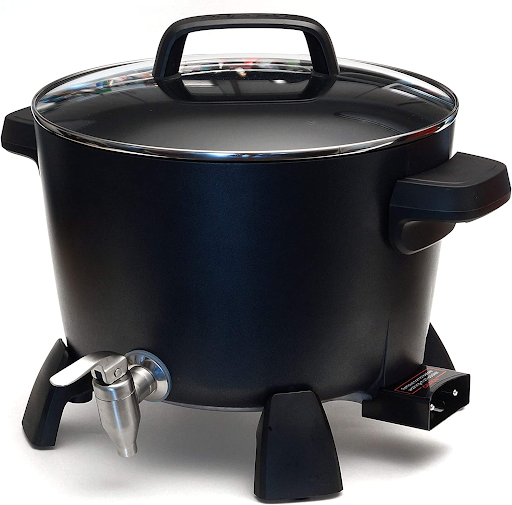 If you need an advanced candle maker but don't want to spend a lot, go for the Nighthawk Craft Supply wax melter. It's the best commercial wax melter for candle-making. 
This stainless-steel melter has an 8-quart capacity that can hold up to 16lbs of wax. The melting pot has a non-stick Teflon coating for super easy cleaning. 
Moreover, its high-watt heating unit heats wax super fast; hence there will be no issue regarding production. 
There is a stainless steel pouring tap with an auto-closing feature. So even if you forget to close the tap, there will be no wax wastage. 
One of the common issues with wax pouring spouts is that they get clogged very often. Hence, Nighthawk has designed a removal lever for convenient cleaning and unclogging. 
The temperature control features let you melt all wax types to perfection. But there are no sensors or indicators, so you'll have to monitor the wax constantly. 
Pros 
It has a durable build-quality 

High-heating melts wax faster 

Removable wax pouring spout for easy cleaning 
Cons 
It needs constant monitoring while the melter works 
Check the Nighthawk's latest prices on Amazon
Other Option: Wax Melters For Candle-Making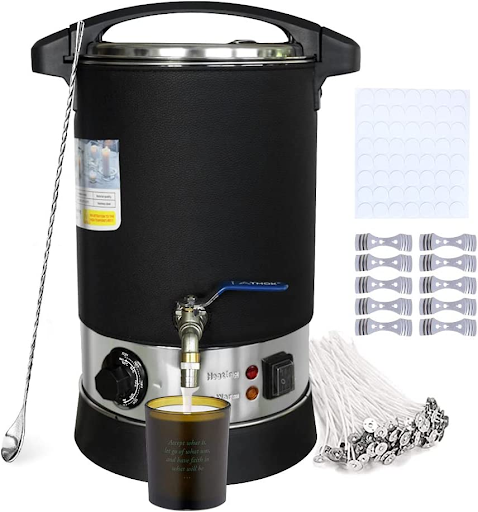 Are you looking for the best wax melter for candle making with spout and temperature control? If yes, look no further than the TOAUTO V3. 
It has both features together to make melting wax a minute work. TOAUTO has an upgraded design with the V3 model to prevent issues like wax frosting inside the pot, wax lumps, and the like. 
The vast melting pot holds up to 12lbs of wax, which is best for anyone who deals with daily bulk orders. Again you won't have to wait longer for the wax to melt as it melts one kg of soy wax in just 5 minutes. The melting time for other wax types is equally less, which is an added benefit. 
Fragrance loss while reheating the wax is a common problem with faster melters, but you won't face the issue with the TOAUTO V3. The makers have designed it to melt wax faster while retaining the fragrance. 
The stainless steel spout ensures no wax spills while pouring it into the candle molds. Also, there are two heating modes- one for melting wax and one for reheating. 
Metal or steel wax melters get hot; touching them while on is risky. To end this issue, the TOAUTO V3 has an outer insulated cooler made from insulated foam and leather. 
This secure layering allows you to touch the pot while it's on without burning your hand. Other features like a secure temperature range lid make working with this wax melter easy. 
Pros 
Large capacity 

Fast heating and melting 

Separate modes for melting and heating the wax 
Cons 
No non-stick coating on the melting pot 
Check the TOAUTO's latest prices on Amazon
Wax Melter For Candle-Making FAQs
1. Which Is The Best Beginner Wax Melter For Candle-Making? 
The Soylite Candles Wax Melter For Candle-Making is one of the best beginner wax melters. It's easy to use, has all essential features, and melts wax quickly. 
2. Can I Leave The Electric Wax Melter On All The Time? 
No, you can leave the electric wax warmer on all the time. It'll overheat and may cause a fire hazard. 
3. Can I Melt Wax In Any Electric Melter? 
You should specifically use an electric melter made for melting wax. Wax melters come with a specific temperature range, presets, and build quality for melting wax. Using any electric appliance is neither safe nor will it give you desired results. 
4. Can I Put Essential Oils In My Wax Warmer? 
Yes, you can add essential oils to the wax warmer while melting wax. The warmer spreads the fragrance evenly to make the perfect scented candles. 
5. What Can I Use Instead Of A Wax Melter/ Warmer? 
You can use a double boiler or oven to melt wax instead of a wax melter/ warmer. However, an electric wax melter gives far better results. 
Final Thoughts 
I hope this extensive list of the best wax melters for candle making helped you decide. Consider things like- melting time, heating system, inside coating, and capacity in mind while buying the wax melter. 
My favorite pick from the list is the TOAUTO V3 Wax Melter For Candle-Making, which is best for beginner and experienced candle crafters. Even though it's a little large for beginners, you'll need a large-capacity melter. Therefore, going for a big melter is a wise choice.