Candle making is a fun and creative hobby that people of all ages can enjoy. Not only is it a great way to relax and unwind, but it also allows you to create unique and personalized candles for yourself or as gifts for others. A candle making kit is a great way to get started in this hobby, as it comes with all the supplies you need to make your first candle.
When looking for the best candle making kit, there are a few things to consider. First, you'll want to ensure that the kit includes all the necessary supplies, such as wax, wicks, fragrance oils, and dyes.
Additionally, it's helpful if the kit includes detailed instructions and a guide on how to make candles, as well as information on different types of waxes and wicks. Some kits also come with additional tools and accessories, such as a double boiler or candle molds, which can be helpful for more advanced candle making projects.
In terms of price, candle making kits can vary greatly. You can find basic kits for as low as $20, while more advanced kits with additional tools and supplies can cost upwards of $100.
This article will provide a detailed overview of the best candle making kits available on the market, highlighting the key features of each kit, and providing information on price range and what to look for when buying a kit. I am adding here below a quick summary of the 7 best candle making kits I found for your convenience:
Essential Things A Good Candle-Making Kit Should Have 
Following are some of the essential things a candle-making kit must have. While shopping for your candle-making kits, make sure you check whether they contain these items or not- 
Molds Or Jars 
Models or jars are the essential components of a candle kit. This is where you'll shape your candles. Models are available in different shapes, sizes, and materials (silicon, plastic, or metal). 
All candle-making kits should have 5 to 10 candle jars. Most kits generally have jars of a single shape, size, and material. 
Wax 
This goes without saying. The next important thing to have in a candle kit is wax. Kits may either have wax blocks, power or strips. There are different types of wax like- soy, paraffin, bee wax, palm wax, coconut wax, etc. 
For beginners, soy wax is the best to start with. It gives clean burning, is easy to work with, and contains no toxins. 
Candle Wick 
The next essential thing is a candle wick. Wicks are, in fact, the most crucial component in the candle making procedure. The quality of the wick decides the burn quality, candle tunneling, and soot release. 
Like wax, wicks have different varieties: wooden wicks, metal wicks, cotton, and paper wicks. 
Wick Centering Tool 
This is another crucial tool that a candle kit should have. A wick centering tool or wick holder helps keep the wick stable when you pour the wax and it's settling. 
Melting Pot & Spoon
Check whether the candle making kit contains a melting pot or not. This is where you'll melt the candle wax before pouring it into the molds. Aluminum or stainless steel vessels are best to melt the wax. 
You can use the same melting pot for mixing the color and fragrance. Additionally, a mixing spoon is another essential thing that should be in the kit. It would be best if you stirred the wax while it was melting, so it's best to have one. 
Thermometer 
You'll need a thermometer to monitor candle wax closely. This is where most newbies make mistakes. Pouring the wax at the right temperature is essential to get the right consistency, prevent cracks, and retain color and fragrance. 
Scents & Colors 
People buy candles for the aromatic experience and their aesthetic look. Color and fragrance play an essential role in this. A good candle making kit should have some color and fragrance. 
Buying them separately might be a bit tricky. When you get everything in the kit, it becomes a lot easier. Some kits come with dried flower petals as well. 
Glue Dots 
The last thing to consider in a candle supply kit is glue dots. This is required to stick your candle wick in the jar. However, this is not the most important thing to consider, as you can use a glue gun or any glue you have to stick the wicks. 
Now that we know what a complete candle making kit should have, let's go ahead and find out some of the best kits you can buy. 
Best Beginner Candle Making Kit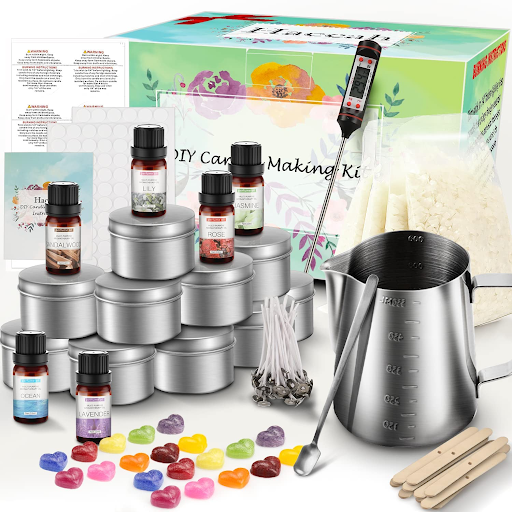 The Haccah complete candle kit is one of the best kits for beginners, with all the essential supplies you need to get started. 
As a newbie, you don't need very fancy jars or additional supplies as you're still in the phase of trial and error. This starter kit has four natural bags, making it easier for beginners to work with without causing skin irritation or allergies. 
Moreover, the melting jar is made of high-quality metal to withstand heat: the thermometer and the stirring spoon further aid in continuously mixing and checking the wax temperature. 
You also get six essential scented oils to make the perfect fragrant candles. And with the pack of 20 dyes, you'll never run out of options to make colored candles. 
Since it's a beginner-friendly kit, it provides basic tin jars. These ten small-size jars are perfect for making your first batch of scented and colored candles. 
Please note that the melting pot gets really hot, so wear gloves or a kitchen towel to avoid burning your hand. 
Pros 
100% natural wax and free from any chemical additives 

Easy to use 

Scents and colors last longer  
Cons 
The melting pot could have been bigger 
Check the Haccah Complete Candle-Making Kit on Amazon
Best Overall Candle Making Kit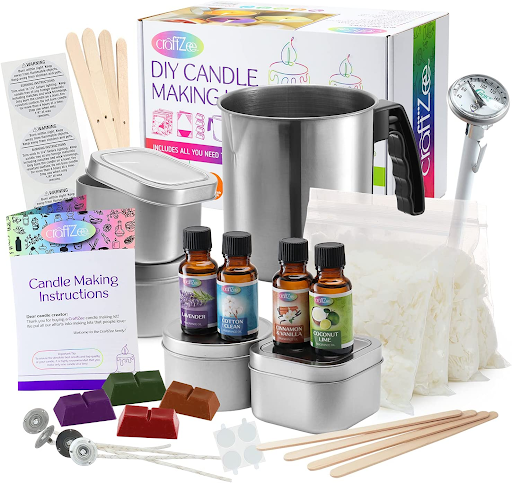 The Dailabee Candle-making Kit is one of the best overall kits with every element you need to make candles. Whether you love DIY or are about to start your small candle-making business, this kit will come in handy. First, it has 4 packs of soy wax, which is easier to work with than paraffin wax. 
The wax comes in a flake form, so you'll have no problem melting it. Talking about melting wax, the kit has a melting pitcher and a thermometer to constantly monitor the temperature of the wax. 
Note that the ideal temperature to melt wax for candles is around 130 to 200 degrees Fahrenheit. You should never melt it beyond 200 degrees. The thermometer will also help you prevent overheating the wax and reduce wax wastage.
Other essentials like wicks, two types of wick holders, glue dots, and a user manual are also in the kit. And to make your candles smell good, there are four fragrant oils- lavender, cinnamon, vanilla, and coconut lime. Additionally, there are four dye blocks to color your candles. 
I was impressed that all the elements work great, but the fragrances are not very strong. 
Pros 
It contains all essential supplies 

Great quality wax 

User manual for complete instruction 
Cons 
The fragrance is not very appealing 
Check the Dailabee's latest prices on Amazon
Best Value Candle Making Kit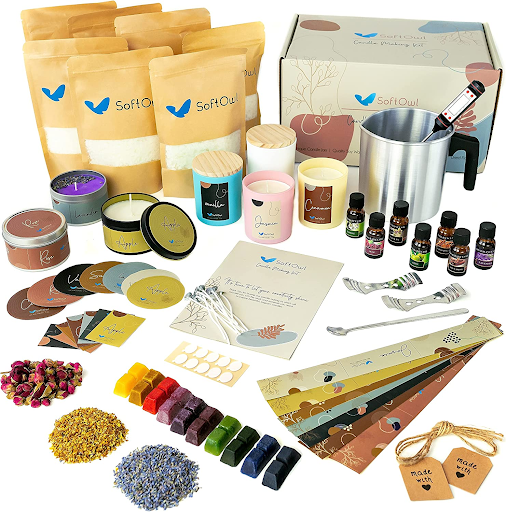 The SoftOwl Premium soy candle is a complete round-up of a good candle kit. It has some of the best supplies to get you started with your candle-making business, and that too on a budget. 
With this kit, you get- soy wax, two types of aesthetic-looking candle jars, ten dye blocks, seven fragrant oils, a melting pot, glue dots, wicks, a stirring spoon, centering devices, and a lot more. 
This candle kit stands out from the rest because it comes with candle labels. Labels add a personalized touch to the final product. So if you own a candle business, the labels would save you an additional cost. 
However, I felt that the wax quantity was not enough. I ran out of them very quickly. I would recommend ordering a bunch of these kits, especially for professionals. 
Pros 
Great quality supplies 

It contains all the required things 

Easy to follow the user manual 
Cons 
The wax supply isn't enough 
Check the SoftOwl Premium's latest prices on Amazon
Best Premium Candle Making Kit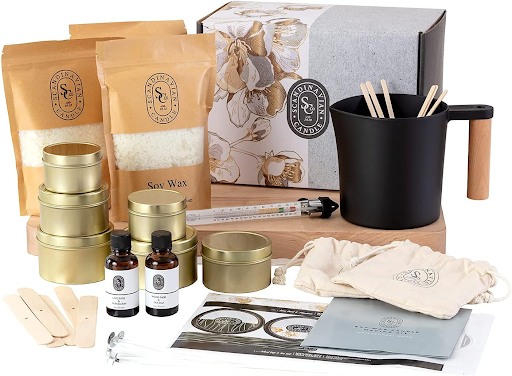 If you are someone who loves the aesthetic appeal of their candles, you'll love the Scandinavian Candle Co. Store's candle-making kit. 
The kit has 100% natural vegan soy wax for a clean burning, minimum soot, and a long burn time. There are three bags of 8oz wax candles, enough to make 5 to 6 average-size candles, making it the best luxury candle-making kit for beginners and pros.  
You'll love the exquisite fragrant oils. The luxury scented oils have two fragrances- lime basil and mandarin & wood sage and sea salt to fill your living space with beautiful aromas. 
I love how premium the melting pitcher looks. The Scandinavian design aluminum pot has wooden handles for heat protection. The pitcher is sturdy enough to last you for a long time. 
The golden candle tins are perfect for giving your homemade candles a premium feel. Now you no longer have to rely on high-end brands to get premium candles; this Scandinavian candle kit has all the supplies to make your luxury candles. 
A set of 4oz, 6oz, and 8oz candle tins allow you to make six candles. You can add the designer label to the kit to give your candles a personalized touch. 
You also get two gift bags if you want to gift handmade candles to your loved ones. But I wish the wax quantity was more, and they could have included a couple more scents. Also, the wax dye does not come with the kit. If you wish to make colored candles, you have to buy them separately. 
Pros 
Premium candle tins and melting pitcher 

Non-toxic and vegan soy wax 

It contains all essential supplies 
Cons 
It only makes six candles 
Check the Scandinavian Candle Co.'s latest prices on Amazon
Best Value For Money Candle Making Kit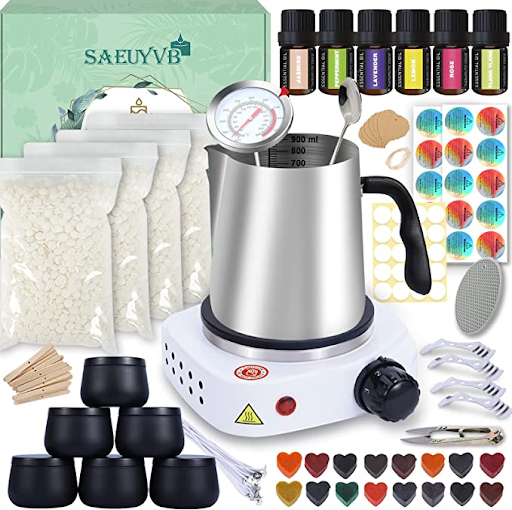 Those who want to start their candle business without spending a fortune should look no further than this SAEYUVB candle-making kit. 
This is the best professional candle-making kit with an electric stove, a 900ml large melting pot, 150g soy wax, six essential scented oils, 16 dying blocks, wicks, jars, scissors, centering devices, and everything you need to make the best homemade candles. 
The user manual provides step-by-step instructions for a smooth candle-making experience. Furthermore, all the supplies are of great quality to help you make the perfect aromatic candles. 
The only thing that bothers me is that the candle jars are not visually appealing. They don't give a premium look. 
Pros 
Electric stove top easy melting 

Reusable candle tins 

It makes more candles than most other candle kits 
Cons 
The wick quality isn't up to the mark 
Check the SAEYUVB's latest prices on Amazon
Best Creative Supplies Candle Making Kit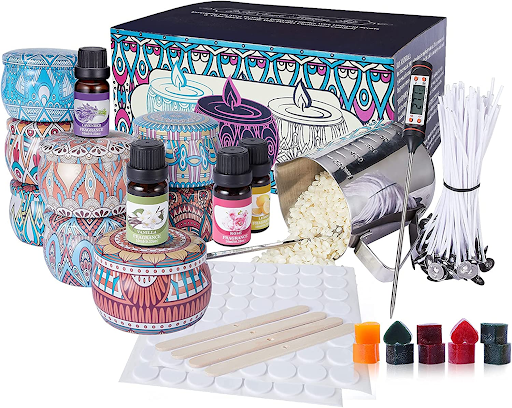 Candle makers who want to replenish their supplies with a creative candle-making kit can check out this Beeketal candle-making kit. 
This best beeswax candle-making kit features- 16 lbs of beeswax, a bunch of cotton wicks, centering devices, fragrant oils and dyes, a melting pot, a thermometer, etc. 
The candle tins in the kit have beautiful prints that give your candles a luxury feel. Further, eight dye blocks are letting you color your candles with creative imagination. Beeswax is one of the best clean and toxin-free candles for clean burning with minimum soot.  
Pros 
Beautiful candle jars 

Heavy-duty melting pot 

Contains all essential equipment 
Cons 
Instructions are not very detailed 
Check the Beeketal's latest prices on Amazon
Best Budget-Friendly Candle Making Kit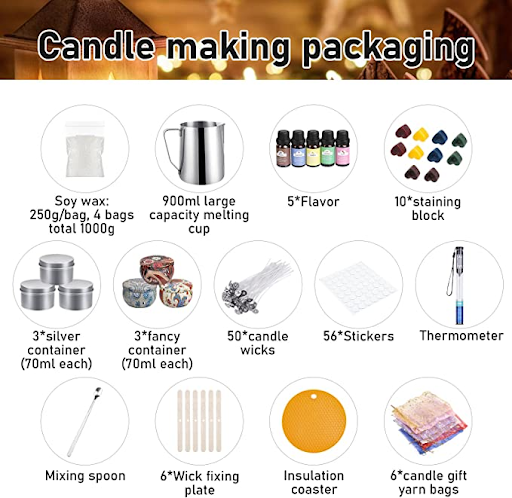 Looking for the best candle-making kit for kids? Look no further, as the Anpro candle kit has everything to let your kid make great homemade candles. 
This kit has vibrant and colorful candle tins that kids will love. But your child can also use three basic tins when they first learn to make candles. 
Other supplies included in this affordable kit are a large-capacity wax melting jar, thermometer, insulation coaster, and gifting yarn bags in addition to the raw materials. 
This one is an excellent gift if your kid goes to a birthday party or a Christmas dinner at a friend's place. 
Pros 
It contains several scents and dyes 

Additional supplements like gifting bags and insulation coasters are there 

Premium quality wicks 
Cons 
The Wax quantity isn't enough 
Check the Anpro's latest prices on Amazon
Best Candle-Making Kit FAQs 
1. Is It Cheaper To Make Your Own Candles?
Yes, it's cheaper to make your own candles—brands levy high manufacturing costs, which you save by making your own batch. 
2. Is Candle Making Profitable? 
Yes, candle-making is profitable, provided you adopt the right marketing strategy, use the right supplies, and can meet customers' demands.  
3. What Do I Need To Start Making Candles At Home? 
You'll need wax, a melting pot and mixing spatula, wicks, glue sticks, scissors, a wick centering device, candle jars, and essential oils, to start making candles at home. 
Related: The Art of Soap Making: Homemade Soap Recipes With & Without Lye
Takeaway! 
I hope this extensive list of some of the best candle-making kits has helped you pick a couple of the best products. The kits I listed have all the essential supplies and equipment to help you make exquisite homemade candles. 
Let me know which kit you'll pick and why. And if you have any queries related to candle making, let me know in the comments!