Are you planning on investing in accommodation for your flock? Sure, there are plenty of options in stores. But if you are a passionate crafter by heart, then why buy an ordinary shed when you can build an extraordinary chicken coop?
You may not know where to start, but that's what I'm here for. I've put together a list of chicken coop plans and instructions. Whether you're a competent craftsman or have just started dabbling in DIY projects, you'll find something on my list.
These pocket-friendly plans will suit your space, weather, and flock size. And I promise you, building a coop will help you learn more about your feathered pals – and teach a thing or two to others involved in the project. So keep reading!
How to Build a Cheap Chicken Coop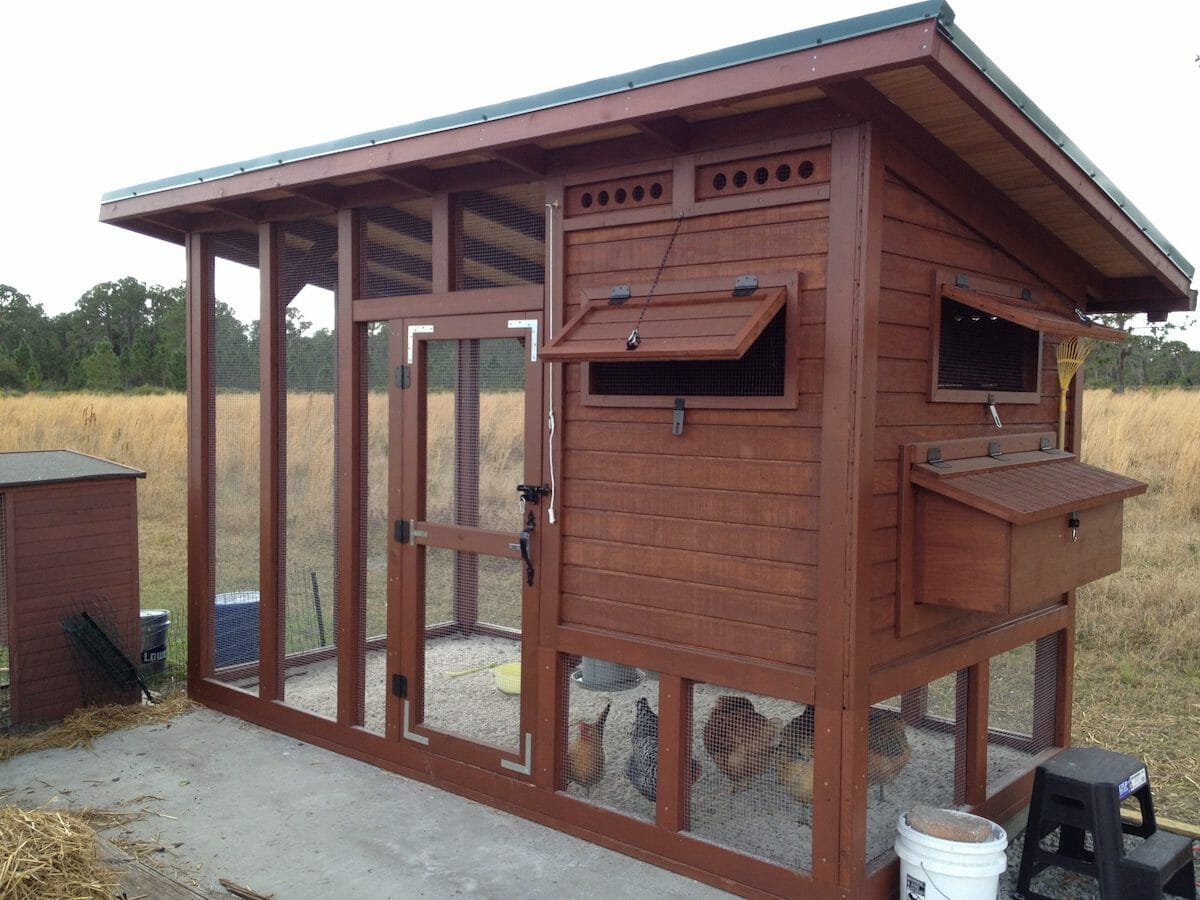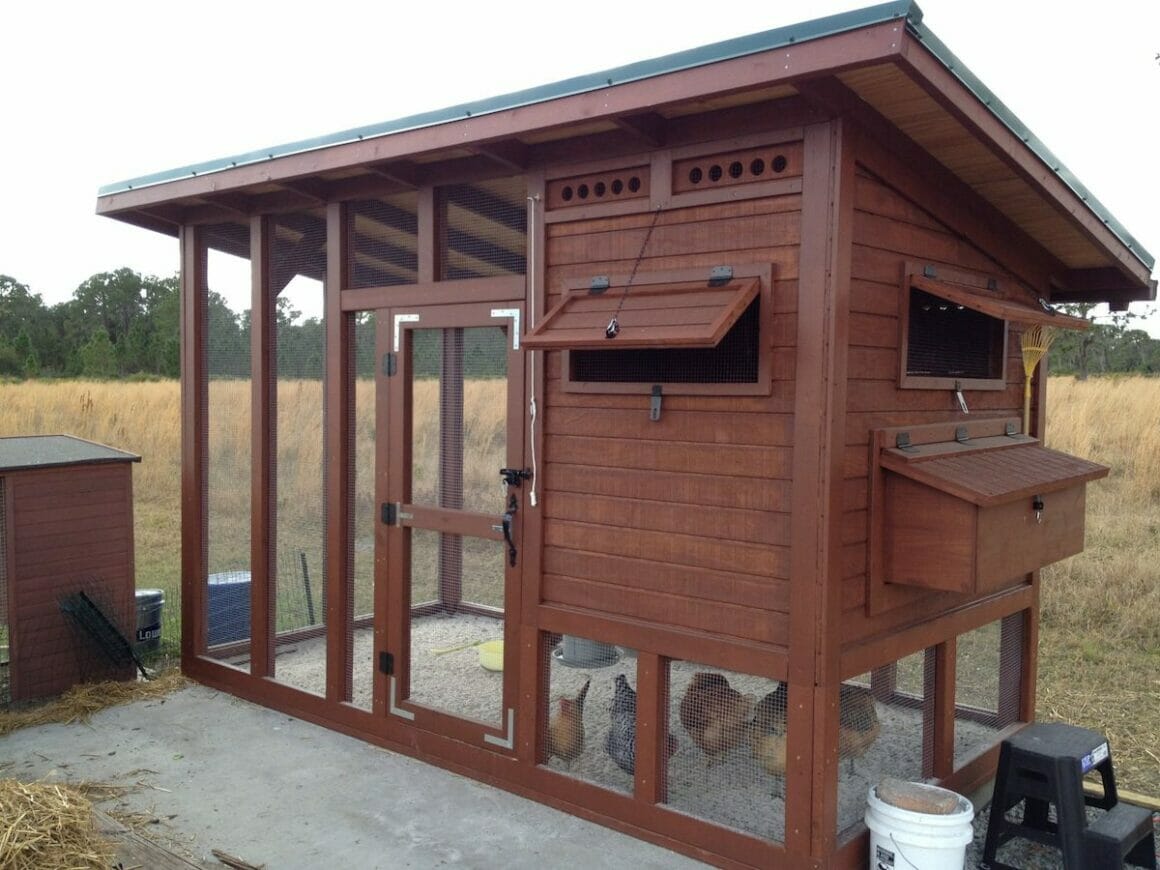 Chicken coops can reflect your farm's spirit and provide comfortable housing for your cluckers. And I have some good news for you. You don't have to be a wizard with a hammer to build a chicken coop.
You can make one using scraps and unused materials, from discarded wooden pallets to an old cupboard. Before you let your imagination run wild, start with simple steps as given below.
How to Choose Your Chicken Coop Design
The first step is to choose your coop design. And for that, keep the following factors in mind –
Floor Space – 2.1-3.6 sq. ft. for each hen, depending on the breed
Elevation – Predators to be considered
Nesting Box – 12"x12"x12" to 18"x18"x18" box for 2-4 hens 
Roosting Bar Length – Approx. 10" for each hen
Feeder and Water Space – 1-3 linear inches per hen
Light – One electric light per 40 ft., especially for winter
Location and Weather – Important for portability of the coop design
Security – Carabiner lock or spring-loaded safety latch recommended
Ventilation – 1/5th of wall area for windows, with mesh or hardware cloth
What Tools & Materials Do You Need to Build a Chicken Coop?
Building a chicken coop doesn't require a lot of expertise and specialized materials, although you can certainly use both. A simple and rustic one can be fancied out of repurposed plywood, old hinges and latches, etc. Here's what you may need –
Scrap planks, preferably 1.5"-2" thick
Plywood
Pallets
Specialized pallets with lumber, preferably 4×4 or 2×4
Screen windows and a door
Hinges
Locks and latches, etc., from old doors and windows
Concrete blocks
Asphalt shingles
Bricks
Pressure-treated posts
Chicken wire or fence poles
Boxes like milk crates for nesting boxes
Weatherproofing stain
In addition, you'll need tools to build the coop, such as the following
Hammer
Nails and screws
Electric drill
Table saw
Jigsaw
Shovel
Staple gun
Long staples
Screwdrivers
Pliers
Sieve
Standard toolbox
Building a DIY Chicken Coop: Step-by-Step Guide
Once you've gathered all the materials and tools, select your location and prepare the area by removing vegetation to get a level surface.
For the base, dig a hole and use a sieve to filter the soil to separate pebbles, rocks, and sand.
Next, arrange the concrete blocks in 2-3 layers on the sand for a level, adjustable surface.
Place long pressure-treated wood pieces and pebbles between the cement blocks to fill gaps and spaces.
Then, on top of this stable foundation, place two pallets for the coop base.
At this point, make sure to remove any nails from the surfaces of the specialized pallets to be used for the sides.
After that, mount these nail-free sides and screw them to the base.
Use a combination of long regular pallets if you don't have the strong ones. But you must fill the gaps or use plywood or planks to cover the sides.
For measurements, you may use cardboard for a mockup by placing it against the mounted sides.
Use a table saw to make trusses out of scrap planks.
Cut notches in the center beam and side with a jigsaw. Place these against the mounted sides and determine the exact position of the notches.
After this, screw two trusses to the sides.
Next, place the center beam into the notches and screw them on lightly. Then, screw the remaining trusses tightly using long wood screws.
Following this process, nail a few plywood pieces to the trusses. You'll get the support for the coop's gable roof.
You may need to fill the holes at the intersection of the coop sides with rectangular plywood pieces. This will keep out predators.
Now, paint the roofing base plywood with a weatherproofing stain and mount it on the trusses.
Then, arrange the asphalt shingles with a stapler and roofing nails.
Paint the entire structure with the weatherproofing stain.
After that, use a cross piece and some planks to make the hinged door.
Place any old bolt lock and doorknob on the door for security.
Also, use plants, screen material, and pallet wood to make the window frames.
Add the nesting box. You can make an angular cut on the top to make it easier for the hens to enter the box. The size of the box depends on you.
It's time to dig the fence poles or chicken wire into the ground, lining the base with bricks. Staple them to the coop and nearby trees. Ensure to create around 20 feet of run. Add a large human door between the trees and the coop – and you're done.
Here's a video and detailed picture instructions for this simple chicken coop made with recycled materials! So you can see that you can use old and scrap materials like discarded wood, pallets, etc., to build your coop.
You can even salvage old cabinets, drawers, or other box-like structures for the coop and use milk crates as nesting boxes. These can add a rustic hint and resonate with a serious sustainable living vibe.
What Should I Put Inside a Chicken Coop?
I'm sure you're impatient at this point to jump into my list of free DIY chicken coop plans. But before we do that, I want to give you one last tip on what to put in your chicken coop to create a comfortable nesting and resting place for your hens. Check out my suggestions –
Floor Covering – Cover the floor with a layer of lime and top it with wood or pine shavings. This can prevent unpleasant smells and bacterial growth.
Roosting Bars – Hens love to perch on roosting bars and sleep upright. So, give them enough space to roost in the form of round or flat bars.
Nesting Boxes – Hens like to lay eggs where they feel comfortable. So, place nesting boxes and line them with soft materials like nesting pads, straw, etc.
Dropping Boards – Place boards under the roosting boards to collect the poop generated throughout the night. They make cleaning coops much easier.
Dust Bath – Hens love to clean themselves in dust baths. So, place a box with food-grade diatomaceous earth to help your chickens keep away insects.
Feeders and Waterers – It's crucial for birds to have quick and easy access to clean food and water. Hanging or elevated vessels are great options.
Electricity – Depending on the climate in your region, electricity can be for heating or cooling. It can run a coop heater, water heater, light, fan, and more.
19 Creative Free DIY Chicken Coop Plans To Elevate Your Farming Game:
Now that you know about the elementary factors of chicken coops, it's time to check out the free instructions to make one. These include everything from simple and rustic to elaborate and attractive. Take a look:
1. Chicken Coop Kit
Don't worry if you're determined to build a coop but have no confidence in doing so from scratch don't worry! You can always buy a kit. This one from GUTINNEEN is a foldable coop.
 You can get the chicken coop kit here.
2. Large Chicken Coop Plans
If you have a large flock, you need a large chicken coop. And here's a plan for that! It's a sturdy hutch that's ideal if you have a large backyard to set up a new abode for your hens.
 Take a look at the free plan here.
3. Diy Small Chicken Coop
Looking to build a shelter for a small flock of livestock? This plan has you covered. It's small and cute, with a suburbanite feel to it. And it offers plenty of room for 2-3 chickens.
Here is the free guide to help you build this coop.
4. Walk-In Chicken Coop  Plans
Does the thought of cleaning your hens' home or collecting eggs give you a fever? Then you need this chicken coop with a large door to access the insides easily!
Check out how to build this chicken coop here.
5. Low-Cost DIY Chicken Coop
From repurposing an old cabinet to using discarded wood pieces – there are many ways to make a pocket-friendly chicken coop. And this one can be made within $50!
Find the detailed guide to make this coop here.
6. Mobile Chicken Coop on Wheels
Here's an idea you need to combat unpredictable weather conditions: a portable chicken coop with wheels! It lets you find shade – and a new grass patch regularly!
Check out the instructions given here to build this coop.
7. Diy Chicken Coop with Run
Want to make your small flock of hens a home with plenty of space to move around? Check out this lovely urban-style chicken coop with a run to foster natural behaviors.
Here are the free instructions.
8. Pallet Chicken Coop Plans
There's something incredibly rugged and rustic about chicken coops made of wooden pallet pieces. If you like that homespun twist, you'll love this coop, too!
Here are the instructions to build this coop.
9. Portable Chicken Coop 
This A-frame chicken is super-easy to move around, thanks to its small and light design and small wheels. Not to mention, it's super cute and goes with any color.
 Try the instructions given here to make this coop.
10. Chicken Coop for 10 Chickens  
Building a home for a flock of 10 chickens might seem like a big proposition if you're new to woodworking. But this sanctuary will not demand much of your creative energy.
 Take a look at the instructions here to build this coop.
11. Chicken Coop for 6 Chickens  
This is another cute chicken coop that you can build for your yard. Designed to help you house 6 chickens, this coop is perfect for you if your yard is not massive.
Here is the free plan for this DIY chicken coop.
12. Chicken Coop for 20 Chickens 
Are you worried about the safety and comfort of a large flock? Here's a chicken "palace" that you'll love – and you can build it yourself. Its cabin-like appearance adds to its charm.
Find the detailed instructions to build this coop here.
13. Chicken Coop for Summer And Rain 
Do you live in an area where the summers are smoking and the rains are relentless? You can protect your hens from these with the help of this shelter.
Check out the plan to make this chicken coop here.
14. Backyard Chicken Coop Plans
If you want to dedicate some space in your backyard to the safety of your flock, here's the coop for you. It's designed to protect hens from the cold, rain, and heat.
Here are the detailed steps for making this coop.
15. Inside Chicken Coop
If your homesteading adventures need you to utilize indoor spaces, this chicken coop is a must-have. It has a contemporary look that can also fit outdoor spaces.
Take a look here to know how to build it.
16. Diy Shed Chicken Coop
If you think your feathered friends deserve a cute home with a rural charm, here is a chicken shed you can build for them. It provides complete safety while sitting pretty!
Here is the step-by-step guide to making this coop.
17. Chicken Run Trampoline
When it comes to chicken coops and runs, you can repurpose old materials and take it to a whole new level! Take this coop, for example. You can make this using an old trampoline!
Check out the instructions here.
18. Chicken Coop for Winter
No matter what people may say about hens' ability to combat the cold, your heart may be tempted to protect the birds. This shelter is designed for a frigid climate.
Here are the details for making this chicken coop.
19. Simple Chicken Coop Plans
Start your coop-building journey with this plan. It has a simplistic look, and you can play with colors, from rusty red to retro green, to highlight your farm's personality.
Check out the plan here.
More Diy Tutorials
Free Diy Chicken Coop Plans: FAQs
What is the best layout for a chicken coop?
The best chicken coop layout is one that keeps hens safe from predators, especially at night. It also offers a comfortable place to lay eggs. It must be well-ventilated and have basics like roosting areas, nesting boxes, feeders and waterers, bedding, and bath boxes.   
Does a chicken coop need a floor?
While a floor is not a must for chicken coops, it helps keep out predators and rodents from burrowing in. The floor can also keep the coop warm and dry and prevent illnesses and frostbite in winter. Such a coop is much easier to clean, too.
Does height matter in a chicken coop?
Yes, the height of a chicken coop is important. It should be at least 3 feet per chicken. That's because each bird needs a roosting space of 8-24″ vertically. The extra height inside the chicken coop is also great for proper air circulation.
What do chickens like to sleep on?
Chickens prefer to sleep in an upright position on a roosting bar. So, it's best to include a perching space for hens above the floor inside a chicken coop. It can be a flat or a round bar. Sleeping on the floor exposes hens to pathogens, parasites, etc.
Are automatic chicken coop doors worth it?
Yes, automatic chicken coop doors are worth installing. They protect your flock. They also allow you to set an opening time and a close time. That means you don't have to go out to open the coop every morning during snow or rain.
How do you waterproof a chicken coop?
You can waterproof a chicken coop by putting a layer of waterproof sealant on the walls and the roof. You may use water-resistant materials like metal. As an additional but temporary step, you can put a tarp on top of the chicken coop and run.
A Quaint Chicken Coop Means Happy Cluckers
It doesn't take much to bring joy to your flock of chickens. All they need is some comfort, basic hygiene, and safety. And you can offer all that to your little cluckers by building a cute coop for them.
For me, the best part of building a chicken coop is involving kids and neighbors, fostering a bond, and leaving a legacy of farming and homesteading. And I believe you'll enjoy the process, too, as you learn more about your flock.
Sources & References