I bet everyone loves craft custom T-shirts for their professional appearance. But do you know how to make them? Sublimation and screen printing are some of the methods used to make these T-shirts with durable paints. How do you compare sublimation vs. screen printing, though?
Sublimation is a chemical process whereby a solid turns directly into a gaseous state. In sublimation printing, you print a special piece of paper and transfer the print onto a different material (polyester/polyester mix). Upon heating the ink, it disintegrates into the fabric.
On the other hand, screen printing generates a pattern or picture onto a surface by forcing ink through a screen of fine material.
Key Takeaways
Sublimation and screen printing use different technics to generate durable and high-quality prints.
Screen printing uses thick ink, stencil, and heat to print patterns and pictures. However, it takes a lot of time.
Sublimation printing creates pictures by bonding with the polyester fabric fibers through a chemical process and takes little time.
Screen printing is highly recommended on cotton, while sublimation best suits polyester fabrics.
The purpose of this article is to compare sublimation vs. screen printing. We have highlighted how each method works, its advantages, and its applications. Besides, we have compared them against different aspects like quality, cost, flexibility, and durability. After reading through the article, you'll be able to identify the best method for you and which suits your business model.
Sublimation Printing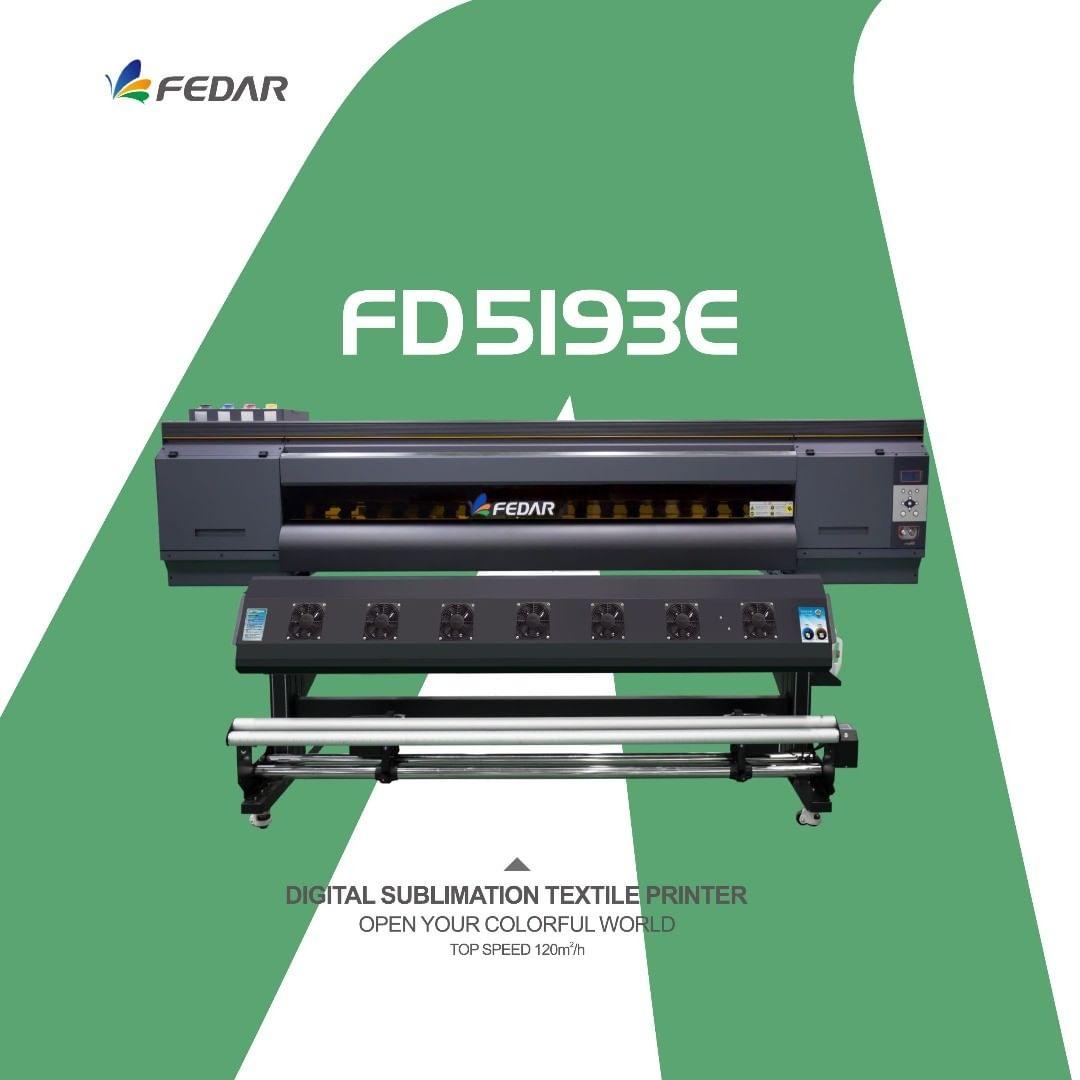 Sublimation or heat transfer printing is the process that involves the use of ink and heat to embed a design in the fabric. It uses the CYMK printer model's full digital color to print full-color photos. Sublimation printing is most common in the print-on-demand industry. This printing method creates durable and vivid designs, making them popular among small-scale businesses and professional printers.
Related: Best DTG Printer for Small Business
How Does it Work?
Below is a description of how sublimation printing works.
Set off by visualizing your design; high quality and detailed, of course. Upload it into a design program and mirror it.
Set up your sublimation printer. Ensure it has enough sublimation ink. The good thing is that sublimation printers work the same way as regular laser printers, except they use a special type of ink.
Insert a sublimation transfer paper into your sublimation printer and print your design on this paper, which you can use immediately or store for future use.
Remove dust, lint, or wrinkles from the surface of the material you want to print on and keep it intact using heat-safe tape before transferring the print.
Use a heat press to apply heat and pressure onto the object and the sublimation transfer paper. Adhere to the recommended time for the sublimation printing process.
Note that the sublimation process doesn't take much time and works best for a few custom prints. The process doesn't limit you; you can print on various objects, including banners and mugs.
Related: Sublimation vs. Vinyl: The Ultimate Printing Showdown
Advantages of Sublimation Printing
The advantages of sublimation printing are as follows.
Sublimation binds the ink with synthetic fiber, making it ideal for printing polyester, polyester-coated fabrics, and polyester blends.
Sublimation printing is cost-effective depending on the type of shirt you print.
Sublimation allows you to change designs when making small runs.
It allows you to create detailed multi-color designs. You can use any color and any number of colors.
With sublimation, you can add photo-realistic images to your objects.
Unlike screen printing, sublimation printing allows you to print on hard polymer surfaces like tumblers and mugs.
Applications of Sublimation Printing
Sublimation printing prints on polyester and synthetic fibers. You can apply it when printing the following.
Banners
ID cards
Flags
T-shirts
Sportswear
Related: 5 Best Epson EcoTank Printers for Sublimation
Screen Printing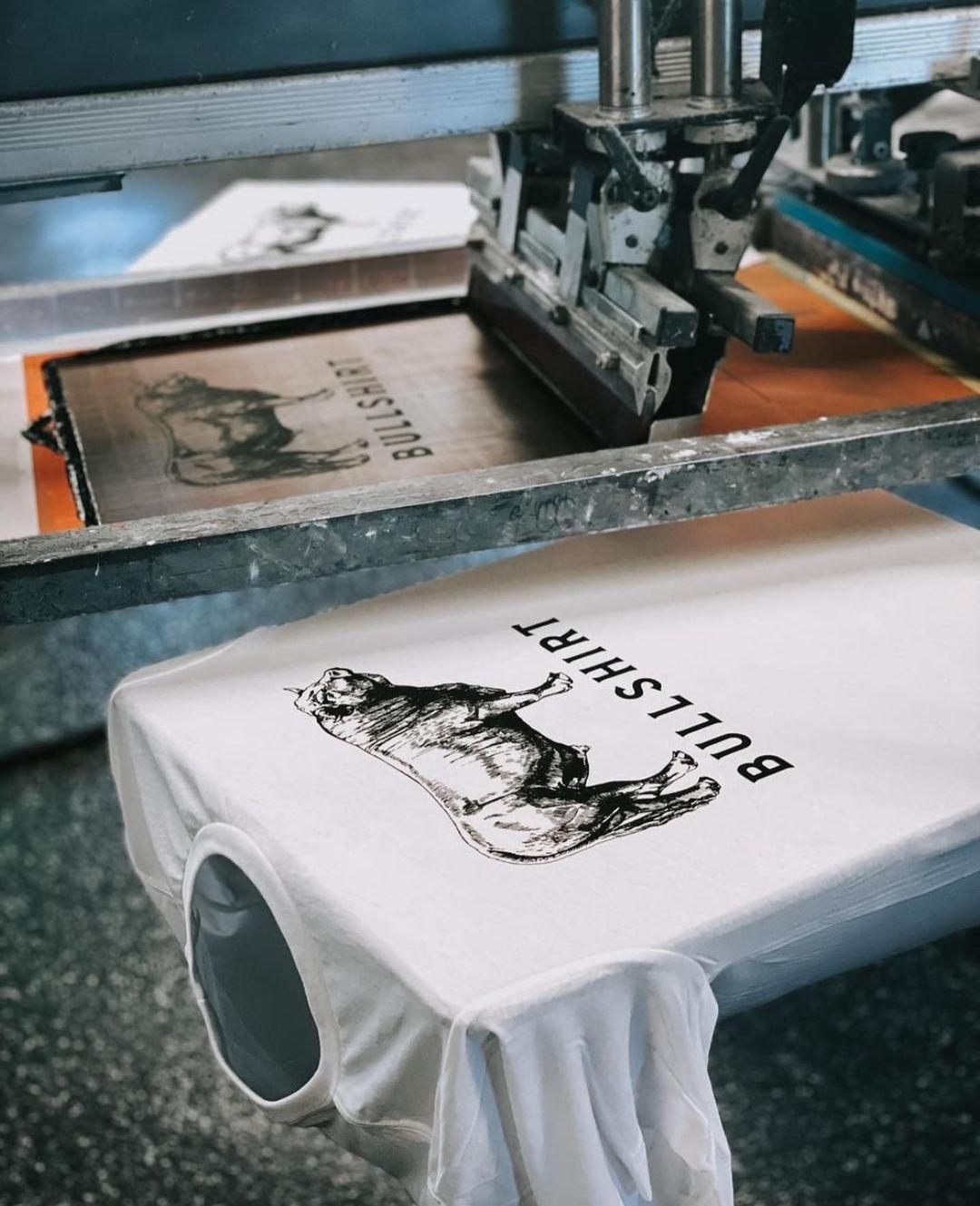 Screen printing/silk screening generates a pattern or pictures onto a surface by forcing ink through a screen of fine material. It uses a squeegee and stencil to squeeze ink through a screen on top of the fabric. This printing method is among the old forms and generates thick, raised designs. 
Screen printing is common among home artists and professional printers. It guarantees a high-quality design as it uses thick inks. Also, you can screen print with any color or fabric.
Related: Cricut Maker Vs. Cricut Maker 3 – A Detailed Comparison
How Does it Work?
Separate your logo, image, or design into individual color components. You can use a graphic design software to ease the process.
Set up a stencil on a mesh screen for individual colors. The negative color surrounding your image is the stencil. For home artists, you can use Cricut vinyl to make the stencil. However, professional printers may need to use light-sensitive emulsion.
Apply plastisol ink onto the stencil. Apply a smooth layer but ensure the plastisol is thick.
Spread the ink across the unstenciled portion of the mesh screen onto your T-shirt using a special squeegee.
Do the process once if using one color. However, if you have more than one color, apply each color layer one after the other using different screens.
Cure and set the ink using a heat press.
Note that this printing method takes a lot of time, especially when setting up the screen print. However, if you have an already-set-up screen, you can reuse it in future projects. Thus, screen printing is ideal for many T-shirts, provided they have the same design.
Related: Best Convection Oven for Sublimation – 4 Models For All Your Designs
Advantages of Screen Printing
Below are the advantages of screen printing.
Screen printing allows for mass printing of T-shirts with the same design, making the process cost-effective.
Screen printing can print on any fabric.
Screen printing allows you to choose a wide range of inks for special effects.
Applications of Screen Printing
Screen printing has many applications, including creating posters and generating bold canvases. You can also use screen printing on textiles and fabrics and textiles.
Comparison Between Sublimation and Screen Printing
| | | |
| --- | --- | --- |
| | Sublimation printing | Screen printing |
| Quality | High-quality prints, more detailed and vivid colors. | High-quality prints. It has raised designs assuming a 3D. Also has good visuals and perfect contrast |
| Durability | Long-lasting. The print can last as long as the fabric | Durable though the print will crack and peel after a short while |
| Cost efficiency | Only cost-efficient for small orders | Cost-effective for mass printing |
| Color blending | Allows for color blending | You can only blend colors with tight skills. It also takes a lot of time. |
| Complexity | Can create complex and more detailed designs | Has a limited complexity |
| Quantity | Can print small orders or large batches with the same amount of time | Supports mass printing of the same design |
| Consistency | Consistent though each shirt needs a new transfer sheet | Very consistent and you can make duplicates many times |
| Multi-color prints | Supports multi-colour prints | Difficult to create multi-color prints |
| Best fabric | Polyester | Cotton |
| Cost | Costly to set up equipment | Varying costs depending on the design complexity and order size |
| Set-up time | Requires less time to set up | Requires a lot of time to set up |
Cost Comparison
The major determinant of cost is the equipment you need for printing. Sublimation printing requires sublimation inks, a special printer, transfer papers, graphic design software, and polyester shirts.
However, the cost of screen printing is flexible. If on a budget, you can opt for a homemade mesh screen made from craft equipment. However, if cash isn't a problem, you can consider expensive equipment. However, you'll need plastisol inks whether you opt for expensive equipment or affordable homemade ones. Besides, you must have a heat press either way.
Quality Comparison
Both screen printing and sublimation create high-quality designs. However, sublimation produces more detailed designs with vivid colors. Their prints do not fade easily. It can also create multi-colored designs easily.
On the other hand, screenprints use limited colors but generate raised designs, assuming a 3D shape. Their prints have better contrast and textures. Their designs also last for a long time.
Time Comparison
Screen printing will take you more time than sublimation. No matter the design, you'll spend more time setting up the stencil and applying ink onto the screen. However, you may take much longer if you print multi-colored designs as you need to create a new stencil for each color.
On the other hand, sublimation printing takes much less time than screen printing. It requires you to create a digital image and transfer it onto a transfer paper. You can save significant time by custom-ordering the transfers. 
Related: How to Make a Stencil With Cricut – A Step-By-Step Illustrated Guide
Flexibility Comparison
Screen printing has many special effects than sublimation printing, making it more flexible. With a screen printer, you can use different inks, including glitter, clear, or 3D inks, to customize your design. The only limiting factors may arise from the time taken to complete the project and the money you budget to spend.
However, sublimation printing is more limited. With a sublimation printer, you solely rely on the ink your printer can mix. However, you can use glitter ink and related inks. To create a vintage, you'll need a T-shirt with a small portion of cotton.
Durability Comparison
Sublimation printing creates prints that last longer than screen prints. Screen prints fade and peel after a few washes. However, sublimation prints can't fade or peel. The dye in a sublimation print bonds with the fabric, ensuring it lasts as long as the fabric.
Sublimation vs. Screen Printing FAQs
Are Screen Print Transfers the Same as Sublimation?
No, screen print transfers are not the same as sublimation. Screen printing allows the ink to sit onto the fabric, while sublimation embeds the ink on the fabric.
Which Is Better, Sublimation vs. Screen Printing?
Sublimation vs. screen printing is better in different ways. For instance, screen printing has high-quality prints, while sublimation produces durable prints that last longer.
Is Screen Printing Cheaper Than Sublimation?
Screen printing is cheaper than sublimation when printing garments in bulk orders. Conversely, sublimation printing is cheaper when printing small custom orders.
Sublimation vs. Heat Transfer
Sublimation vs. heat transfer: in sublimation, the ink embeds on the fabric to become part of it, ensuring a long-lasting print with a soft feel. However, the ink sits on top of the fabric in heat transfer to create a layer. This print can crack and peel after a few washes.
Conclusion
Both sublimation and screen printing generate high-quality designs which are unique in different ways. However, sublimation outshines screen printing in many aspects. You can use it to create multi-color designs which are long-lasting. Besides, it generates vivid and detailed prints on various objects, including mugs. The only drawback of a sublimation print is that it is only limited to polyester surfaces.
However, screen printing outshines sublimation on design complexity. It creates unique and raised 3D designs that look impressive. It is quite durable but fades after several washes. However, it takes a lot of time to set up stencils.
We recommend screen printing if you have simple designs with one color only. However, a sublimation printer would be more suitable for on-demand products.
When choosing a printing technique, an important factor is how you want your designs to appear on your products. Go for sublimation if you desire multi-color patterns and designs. Also, consider the type of material you have. Sublimation is best for polyester fabrics, while a screen printer is ideal for cotton fabrics.