The United States Mint began producing quarters shortly after its establishment in 1796. The initial design showcased Lady Liberty on the obverse and an eagle on the reverse, a configuration that remained until 1930. The Mint suspended quarter production in 1931 due to the economic challenges of the Great Depression. In 1932, the quarter was redesigned to feature George Washington on the obverse as a tribute to his 200th birth anniversary. Over the years, the reverse has undergone multiple transformations to commemorate various significant events and figures in American history.
The current quarter series, known as the American Women Quarters Program, celebrates the accomplishments of trailblazing women in various fields, such as arts, politics, and film. While George Washington remains on the obverse, this program distinguishes itself by adopting artwork by Laura Gardin Fraser, replacing John Flanagan's earlier rendition.
Now, let's explore the unique characteristics of the 1970 Washington quarter, including its mintage numbers, design features, estimated value, and any notable errors.
The 1970 Quarter Design and Composition
The 1970 Quarter Obverse Side
Initially, Laura Gardin Fraser was slated to design the Washington Quarter, but the Mint ultimately selected John Flanagan's rendition. In this version, a centrally placed portrait of George Washington appears beneath the inscription 'LIBERTY,' which supplanted the prior design featuring Lady Liberty. The year '1970' graces the coin's lower rim, and the mandated motto 'IN GOD WE TRUST' is etched to the left of Washington's likeness.
The 1970 Quarter Reverse Side
The reverse of the 1970 quarter showcases a majestic bald eagle, the United States national bird, with its wings fully extended. The eagle perches atop a sheaf of arrows, resting on an olive branch. This powerful imagery symbolizes American strength (arrows) and the aspiration for peace (olive branch). It's widely considered one of U.S. coinage history's most visually compelling and symbolically rich designs.
The upper section of the coin is adorned with the phrase 'UNITED STATES OF AMERICA,' directly followed by the Latin motto 'E PLURIBUS UNUM' just below. Translated to English, this phrase means "out of many, one," signifying the unity of the states. The coin's denomination, 'QUARTER DOLLAR,' also appears at the top.
The 1970 Quarter Composition & Dimensions
Quarters were traditionally minted from silver for the first 169 years. However, starting in 1965, the Mint transitioned to a copper-nickel alloy. The 1970 quarter features a composition of 91.67% copper and 8.33% nickel, lending it a silvery sheen.
The quarter weighs in at 5.670 grams (0.2 oz) and has a diameter of 24.26 mm (0.9 inches). Its edges are 1.75 mm (0.06 inches) thick and come reeded, boasting 119 reeds in total.
The Enigmatic 1970 Silver Quarter
Though no silver quarters were officially minted in 1970, one extraordinary specimen has captivated the numismatic community for years. Specifically, a 1941 Canadian quarter found its way into the San Francisco Mint and was used as a planchet for a 1970 U.S. quarter. Impressively, the silver Canadian quarter details are visibly imprinted beneath the American design.
Contrary to the assumption that this could be an oversight by the U.S. Mint—which doesn't produce coins for foreign nations—the prevailing theory suggests intentional intervention. It's speculated that a Mint employee may have covertly introduced the Canadian quarter into the production process. Nevertheless, this intriguing 1970 silver quarter's true origin continues to be a fascination and mystery.
Related: The 1965 Quarter
The 1970 Quarter Value
How much is a 1970 quarter worth?
The value of a 1970 quarter varies widely, ranging from its face value for poorly conditioned specimens to as high as $35,000 for a unique coin that was struck over a 1941 Canadian silver quarter. While regular-issue 1970 quarters from Philadelphia, Denver, and San Francisco can fetch modest amounts depending on their grade, the ones with mint errors, such as off-center or double die strikes, can command prices into hundreds or thousands of dollars.
1970 quarter worth $35000
The previously-mentioned quarter engraved over the silver Canadian coin is the most valuable 1970 quarter. It was sold for a whopping $ 35,000 earlier this year (2023). It's fair to assume that its price will rise in the years to come – the coin is one-of-a-kind, has an interesting error, and a mysterious backstory. In other words, it has everything coin enthusiasts love!
1970 Quarter Value Chart
| | | | |
| --- | --- | --- | --- |
| Condition | 1970 Quarter Value | 1970-D Quarter Value | 1970-S Quarter Value |
| Poor (1) | $0.5 | $0.10 | $0.5 |
| Good (4) | $0.20 | $0.20 | $0.20 |
| Fine (12) | $0.20 – $1 | $0.20 – $0.50 | $0.20 – $1 |
| Extremely fine (40) | $1 – $10 | $0.50 – $5 | $1 – $10 |
| About Uncirculated (50) | $10 – $20 | $5 – $10 | $10 – $20 |
| Mint state (60) | $10 – $20 | $10 – $15 | $10 – $20 |
| Mint state (65) | $20 – $100+ | $15 – $100+ | $20 – $100+ |
| Mint state (66+) | $100 + | $100 + | $100 + |
The 1970 Quarter Mintage & Associated Value
How many 1970 Quarters were produced?
In 1970, three U.S. Mint branches—Philadelphia, Denver, and San Francisco—jointly produced a staggering total of 556,394,174 quarters. Contrary to typical trends, where the Philadelphia Mint leads in production, Denver outstripped its counterparts in 1970 by minting nearly triple the amount of quarters.
1970 D Quarter: Denver's Prolific Output
A quarter displaying the 'D' mint mark originates from the Denver Mint, which remarkably produced 473,341,364 quarters that year. Given the sheer volume from this mint, the value of a 1970-D quarter generally ranges from mere cents for worn examples to upwards of $100 for those in mint condition. The highest recorded sale for a 1970-D quarter, graded at MS69, fetched an astounding $15,000 on eBay in February 2023.
1970 Philadelphia Quarter: No Mint Mark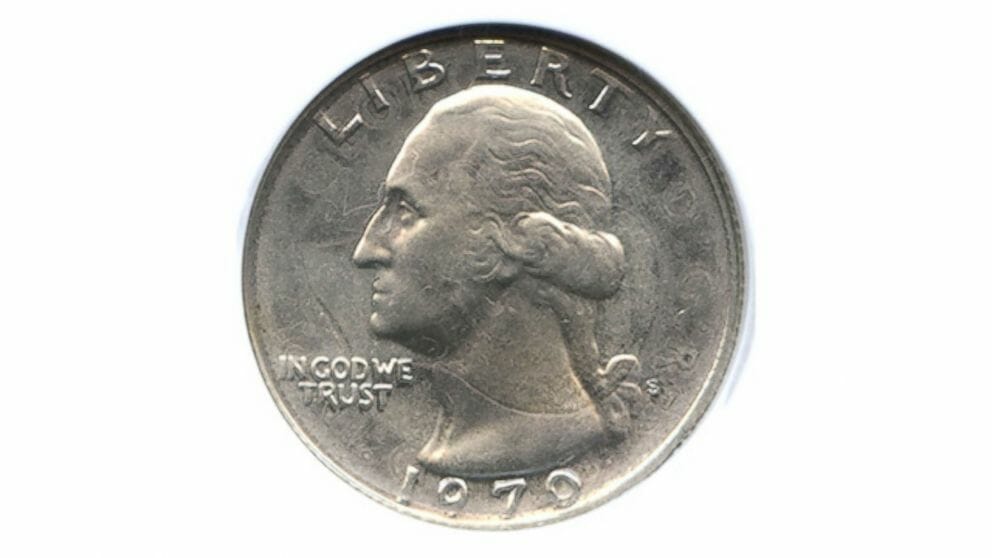 A 1970 quarter lacking a mint mark signifies its Philadelphia origin. The mint produced 136,420,000 such coins, rendering them somewhat more valuable than their Denver counterparts. Generally, quarters graded below 40 sell for less than a dollar, while those graded between 40-60 can command prices up to $20. Mint state examples often break the $100 barrier, with the highest recorded sale being $2,160 for an MS67+ specimen at a 2019 Heritage Auction.
1970-S Quarter: The San Francisco Edition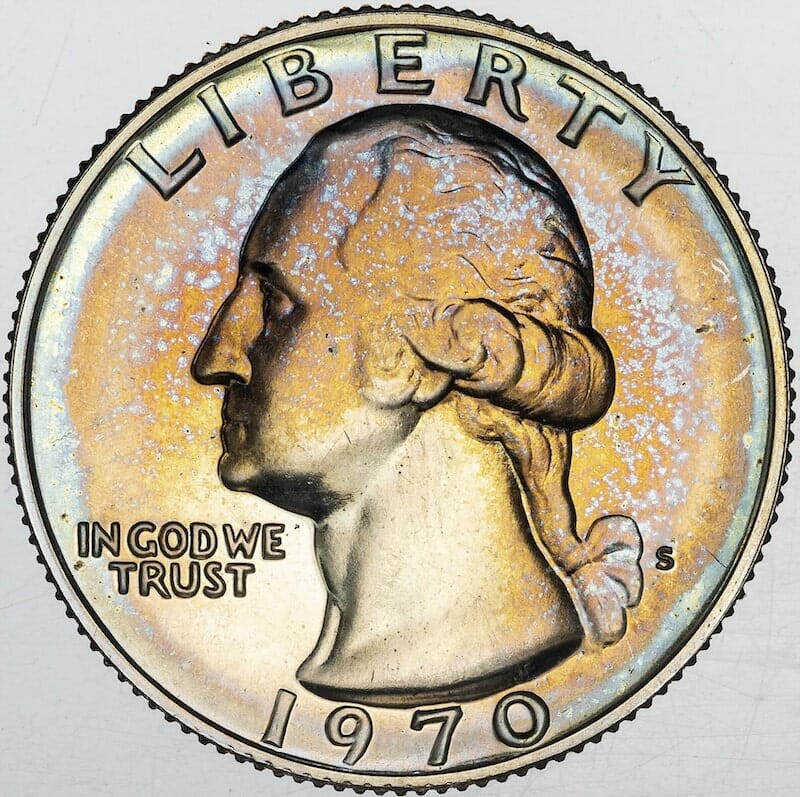 San Francisco's Mint contributed a modest 2,632,810 quarters in 1970. Their value closely aligns with those minted in Philadelphia, with the record auction price reaching $2,760 for an MS69-graded coin at a 2019 Heritage Auction.
The 1970 Quarter Error List
Mint errors add a layer of fascination to the world of numismatics, often transforming otherwise standard coins into highly prized rarities. These errors usually occur due to glitches in the minting process. To accurately identify and authenticate errors on your quarters, consult established third-party grading services like PCGS and NGC.
Key Errors and Their Corresponding Values
1970 Quarter with a 1941 Overstrike
The most extraordinary example in the realm of 1970 quarter errors involves the overstrike on a 1941 Canadian silver quarter. Although not a traditional mint error, this unique case is undeniably a result of mint oversight. Fetching $35,000 at auction, this one-of-a-kind coin is the most valuable error for the 1970 Washington quarters. The tantalizing possibility remains that additional examples might yet be discovered.
Off-Center 1970 Quarter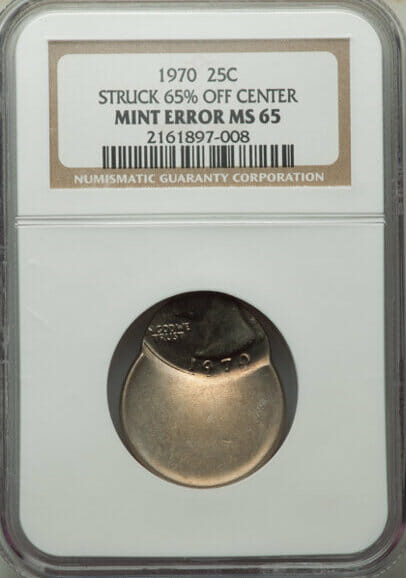 An off-center strike captivates collectors with its misaligned imagery, resulting from the improper alignment of the die and planchet during minting. The error can significantly boost the coin's value, typically ranging from an additional $10 to $100. The price can climb even higher when this error coincides with other manufacturing anomalies.
1970 Quarter with Double Die Error
Double die errors are relatively common in 1970 quarters, appearing on either the obverse or reverse of the coin. The value of these coins hinges on the severity of the duplication, which can be identified through meticulous examination of the design elements.
American Women Quarters Program
Final Thoughts
The Washington quarter holds a distinguished place in American numismatics, enduring as one of the longest-running series ever minted. Its obverse proudly displays the visage of America's first president, George Washington, while its reverse captures iconic American symbols like the bald eagle, a cluster of arrows, and an olive branch.
Minted across three facilities—Philadelphia, Denver, and San Francisco—the 1970 quarters offer a value spectrum that ranges from mere cents to an astonishing $35,000, the highest auction price ever recorded for a quarter from this year.
If you're keen on enriching your coin collection or searching for quarters with unique attributes, a 1970 quarter is worth considering. With the potential for uncharted errors still lying in wait, acquiring one could turn out to be a serendipitous investment.
Sources & References