Free motion quilting creates designs on a quilt top by moving the fabric freely under the needle. This technique can create intricate designs or add texture and interest to a quilt.
Once you have your foot attached, set your sewing machine to a medium-low speed, then begin stitching in a small circle around the center of your quilt. As you become more comfortable with the technique, you can expand your design to create more extensive and more intricate patterns. Remember to always keep the fabric moving in a smooth, even motion. Stray stitches can quickly ruin a quilt top. Take your time and experiment with different designs to see what you like best. If you're a beginner, read our guide on the best quilting sewing machines for beginners.
You will need a quilting hoop and a darning foot to free-motion quilt. The darning foot attaches to your machine and allows you to move the fabric freely without slipping around. I also recommend a machine with a large throat of a minimum of 6.5″ as quilting requires more space to work. As usual, I will not present 10 or 15 machines. There are plenty of sites out there if you require more options. Instead, I will show you with 4 machines that, in my opinion, cover all of the free motion quilter needs, from beginners to more advanced sewists.
Best Heavy-duty large throat free motion quilting machine: The Janome MC6650. Not the cheapest option of course but probably the best free motion quilting machine on the market today.
Best Lightweight Portable free motion quilting machine: The JUKI HZL-F300. Packed with all the necessary features, perfect for quilters looking for a portable machine without compromising quality.
Best value / Entry-level: Brother HC1850. There is simply no other machine as capable and versatile as the Brother HC1850 for under $250
Best vintage machine for free motion quilting: The singer 15's series, 15-89, 15-90
Related: Best Sewing Machine Cases, Bags, and Totes in 2023
What is a free motion quilting machine?
A sewing machine for free-motion quilting is a machine that has several features that allow you to move the fabric quickly, allowing you to create beautiful designs and patterns in your quilt. A free-motion quilting foot is also usually included, which helps to keep the fabric in place as you work. Some machines even have built-in templates or design guides to help get you started. If you're looking to add some extra flair to your quilts, a sewing machine for free-motion quilting is a great option!
Related: Best Longarm Quilting Machine in 2023: Top 6 Picks
Can any sewing machine do free-motion quilting?
No, not all sewing machines are capable of free motion quilting. To do free motion quilting, a machine must have a zigzag stitch, which most modern machines do. However, some older or low-end machines may not have this stitch, so you must check before purchasing a machine if free motion quilting is something you hope to do.
Additionally, the machine must be able to move the fabric freely in all directions; otherwise, the quilting will be uneven. A larger throat size comes very handy. If you are unsure whether your machine can do free motion quilting, ask a sewing expert or look online for tutorials on how to do free motion quilting on your specific machine. With a little bit of practice, you will be able to create beautiful quilts using your sewing machine!
What is the difference between a regular sewing machine and a quilting machine?
A regular sewing machine is designed for basic stitching, while a quilting machine has unique features that make it better suited for quilting. For example, quilting machines typically have a more expansive throat space so that you can easily fit large pieces of fabric through the machine, and they often have more presser feet options to help with different quilting tasks.
Additionally, quilting machines usually have built-in guides and rulers, making it easier to sew evenly spaced lines and perfect corners. If you quilt frequently, it's worth investing in a dedicated quilting machine – these machines can be a bit more expensive than regular sewing machines. Still, they offer many features that can make the quilting process more accessible and more accurate.
Large throat sewing machines for quilting
Large throat sewing machines are ideal for quilting, providing more space to maneuver large quilts. This allows for more precise stitching and a neater finish. Additionally, large throat sewing machines typically have wider frames, further enhancing the quilt's stability. A large throat machine is an excellent option if you're looking for a machine specifically designed for quilting.
The Janome MC6650 is a computerized sewing machine that offers a wide range of features and options for modern sewer. It has a 10″ Throat Space, 70 built-in stitches, 6 one-step buttonholes, and offers various quilting features. The Janome MC6650 can be used with or without a foot controller and has an extension table for larger projects. It is also easy to thread and use, making it perfect for beginners or experienced sewers alike. If you're looking for a reliable heavy-duty free-motion quilting machine with ample space to work then I reckon the MC6650 is the right choice. It is not particularly cheap, but you'll get your money's worth. Check the Janome MC 6650 latest prices on Amazon
70 Stitches PLUS 2 alphabets
Top Loading Full Rotary Hook Bobbin
Superior Needle Threader
One-Push Needle Plate Conversion with 2 Included Plates
10″ All-Metal Seamless Flatbed
6 LEDs in 3 Locations
Memorized Needle Up/Down
12 included accessory feet
15 Languages
Knee Lifter
Automatic thread cutter
Drop Feed
1,000 SPM
Foot Pressure adjustment dial
Speed control slider
Removable Stitch Reference Chart
Weight 24.25 lbs
The JUKI HZL-F300 Sewing and Quilting Machine is an excellent choice for beginners and experienced sewers. It has many features, including a built-in quilting guide that makes it easy to create beautiful projects. The machine is also durable and reliable, making it a good choice for everyday use. The HZL-F300 is only 21lbs which makes it a pretty good option for someone looking for a compact and portable free motion quilting machine without having to compromise on quality and feature set. Check the Juki HZL-F300 latest prices on Amazon
Sewing Speed: 900 Stitches per minute
Number of Stitches: 106
Maximum Zig Zag Width: 7mm
Maximum Stitch Length: 5mm
Number of Buttonholes: 16
Needle type: 130R / 705H
Presser Foot Lift: Manual
Adjustable Foot Pressure: Yes
Bobbin Type: 15 Class
Machine Weight: 21.6lbs
Dimensions: 17.5"(W) x 11.5"(H) x 8.25"(D)
Shank Type: Low
The Singer 15's series, (15-89) best vintage sewing machine for free-motion quilting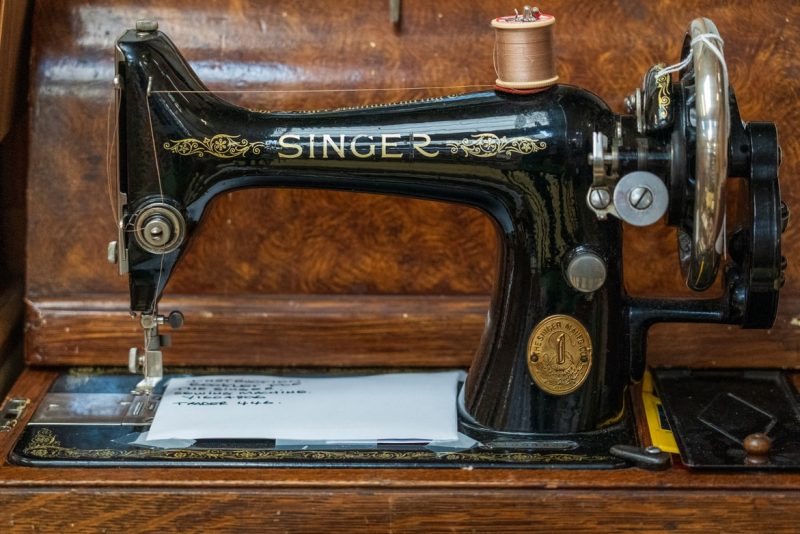 The Singer 15 is a popular sewing machine first manufactured in 1873. It is known for its durability and reliability, and many still use it today. There are several different models of the Singer 15, so it's essential to do your research before you buy one. They can be expensive, but they're definitely worth the investment. If you're looking for a quality vintage sewing machine that will last for years, the Singer 15 is a good option. It also seems to be the best option for people looking for a vintage feel and an efficient free motion machine. Since vintage machines are not my forte I shall refer you to this very interesting thread on Pattern Review.
The Brother HC1850 sewing and quilting machine is an excellent option for those looking for a versatile machine that can handle both light sewing projects and heavier quilting tasks. When comparing the price and the number of features it is no wonder why this machine is so popular among beginners and more advanced sewists. It also comes with several accessories, including an extension table, so you can start using it right away. Check the Brother HC1850 latest prices on Amazon.
Main Features
185 Built-in stitches, including 55 alphanumeric and 8 one-step auto-size buttonhole styles
1 Built-in monogramming sewing font, perfect for basic monogramming
170 Stitch functions for garment construction, quilting, decorative and heirloom sewing
Detachable wide table for larger projects
Large Backlit LCD display with intuitive push-button stitch selector
Exceptional feed system – sew on a wide range of fabrics
Adjustable sewing speed
Super bright LED-lit work area
Easy threading system and an automatic needle threader
Super easy bobbin winding system
Quick-set drop-in bobbin
Operation with or without included foot controller pedal
Lightweight with a built-in handle for portability
Includes 8 quick-change presser feet