Buying a leather engraving machine is not an easy task. That's primarily because there are so many options available, and it's easy to get lost in the technical aspects of these machines.
I've got some recommendations if you're having difficulty finding a suitable engraving machine or tool. Drawing insights from years of leather engraving experience, I can suggest a few options to help you personalize leather at home.
Scroll down to find a list of the 9 best leather engraving machines and tools.
Related: Best Wood Engraving Machine in 2023
Can You Engrave Leather?
Yes, you can engrave leather, and various techniques are available, like rotary, hand, and laser engraving.
Some people think that engraving or needling will impair the leather. While the technique is crucial, engraving on leather doesn't cause any damage. That's because you're working on the surface and removing a trace amount of material to make the design. You aren't digging deep.
Furthermore, genuine leather (or even suede) has a high tensile strength (although properties vary). Thus, it is tough to tear or rupture leather. So you can safely engrave any leather-based product as long as you're following proper directions.
Related: Best sewing machine for leather in 2023
What Tool Do You Use to Engrave Leather?
Most hobbyists use rotary tools to engrave leather. These are hand-held tools with a rotating motor and shaft. The motor can rotate at a speed of 22,000 RPM.
When you glide the tool across the leather surface, it forges the leather surface and leaves behind the design pattern.
Related: Best Laser Engraving Machine for Metal in 2023
Can I Laser Engrave Leather?
Yes, you can laser engrave leather using laser engraver machines.
These machines use high-energy laser beams to create precision and finesse patterns on the leather surface. The laser beams serve as the chisel to carve the design. The topmost layer is burnt when it hits the surface, turning into fumes. The result is a deep, dark incision that looks classy and authentic.
The best leather types for engraving are full-grain and top-grain leather. While you can also use it for suede and faux leather, the same quality will not be there.
Just like there are different leather types, there are different types of lasers. CO2 laser machines are best suited for engraving leather. But they aren't cost-effective and are available only for industrial purposes. For DIY projects, you should consider UV lasers and diode lasers.
Here are the best leather engraving machines and tools you should consider for your project:
Best Leather Engraving Rotary Tool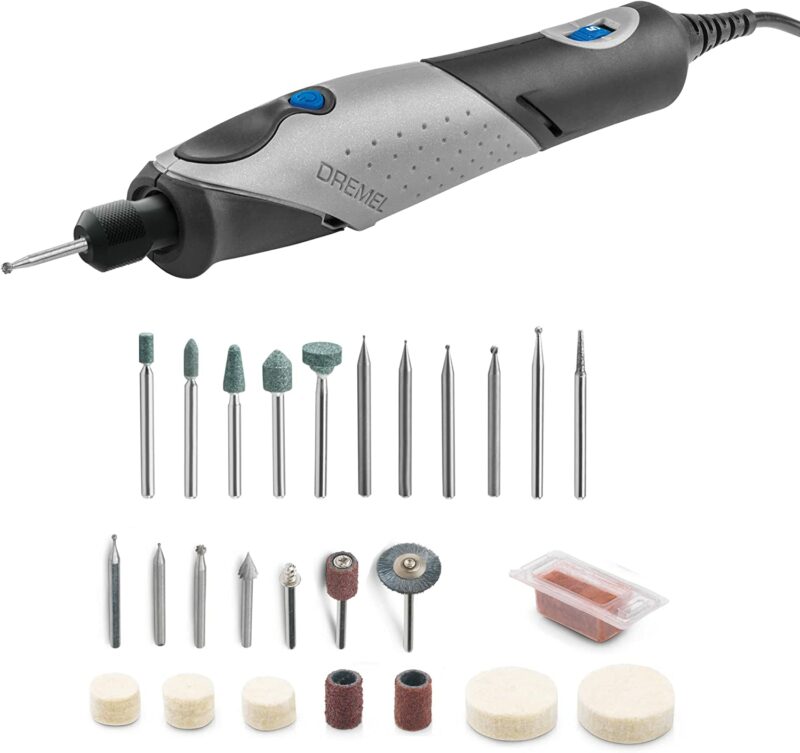 Type – Rotary tool

RPM – 5,000-22,000

Price – $65.99
Dremel is a half-century-old brand known for producing high-speed rotary tools. The 729-01 is a multi-functional rotary tool ideal for engraving leather.
The rotary tool is shaped like a pen and has a soft grip that allows you to craft detailed designs on leather. All you need to do is glide through the surface as per the design and let the end bit do its job.
There are various types of engraving bits included with this tool. You get bits ranging from 1/32″ to 5/64″ along with diamond wheel points. The 1/32″ bits ensure high precision, while the diamond points are meant for a longer lifespan. The recessed collet lock near the tool's neck allows you to change bits at will.
The tool also comes with a variable speed dial. Depending on the surface and comfort level, you can engrave at higher speeds of 22,000 RPM or at 5,000 RPM.
While it can be used on any leather surface, designs on flat surfaces like notebooks, wallets, and passport covers produce the best results. Besides leather, you can also engrave on wood, glass, and metal.
Pros
Multi-functional

A high number of accessories

Durable and lasts long
Cons
Check the 729-01 Stylo+ latest prices on Amazon
Best Cordless Leather Engraving Rotary Tool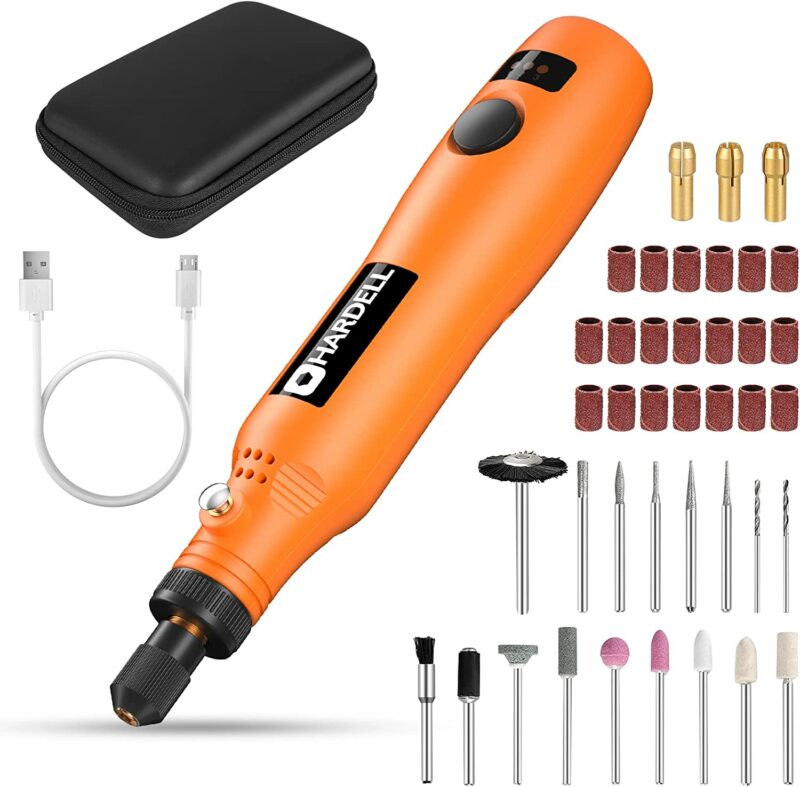 Type – Rotary tool

RPM – 5,000-15,000

Price – $19.99
This battery-powered cordless rotary tool is designed for portability. It easily fits into your pocket by weighing just 130 grams and measuring 5.75 x 1.1 x 1.18″.
The tool is equipped with a high-quality motor and a battery. The motor can reach speeds of up to 15,000 RPM. But you can lower it to 5,000 RPM if your project demands it. The tool has a three-speed adjustable button at the front specifically for that purpose.
The battery keeps the rotary tool going even during an outage. You can charge it via a USB port, which holds power for 2-4 hours. There's an indicator light to help you keep track of available battery power.
With this tool, you can engrave leather for an extended period. The tool has multiple heat dissipation holes that help cool the motor down when running at high speeds. But that doesn't mean you can use it for heavy-duty purposes.
Along with the rotary tool, you get a kit consisting of 40 accessories. This includes five grinding bits and diamond bits each. With a price tag of under $20, this multi-functional, portable rotary tool is a smart investment.
Pros
Lightweight and portable

40-piece accessory box to meet different needs

Affordable
Cons
Not suited for heavy-duty tasks
Check the HARDELL Cordless Rotary Tool's latest prices on Amazon
Best Leather Engraving Rotary Tool for Beginners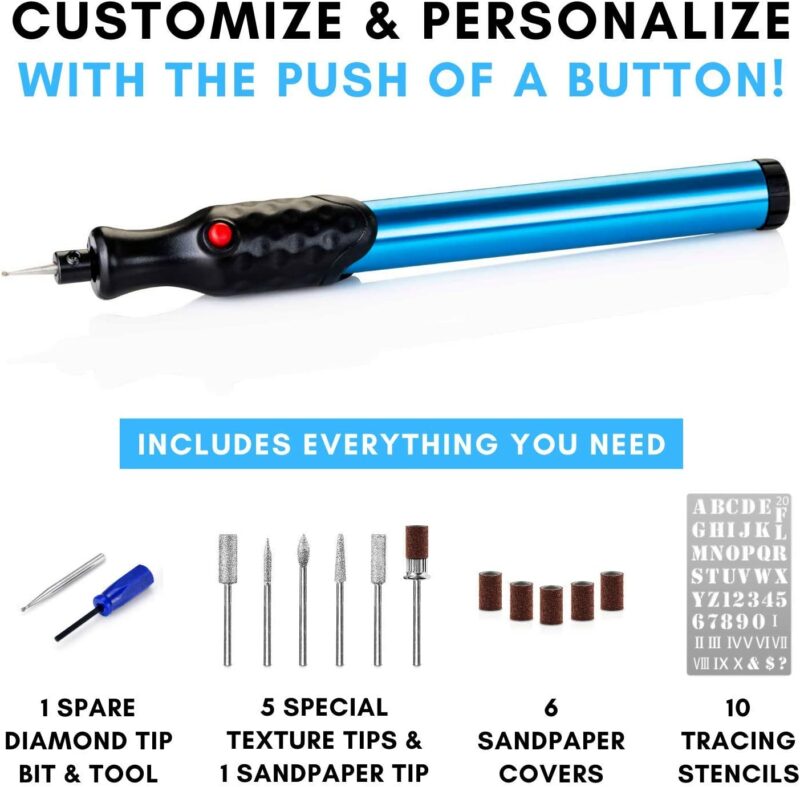 Type – Rotary tool

RPM – 5,000-15,000

Price – $19.99
The Easy Etcher is a popular engraving pen among hobbyists. One of the reasons for its popularity is that it's beginner-friendly.
The tool is easy to use and comes with ten stencils. You can easily follow the pattern and make your first design on leather. Each stencil has dozens of designs that would help you practice if you're just starting.
The powerful motor is capable of delivering 21,000 RPM of superior speed. But you can reduce it to 12,000 RPM for better control. The tri-global grip offers more control, so you can learn the craft faster while making fewer mistakes.
The Easy Etcher is portable and runs on two AAA batteries. However, these aren't included in the pack, so you must purchase them separately. When not in use, tuck the pen in your pocket and carry it anywhere.
Another reason for its popularity is that it can work on a wide range of surfaces like leather, glass, wood, and plastic. So you can personalize anything you want and bring your ideas to life.
Tidalpool offers six months of warranty on this product. You get a full refund if you're not impressed with the Easy Etcher!
Pros
Adjustable motor

Tri-lobal grip for better fingertip control

Ten stencils included
Cons
Not suited for extended use
Check The Original Easy Etcher's latest prices on Amazon
Best Laser leather engraving Overall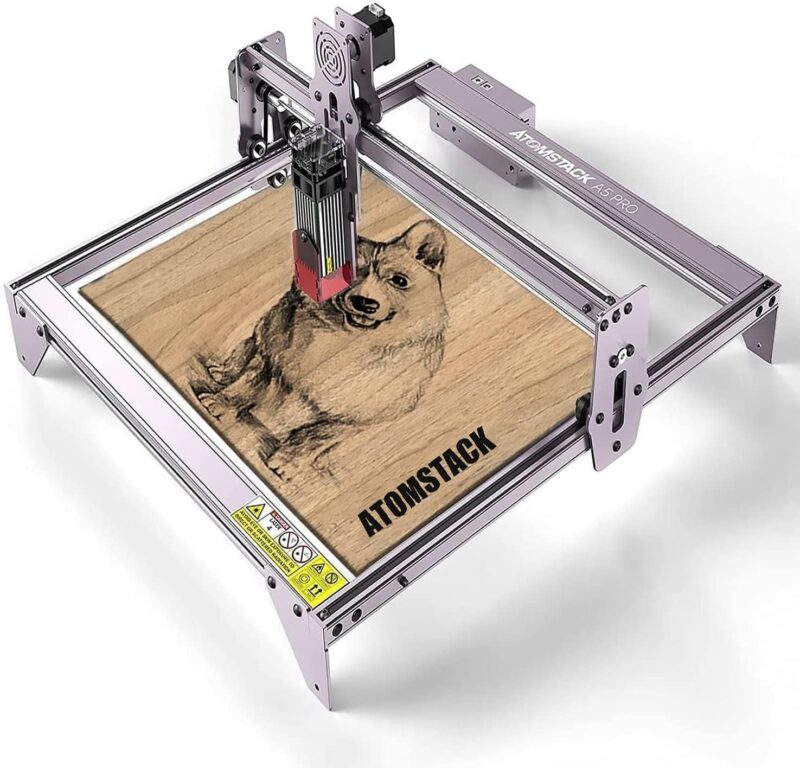 Type – UV Laser

Electrical Power – 40W

Working area – 410x400mm

Price – $279
Loved by professionals and beginners alike, the A5 is a perfect laser engraver in every sense, whether it is functionality or safety.
The latest addition to this laser engraver is a new eye protection design cover. It filters out 97% of the UV rays. You can directly look at the laser while it's being worked on without needing safety goggles.
The machine delivers lasers between 5-5.5W, sufficient for engraving leather of any thickness. You can adjust it to suit the thickness and type. The engraving accuracy is around 0.01mm, which is deemed highly accurate. Along with accuracy, the contrast is also superior because of its high power.
A5 is compatible with LaserGRBL and LightBurn, two leading engraving software. Connect the machine to your PC or laptop, load the design on the software, and engrave it on the leather. It's that simple.
The brand ATOMSTACK is involved in the research and development of laser equipment. So when you're buying the A5, you're getting the latest tech in laser.
Easy to assemble and easy to use, you'll love working with this laser engraver.
Pros
High-power engraving for accuracy and contrast

Protects the eyes against UV rays

Large working area
Cons
Check the ATOMSTACK A5 Pro 40W's latest prices on Amazon
Best Laser Machine for Beginners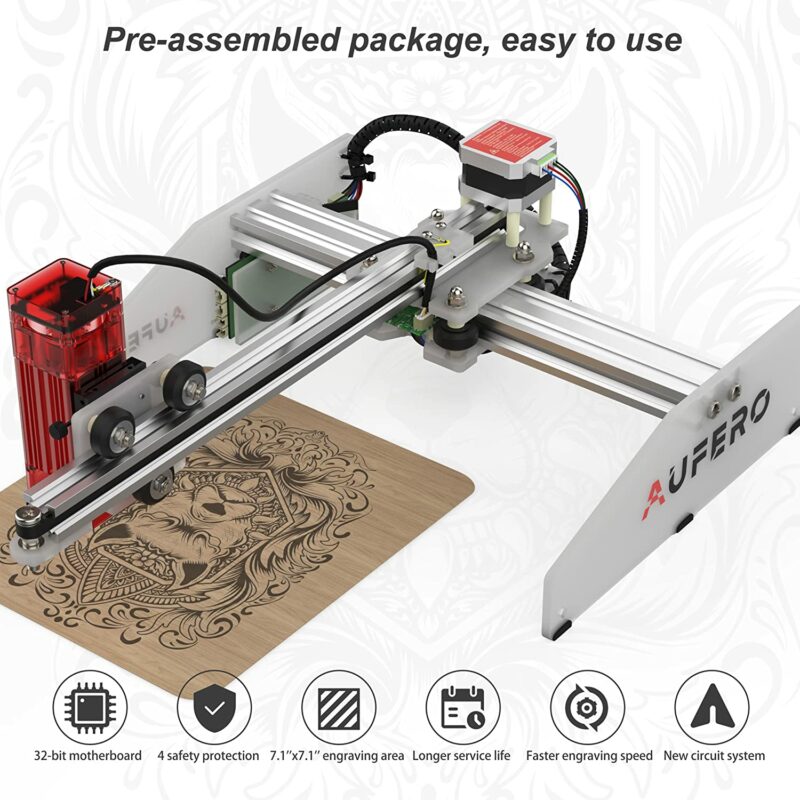 Type – UV Laser

Electrical Power – 7W

Working area – 180x180mm

Price – $237
This entry-level laser engraver is designed for beginners and hobbyists.
The main problem that beginners face is with assembling the machine. But this laser engraver comes pretty much pre-assembled. All you have to do is connect to the computer and get started with engraving leather.
It also has broad software compatibility, which means less research in finding the right software to work with. It is compatible with all three leading OS (Windows, Mac, and Linux) and with LaserGRBL.
To keep you safe while working, this machine has four protection systems. One is the Active Position Protection, which stops the operation if there's a deviation in position. Second is the Laser Beam Safety Guard, which intervenes when there's a signal transmission failure.
The third and fourth are the Exposure Duration Detection and Power Control Systems.
The result this machine produces is impressive. It has 0.07 X 0.06 mm focal point, which is ideal for engraving high-precision patterns on leather. But you can use it on other materials like paperboard, stainless steel, and stone.
Weighing just under 7 pounds, this leather engraver is highly portable. You can easily carry it to your friend's house or the art club.
Pros
Minimal set-up required

Compatible with most software and OS

Portable
Cons
Check the Aufero Portable Laser Engraver's latest prices on Amazon
Best Premium Laser Leather Engraver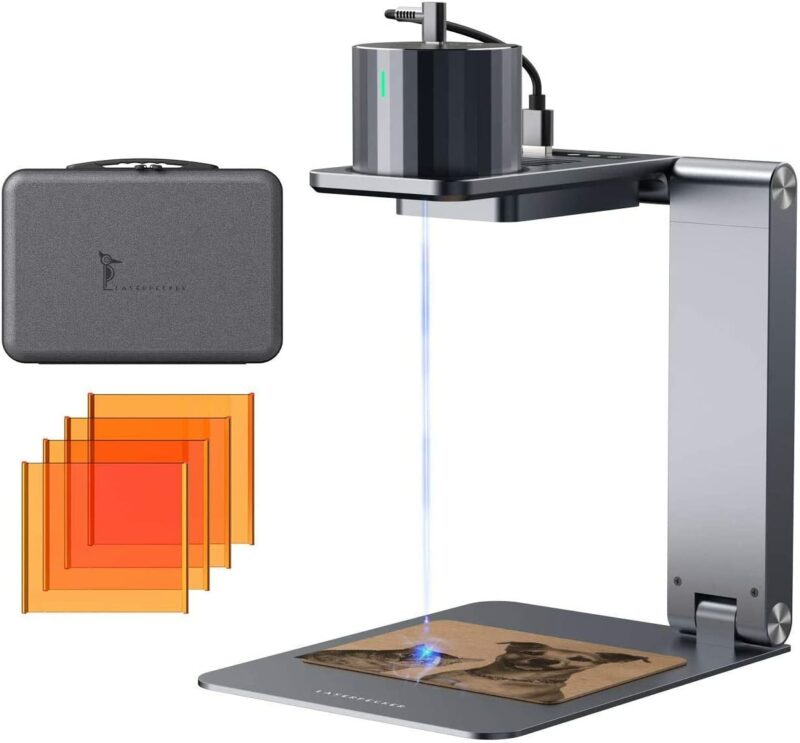 Type – Laser Diode

Electrical Power – 40W

Working area – 198X293mm

Price – $689
L1 is a high-end, high-power laser engraver from LaserPecker, a reputed brand in this space. It ships with many accessories, and everything fits into a carry box, making it easier for you to carry the machine.
The machine has a unique design with a tripod and electric stand. Once you set it up — which shouldn't take long — you need to connect to the mobile app and start engraving on leather. You can engrave any picture you have on your phone. The results are very accurate, with a high level of detail.
It has blue filter protective goggles to shield your eyes from harmful radiation. Other safety features include motion detection shutdown, overheat shutdown, and password lock.
The laser has a lifespan of 10,000 hours. So expect it to last years, depending on your use. On top of that, you have one year of service warranty. Therefore, the L1 is the perfect long-term investment.
Pros
Easy to use with minimal setup requirement

Lightweight and portable

One year warranty
Cons
The mobile app becomes unstable at times
Check the LaserPecker L1 Pro Laser Engraver's latest prices on Amazon
Best Mini/Portable Laser Leather Engraver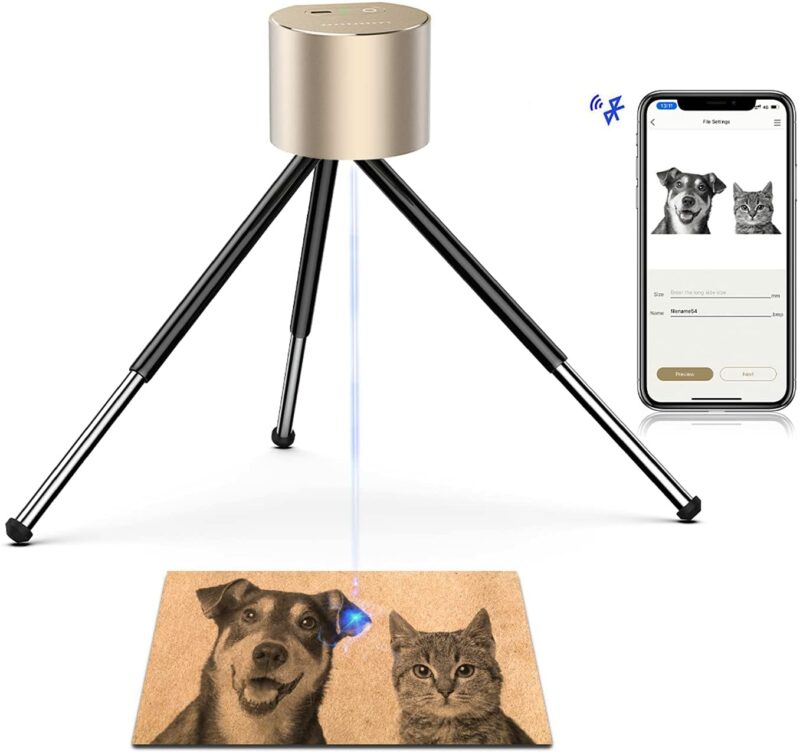 Type – Laser Diode

Electrical Power – 40W

Working area – N/A

Price – $299
This compact laser engraver machine is the epitome of portability. The set-up consists of a circular laser beamer — which easily fits into the palm — and a fold-down tripod.
To start engraving leather with this portable machine, erect the tripod and mount the circular beamer at the top. Then, connect it to the app and select the image you want to engrave. The app contains several editing features that enable you to customize your message or symbols.
But you can also engrave without the tripod. Simply place the laser beamer on a flat surface, with the laser facing the leather horizontally. It will engrave the pattern with equal precision. So you don't even need to carry the tripod! However, you'd need to carry the power bank, which powers the machine. It doesn't have in-built batteries.
The compact laser engraver machine has a protective case and a few safety features. The case protects your eyes, while features like motion-trigger stop and overheat shutdown protect the machine.
Besides leather, you can use this laser engraver to work on fruit, felt, wool, paper, glass, and metal. The $300 may sound like a lot for a small machine like this, but it's worth it.
Pros
Engrave horizontally and vertically

Highly portable

Powerful editing features in the app
Cons
Not suited for more extensive projects
Check the LaserPecker Compact Laser Engraver Machine's latest prices on Amazon
Laser Leather Engraver with 3D Printing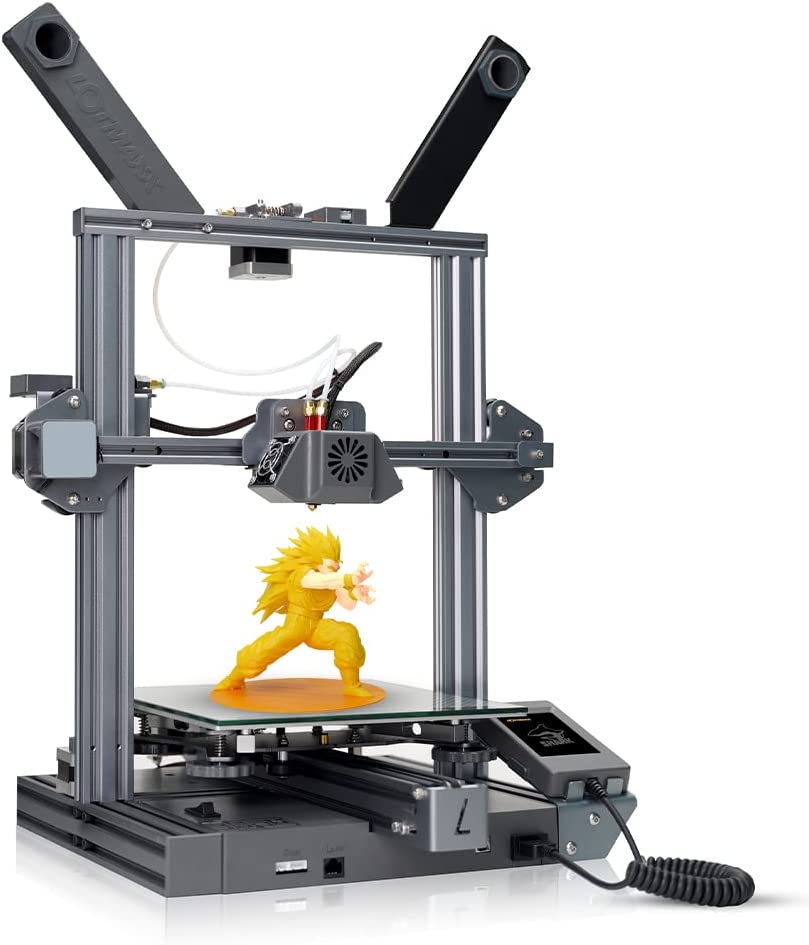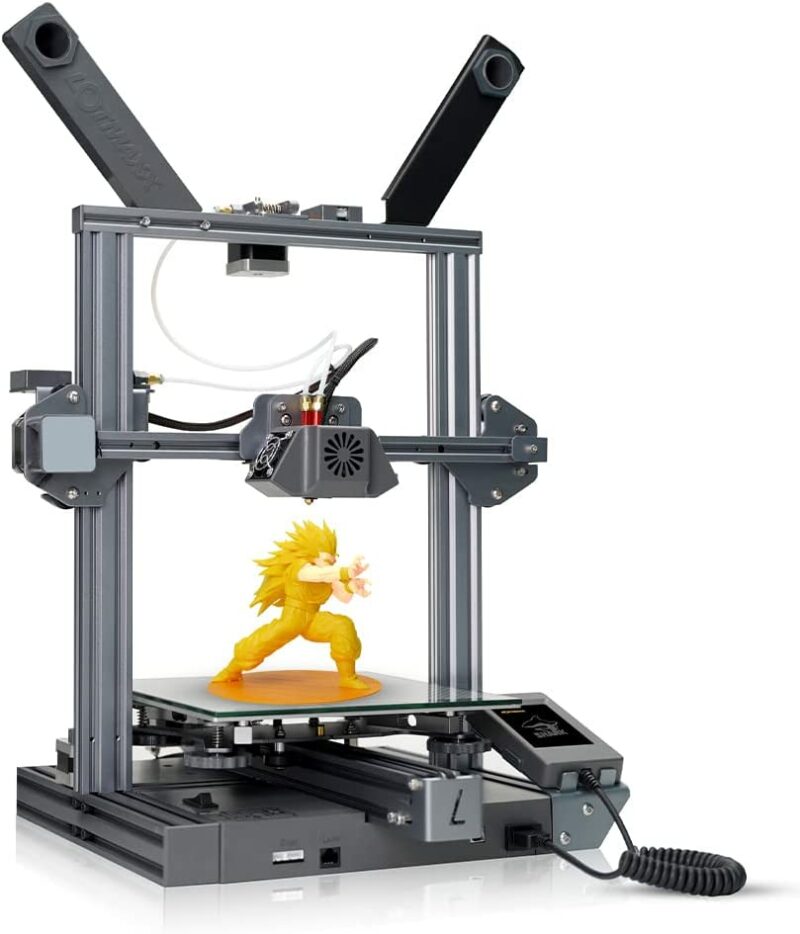 Type – UV Laser

Electrical Power – 1.6 W

Working area – 235X235mm

Price – $365
If you need a laser engraver that can print 3D items, the Shark V2 is the machine to invest in. It's a 2-in-1 printing machine designed for hobbyists and DIY projects.
With this machine, you must turn on the laser engraving mode and set the parameters to engrave on leather. The high-power laser beams will engrave the design pretty accurately. You can engrave on leather, cardboard, brown paper, and wood.
It has an expansive working area that offers you the flexibility to work on larger designs. To prevent overheating, the machine has 3-fan rapid cooling technology. It is also noiseless when engraving leather or printing objects.
For printing 3D objects, it has all the valuable features like auto-leveling equipped with gravity sensors, a smart control chip, dual extruder single nozzle, and dual high-precision extrude, among others.
The Shark V2 comes pre-assembled and doesn't require much tweaking. However, before printing or engraving, you need to get familiar with the setting controls.
Pros
Dual-purpose laser engraver

Super precise laser printing

Rapid cooling technology to avoid overheating
Cons
Check the LOTMAXX Shark V2's latest prices on Amazon
Best Pyrography Pen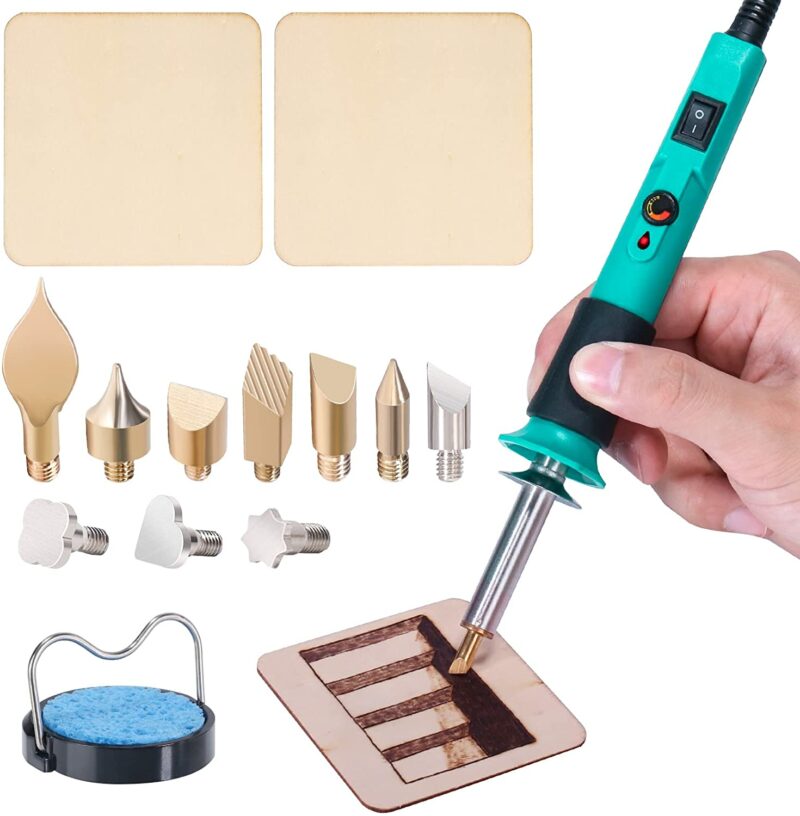 Type – Pyrography pen

Electrical Power – 25W

Working area – N/A

Price – $17.99
Pyrography is a free-hand art of personalizing items with burn marks. These marks look more authentic on a leather surface. While it can be used separately, the pyrography pen is often used alongside other tools to enhance the final result.
This pyrography pen comes with 10 tips to adjust the marking thickness. Along with thickness, you can also adjust the shade color intensity with the adjustment dial.
Pyrography may take longer than you expect. Thus, this pen has an ergonomic design to offer a comfortable non-slip grip. This allows you to work for longer hours. Also, it has a heat-resistant silicone power cord specifically for an extended period of use.
Besides the ten interchangeable tips, the accessories box includes unfinished wood pieces, a flip-up pen stand, and a cleaning sponge.
This pyrography pen for leather is well-suited for beginners. You get three stencils with this pen that'd help you learn the art. Follow the pattern with the pen tip and make your first pyrographic art on leather. The tool also works well on cardboard and wood surfaces.
If you desire a smoky, burning effect on your leather, consider purchasing this affordable pyrography pen.
Pros
It comes with a complete pyrography kit

Ergonomic design with heat-resistant silicone layer

Affordable
Cons
Requires some skill level
Check the YIHUA 930-IV's latest prices on Amazon
Can you engrave leather with a Cricut Maker?
Yes, you can engrave leather with a Cricut Maker. You'll need to use the Deep Point Blade and the Engraving Tool Holder; both sold separately.
You'll need to import an image or design into Cricut Design Space to start. Once your design is ready, select it and click on the "Make It" button.
Next, choose the material setting for "Leather" and make sure that the correct blade is selected. Then load your leather into the cutting machine and press start.
Your Cricut Maker will do all the work for you and engrave your leather piece perfectly!