If you love to engrave, glass can be a fun material to work with. Many exciting projects can involve this craft. I was wondering how to engrave glass at home. The answer lies in the proper method and the best glass engraver.
Engraving is a great way to personalize glass objects like mirrors, mugs, paperweights, and showpieces. From letters to fancy patterns, anything can be added to glass objects. A rotary pen, laser engraver, and etching cream can etch fabulous engravings on glass.
Today, you'll learn about engraving glass with different methods – and the best tools for each. So keep reading.
Related: How to Engrave Metal? Dremel, Cricut Maker & Laser
Can You Engrave Glass At Home?
Many crafters hesitate to work with glass as they think it's a sensitive material. But you can engrave glass at home without damaging it. There are rotary pens to draw on the glass. Or, you can apply etching cream for the magic of chemicals. Laser engravers, too, can work wonders!
An engraving pen's rotary tip can etch the surface. So, using it for hand-engraving is quite like drawing. On the other hand, Etching cream uses strong chemical reactions on the glossy surface. It creates a frosted look on the parts of the glass where you apply it.
Laser engravers are advanced machines. The beam hits the glass, and air and moisture react with glass elements, creating microscopic fractures where the design is formed. Co2 and diode laser engravers are low-cost instruments to kickstart your glass engraving journey.
Related: Best Engraving Machine for Jewelry: Top 6 Choices in 2023
How to Engrave Glass at Home
You might have been asking yourself, "What can you use to engrave on glass?" The answer depends on what method you want to use. Any glass engraving craft project can ideally be accomplished with the help of rotary pens, etching creams, or laser engravers.
Here's how to use these methods.
Related: Best Laser Engraving Machine for Metal in 2023
a) How to Engrave Glass with a Laser Engraving Machine
Laser engraving machines can emboss designs with depth and etch flat designs that get drawn on the surface.
Here are the steps:
Find the right glass type for laser engraving with low lead content. The

soda-ash glass

, commonly used for making commercial glass objects, is a safe choice.

You can "mask" the surface by applying wet paper or

green laser tape

. You can also use a layer of liquid soap to do the trick. Both help dissipate laser heat.

Create a design with the help of designing software like CorelDraw, AutoCAD, Fusion 360, etc. Or find designs online.

Position the glass piece on the work bed of the laser machine if it's flat. Or, put it on the rotary attachment if it is a cylindrical object like a glass, mug, or bottle.

The image needs to be a raster file like JPG or PNG. Send the image information to the engraving machine and allow the machine to engrave the design.
Tips:
Make sure to wear glasses to protect your eyes from the intense laser light – and a mask to keep away the fumes.

If you notice a flakey appearance after engraving, buff the surface by rubbing it gently with a soft scrub pad to polish it.
b) How to Engrave Glass by Hand
Take a look at the two methods of engraving glass by hand – with a glass engraving pen and with glass etching cream –
1) Glass Engraving Pen
To engrave glass with an engraving pen and create beautiful patterns and letters on the surface, do the following –
Select a design. It can be a pattern, a logo, a stylized name, etc. Draw the design on the glass surface using a marker that works on the glass surface.

Or, print it on a piece of paper and stick it on the back side of the glass workpiece to act as your guide. This method will work if the glass is transparent.

Or, you can create a stencil using adhesive vinyl paper. Paste it on the front of the glass object. This works on translucent, opaque, tinted, and reflective glass.

Attach the appropriate engraving bit with diamond, silicon carbide, or tungsten tips. Depending on your design, it can be as thick or as thin as you want.

Turn on the machine and set the speed recommended by the manufacturer. This is usually 15,000 – 20,000 RPM. Then, start tracing along the guide.
Tips:
There's no need to press down too hard. A light touch should be enough. But you can manipulate the pressure slightly for different depths and a 3D effect.

Keep some wet wipes, a bowl of water, and a cloth at hand. And while working, wipe the glass now and then to remove the residue that can obstruct your view.
Check out this video explaining how to engrave glass with a Dremel pen.
2) Glass Etching Cream
Using etching cream to add designs on glass can be an addictive craft, for which you need to do the following –
Tape a piece of contact paper on a flat surface. On it, draw a design – or tape a printout of it. It's best to choose block designs without intricacies.

Then, using a hobby knife, cut through the paper and lift the cut portions so that the contact paper has the outline of the design you want on the glass.

You can use a

Cricut machine

to print on and cut printable stencil vinyl paper. This will give you a stencil with the design you want to etch.

Peel off the tape on the back of the

vinyl/contact paper

stencil. Then, stick it on the surface of the object. Press down on it to ensure there are no bubbles.

Using a brush or a stick, apply an even coat of the etching cream on top of the paper. Make sure to cover the entire image.

Leave the cream for up to 5 minutes to create chemical reactions to change the texture on the surface. Scrape off the cream as much as possible.

Wipe the surface with wet wipes to remove the residual cream before peeling off the stencil paper. Then, wash the glass to remove all chemicals.
Tips:
Etching cream has harsh chemicals. So, make sure to wear protective gloves while working with this cream. Otherwise, it can hurt your skin.

Before washing the surface, don't forget to recover as much cream as possible with a spatula – and put it back in the cream container. It is a reusable item.
Don't miss this video to learn more about how to use the etching cream.
How to Engrave Glass with Cricut Maker
Cricut makers can make your job easier when you want to hand-engrave glass with an engraving pen or etching cream. You can use the device to cut a design on vinyl paper and make a stencil. Then, you can place this stencil on your object as a guide for etching.
Cricut cutting machines are compatible with a special kind of engraving tool. This tool can be used to etch designs on various materials like leather or wood. However, it is not appropriate for glass. The only way you can use Cricut machines for engraving glass is for stencil-making.
Here's how to do it:
Create a design in the Cricut Design Space application

, or select an image for your stencil from the

Cricut Access Library

.

Or, upload an image to Cricut Design Space. You may find them on Etsy or

Free Stencil Gallery

. Make sure that they are SVG files.

Place the vinyl paper onto the reusable adhesive cutting mat in the Cricut machine. Make sure it's completely flat.

Then load it into the machine with the press of a button. Then, click on the "Make it" option in the design application, select Vinyl from the material menu, and proceed to send the design file to the machine.

The machine will cut the design on the vinyl paper after that – and you can remove it from the machine.

Then, peel off the liner at the back at an angle of 45 degrees to minimize force on the stencil.

Place the stencil on the glass as flat as possible. Press a scraper tool or gift card on the stencil from the center to the edges to remove bubbles.

Apply the etching cream and wait up to 5 minutes before removing the cream and the stencil. Wash the object – and it's ready!
Here's a video to help you better understand the process.
Best Glass Engraver: Top 3 Recommendations
Best Hand-Engraving Pen for Glass: Dremel 2050-15 Stylo+
Best Etching Cream Kit: Armour Etch 10-0101 Deluxe Glass Etching Kit
Best Laser Engraving Machine for Glass: xTool D1 10W+RA1 Laser Engraver
Best Hand-Engraving Pen for Glass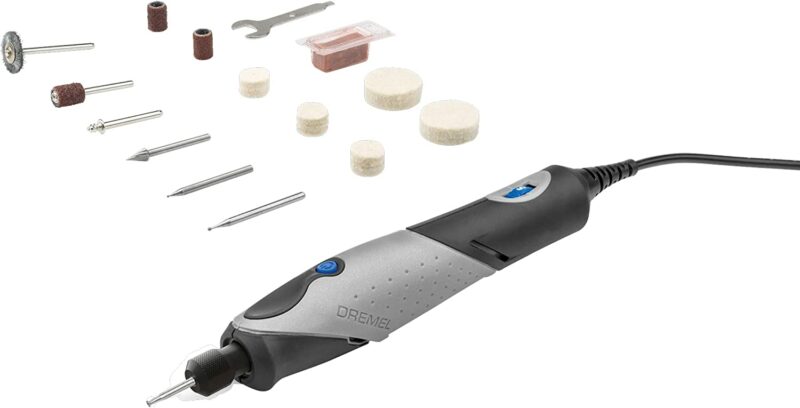 The first name that comes to mind when we think of hand-engraving is Dremel. And the Dremel 2050-15 Stylo+ is perfect for etching your design of choice on glass. It can be used by beginners and experts alike. You can use it to etch, engrave, and polish glass.
It has rotary bits to etch designs as delicate or deep as you want. Its powerful motor gives it an impressive speed of 5000-22000 RPM, which you can control with a dial. You can also work endlessly with this device without experiencing loud noises.
Specifications
Mechanism – Electronic Rotary Engraving

Dimension – 5.1" x 2.2" x 10.4"; Weight –

7.2 oz
Pros:
Sleek and light body with soft grip

Excellent tool for mugs, ornaments, etc.

Electric tool with cord for endless power

Recessed collet lock for easy attachment change
Cons:
Can be used near a power source only

May turn tool off accidentally due to speed dial
Check the Dremel 2050-15 Stylo+'s latest prices on Amazon
Best Etching Cream Kit to Engrave Glass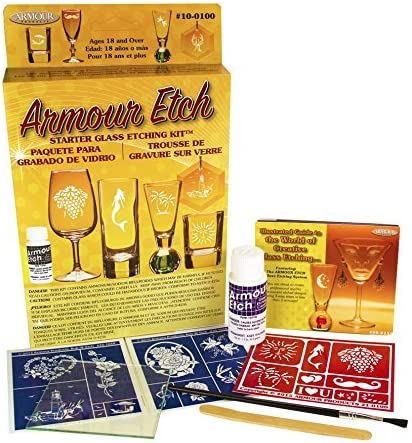 One of the best tools for glass engraving for beginners is the Armour Deluxe Glass Etching Kit. The primary product in this kit is the etching cream, which you must apply to your glass object. Apart from that, it comes with a range of other valuable products.
With a hobby knife, stencils, vinyl, design patterns, etc., are included to help you choose or create your designs. The kit also has a brush and a stick for application. Don't forget the reusable gloves for your safety. Don't forget the practice glass to improve your craft.
Specifications
Cream Quantity – 2.8oz

Complete Etching Kit
Pros:
High quality of etching cream for excellent results

It comes with a stick and brush for easy application

Ideal etching kit for both new and pro users

34 etching stencils with interesting patterns

Reusable gloves to protect your hands
Cons:
It needs more than the prescribed time

It may give light results if the cream is removed too soon
Check the Armour Deluxe Glass Etching Kit's latest prices on Amazon
Best Laser Engraving Machine for Glass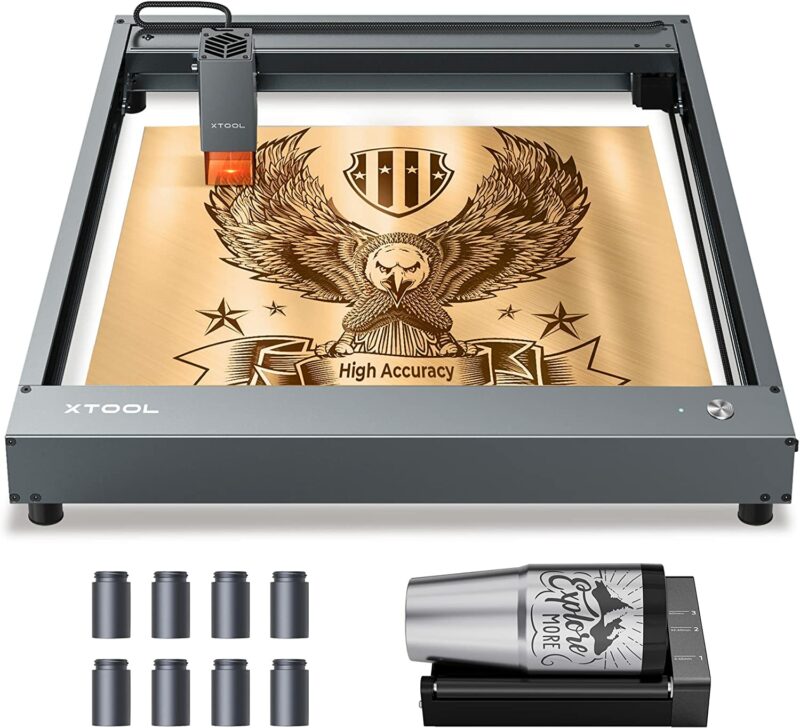 Are you looking for a laser engraver that can tackle advanced hobby projects or the requirements in a small store? The xTool D1 10W+RA1 Laser Engraver is an excellent choice. It works well on glass and other materials like metal, leather, wood, etc.
This engraver offers exceptional accuracy, thanks to the compressed laser spot of 0.08×0.08mm and a precision of 0.01 mm. The large working bed and the rotary tool will quickly let you handle anything from photo frames to glasses at an incredible speed of 10000mm/min.
Specifications
Technology – Diode Laser Engraver

Size – 28.5" x 9.5" x 7.9"
Pros
Compatible with advanced software, including Lightburn

Equipped with a protective cover to filter UV rays

Sturdy metal structure for durability

Ideal for objects of different materials

Easy to use and quick assembly process
Cons
Instructions not clearly given

No high-end software provided
Check the The xTool D1 10W+RA1 Laser Engraver's latest prices on Amazon
Final Words
Now you know how to engrave glass at home for DIY projects and small business needs. You just need the best glass engraver for hand-engraving or laser etching to get fabulous designs on flat or curved objects. Rest assured: all three methods are equally exciting!
How to Engrave Glass FAQs
1. Which is the best glass etching kit?
The Armour Deluxe Glass Etching Kit is one of the most popular bundles of etching products, including etching cream. You can also use the FolkArt Glass Etching Cream, the Silhouette Glass Etching Starter Kit, or the Armour Glass Etching Kit Starter Kit.
2. How do you engrave glass bottles?
If you want to engrave glass bottles, you can choose hand-engraving methods with the help of a rotary engraving pen or etching cream. It's best to use a stencil for this. Or, you can use an advanced laser tool with a rotary attachment designed for curved objects.
3. How do you engrave glass with a Dremel engraver?
A Dremel etching tool is like any engraving pen with a rotary tip. To engrave glass with it, draw a design on the object. Use a marker or attach a stencil or printout with the design. Then, trace the design with the pen's tip running at 15000-20000 RPM.