Do you want to decorate a dull wooden object – or personalize a gift for a client? You'll need the best wood engraving machine for both. But what's the best tool to get your jobs done? 
A wood engraving machine can use simple rotary technology or project laser beams for fast and accurate carving and etching. For advanced engraving tasks, there are CNC routers controlled with computer programs for pro tasks.   
Today, we'll tell you how to pick suitable engraving tools for your wood engraving projects. So keep reading!
Best Wood Engraving Machine in 2023: Top 6 Recommendations
We tried various wood engravers. And based on our experience and user feedback, we curated a list of the best tools. Take a look at our recommendations – 
Best for Beginners:

Aufero Laser1 LU2-2 Mini Cutter and Engraver Machine

Best Small & Portable:

LaserPecker 2 Galvo Laser Handheld Engraver

Best Handheld:

Dremel 2050-15 Stylo+ Wood Carving Detail Tool

 

Best LaserMachine:

OMTech CO2 Laser Engraver with LightBurn Software

 
What machine do you use to engrave on wood?
The traditional way to engrave on wood is by using nothing but a chisel and a hammer. While many artists still prefer that, you can use the best technology and etch wood with machines. Different machines operate differently. Let's take a quick look: 
a) Rotary Etching Pen
This tool has a motor to spin the pen's tip. You must touch wood with the rotating tip to chip away the surface. Various accessories that you can fit on the tip to grind, etch, polish, and cut the surface. It is a mechanical way of drawing designs on wood.
b) Laser Engravers
Modern wood engravers use laser beams and can be operated with PCs and phones! CO2 laser machines vary in features and cost range. So, anyone can use these for DIY projects. Fiber and YAG etchers have advanced features for industrial applications. 
c) CNC Routers
A CNC router is one of the most advanced wood engravers. Skilled hobbyists and professionals use them. These machines use motors and spindles to produce superior results and 3D engraving. They're engineered to be controlled by computers.  
There are also Cricut makers, but these are not particularly popular for woodworks. They can, however, create single-dimensional designs on light, soft, and thin wood pieces. 
How to Choose the Best Wood Engraving Machines: Factors to Consider
Before we tell you about our favorite wood engraving machines, we must first tell you what factors we consider when choosing this machine. They are as follows –  
a) Purpose
A DIYer needs an elementary CO2 engraver or rotary etcher. But pro projects need heavy-duty laser or CNC engravers. But remember that high-end engravers are costlier.  
b) Object Types
Consider the size of the objects or workpieces you'll engrave – and match it with the engraver's work area. Ask yourself if you'll engrave flat, curved, or irregular surfaces. 
c) Type of Engraving
Do you need 2D or 3D carvings? Accordingly, pick a 2-axis or 3-axis tool. But check if the third axis is a rotary axis for cylindrical objects. In that case, find a 4-axis engraver. Note that 5-axis CNC machines exist for industrial use.
d) Accuracy
Large CNC routers can tackle more extensive, more frequent projects. They may deliver 3D engraving. But a small laser machine or handheld rotary tool is better for finer details.   
Related: How To Make A Tire Swing? A Step-By-Step Guide 
Best Wood Engraving Machine for Beginners: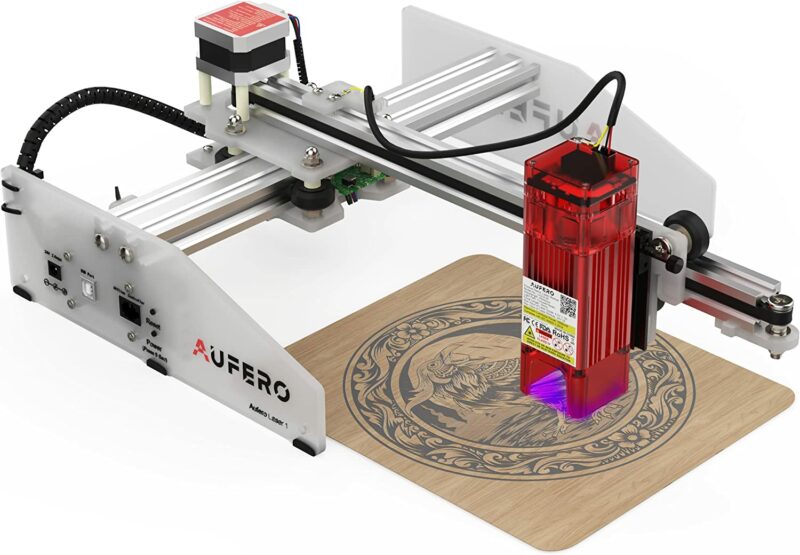 Specifications:
Mechanism – LU2-2 ORTUR Laser Engraver 

Dimensions – 18.89" x 14.96" x 6.69"

Weight – 6.59 lb
If you have recently started engraving on wood, Aufero is an excellent brand. You can try the Aufero Laser1 LU2-2 Mini Cutter and Engraver Machine, one of the best tools for newbies with little or no skill levels or experience. It's compact, light, and easy to use.
This engraver has an adjustable pixel accuracy at 300 pixels per inch, with an LU2-2 fixed focus. It is engineered to etch wood at a speed of 0-5,000 mm/min. It also has a 32-bit motherboard. Together, such advanced firmware leads to exceptional accuracy. 
It's compatible with the popular engraving software, including LaserGRBL and LightBurn. It also supports different operating systems and file formats. It also has a 7.1″ x 7.1″ working area that is decently sized and should let you handle most of your projects.    
Pros:
Compact size, lightweight, and portable

UV light filter cover and goggles for eye protection

Small luminous cavity and focal spot for precision

Multiple safety features to protect you while crafting

It comes almost pre-assembled – and is easy to use
Cons:
"Unknown errors" faced by some users

Free software is not ideal for advanced users  
Check the Aufero Laser1's latest prices on Amazon
Best CNC Wood Engraving Machine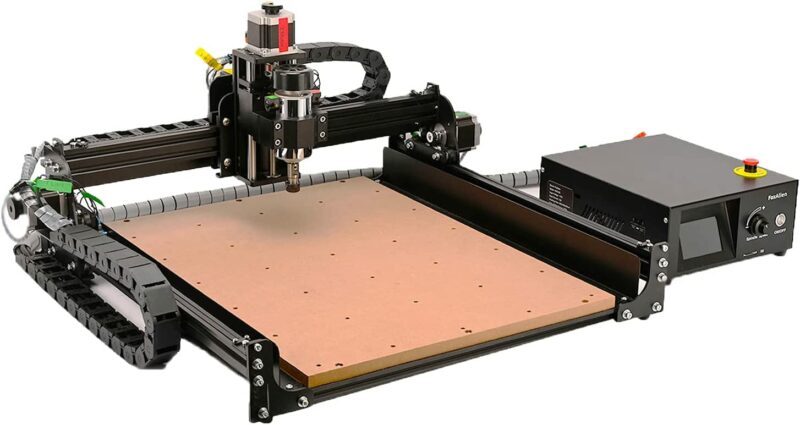 Specifications:
Mechanism – CNC Router Milling System

Dimensions – 37.4" x 29.53" x 11.81"

Weight – 66 lb
Are you ready to dole a little extra for more speed and precision while engraving? A CNC router might be what you need. Our favorite is the FoxAlien CNC Router 4040-XE Engraving Milling Machine, one of the best automated electro-mechanical millers.
This 300W 3-axis engraver is priced for both crafters and pros. It has a 0.1mm accuracy, with a maximum moving speed of 2000mm/min and a spindle speed of 10000 mm. These features give it efficiency, power, and the ability to tackle all big and small workpieces. 
It also has a large working area of 15.75" x 15.75" x 2.56". One of the features we love is the touchscreen LCD that provides offline control. Compatible with GRBL-control software, this CNC engraver comes with labeled wires for quick and easy assembly. 
Pros:
Engineered for home and business use

Ideal for different materials besides wood

Accessible online and offline control and usage

Easy assembly process that takes 15-20 min

All parts and wires are packed cleanly and safely
Cons:
MAC-compatibility issues reported by some users

Not for those who want a small and light machine
Check the FoxAlien CNC Router 4040-XE's latest prices on Amazon
Best 3D Wood Engraving Machine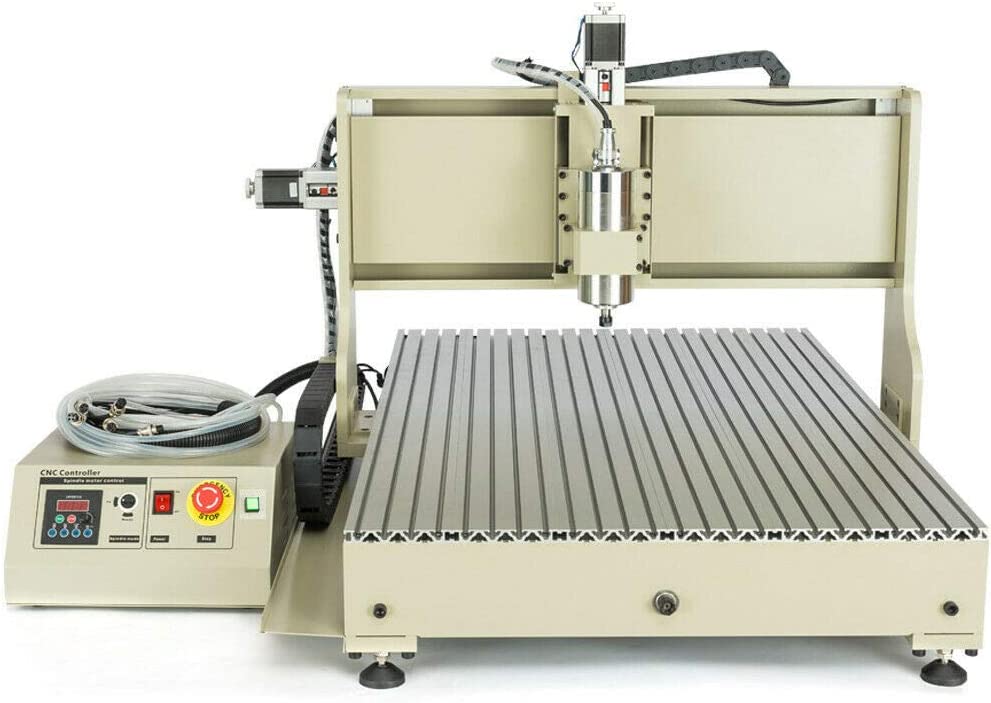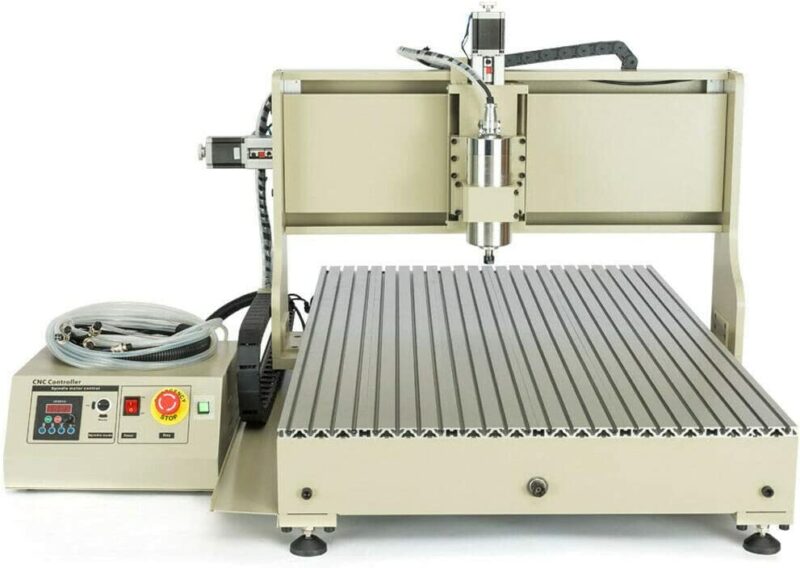 Specifications:
Mechanism – CNC Router Milling System

Dimensions – 37.8" x 23.82" x 13.78"

Weight – 3.20 lb
3D engraving is an advanced technique that can bring your imagination to life regarding wood engraving. If you want to take your hobby or small business to the next level, the DIFU 4-Axis Router CNC 6090 2.2KW 3D Engraving can be an excellent choice.   
This engraver is engineered with 4 axes for 3-dimensional applications like making sculptures, processing handicrafts, etc. It is primarily used in the woodworking industry. Its massive working platform of 1045mm x 720mm allows you to use large objects easily.  
This milling machine has a working speed range of 50-1500mm/min, rotating at 24000 rpm. Plus, you'll get unbeatable accuracy with a 0.05mm repositioning precision and a 0.03mm spindle precision. Plus, its 2.2KW VFD boosts its processing abilities for better performance. 
Pros:
Emergency stop button for protection

Water cooling system for more stability

High efficiency and accuracy

Engraves hardwood, metals, and other materials

Wide range of professional applications
Cons:
Large and heavy device

Costly tool for industrial use only
Check the DIFU 4-Axis Router CNC 6090's latest prices on Amazon
Best Small Wood Engraving Machine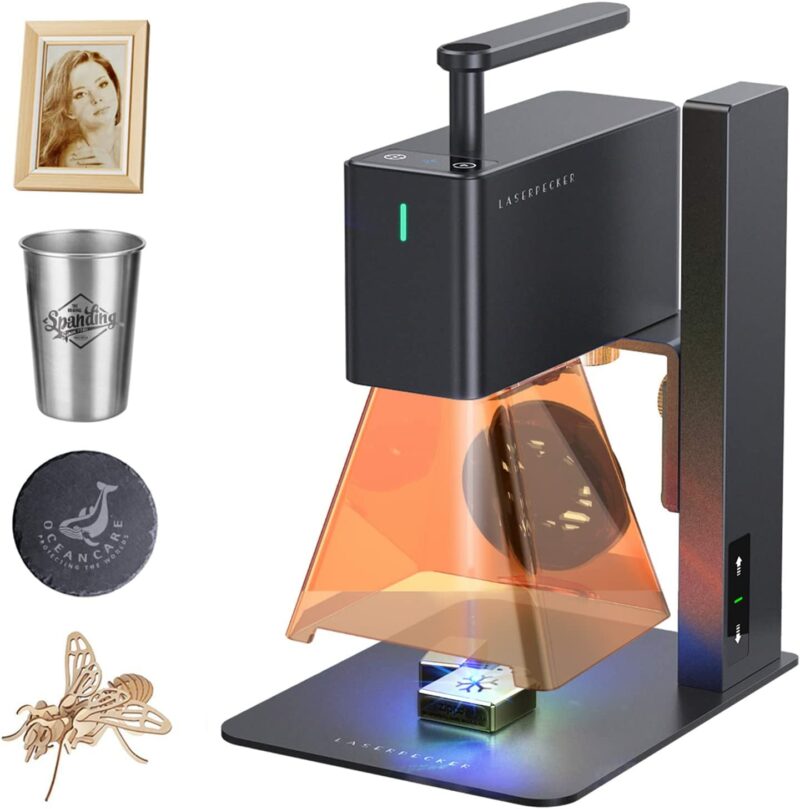 Specifications:
Mechanism –

Galvo Laser

Engraving System

Dimensions – 11.46" x 11.38" x 7.44" 

Weight

–

8.2 lb
A lightweight and portable wood engraver is a must-have for a makeshift workshop. While there are plenty of options for low-cost mini engravers for newbies, we suggest investing in the LaserPecker 2 Galvo Laser Handheld Engraver for long-term usage. 
It offers an engraving speed of up to 36000mm/min, while its frame/graphic preview speed can go as high as 225000mm/min. Plus, it operates with a compressed spot as small as 0.05*0.05mm, twice the lens focus, and 3 resolution options for accuracy and precision.    
Its size and weight make it ideal for handheld engraving by maneuvering it at any angle and position. Plus, you can adjust the laser distance with a smartphone app or its electric stand. It also supports different file formats and works with PC and phone systems. 
Pros: 
Light, portable, and super easy to use 

Performs handheld and stationary engraving

Double protection with a blue light shield and goggles

It can be powered with a power bank while working

Auto turn-off when due to overheating, vibration, or tilting
Cons:
Could use an upgrade of software

Not for shiny and reflective materials 
Check the LaserPecker 2 Galvo's latest prices on Amazon

[mediavina-ad]
Best Handheld Wood Engraving Machine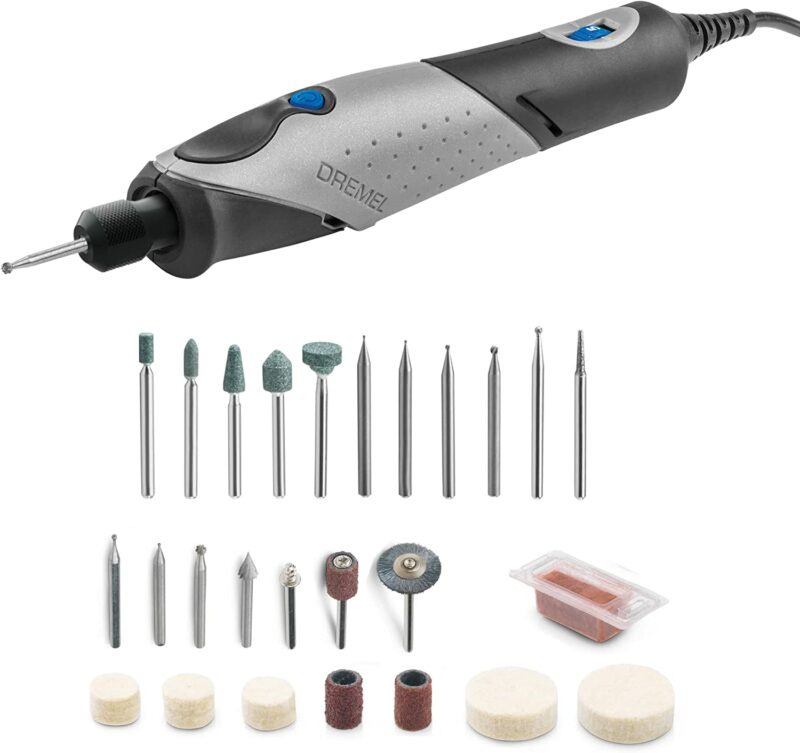 Specifications:
Mechanism – Electronic Rotary Engraving

Dimension – 5.1" x 2.2" x 10.4"

Weight – 0.45 lb
Many wood engraving artists prefer a handheld manual tool for the control it gives them. If you are one of them, you will love the Dremel 2050-15 Stylo+ Wood Carving Detail Tool. Using the tool to carve designs and letters feels like drawing on a wooden object! 
This rotary engraver is one of the highest-rated wood etching tools on the market. It's a versatile etcher with various rotary accessories that work wonders for woodworking projects – and other materials like glass and leather. It's ideal for detailed carving in tight spots. 
The accessories are great for etching, burnishing, polishing, sanding, etc., even in tight spaces. The tool runs at an excellent speed of 5000-20000 RPM, allowing great accuracy without damaging the workpiece's surface. Plus, the speed control is easy to use. 
Pros:
Slim and lightweight with a soft grip

It offers great control and maneuverability

It comes with an 11-piece accessory set

Corded tool for unlimited power supply 

Recessed collet lock to change accessories
Cons:
Requires electric plug point to work

Risk of turning the tool off while changing speed 
Check Dremel 2050-15 Stylo+'s latest prices on Amazon
Best Wood Laser Engraving Machine – Editor's Choice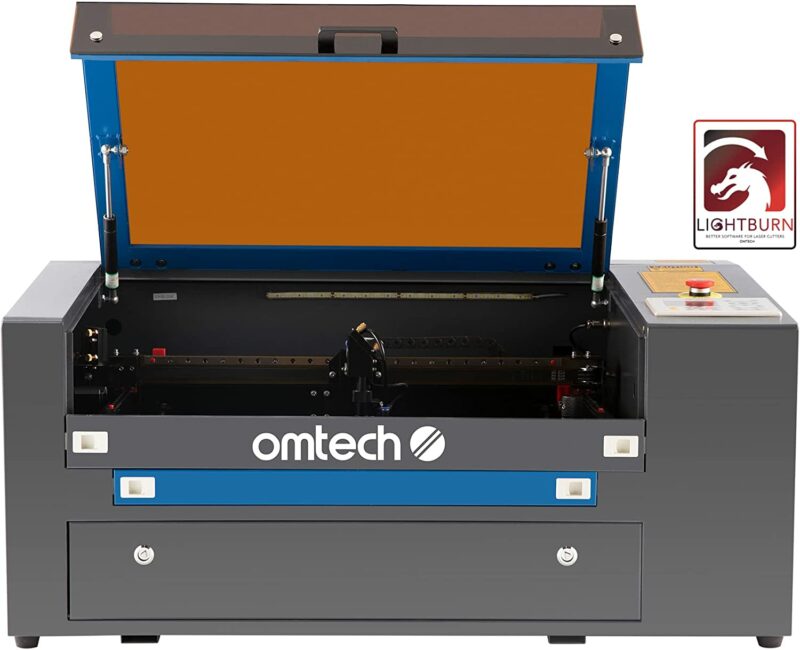 Specifications:
Mechanism – CO2 Laser Engraving

Dimension – 41" × 25.6" × 20"

Weight – 192 lb
A good laser engraver is a must-have tool for anyone who engraves on wood. We recommend the OMTech CO2 Laser Engraver as an excellent choice if you have just started a small business. This CO2 laser is a workstation with a unique design. 
It has superior features like an impressive speed of 600 mm/s on non-metal objects, a spacious 12″ × 20″ work area, and a rotary axis for cylindrical objects of 1"-6" diameter. The 2-way access lets the device tackle workpieces larger than the working bed size.  
Plus, it can engrave cylindrical and irregular objects easily. Its compatibility with different operating systems and file formats and the top-shelf features of LightBurn let you use transfer designs with details. Plus, its honeycomb grid offers stability and reduces noise.  
Pros:
Intuitive and user-friendly custom controller

See-through viewing window to check misplacements

It comes with LightBurn tools without other programs

Can engrave irregular and cylindrical objects

Digital display for real-time power flow information
Cons:
Not for beginners with no experience

No autofocus for side pass-through
Check the OMTech CO2 Laser Engrave's latest prices on Amazon
Best Wood Engraving Machine FAQs
How much does a wood engraving machine cost?
An elementary rotary wood engraver can cost as low as $10, while advanced engravers for industrial applications can cost you several thousands of dollars. You'll find wood engravers costing $100-$1000 for tasks requiring beginner- or intermediate-level skills.
What is the best way to engrave on wood?
A large and expensive fiber laser engraver or a CNC router is required to engrave large workpieces, handle bulk works, or deliver 3D carving. But a laser engraver or rotary pen will be better for intricate designs, small objects, and DIY projects. 
How do you engrave on wood?
Wood engraving starts with stamping or drawing a design on wood. Then, this design is carved or etched on it with a tool. You can pick basic tools like chisel and hammer or rotary etchers. You may also use laser engravers or CNC routers to eliminate stamping.
Related: How To Build A Bookshelf Wall? A Detailed DIY Guide
Final Words
You may have recently started etching wood. Or, you might be thinking of upgrading your woodworking skills. Either way, you'll need a good engraver. Consider your requirements, skills, applications, and budget to find the best wood engraving machine!