Leather is often challenging to work with, especially if it's thick. But sewing machines seem to have fewer problems with leather and produce radically better results.
Therefore, you should consider investing in a high-quality leather sewing machine if you need to repair or upgrade leather items.
But should you get a domestic or industrial sewing machine for leather? And can a regular sewing machine sew leather? I'll answer such questions for you in the subsequent sections. And then list the seven best sewing machines compatible with working on leather.
7 Best Leather Sewing Machines (Summary)
Best Overall:

Janome HD3000

Best Entry-level:

SINGER 4423

Best Premium:

Juki TL-2010Q

Best for Commercial Use:

Juki DU-1181N

Best for Different Types of Leather:

Brother PQ1500SL

Bonus Alternatives:
Can Any Sewing Machine Sew Leather?
Many sewists who want to sew leather ponder if they should buy an additional machine. Isn't a regular sewing machine sufficient for stitching together leather just like fabric? There are two parts to this question.
First, you can technically sew leather with a typical home sewing machine.
All you need is a strong-enough needle, an appropriate thread, and the necessary foot. With these things in place, you can quickly stitch most types of leather.
This brings us to the second part, the leather type and thickness.
The leather thickness ranges from 0.3 mm for snake leather to 7 mm for Bridle hide. Therefore, you need to take into account the type of leather too.
A regular home sewing machine will cut thin leather of around 1 mm or less. If you have an older pure mechanical unit, that's even better. You'd probably have to invest in a heavy-duty sewing machine for thicker leather.
For upholstery and thicker leather of 5 mm or more, you'd probably have to invest in an industrial machine like a flatbed machine. These machines are used in an industrial setting to work on leather products like belts, wallets, straps, and leather jackets.
Therefore, look into the product specification and check the leather type and thickness before making a buying decision on a sewing machine.
Related:
What to Look for When Buying a Leather Sewing Machine?
Now that you know which type of sewing machine to buy, let's explore what you need to inspect when purchasing a machine.
To make the process uncomplicated, here are the things to inspect when buying a sewing machine for leather:
The first thing you need to check is the type of sewing machine. That's because it affects the functionality and the cost.
Besides a regular home sewing machine, you should consider heavy-duty, computerized, and industrial sewing machines. You'll come across three types within industrial units: cylindrical arm, flatbed, and post bed.
The type, of course, depends on your preference, skill level, and budget. So make the decision wisely.
The next thing to look into is the feed mechanism. This is what pulls and feeds the material into the machine for the needle to pierce through.
Of the three most common types of feed mechanism — compound feed, drop feed/regular feed, and needle feed — go for the compound feet. It keeps the necessary downward pressure on leather, which prevents it from shifting when getting stitched. 
Irrespective of the type of sewing machine, it should have at least these three components: Teflon feet, bonded nylon thread, and a diamond point needle.
While you can always purchase them later, it's best if they're included in the unit. It'd suggest that the sewing machine is ideal for use on leather.
Modern machines, especially the ones designed for home use, are limited by the fabric thickness they can sew. Some units are designed to handle up to ¼". They're not suited for thicker materials, even if you use a sturdy needle.
Likewise, there are sewing machines capable of sewing saddles with a thickness of up to 1″. Therefore, look into its maximum sewing thickness capacity.
Like thickness, sewing machines are limited by the maximum thread size they can handle. Some units are designed only for smaller threads, while others can work with thread sizes up to 277.
Most heavy-duty sewing machines are capable of accommodating thread sizes up to 415. That's why they're recommended for sewing leather.
Last but not least, you need to consider the maximum needle size. Heavy-duty units can handle needle sizes up to 27, enough to sew most leather types. On the other hand, domestic sewing machines are limited to thread sizes 20 or 22. These might not be adequate.
Based on the above criteria, you should zoom in on the best leather sewing machine to buy.
Related: Singer Quantum Stylist 9960 – The Ultimate Sewing Machine: A Full Review
Best Overall Leather Sewing Machine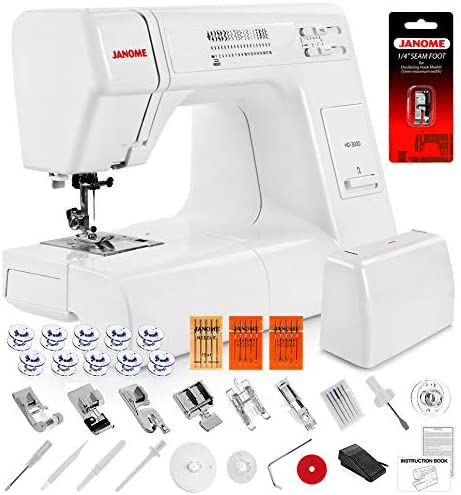 Specifications
Brand – Janome

Type – Heavy-duty mechanical

Material – Metal

Operated by – Treadle

Weight – 18.7 pounds
Janome produces world-class sewing machines, and the HD3000 is undoubtedly among its best products. It's a highly recommended sewing machine for handling heavy fabrics, including leather. That's because of the powerful motor and the full-metal body.
The 'heavy duty' tag comes courtesy of the full-metal body design. With the correct needle, you can install thicker needles and have them work like a workhorse on leather or denim. You can pass through multiple layers of leather in a single attempt.
You can choose from 18 built-in stitches, which offers flexibility in choosing your preferred stitch. Also, there's a one-step buttonhole in case you need that.
To make the sewing experience seamless, you'll find automatic push-pull bobbin winding, needle threader, thread tension adjuster, reverse stitch lever, and foot control.
Along with the machine, you get a wide range of accessories. This includes two leather needles, an ultra glide foot, snap-on presser feet, overedge feet, a quilter bar, one pack of bobbins, and a screwdriver, among other things. Thus, the possibilities with the HD3000 are endless.
Lastly, the product comes with a 25-year warranty period. So expect the Janome HD3000 to last decades, not years.
Pros
Can sew multiple layers of leather

Superior stitch quality

Runs quietly
Cons
It has an unappealing boxy look with limited color options
Check the Janome HD3000's latest prices on Amazon
Best Entry-Level Leather Sewing Machine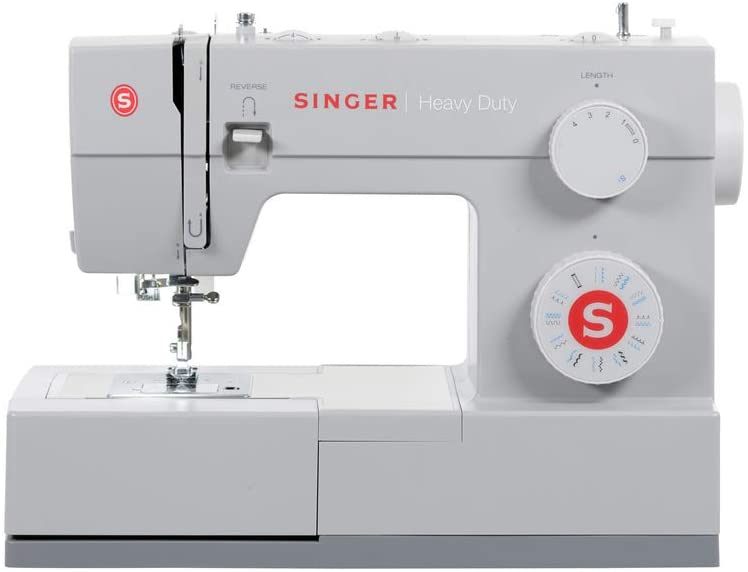 Specifications
Brand – Singer

Type – Heavy duty

Material – Metal

Operated by – Electric

Weight – 14.5 pounds
The Singer 4423 is a beginner-friendly sewing machine that's within the budget of most sewists. But it has many features that put the machine in the elite club of heavy-duty sewing machines.
One of them is the superior motor that enables you to zip through thicker fabrics. It is 60% stronger than a conventional sewing machine. Thus, you can stitch together layers of leather without much effort.
The heavy-duty metal frame is another reason to invest in this Singer leather sewing machine. The interior is made from a commercial-grade metal frame. Complementing it is the stainless steel bed frame. 
These not only extend the unit's life span but also minimize vibration during the operation, which is familiar with plastic sewing machines. This, in turn, makes stitching more precise.
Another impressive feature is the high-speed stitching. It can clock speeds of 1,100 stitches per minute to help you sew faster. Although you'd have to go slow on leather, faster stitching capability is a bonus. Besides leather, you can always use it for other fabrics.
There are 23 built-in stitches, which include a few decorative and buttonhole stitches. Thus, use the 4423 for any home decor, quilting, or free-hand embroidery project.
Accessories included with the machine are numerous, all of which are packed in the accessory tray.
Irrespective of your skill level, you'll indeed have a great time operating this machine.
Pros
Easy to use

Precise stitches 

Heavy-duty motor, which works well for leather
Cons
No hard case, leaving the machine exposed
Check the Singer 4423's latest prices on Amazon
Best Premium Leather Sewing Machine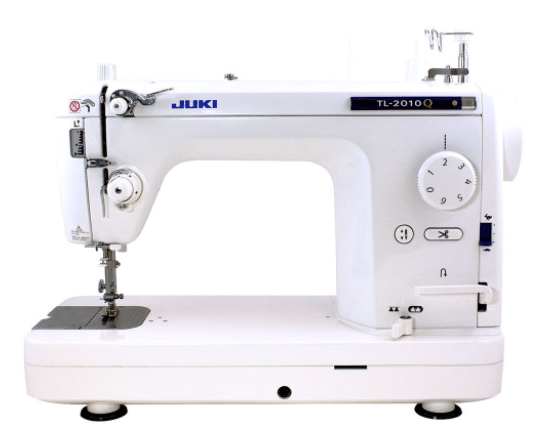 Specifications
Brand – Juki

Type – Single-needle lockstitch

Material – Aluminum

Operated by – Treadle

Weight – 25.4 pounds
The TL-2010Q is a state-of-the-art, high-performance machine on par with many entry-level industrial units.
Being a single-needle lockstitch mechanical machine, it can handle various sewing projects, including leather. So whether you're repairing a leather belt or stitching a new pattern on the handbag, this premium unit will serve you well.
To allow you to process thicker layers, it has a knee lifter lever. With this, you can raise the presser feet as high as 12 mm. Thus, you can stitch together multiple layers of fabric.
The TL-2010Q has an automatic needle threader and thread trimmer to speed up the stitching process. The former allows you to thread the needle for sewing instantly, while the latter trims the threads at the sewing end.
The machine features 23-inches of ample working space, which makes it ideal for quilts. There's LED lighting to help you with visibility.
Even after being a commercial-grade machine, it's surprisingly lightweight. This is made possible because of the aluminum body and smart construction. You can carry it anywhere and get to work.
Pros
Can work through multiple layers of fabric, up to 12 mm

Automatic needle threader to get you started quickly

Portable
Cons
Not enough accessories included
Check the Juki TL-2010Q's latest prices on Amazon
Best Leather Sewing Machine for Commercial Use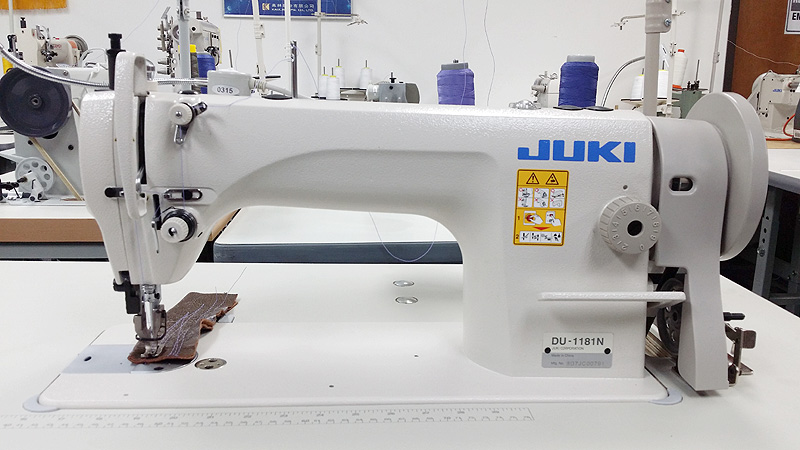 Specifications
Brand – Juki

Type – Flatbed industrial

Material – Metal

Operated by – Treadle

Weight – 250 pounds
Need a genuine industrial workhorse at an affordable price tag? Look no further than the Juki DU-1181N.
It's a walking foot industrial sewing machine. These machines, equipped with the presser foot, are ideal for sewing multiple layers of fabric when sewn together.
Furthermore, it has a triple-feed mechanism. It comprises the top, bottom, and needle feed mechanism, which makes it ideal for working with a wide range of materials, including leather.
Thus, you can use the DU-1181N for reliably sewing any leather, regardless of thickness. It has a stitch length of up to 9 mm.
Another impressive feature of this beast of a machine is the stitching speed. It can sew at 2,000 stitches per minute, significantly reducing the time it takes to complete the project. Despite being an industrial machine, it is incredibly quiet. You won't hear much noise coming out of it.
The DU-1181N comes as a complete set. You get a stand, table, drawer, sewing light, and various other accessories along with the machine head.
If you sew thicker materials regularly and are on the lookout for an industrial machine, this is it.
Pros
Perfect stitching

Heavy-duty sewing machine

High-speed stitching
Cons
Check the Juki DU-1181N's latest prices on Sewingmachinesplus
Best Sewing Machine for Different Types of Leather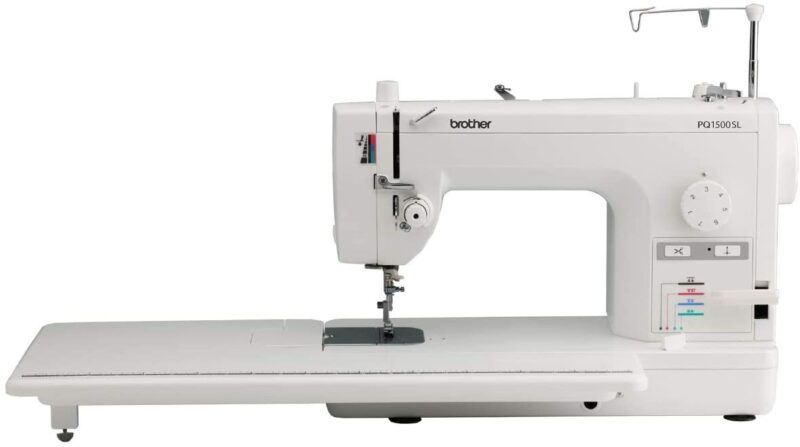 Specifications
Brand – Brother

Type – Sewing and quilting

Material – Metal

Operated by – Electric

Weight – 29.76 pounds
Brother is a brand that needs no introduction. And it's because of the high-quality sewing machines it produces. One such machine is the PQ1500SL.
It's a premium-range sewing and quilting machine. With an ample working space, which you can extend with the extension table, you can practice free-hand quilting. Because of the roomy workspace, you can efficiently work on thick and heavy leather upholstery.
When stitching longer leather or multiple layers, you'll benefit from the 4 built-in feed dog positions. By adjusting the thread pressure dial, you'd be able to change the feed dog position to better suit the sewing project. This not only produces consistent stitching but also saves time.
Thus, it's the perfect sewing machine for leather upholstery.
Another feature that saves time is the high-speed motor. The stitching speed can reach 1,500 stitches per minute. It also has an automatic thread trimmer and a built-in needle threader to work with.
With the sewing-cum-quilting machine, you get a wide range of accessories. This includes 7 presser feet, a knee lifter, a fabric separator, a needle set, screwdrivers, and an easy-to-understand manual.
The PQ1500SL is guaranteed to last long, with a 25-year warranty period. Although a tad pricey, the machine is worth it because of its all-around sewing capabilities.
Pros
Ample working space with an extension table

High-speed stitching

Sturdy and durable
Cons
Check the Brother PQ1500SL's latest prices on Amazon
Leather Sewing Machine Bonus Alternatives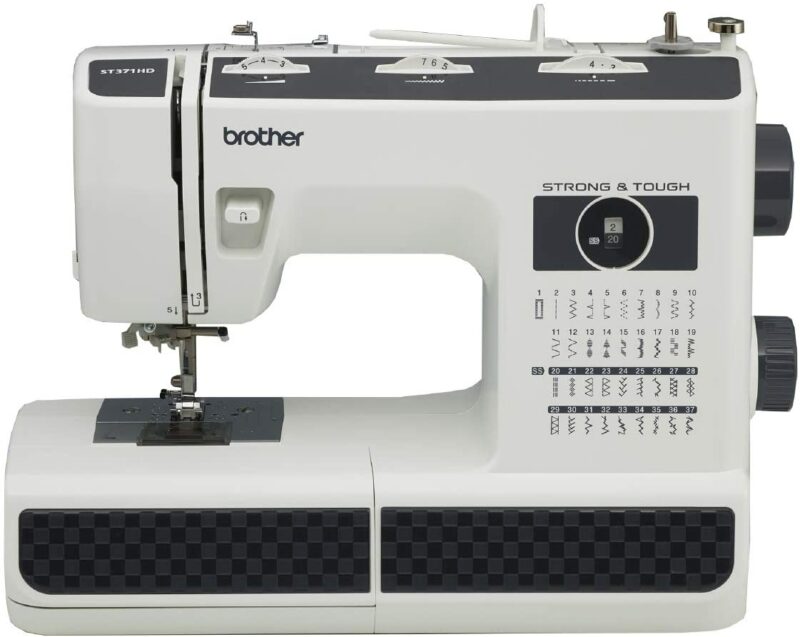 Specifications
Brand – Brother

Type – Heavy-duty mechanical

Material – Metal

Operated by – Electric

Weight – 14.5 pounds
ST371HD is a heavy-duty sewing machine from Brother that's compact at the same time. At under 15 pounds, you can easily carry it to places and hem items with ease.
The machine is perfect for everyday sewing. But it does come with a pair of heavyweight needles to allow you to work on thicker fabrics. So when you need to sew leather, simply install these needles and start sewing.
You can sew 37 different stitches, including a few decorative ones. These are built-in stitches, which you can select by adjusting the knob. Besides the stitches, there's an auto-size buttonhole.
The metal plates help with smoother feeding of the leather and make the stitches more precise. Also to support the stitching process are the automatic needle threader and drop-in top bobbin. 
You'll benefit from the free arm option if you constantly work on the sleeves or pant legs. Removing the accessory tray allows you to free up space and load cylindrical items into the free arm, thus making it easier to sew.
Lastly, the accessory box is loaded with many components you'd need throughout your sewing journey. You get 7 feet, screwdrivers, needles, and a knee lifter, among other things.
Pros
Heavy-duty stitching for thicker fabrics

Free arm option available

Compact and portable
Cons
Check the Brother ST371HD's latest prices on Amazon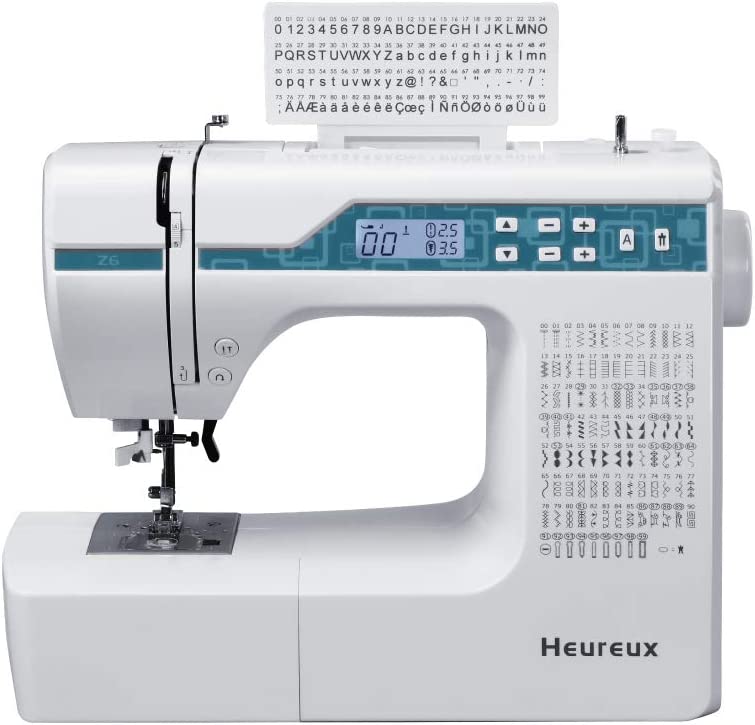 Specifications
Brand – Heureux

Type – Computerized

Material – Metal, plastic

Operated by – Electric foot control

Weight – 12 pounds
The last leather sewing machine I have for you is this unit from Heureux. It's a computerized unit with over 200 built-in stitches.
If you've never used a computerized sewing machine before, do not worry. This is relatively easy to use. You need to select from the 200 stitches on the LCD screen, install the right feet, and operate the foot controller just like in the mechanical sewing machine.
The Z6 is capable of stitching leather, among other materials. It has an interior aluminum alloy frame and a robust motor. With the foot pedal, you can control the speed hands-free.
Like other leather sewing machines on this list, the Z6 has an automatic needle threader and top-loading bobbin. These make the task easier for both beginners and seasoned sewists.
You can also use the machine for quilting and embroidery. Simply buy the necessary embroidery foot and start embroidering your preferred pattern.
This unit is highly portable because of its compact size and weight. For better handling, it has a carrying handle attached to the machine.
Heureux translates to happy in French. And this tech-enabled will surely keep you happy for years.
Pros
Over 200 built-in stitches

Easy to operate

Lightweight and portable
Cons
The repair cost is usually higher