Making garments, alterations, or mending clothes is usually the first intent when purchasing your first sewing machine as a beginner. Corporate branding has flooded the marketplace with computerized, high-tech, and heavy-duty terms, which don't offer much insight into the products. Internet misinformation doesn't help either. So if you're looking for the best sewing machine for clothes, chances are, you're overwhelmed.
But worry not. We have helped hundreds of newbie sewists like you make the right decision and find the right product. In subsequent sections, learn which sewing machines are best for handling clothes.
Also, learn about the features you should look for in a beginner-friendly machine. Towards the end, we have recommended a few products to shorten your research time.
Best sewing machines for clothes summary:
The best overall machine for clothes: Singer Stylist 7258
The best beginner machine for clothes: Brother CP060X
Best Combo Sewing/Embroidery for clothes making and embroidery: Brother LB5000S Star Wars
Best "heavy-duty" machine for clothes: JANOME HD1000 Heavy-Duty
Best high-end machine for clothes: Janome 4120QDC Computerized Sewing Machine
Related: Best Sewing Machine Cases, Bags, and Totes in 2022
What Sewing Machines Are Good for Making Clothes?
There are different types of sewing machines available. These differ by size, suitability, and cost. What suitability means is that specific sewing machines are suited for a particular task. So not all sewing machines are equally suitable for stitching clothes.
There are different types of sewing machines to choose from, which are:
Mechanical machines

– These are the most basic types of sewing machines. You'd have to operate them with a hand or a turning wheel. Treadle machines — the ones that come with a treadle plate — are also mechanical.
These machines offer more control when it comes to sewing clothes. But more control doesn't mean better stitches since that'd depend on your skillset.
Electronic machines

– Electronic sewing machines take away the pain of pedaling the treadle or turning the wheel. You control these machines by turning a knob.
With electronic machines, you get more stitching variations like straight, zig-zag, or lockstitch. You'll find both bulky and portable electronic sewing machines. Both do the same job and only differ in portability.
Computerized machines

– Computerized sewing machines are fully automated and require little manual intervention for stitching. These machines come with high-tech features like an LCD touchscreen and automatic needle threading. There are also features for controlling tension and stitch length.
If you're using computerized machines, you'll have better accuracy over the stitches.
Embroidery machines – As the name suggests, embroidery sewing machines are made explicitly for embroideries. These are also computerized devices that allow you to store stitch designs and later access them.
It may also connect to the internet or a USB device that'd allow you to transfer as many designs as you'd want.
Quilting machines – These machines are meant for making or repairing quilts. Quilting machines tend to have longer arms, which allows a higher volume of fabric to be used at once. It also means you stitch faster and at a steady pace.
There are mid-sized quilting machines with smaller arms that look like sewing machines. But you shouldn't confuse the two and use them interchangeably.
Overlocking machines (serger machines)

– This sewing machine is relatively new and is used in projects to add the finishing touches. These come with built-in stretch, perfect for seaming knit fabrics.
Sergers also create a more durable stretch than a standard sewing machine. With the overlocker (also called serger), you can trim, sew, or "oversew" the edges of seams. But it can't be used instead of a sewing machine since it can't work on facings, zippers, and buttonholes.
All of the above types of sewing machines can be used to sew clothes. But unless the project requires advanced stitching or you intend to sell them, it's better not to invest in a quilting machine or overlocking machine. Quilting machines are more geared towards quilters. They offer speed and control for quilting. In comparison, sewing machines are intended for sewists, whether mechanical, electrical, or computerized.
Similarly, sergers are advanced machines that can sew a seam, cut off seam allowance, and enclose raw edges all at once. Unless this is something you're looking for, it's better to give sergers a miss. They're pretty expensive but produce seams with factory-like accuracy. This isn't to say they can't be used for making clothes; they are simply not suited for beginners or children.
What Sewing Machines do Tailors Use?
Tailors are skilled individuals who can sew fabrics effortlessly. And the kind of sewing machine they use has a significant impact on their products.
First and foremost, not all tailors use the same sewing machines. That's because there are varying types of tailors to begin with. Some might be home-based solo entrepreneurs who work on a part-time basis. Others might be running a million-dollar tailoring business.
So you're going to find tailors who will be using regular mechanical sewing machines. Quilting machines and sergers are also quite common among tailors.
That being said, most tailors use specialized industrial sewing machines. Industrial machines are designed for heavy-duty use. They're more durable and are used for a wide range of materials, including embroidery, rubber, and canvas.
There's a significant difference between domestic and industrial sewing machines. While domestic machines are designed for multiple purposes, industrial ones specialize in particular activities.
So tailors use various types of sewing machines depending on the project requirements. Here are some sewing machines tailors use:
Single needle lock stitch machine

– This machine is widely used in the industrial setting. It's the best to produce

stitch class 301

, the most common stitch type in garments. The industrial machine can sew both lightweight and heavy materials with ease.
Both mechanical and computer-controlled variants are available, but the latter is used more preferably due to speed and efficiency.
Flatlock sewing machine

is another standard sewing machine used by tailors. It comes with 2-3 needles that produce stitch class 406. This stitch class is used for joining elastic and braid with the cloth. There are two types of flatlock machines: flatbed and cylinder bed. Professionals use both.
Feed-off-the-arm

is a chain stitch machine used to produce stitch on heavy fabrics like denim. It is ideal for in seaming, hip seaming, and lapped seam.
The machine comes with two or three needles that form the chain stitch. Modern feed-of-the-arm machines are equipped with software for better control over the process.
Button attaching machine

is a specialized machine used only for attaching buttons. Tailors need to do this to perfection and hence use a dedicated device. The machines also trim the threads automatically after the buttons are attached.
Buttonhole machine

– Another specialized sewing machine intended to make buttonholes on shirts and garments. In an industrial setting, the machines create the hole and apply the necessary stitches.
These are some of the machines tailors use to produce or patch up fabrics. You'll find other types of specialized machines too.
Best Sewing Machine for Clothes as a Beginner?
It can be tempting to go for a high-end, state-of-the-art, and expensive sewing machine as a beginner. But it doesn't have to be that way.
Most beginners start with a basic machine to stitch clothes before moving on to an advanced one. This would help you decide if you even need to upgrade to a high-end device in the first place. Novice sewists should opt for mechanical sewing machines.
These will allow you to learn the basics as everything is hand-operated. You'll also have more nuanced control over the functions. You can practice straight stitches and zig-zags with these before upgrading to fancy stitches.
Mechanical machines are time-consuming, especially for beginners. On the other hand, electronic or computerized machines offer speed and accuracy. They're even better for beginners if you can spend a few extra dollars. You'll start producing perfect stitches from day one as you learn the craft. You should always start with a computerized machine if speed is the priority.
With that said, you should answer a few questions before buying a sewing machine. These are:
What will you be using it for?
The first thing you need to ask is the purpose of purchasing the sewing machine. Will you use the machine regularly or once in a while? If you're going to stitch simple items like shirts, there's no point in purchasing a computerized sewing machine with scores of embroidery stitch options.
Not all sewing machines work well with every type of fabric. A lower-end sewing machine will fit the bill if you deal with lightweight fabric. You may purchase a high-end, more durable machine for heavyweight fabrics.
How many stitch options do you need?
What type of stitches you'd need on the fabric would influence which sewing machine you'd buy. Straight stitch, zig-zag, stretch straight, tri-motion, and blind hem are some stitch options available. Decide on the stitch before you purchase a sewing machine.
Sewing machines vary by price. So you need to have a set budget in your mind. You can get a machine for as little as $150, but it may not have all the features. $300 is usually the range where you can get high-quality sewing machines. Once you've answered these questions, you're better positioned to select a sewing machine.
Now that you know what type of sewing machines to use as a beginner, why not look at a few recommendations? The following products are arguably the best in their respective categories. Have a look to check if they suit your needs.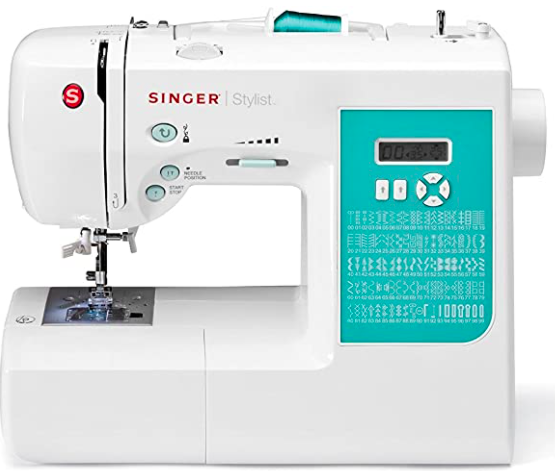 Size – 14.5 X 7.5 X 12

Weight – 14.8 pounds

Computerized – Yes

Number of built-in stitches – 100

Free arm – Yes.
Singer 7258 is hands-down one of the best sewing machines for beginners. It has sufficient features for advanced users, thus allowing you to transition easily to intermediate level. This computerized sewing machine offers the best value for money. To begin with, you get more than 100 built-in stitch options. It includes six types of buttonholes and more than 70 decorative stitches. Along with that, you get around 203 stitch applications to choose from.
But it is the high-tech features that help the Stylish 7258 stand out from the rest. The machine is computerized. You get an LED screen, a couple of buttons, and a knob for controls. The Speed Control lever allows you to regulate the speed. So stitch a duvet at higher speeds and adjust the lever to go slow for intricate projects. Making perfect buttonholes is one of the most challenging tasks beginners face. But this machine makes it easy. You just have to select the buttonhole you want, and the computer will take care of the rest.
Accessories included with this machine are a zipper foot, satin stitch foot, gathering foot, rolled hem foot, and darning and embroidery foot, among others. Besides sewing, this machine is also capable of quilting. With 25 years of limited warranty, you should expect this sewing machine to last long. Check the Singer Stylish 7258 latest prices on Amazon.
Pros
Stitching settings are automatic

100 stitch options

Beginner-friendly and easy-to-use
Cons
The dust cover is plastic and not a hard case.
Check the Singer Stylish 7258 latest prices on Amazon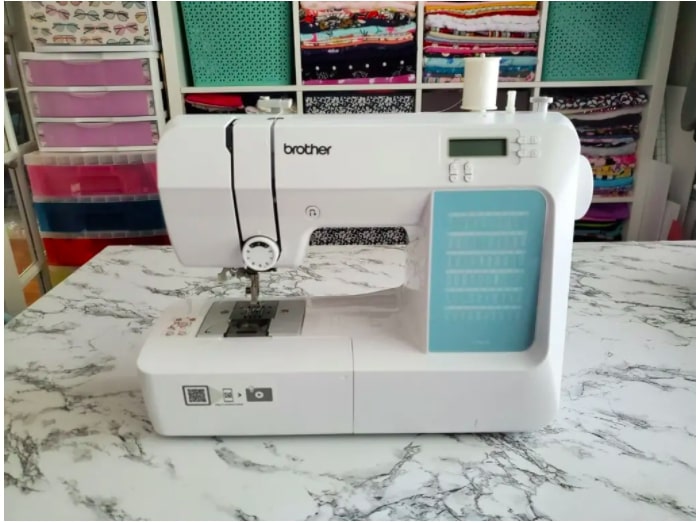 Size – 16.26 x 6.65 x 12.21

Weight – 14 pounds

Computerized – Yes

Number of built-in stitches – 60

Free arm – Yes
The CP60X model from Brother is an excellent choice for beginners since it offers a good balance of price and features. This computerized sewing machine has 60 built-in stitches, including 7 one-step buttonhole styles. Selecting a stitch is as simple as pressing a button. The automatic needle threader feature is ideal for beginners or anyone who want to sew at a stretch for long hours. It is also reliable when pushing the thread through the needle.
Another exciting feature is the built-in free arm. It enables you to access and sew hard-to-reach areas like around the buttons. The built-in thread cutter further simplifies the job and ensures you don't have to take scissors every time. Along with the sewing machine, you get seven presser feet as accessories. This includes a zig-zag foot, a button sewing foot, and an overcasting foot.
These entry-level sewing machines grant enough space (8 inches, to be precise) to accommodate any type of project. So you can also use it for quilting or drapes. The brother CP60X — despite being an entry-level sewing machine — can produce great stitches on thick fabrics like denim and tweed. So if you're looking for an affordable way to get started with sewing, this is it! Check the Brother CP60X's latest prices on Amazon.
Pros
Automatic needle threader

Computerized with LCD screen

Affordable and easy-to-use
Cons
Problem with reverse action
Brother CP60X's latest prices on Amazon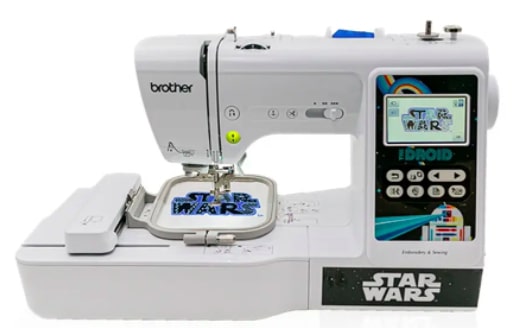 Size – 16.53 x 21.18 x 15.51

Weight – 14.33 pounds

Computerized – Yes

Number of built-in stitches – 103

Free arm – Yes
This model is another excellent product from Brother; this model is intended for sewing and embroidery, with over 103 built-in stitches and 80 embroidery designs. This is a Star Wars edition, and many designs are based on the franchise's characters.
This machine is made for high-performance sewing. The 7-point feed dogs offer the smoothest fabric feeding to help you work with thin and thick fabrics. With a maximum speed of 710 stitches per minute, you can stitch faster than other sewing machines. 3.2″ LCD touchscreen allows you to control and visualize the operation in real-time.
You have a dedicated 4″ X 4″ dedicated field for embroidery to bring your imagination to life. It has the embroidery arm and embroidery hoop attached. As already mentioned, you get over 80 embroidery designs and can access more at iBroidery.com.
You get seven quick-changing sewing feet and the sewing machine, including monogramming foot and embroidery foot. Furthermore, the accessories are plentiful, and the pouch includes four bobbins, three pre-wound bobbins, a seam ripper, a needle set, a twin needle, a screwdriver, etc. If you're a Star Wars fan (you get faceplates) and looking for a long-term investment, this sewing-cum-embroidery machine is for you. Even if you're not a Star Wars fan, there are plenty of reasons to grab this limited-edition machine. Check the Brother LB5000S' latest prices on Amazon.
Pros
Dual-purpose sewing machine

Download designs over the internet or from a USB

Automatic needle threader for faster operation
Cons
Check the Brother LB5000S' latest prices on Amazon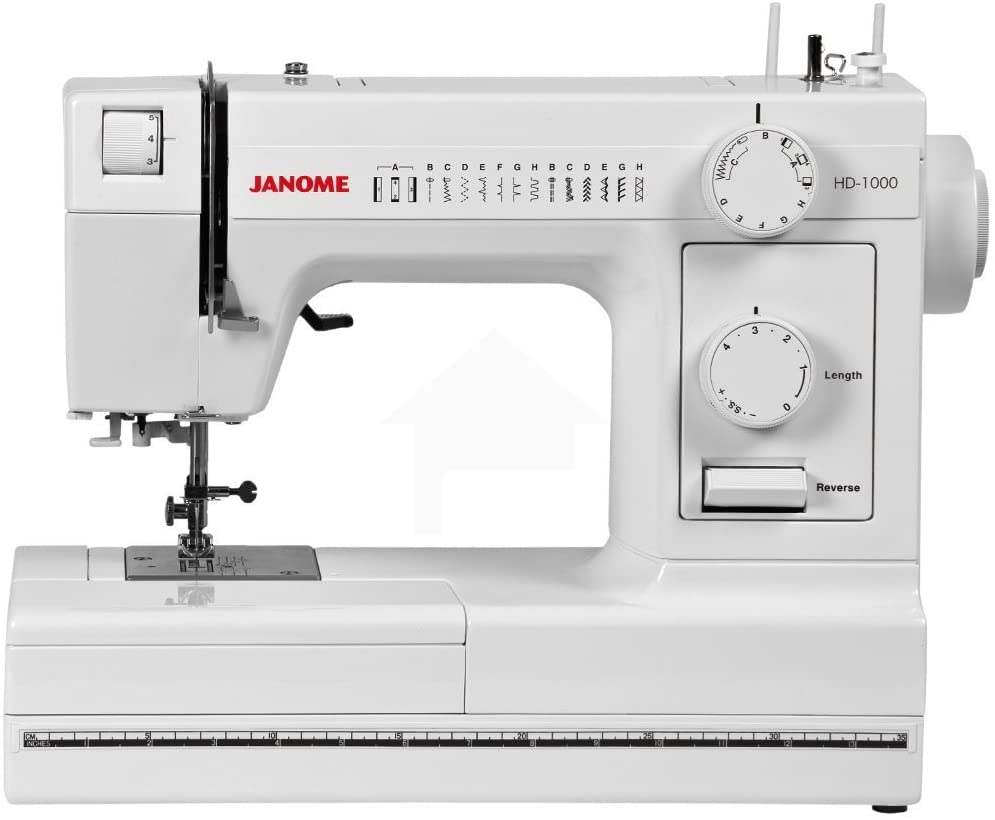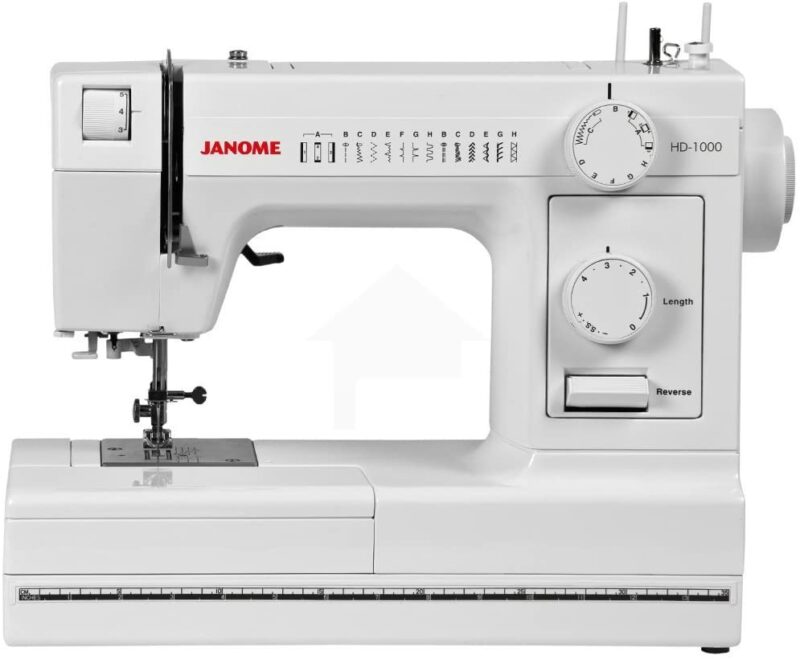 Size – 14.5 x 7.5 x 12

Weight – 14.8 pounds

Computerized – No

Number of built-in stitches – 14

Free arm – Yes
The Janome HD1000 is a highly-rated sewing machine that offers smooth stitching. While intended for professionals, it's equally suitable for beginners. As the name suggests, it's a heavy-duty sewing machine. You can tackle a wide range of fabrics with it. This mechanical workhorse has 14 built-in stitches and a 4-step buttonhole for speed and efficiency.
This machine gives you a top speed of 860 stitches per minute, which is impressive. Although, speed control would have been better. HD1000 has an extra-high presser foot lifter. It helps when you're working with thick fabrics or multiple layers. You don't have to force them under the presser foot. By adjusting the presser foot, you can accommodate as many layers as you want. Therefore, besides sewing, you can also use it for quilting.
The internal needle threader ensures you don't lose threads when working on complex patterns from an efficiency standpoint. The aluminum body looks sleek and guarantees durability. If you're genuinely passionate about sewing and looking to scale down, consider Janome HD 1000 as the ideal investment. Check the Janome HD1000 latest prices on Amazon.
Pros
Ideal for both thin and thick fabric

Extra-high presser foot to accommodate multiple layers of fabric

Sturdy aluminum construction
Cons
Check the Janome HD1000 latest prices on Amazon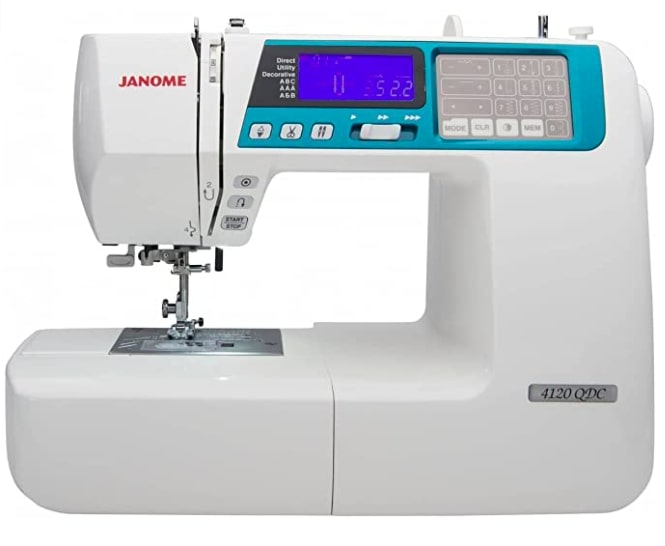 Size – 19.8 x 12 x 16

Weight – 22.4 pounds

Computerized – Yes

Number of built-in stitches – 120

Free arm – Yes
The 4120QDC from Janome has to be one of the best sewing machines. It has got all the necessary and advanced features to offer a complete package. To begin with, it has reached an impressive 120 in-built stitches. This means you have a lot of flexibility when selecting the stitch pattern for the fabric. Along with that, you have the automatic needle threader.
The computerized machine features an LCD screen and keypad buttons at the front for controls. You can set the stitch type, length, and width and let the machine handle the rest.
You also have a lot of buttons for one-touch execution. For example, the thread cutter button allows you to cut the top and bottom of the thread with the press of a button. Likewise, you can end the stitch you're sewing with the lock stitch button. This way, you can prevent half a stitch patterns. Besides that, the machine has a reverse stitch button and up/down button in place.
Another thing to appreciate about this sewing machine is it ships with multiple accessories. You'll find seven presser feet, a needle set, spool holders (small and large), a screwdriver, bobbins, a lint brush, and a seam ripper.
Janome knows that this machine might be a bit advanced for some users. Therefore, it has included instructional DVDs and an instruction book. Check the Janome 4120QDC latest prices on Amazon.
Pros
Great for stitching and quilting

More stitch type options

Fully computerized for automatic stitching
Cons
Check the Janome 4120QDC latest prices on Amazon
Conclusion
Even if you don't intend to become a tailor, a sewing machine would always be a great addition to your home appliance. You could save thousands of dollars in the long run by stitching clothes at home.
Which sewing machine to buy depends on the fabric you plan to work on. Most basic machines will work just fine for everyday garments. But if you're passionate about sewing and want to experiment with different types of stitches, a high-end device is worth the money.