Carrying your sewing machine (even the portable ones) to a quilting group isn't the easiest of tasks. The continued stress on your back — if hauling by hand — and the risk of damaging your machine in transit are genuine concerns. A sewing machine case or bag eliminates both.
Also known as tote bags or sewing machine carrying cases, these are specifically designed to protect your precious sewing machine while traveling. Unlike regular carrying bags, these have the necessary padding to cushion the machine from bumps.
This article lists the nine best sewing machines for every price range. Go through the list and review each product to make the right buying decision.
How Much Do Sewing Machine Cases and Bags cost?
The sewing machine cases are affordable in most cases, but some are priced as high as a basic sewing machine itself.
A sewing machine case or tote bag costs $35-50. But if you want to go premium and get the best of the lot, bags are available at $200+. These are universally compatible and have the necessary cushioning and pockets to meet your needs.
The premium bags aren't necessarily the best ones. But they do offer more functionality and elegance.
With that said, here are the nine best sewing machine cases you should consider buying in 2023:
Best Overall Sewing Machine Case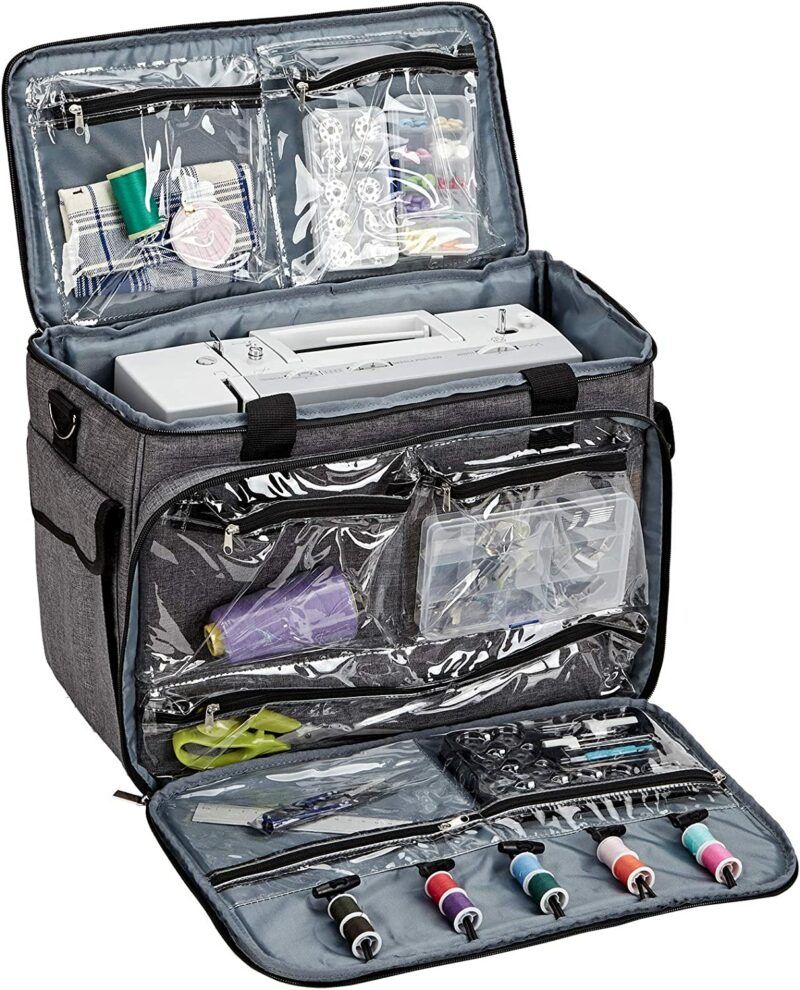 Specifications
Brand – Homest

Dimension – 16.9 x 8.3 x 13 inches

Material – Canvas

Price – $36.99
With a generous storage compartment, cushioned bottom, padded pockets, and shoulder straps; this carrying case from Homest has everything you'd need. And that too at an affordable price!
Most sewists are concerned about the cushioning available for the sewing machine. In this carrying case, you have both sidewall and bottom paddings. Along with that, the pockets where you keep the accessories are also padded.
The main compartment is spacious and is compatible with machines from major brands like Singer and Janome. Besides that, it has custom pockets and spool holders to help you better organize your accessories.
Along with utility, this tote bag has got elegance. It comes with shoulder straps to carry the sewing machine on your shoulders, thus freeing up the hands. Or you can fasten it to a trolley bag and drag it along.
Homest is a relatively young brand, but it has quickly established itself as a reliable storage partner for many appliances. The company makes carrying bags and covers for sewing machines, kitchen appliances, and other equipment.
Made from high-quality nylon, you can expect it to endure repetitive use. If you're looking for an all-around durable sewing machine case, this tote bag is it.
Pros
Patented padded walls

Three different carrying options

Affordable and durable
Cons
No hard bottom to protect against an accidental fall
Check the Homest's latest prices on Amazon
Best Entry-level Sewing Machine Bag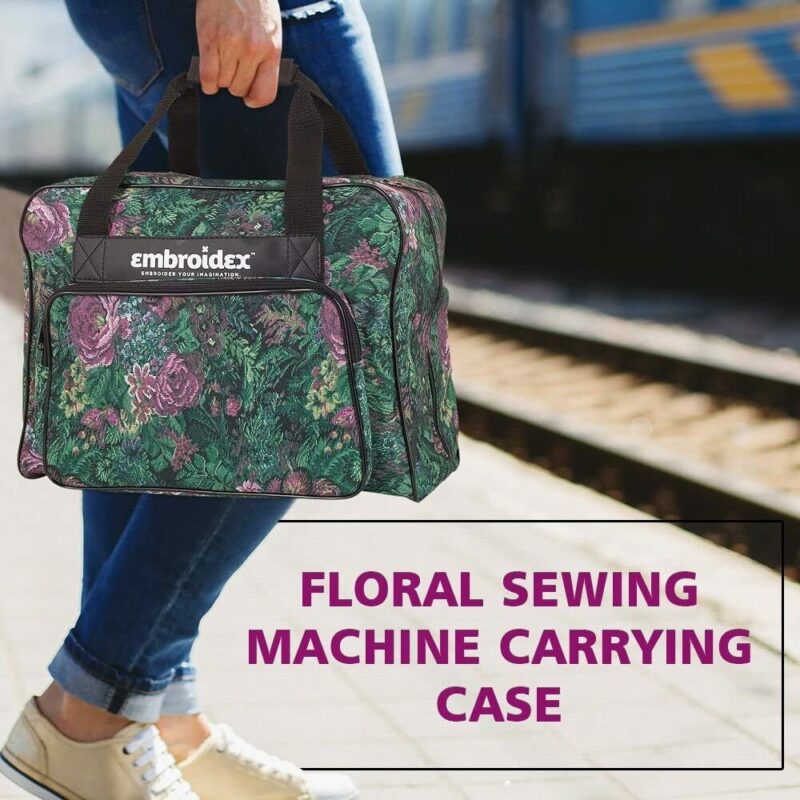 Specifications
Brand – Embroidex

Dimension – 12 x 8 x 4 inches

Material – Vinyl

Price – $19.99
This floral carrying case may seem high-priced because of its impressive designs, but it's one of the most affordable cases available now. If you're a beginner quilter or sewist not willing to spend much on a cover, this carrying case is for you.
The compact tote bag is capable of accommodating most portable sewing machines. Place the machine inside the pocket and fasten the zip. The vinyl fabric will protect the journey from dust, dirt, and water.
To create more storage space, there's a generous zipped front pocket. It allows you to store bobbins, threads, scissors, and manuals separately from the sewing machine. I like that you don't have to expose the sewing machine whenever you take out other items.
An ergonomic strap with inner padding makes it comfortable for you to carry this tote bag around. This ensures you can travel long distances without putting undue pressure on your fingers. The padded straps also compensate for the unavailability of wheels.
While the floral design grabs the eyeballs, the high-strength stitching slips under the radar. The stitches make the product extra-durable, which is impressive considering the bargain-basement price of this sewing machine.
Pros
Universal, compatible with most portable sewing machine brands

Generous front pocket for extra storage

Affordable
Cons
Check the Embroidex's latest prices on Amazon
Best Lightweight Sewing Machine Tote Bag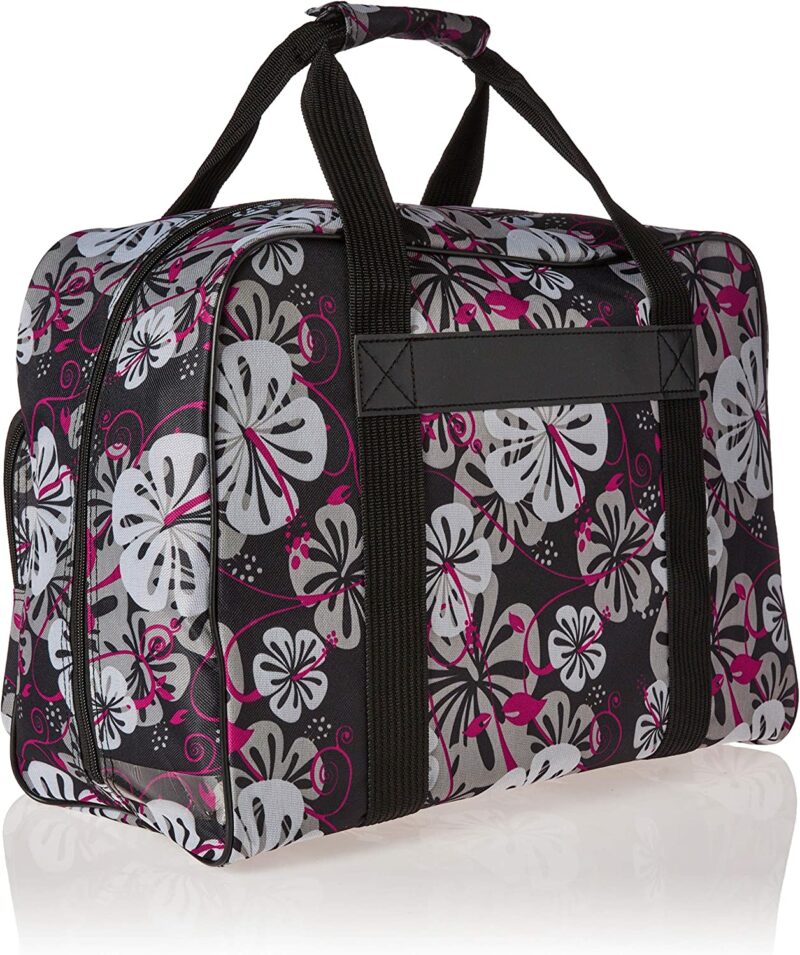 Specifications
Brand – Janome

Dimension – 16.9 x 8.3 x 12 inches

Material – Canvas, Velcro

Price – $37.80
Need a lightweight tote bag to meet the carry-on weight limit? Look no further than this universal sewing machine carrying case from Janome that weighs less than 2 pounds (1.7 lbs, to be precise).
The light weight is courtesy of its canvas fabric and smart design. For the straps, it utilizes velcro, another lighter material. There aren't any unnecessary components, compartments, or pockets that make the bags bulky. Besides the main compartment, you'll only have a small pocket at the front.
While the canvas and velcro fabrics are thin, they are in no way flimsy. The layers resist wear and tear to protect the sewing machine. Moreover, the inner walls of the compartment have paddings to safeguard it against jolts.
The tote bag can easily fit a 16″ long sewing machine. Also, the 12″ of height and 8″ of width is more than enough for most machines.
The carrying case will suit sewists who also prioritize appearance. It is available in nine different color combinations, from plain red to purple paisley.
Pros
Extremely lightweight

Universal, compatible with most sewing machines

Available in multiple designs
Cons
No shoulder straps or wheels
Check the Janome universal's latest prices on Amazon
Best Premium Sewing Machine Tote Bag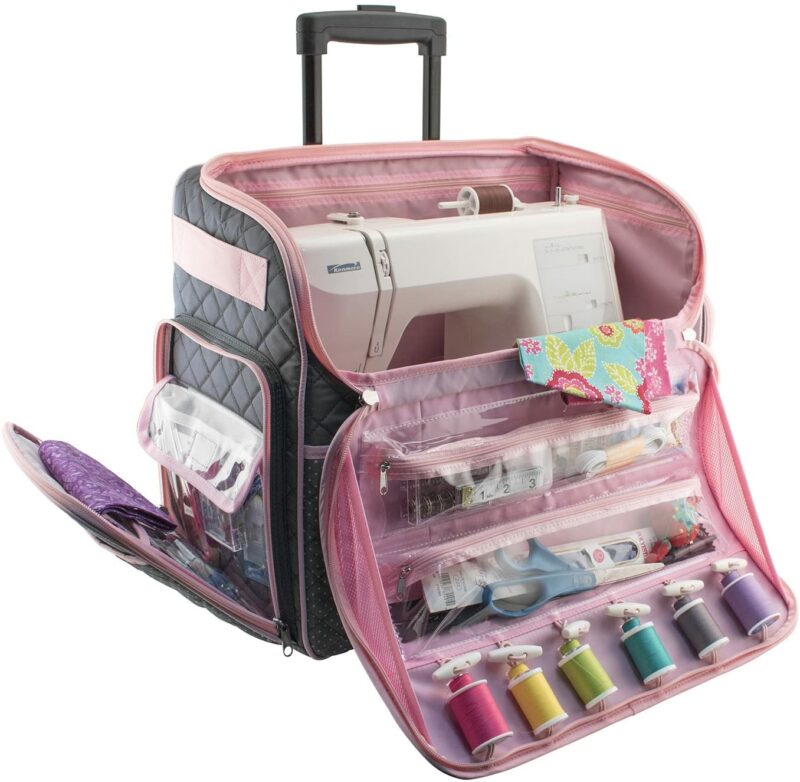 Specifications
Brand – Everything Mary

Dimension – 16.5 x 9.5 x 13.5 inches

Material – Polyester

Price – $104.99
Everything Mary is a high-end brand in the sewing machine carrying bag domain. So while you'll be paying a premium, expect a lot of perks in exchange.
This is a perfect tote bag for anyone who seeks functionality and elegance.
The large compartment measuring 16.5″ in length and 9″ in width can hold most standard sewing machines, including Singer Athena and Janome HD 3000. The inner straps fasten the sewing machine to the walls so it experiences minimal bumps on the way. For additional support, there's cushioning at the bottom and sides.
The tote bag also offers a lot of storage space for your accessories. There are double zip side pockets on each side. Furthermore, there are open pockets on top of the zipped ones. There's a custom thread spool holder inside and a few more pockets to accommodate your stuff.
You're sure to have a lot of fun carrying this case. It features a telescoping locking handle that retracts when not in use. Also, the inline rolling wheels enable you to drag it like a trolley bag.
The gray body with pink trims gives this tote bag a perfect look. But you can opt for an all-black body at no extra cost.
Pros
Multiple compartments for extra storage

Inline wheels and telescoping handle for easy transport

Highly durable
Cons
Check the Deluxe quilted's latest prices on Amazon
Best Sewing Machine Bag "Style"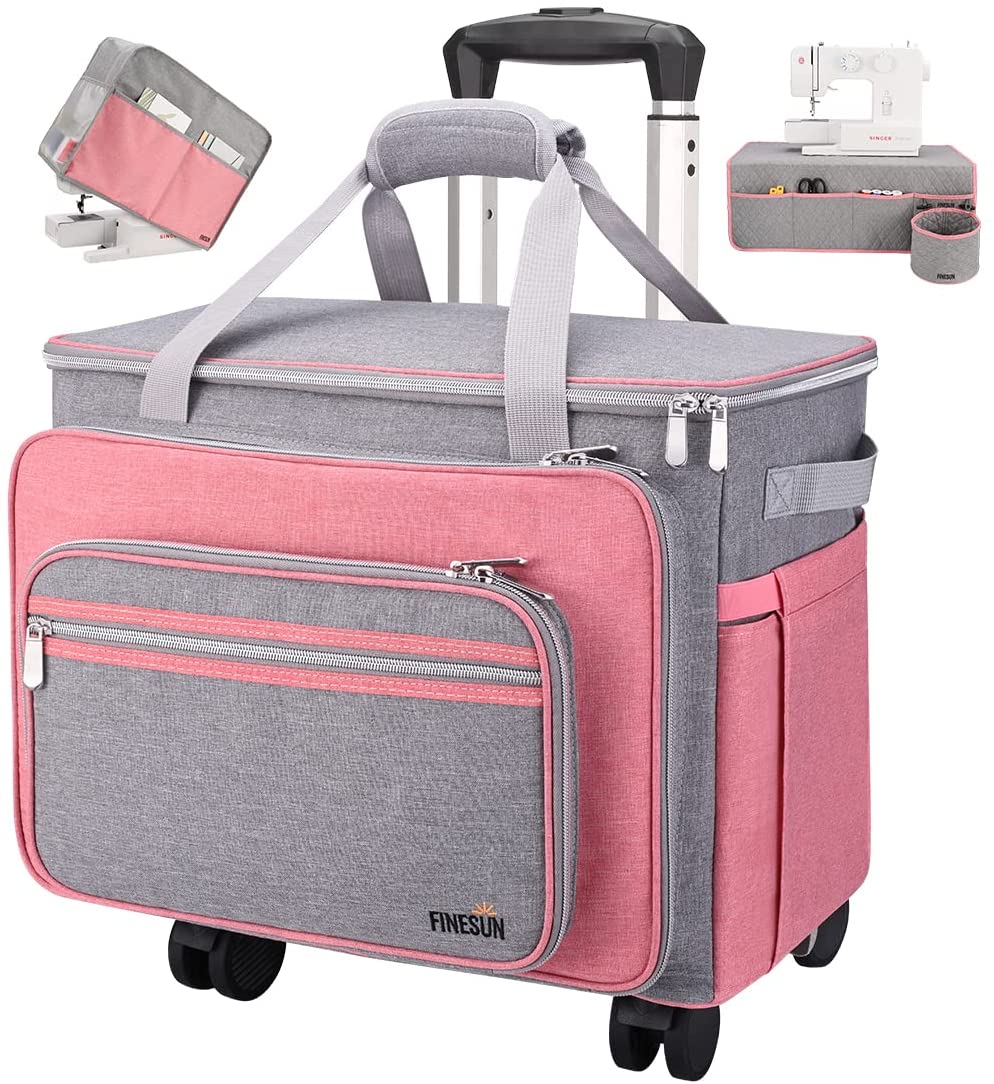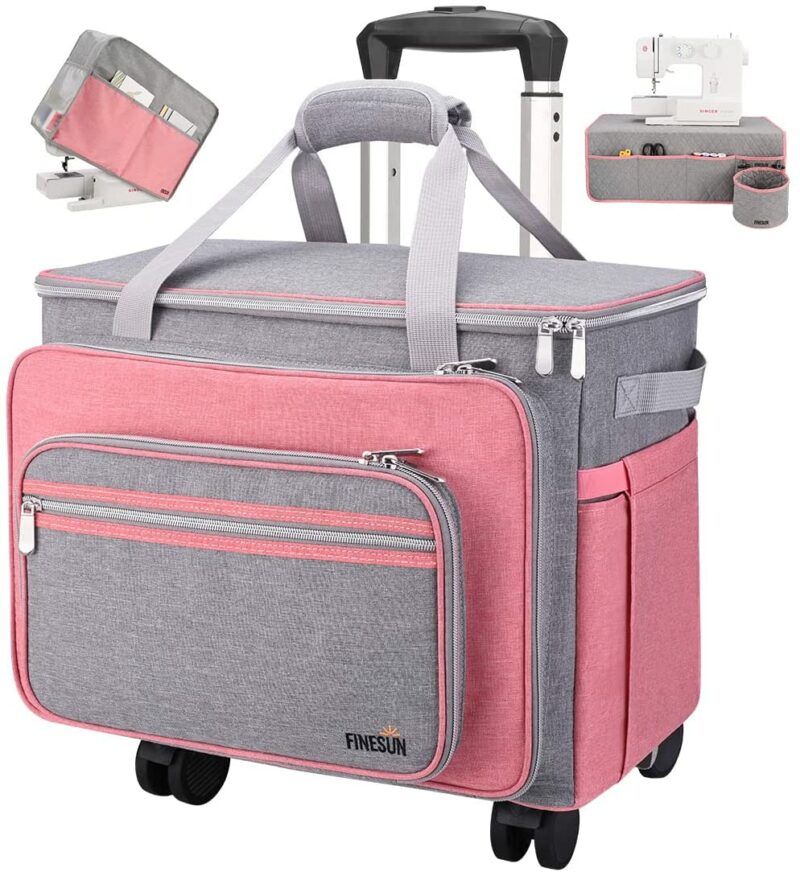 Specifications
Brand – Finesun

Dimension – 17 x 9.5 x 12 inches

Material – Canvas

Price – $89.99
Most people will likely mistake this rolling sewing machine carrying case for a new American Tourister trolley bag model. That's how elegantly this tote bag is built. But it can also transform into a compact handbag when not in use, thus offering you a balance of convenience and style.
With this sewing machine carrying case, you get three products: a bag, a pad, and a dust cover. Use the dust cover when at home and employ the bag with the bottom pad when in transit.
The carrying bag comes with a detachable folding rolling trolley. The board, wheels, and rods need to be assembled before use. When not in use, you can store them inside these pockets.
With a 17 X 9.5 inches storage compartment, you can easily fit a standard sewing machine. Along with that, you have sufficient pockets both inside and outside the case for storing your accessories. A sewist I know was able to carry her Singer HD 6380 Heavy Duty machine with this.
If not for yourself, this sewing machine case makes a perfect gift for anyone who loves sewing.
Pros
Multi-purpose

Large storage space

Padded walls and bottom pad
Cons
Check the 3-in-1 foldable Delexe's latest prices on Amazon
Best Sewing Machine Bag on Wheels: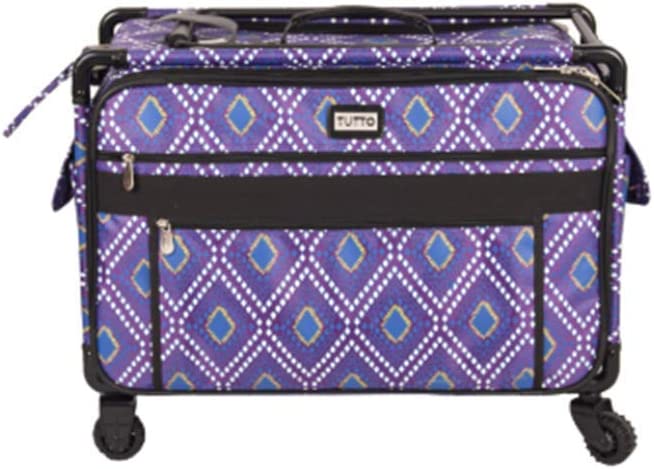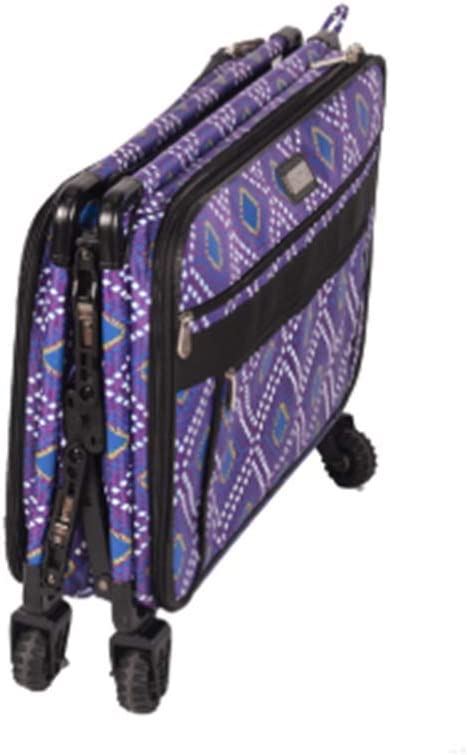 Specifications
Brand – Tutto

Dimension – 23 x 15 x 14 inches

Material – Canvas

Price – $276.76
Carrying a big machine is always a hassle. But not with this sewing machine case on wheels. Designed for large sewing machines, it features a large compartment and all-direction wheels to make the job easier.
The storage compartment is among the largest I've seen to date. The length measures 23 inches, while the breadth is 14 inches. Therefore, it can easily accommodate bigger models of Singer, Bernette, or Brother.
Unlike other tote bags, it has top and side openings to access the sewing machine easily.
Another unique feature is the floating divider. It expands the storage space when you need to accommodate a large machine. But it also collapses when not in use, thus allowing you to store the carrying case at home.
There are sufficient mesh pockets inside and outside the case to help you organize your accessories.
All in all, it's an excellent product for those carrying larger sewing machines.
Pros
Suited to carry bulky sewing machines

Sturdy body for better protection

All-direction wheels for better maneuverability
Cons
Not suitable for smaller or mid-range machines
Check the Tutto sewing machine case's latest prices on Amazon
Best Brother Sewing Machine Case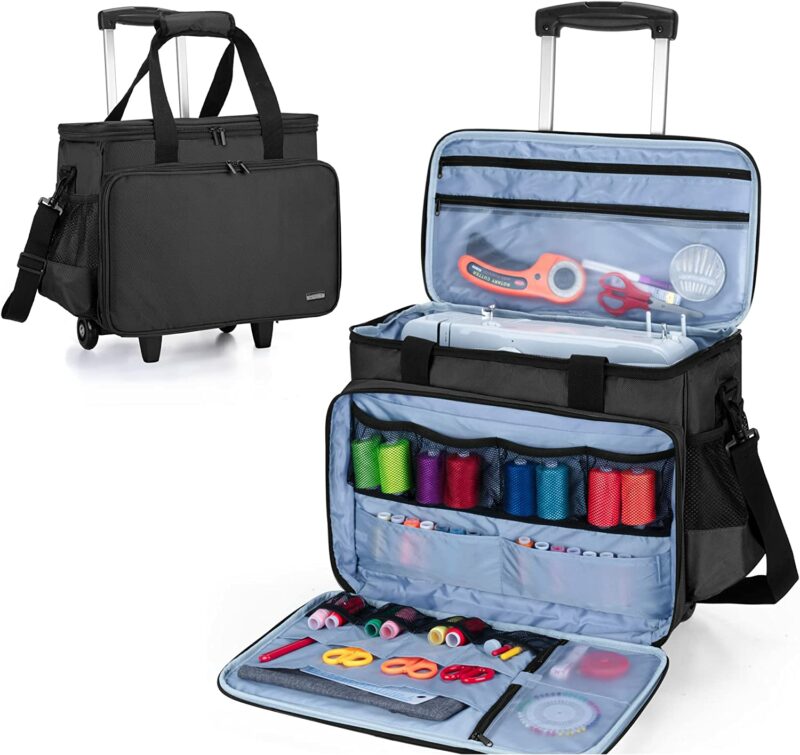 Specifications
Brand – Luxja

Dimension – 17 x 12 x 7.5 inches

Material – Nylon

Price – $62.99
This rolling sewing machine bag from Luxja is ideal for most brands, including Brother. The heavy-duty nylon and thick padding ensure proper safety under every circumstance.
The main compartment is 17 inches long and 7 inches wide, enough for most standard models. But there's a high number of other storage compartments and pockets that help this tote bag stand out.
There are eight mesh pouches, seven cloth pockets, and two zipper pockets. And there's a reason for that.
The sewing machine bag comes with quite a few add-ons. This includes rolling wheels, a telescoping handle, a trolley dolly, and shoulder straps. These are detachable and only have to be used when in need.
You can use the compartments to store these extra items. And the rest can be used to store your accessories, power cables, manuals, etc. Even after that, chances are you'll still be left with spare pockets!
You can use this as a carrying case or a storage bag with equal ease. The all-black nylon body looks sleek and fashionable.
Pros
Large storage space

Universal compatibility with Brother and other brands

Detachable trolley dolly
Cons
Quality deteriorates when exposed to moisture for too long
Check the Luxja Rolling Sewing Machine Bag's latest prices on Amazon
Best Singer Sewing Machine Bag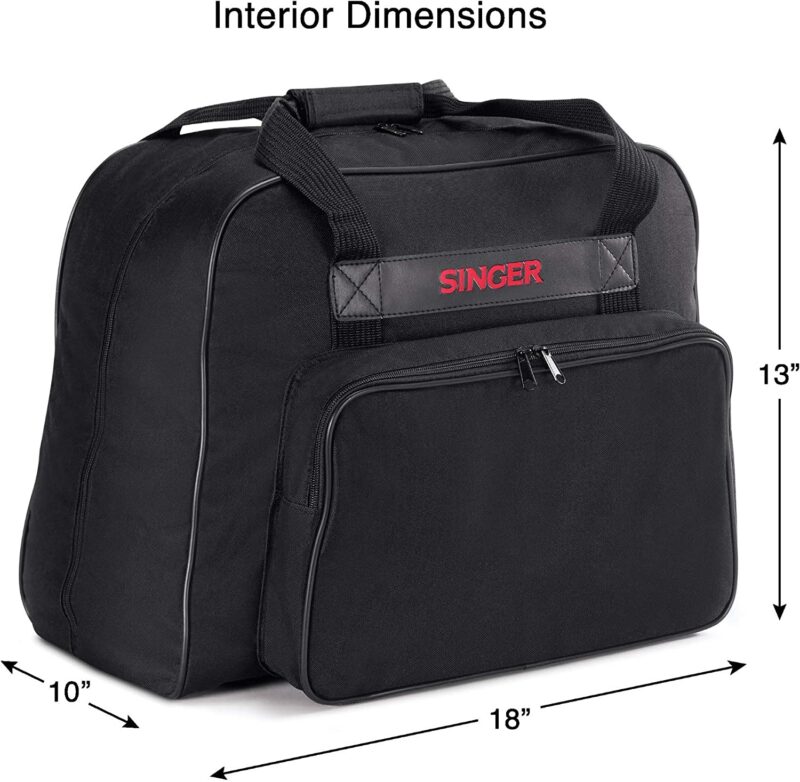 Specifications
Brand – Singer

Dimension – 12 x 15.25 x 1.5 inches

Material – Canvas

Price – $39.99
If you own a Singer portable serger, you don't have to search extensively to find a compatible tote bag. This canvas tote is universal but explicitly designed for Singer machines.
It's a compact bag measuring 12 inches in length and 1.5 inches in breadth. So it might not carry bulky or standard machines, but it's a perfect fit for portable machines and sergers. The interior walls are well cushioned, and so is the base. The full zip ensures full closure, hence total protection.
On the outside, you have a front zipped pocket that allows you to carry accessories and kits. The ergonomic handle, which is padded from the inside, makes it easy for you to carry the tote bag around.
At home, you can use it as a storage bag and prevent the accumulation of dust or debris.
Singer has been a household brand name since 1851. So when you're buying this product, know you're getting the best in terms of quality and functionality.
Pros
Compact and lightweight

Thick padding for utmost safety

Front pocket for extra storage
Cons
Only suited for portable sewing machines
Check the Singer universal canvas' latest prices on Amazon
Best Sewing Machine Tote with Wooden Pad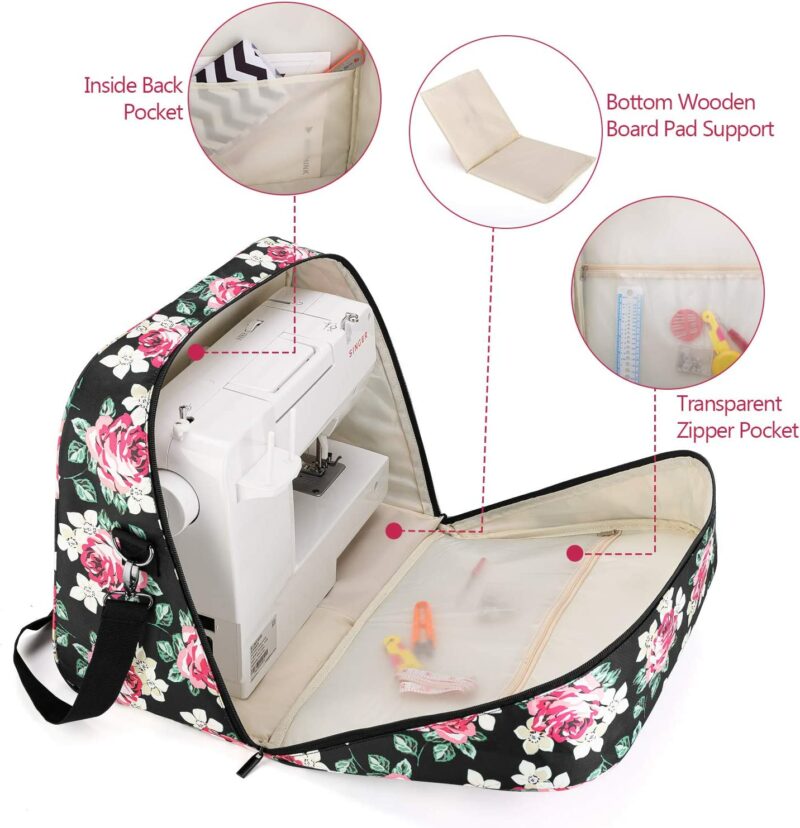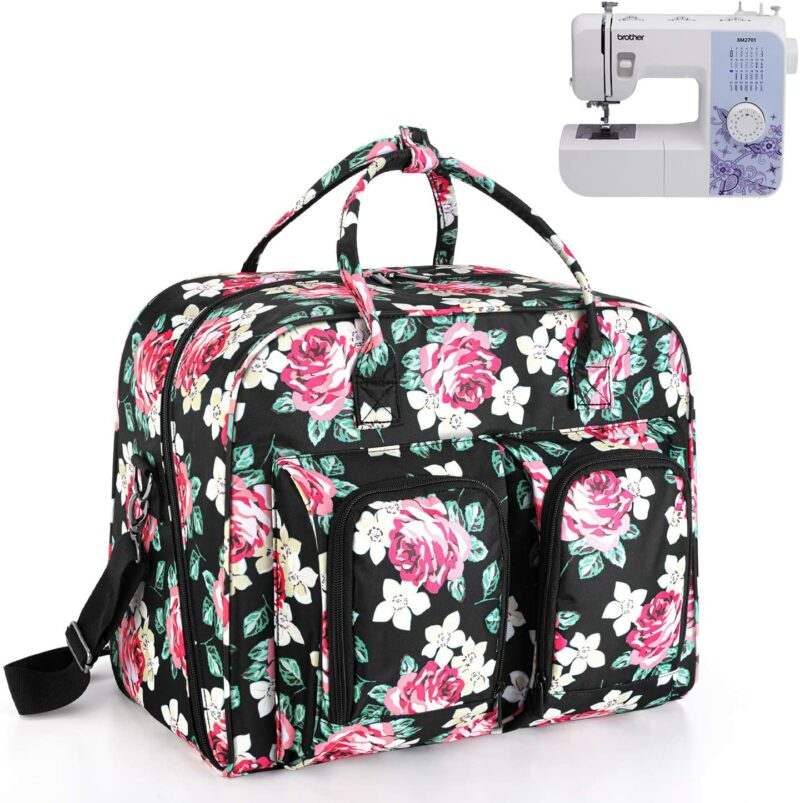 Specifications
Brand – Teamoy

Dimension – 16.3 x 8.5 x 13 inches

Material – Nylon

Price – $38.99
Having a wooden pad at the bottom of your carrying case is a great way to ensure added safety. They can be harsh at times. That's especially true when the bag is part of checked baggage, and you don't know how the airport personnel will handle it.
The carrying bag has sufficient dimensions to accommodate standard sewing machines. You have cushions on all sides with a wooden pad at the base. Even the rigid pad is provided with PE foam and soft fabric to reduce the risk of damping.
The nylon fabric keeps the case sturdy from the outside and prevents tears or scratch marks.
For carrying purposes, you have the adjustable shoulder strap and the handle. Use them at your convenience. But you can also rest the carrying case on top of a suitcase or trolley. The wooden pad provides stability and prevents the bag from falling over.
The Teamoy sewing machine tote bag comes in five different designs. The floral design will suit your taste if you prefer a fancy one. Otherwise, there are basic designs with a single-color fabric making up the body.
Pros
Wooden pad at the bottom for added safety

A large compartment and multiple pockets

Available in multiple designs
Cons
Bulky due to the wooden pad
Check the Teamoy's latest prices on Amazon