While brands like Janome, Singer, and Brother dominate the sewing machine market, Baby Lock has become a preferred choice among beginners and professionals.
The brand has a wide range of sewing machines to cater to people with varying sewing requirements. And choosing a good sewing machine from this extensive range becomes problematic sometimes.
Therefore, I have picked and reviewed the best Baby Lock Sewing Machines to help you make an informed choice. The article will also help you understand what factors to consider when choosing a Baby Lock Sewing Machine.
Look at these fantastic sewing machines, read the detailed reviews, and choose one that suits your requirements.
A Brief Look Into The Baby Lock Sewing Machines History
Anyone interested in crafts and sewing would know about Baby Lock sewing machines. But have you wondered what led to the invention of Baby Lock? And for how long are they in the market?
The history goes back to 1964 when a few Japanese managers and engineers from a Japanese enterprise wanted to twist the industrial overlocker and make it more portable so people could use it at home.
Even though the enterprise turned down its offer, the talented people didn't stop the project and invented their first jet-air system in 1993. Since then, the company has been working hard on developing innovative and robust sewing machines.
Today, Baby Lock has established itself as one of the best sewing machine brands loved by many professionals and sewing industries. If you are contemplating buying a Baby Lock sewing machine and wondering which model to pick, I hope to help you with this guide.
Related: Best Heavy-Duty Sewing Machines in 2023
Best Baby Lock Sewing Machines: A Quick Comparison
7 Best Baby Lock Sewing Machines To Buy In 2023
Baby Lock Joy – Best Beginner Friendly
Baby Lock Jazz II Sewing & Quilting – Best For Versatile Stitching
Baby Lock Brilliant – Best Overall
Baby Lock Accomplish – Best for Commercial Use
Baby Lock Celebrate Serger – Best Serger
Baby Lock Crescendo Deluxe Sewing & Quilting – Best For Advanced Users
Baby Lock Altair Sewing & Embroidery – Best for Embroidery
Best Baby Lock Machine for Beginners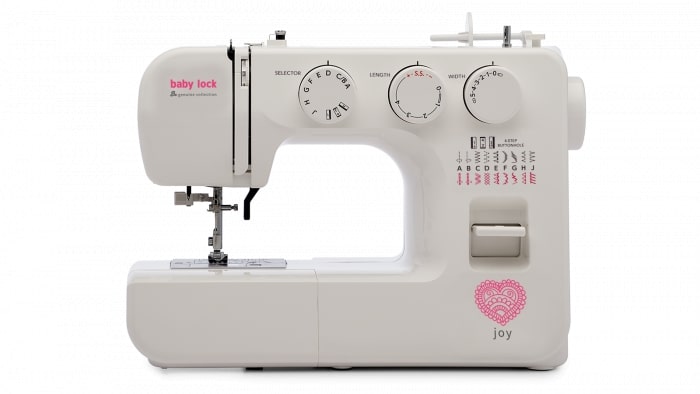 Size- 14-⅞ x 10-¼ x 6-¼

Weight- 11.5 lbs

Built-in stitches- 19

Number of needle positions- 2
Baby Lock has a versatile range of sewing machines, suitable for beginners and professionals. One such model is the Baby Lock Joy sewing machine, which is a good option if you want to start sewing.
Whether you want to learn sewing for personal or business purposes, the Baby Lock Joy sewing machine might be the perfect pick. The machine is available for under $250, so you don't need significant investment to begin your career as a sewist.
In addition, it has 19 built-in stitches with adjustable sewing length and width, allowing you to stitch in various styles. It also features a manual thread cutter, making stitching convenient for beginners. Now you don't have to run for a pair of scissors every time you need to cut the thread.
Other features like a built-in needle threader drop-in bobbin add to the convenience of stitching. Plus, the Baby Lock sewing machine has a detachable flatbed, and you can quickly stitch on areas like the arm, collar, or hem of pants. The machine also lets you work on any sewing project, like home decor, apparel, and other crafts that require precise stitching.
Since it's a beginner-friendly machine, you might miss the fancy features like an LCD screen, automatic needle up-down, etc., but there are all the standard features you need to kickstart your sewing career.
Pros
Extra-wide working space for more convenience

Free arm stitching

Promising durability

Easy to operate
Cons
Not suitable for commercial use

Lacks fancy features
Check the Baby Lock Joy sewing's latest prices on SewingMachinesPlus
Best Baby Lock Machine for Versatile Stitching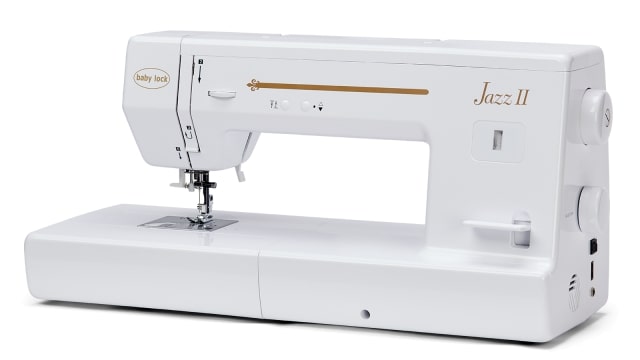 Size- 12.2 x 25.2 x 9.45

Weight- 27.5 lbs

Built-in stitches- 28

Number of needle positions- 24

Stitching speed- 1000spm
The Baby Lock Jazz II sewing machine is one of the popular picks among professional sewers. Equipped with numerous handy features, the machine makes stitching an easy task, even if you have just started sewing.
The built-in needle threader and the programmable needle up-down button will ensure that you don't waste time on petty things like adjusting your needle position. These tiny details matter because they do not interrupt your workflow, leading to more productivity.
This sewing machine also has a reverse lever for backstitching, which is essential for making quilts. Back stitching ensures better durability of the end product. Additionally, it has a hands-free pressure foot allowing you to work longer without leg fatigue.
The hands-free pressure foot makes adjusting stitching pressure easier without letting you take your eyes and hands off the fabric, saving you lots of time.
It has a large working table helping you easily handle bigger or bulkier fabrics. Baby Lock Jazz II can handle a variety of fabrics without making you feel overwhelmed with numerous buttons. It's easy to use, so you can start working as soon as you take it out of the box.
This machine doesn't have an LCD screen, which makes selecting and changing stitching styles difficult.
Pros
Hands-free pressure foot

Reverse lever for backstitching

Programmable needle up-down button

Automatic bobbin winder
Cons
Not a compact model

It lacks some advanced features
Check the Baby Lock Jazz II's latest prices on SewingMachinesPlus
Best Overall Baby Lock Machine for Versatile Stitching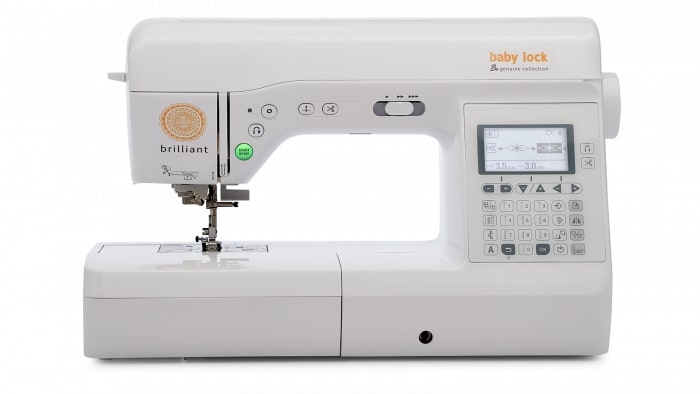 Size- 9-½ x 8-⅛ x 18-¾

Weight- 21.2 lbs

Built-in stitches- 190

Number of needle positions- Variable

Stitching speed- 850 spm
Baby Lock Brilliant can be the best upgrade if your old machine cannot keep up with your ever-growing sewing business. This machine is an ultimate workhorse loaded with multiple advanced features such as an automatic push button, hands-free pressure foot, LCD screen, and lots more.
To start, pick from 190 different stitching styles, allowing you to get creative with every project. With the push button, you can start, stop, adjust the needle position, activate reverse sewing, and cut the thread. Therefore, there is no manual work at all. You push a button, and the machine will work accordingly.
The LCD screen lets you analyze designs, assess them, and everything gets saved into the built-in memory for future use. You can also make new designs by combining different stitches, so there is no stopping you from exploring your creative side.
Other features in this machine that make working effortless are- ergonomic hands-free pressure foot, variable speed control, large working space with adjacent scale in inches and centimeters, LED lamp. There is a lot more to explore in this sewing machine.
This machine is available for under $1000, which is a great deal, given the variety of ways you can use it. However, the machine does not score full marks in terms of durability, so be gentle with it.
Pros
Loaded with advanced features

Easy to use

Best for commercial use

Built-in memory to save designs for future use
Cons
Not as durable as other Baby Lock models

Not beginner-friendly
Check the Baby Lock Brilliant's latest prices on SewingMachinesPlus
Best Baby Lock Machine for Commercial Use


Size- 12-½ x 18 x 7

Weight- 23.9 lbs

Built-in stitches- 1

Number of needle positions- 1

Stitching speed- 1500 spm
This Accomplish sewing machine is another Baby Lock model that sewists love using. If you are looking for an advanced machine that can easily handle bulk orders, there is nothing better than the Baby Lock Accomplish. With the quick threading and rotary bobbin system, sewing has never been this straightforward and quicker.
A few simple motions thread your needle, and you are ready to stitch in no time. Also, the built-in telescoping thread stand can handle even bulkier thread spools without interrupting your thread supply, thereby increasing your production.
There is only one built-in stitching style, which is a bit of a drawback, but if you aren't a fan of experimenting with your stitching style a lot, it shouldn't bother you. But if you make wigs, this machine isn't the best. A reverse stitching feature is necessary for such projects, which is absent from this machine.
The machine has a vast extension table, making working on heavy or thick fabrics like denim, jute, or ribbed easier. Also, the pin feed system ensures your cloth stays in place, and you can sew comfortably. The machine has excellent build quality; it can easily handle rough uses.
Pros
Quick threading and rotary bobbin system

Large extension table

Durable body

Pin feed system to keep your fabric in place
Cons
Only has a single stitching style

No LCD screen to review and select designs
Check the Baby Lock Accomplish's latest prices on SewingMachinesPlus
Best Serger Baby Lock Machine for Beginners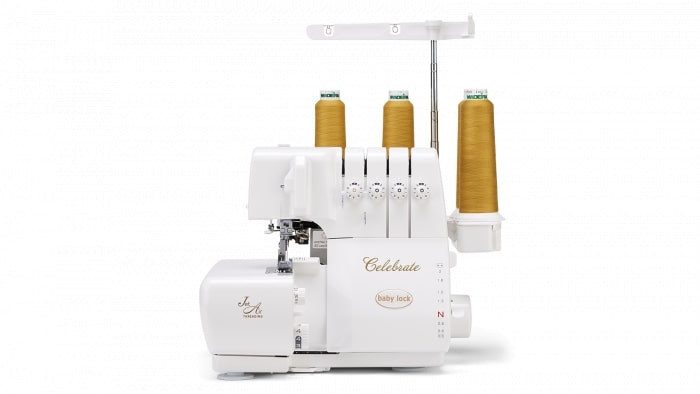 Size- 11.5 x 11 x 12.5

Weight- 16lbs

Number of needles- 2

Stitching speed- 1500 spm
If you aren't aware- a serging machine combines three functions- stitching, seam allowance, and overcasting the fabric's edge. Hence, it's best for handling bulk stitching.
Baby Lock Celebrate Serger is a heavy-duty serger machine best for professional use. This machine has all the features to cope with bulk sewing work. It weighs only 16lbs, so it is best for tiny working spaces.
The machine's tubular loops take care of any threading mistakes. You can say goodbye to exposed threads when you stitch, giving your works a professional touch.
If looper damage were a significant concern with your previous machine, you'd no longer face it with Baby Lock Celebrate Serger. It has a looper drive system to reduce the stress of handling mangled loopers, preventing the risk of looper damage.
Cutting fabrics while stitching is a pain, and we all have experienced it. But not anymore. Baby Lock has developed this knife system with a more significant cutting bite that can cut even the thickest fabric, like denim or leather, without creating any mess.
The machine's LED lamps make sewing easy without facing any visibility issues. Additionally, there is an adjustable and higher-pressure foot, so you can handle loftier fabrics without feeling tired.
You can also use the rolled hem to adjust stitch length, and finally, to give your stitching a smooth finish, there is a fabric support system.
So irrespective of the fabric, stitch, and speed of your sewing, you will get a professional finish to all your works. It is available for under $1100, a good deal for a serger machine.
Pros
LED lamp for better visibility

Adjustable presser foot reduces work fatigue

In-built knife to easily cut all fabrics

Looper drive system to prevent loop damage
Cons
It doesn't have a large working area

The build-quality could have been stronger
Check the Baby Lock Celebrate Serger's latest prices on SewingMachinesPlus
Best Baby Lock Machine for Advanced Users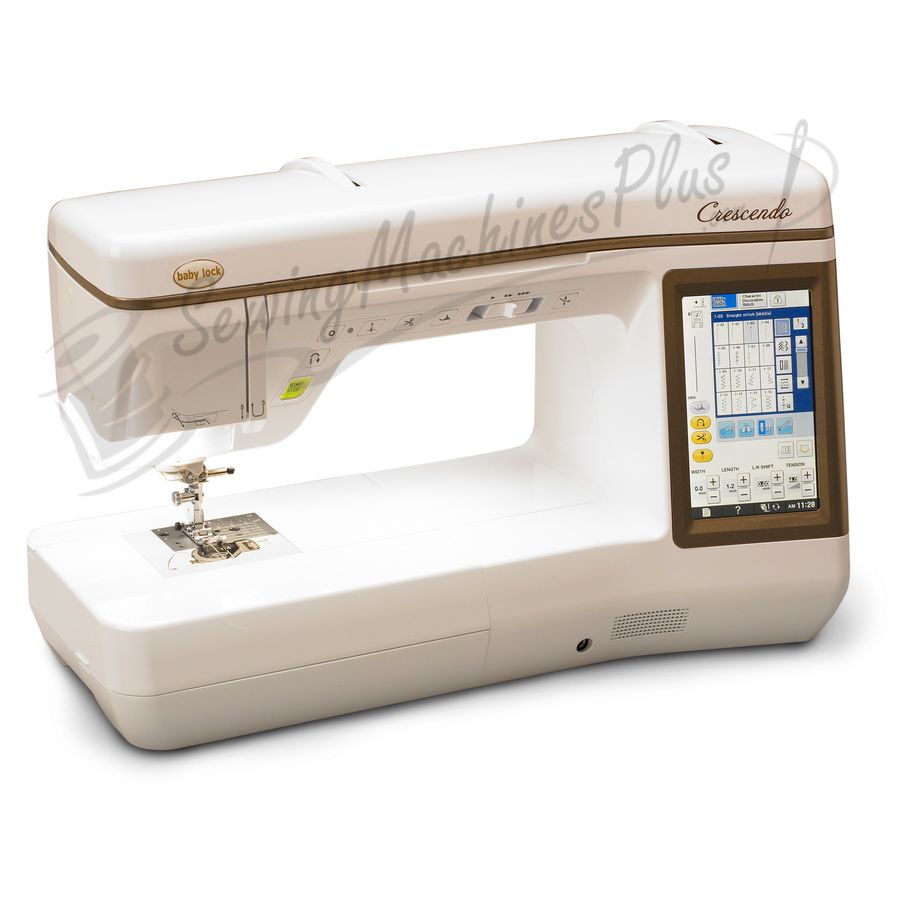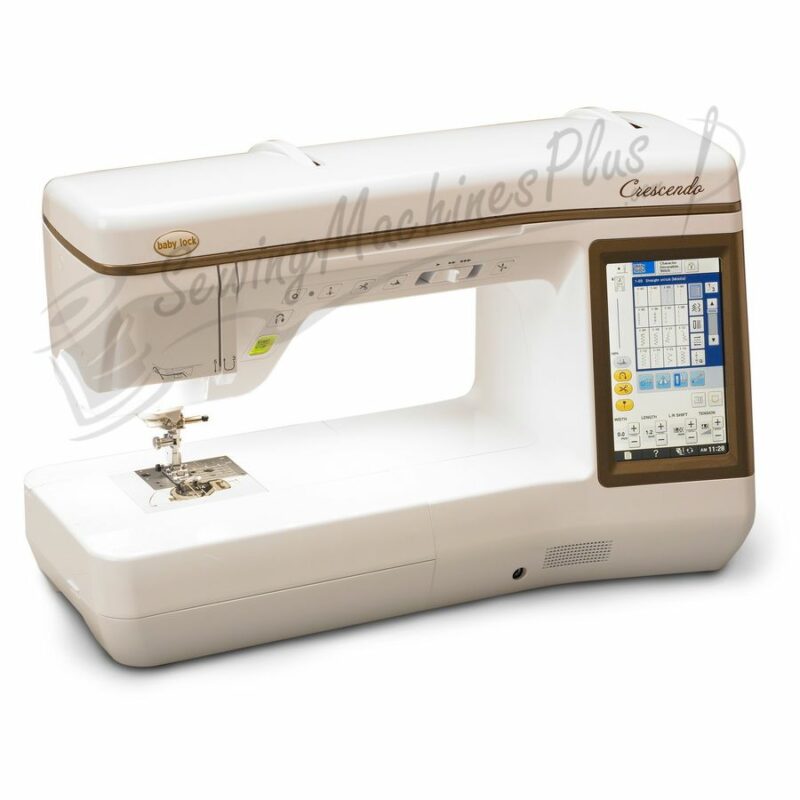 Size- 13.6 x 22.5 x 11.25

Weight- 33.9 lbs

Built-in stitches- 573

Number of needle positions- variable

Stitching speed- 1050 spm
If you've already mastered the art of sewing and need something to up your stitching game, the Baby Lock Crescendo Deluxe sewing and quilting machine should be your next pick.
First, I want to talk about the sensor pen that has made stitching a cakewalk. It lets you position the needle and stitches and decide stitch length with just a few taps on the fabric. The sensor pen replaces the old-school markers or pencils you used to mark stitch width and length.
Creating even and consistent stitches has always been an issue. Working with silk or other slippery fabrics gets even more complicated. But the Baby Lock Crescendo ends that problem with its digital dual-feed system. It is easy to get consistent stitches irrespective of the fabric type and size.
The machine has a large LCD color screen where you can view each stitch's colors and other details. Plus, multiple other setting options are letting you customize your stitches.
The throat space in the machine is big enough to let you efficiently work on different stitching projects without interrupting workflow. If lack of lighting is an issue in your studio, the bright stadium lighting in the machine will also solve that.
In addition, you will get the other essential features every standard sewing machine has.
Pros
A large LCD screen lets you view and edit designs

The dual feed system enables consistent stitching

Large working space

Sensor pencil to guide your sewing machine
Cons
Not a beginner-friendly machine

It may not be efficient enough to stitch quilts
Check the Baby Lock Crescendo Deluxe's latest prices on SewingMachinesPlus
Best Baby Lock Machine for Sewing & Embroidery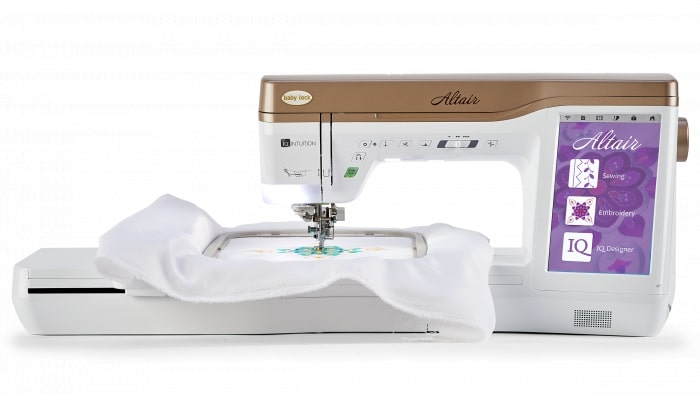 Size- 12 ⅝ x 26 ⅙ x 13 1/16

Weight- 37.5 lbs

Built-in stitches- 771

Number of needle positions- Variable

Stitching speed- 1050 spm
I could not help but add an embroidery machine to this list of the best Baby Lock sewing machines. The Baby Lock Altair sewing and embroidery machine is one of the best machines to keep up with all the sewing and embroidery needs.
This tech-savvy machine has a large screen on the side and an IQ Intuition app. Making the exact embroidery as you imagined can be an issue at times. But the Baby Lock Altair takes care of it with the IQ intuition app.
After taking pictures of your fabric through the app, transfer it wirelessly to your sewing machine. The screen will display the design in live colors, and you can place it where and how you want.
In addition to the 494 built-in designs, you can create designs to cater to your needs. The embroidery area is also huge, allowing you to make large and small designs effortlessly.
A LED needle beam increases work efficiency and give your products a polished finish. Now you can see where exactly to drop your needle and reduce the errors. You would also love the free accessory pouch with almost everything a sewist needs.
Pros
Extensive and intuitive LED screen

IQ Intuition app that lets you edit and mix up designs

LED bulb for better visibility

A free kit with all essential accessories
Cons
It just has one needle

It's an expensive investment
Check the Baby Lock Altair's latest prices on SewingMachinesPlus
Baby Lock Sewing Machines FAQs
Is Baby Lock a good machine?
Yes, Baby Lock is a good sewing machine brand. It's been on the market for decades, and people love the Baby Lock sewing machine due to its excellent performance, durability, and advanced features. Baby Lock is also a reliable brand due to their more extended warranty periods.
Are Baby Lock and Brother the same company?
No, Baby Lock and Brother are not the same company. But Baby Lock has a manufacturing agreement with Brother because it does not have its manufacturing plant, which means that Brother and Baby Lock sewing machines are manufactured in the same plant.
What country makes Baby Lock sewing machines?
Japan makes Baby Lock sewing machines. It's a Japanese brand and is one of Japan's most popular sewing machine brands.
Final Thoughts
I hope this detailed guide on the best Baby Lock Sewing Machines has helped you pick a suitable model that meets all your sewing needs. My favorite among all the machines is the Baby Lock Brilliant Sewing Machine because it has all the necessary features beginner and experienced sewists need.
Read the detailed features to pick the most suitable machine for your sewing business. Let me know if you have any further queries in the comments section.