Crocheting a tube is an important skill for any crocheter to learn. It is a basic technique that can be used to create a variety of different projects, from hats and scarves to blankets and afghans. Crocheting a tube is also a great way to practice your crochet stitches and increase your speed.
If you're a beginner make sure to check my tutorial: how to crochet for beginners.
Related video tutorials:
Tools to make a tube in crochet
Crochet is a versatile craft that can be used to create a variety of items, including clothing, accessories, home decor, and more. One of the most popular crochet stitches is the tube stitch, which can be used to make a variety of different projects.
There are a few different ways to make a tube in crochet. The most common method is to use a circular crochet hook and work in the round. This method is great for projects like hats, cowls, and scarves. Another option is to use a long crochet hook and work back and forth in rows. This method is often used for projects like blankets and afghans.
No matter which method you choose, there are a few tools that will make crocheting a tube easier. First, you'll need a crochet hook that is the appropriate size for your project. Second, you'll need a tapestry needle or other sharp tool to weave in ends and sew up any gaps. Finally, you'll need a pair of scissors to cut your yarn when you're finished.
In this tutorial, I kept things simple so all you need is the yarn of your choice and a compatible crochet hook. I'm using a double knit yarn with a 4.5mm hook.
With these tools in hand, you're ready to start crocheting a tube! Check out our step-by-step tutorial below for instructions on how to do it.
How to Crochet a Tube Step-by-Step
Hello Crochet Lovers, this article is all about the tubes. So, let's begin with how you can crochet a Tube.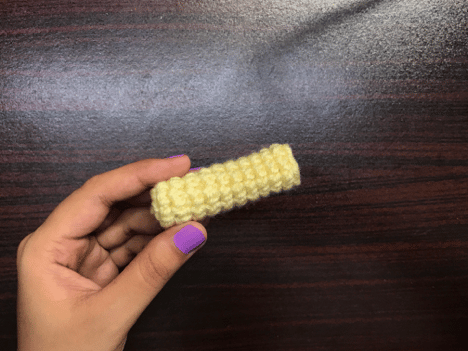 First of all, you must know how wide you want the tube to be, then crochet a foundation chain. Let's say you want the tube to be an inch wide. You'll crochet a foundation chain of 2 inches as we'll fold the chain. In the picture above, I've crocheted 8 chains. 
After you've made the chain to your desired length, make a slip stitch in the very first chain. Ensure there are no twists in the chain before making the slip stitch. 
Now that you have a loop make a chain and insert the hook in the very first chain and make a single crochet. Here we are not considering the first chain as the first single crochet. 
Keep on making single crochet up till the end of the round and slip stitch in the very first single crochet. Make sure you're not making the slip stitch in the chain.  By the end of this round, I had 8 single crochets. 
I made a total of ten rounds.
Round 2 – 10 (as many as you want): start the round with a chain and make single crochet in the very first chain. Now, make seven more single crochets and slip stitch in the very first single crochet. 
That's how we make a tube. Isn't it so easy? 
So where do we use these tubes? 
With crochet, you can't just categorize one thing, but tubes are basically used in Amigurumi, toys, and I've used them in bags for the handles. 
Conclusion
In general, you use tubes in crochet when you want to create a cylindrical shape. This could be for a number of different projects, such as making a tube top or dress, a scarf, or even a toy. Essentially, anytime you need or want a circular shape, using a tube is one way to achieve that look.