I've been on a kick with baby quilts lately. I've put together a free baby quilt pattern that's totally doable for beginners and intermediate quilters, too!
This baby quilt tutorial uses charm squares (5″ x 5″ precut squares, which you can also cut from other fabric in your stash) and crisp, white sashing, for an effect that looks like a lattice fence, with pops of bright color popping through! I chose "jungle colors" with a pop of brightness to match a baby boy's nursery, but you can customize this pattern and colors to fit the size and look of your preferred quilt. Bright, monochromatic (all one color) prints look great with this quilt pattern, and the white lattice really brightens up whatever colors you choose.
I hope you enjoy this free baby quilt pattern! Let's get started.

Finished Quilt Size: Approx. 40″ x 48″
Materials:
– 40 fabric squares 5″ x 5″ (5 each of 8 assorted prints)
– 1 1/2 yards of white fabric for sashing, corner and side triangles and border
– 3/8 yard of binding fabric
– 1 1/2 yards backing fabric
– 44″ x 52″ batting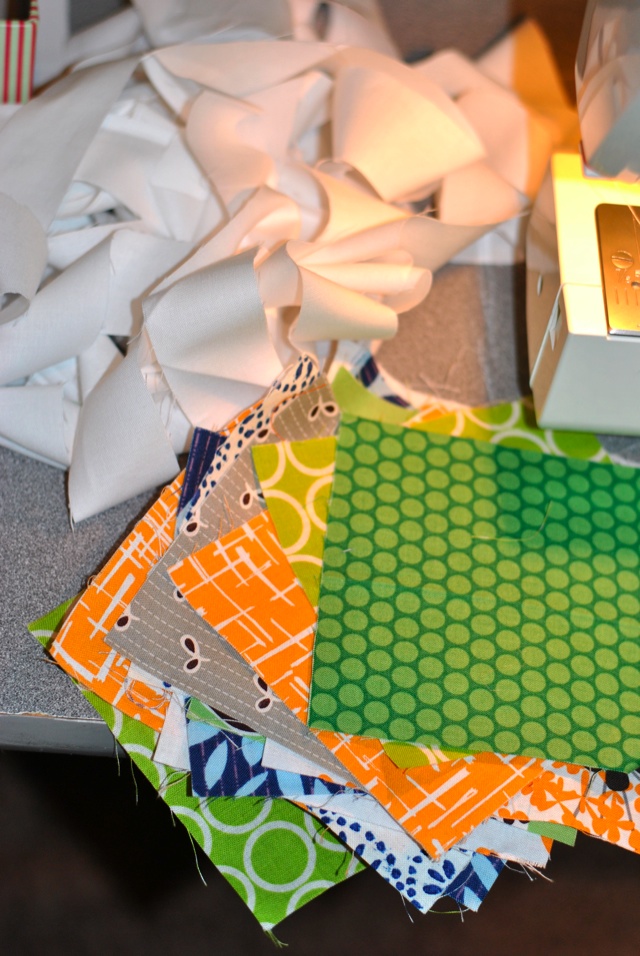 Cutting Instructions (Updated Feb 2019):
Cut 10 strips 1 1/2″ x WOF (width of fabric / selvage to selvage) for sashing (the lattice).
Cut 1 strip 8 3/4″ x WOF. Subcut into:

1 white square 8 3/4″, and cut in half ONCE diagonally to make 2 half-square triangles.
4 white squares 7 1/2″, and cut each in half TWICE diagonally to make 16 quarter-square triangles.

Cut 4 strips 3 1/2″ x WOF for borders.
Cut 5 strips 2 1/2″ x WOF for binding.
All seams are 1/4″ and pressed open, unless otherwise noted.
1) Chain stitch your charm squares to the white sashing strips, sewing them onto the white strip one after another. Don't worry about leaving much space between them, because you will later cut them apart. Leave 8 squares without a white strip. You should be able to sew 8 squares each onto 4 strips, for a total of 32 squares with a border, and 8 squares without a border strip.
2) Cut apart the charm squares, trimming the white side borders equal with the sides of the square.
3) Arrange your charm squares on point (like a diamond) in a color arrangement that's pleasing to you, with the white stripes resting between adjacent blocks. If you used a design wall to arrange the blocks, you can refer to a photo for block orientation. Arrange the squares without the stripes toward the ends of the rows, as pictured.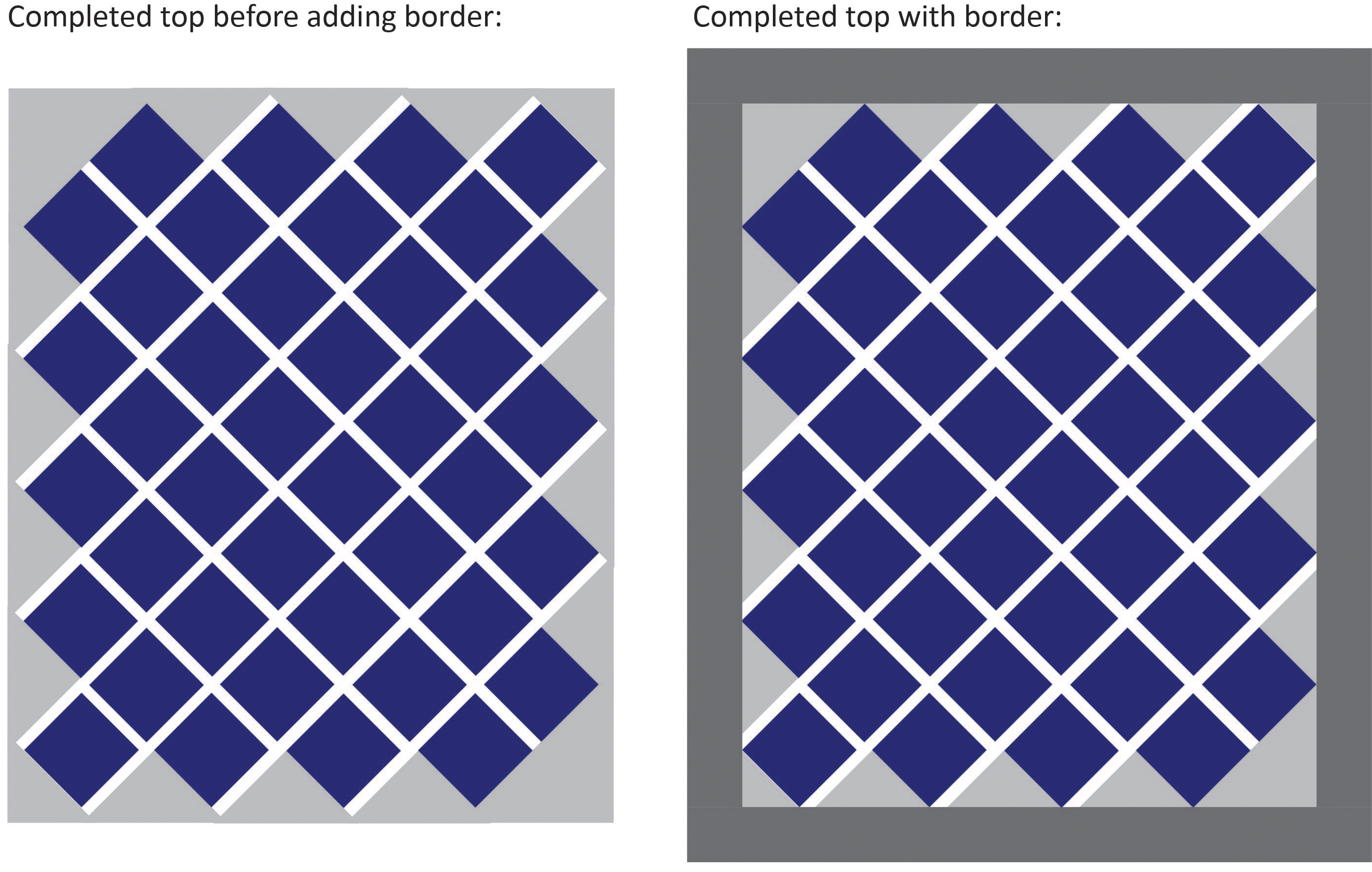 4) Stitch together the rows as pictured above (rows are diagonal starting at the top left corner):
Row 1: 2 squares / 1 strip
Row 2: 4 squares / 3 strips
Row 3: 6 squares / 5 strips
*Row 4: 8 squares / 7 strips
*Row 5: 8 squares / 7 strips
Row 6: 6 squares / 5 strips
Row 7: 4 squares / 3 strips
Row 8: 2 squares / 1 strip
*Note: Pay close attention to the placement of diagonal Rows 4 & 5 (both 8 squares / 7 strips). If these are matched up side by side, you'll get a square quilt. If you shift them like in the diagrams above in step 3, you'll get a rectangular quilt.
5) Arrange the white half-square triangles at the ends of each row, to make the quilt rectangular in shape. The long side of each triangle should face out toward the border of the quilt top. Stitch the triangles to the rows.
6) Place the larger triangles in opposite corners of the quilt, with the long side of the triangles facing the pairs of two squares. Stitch the triangles to the two wide corners.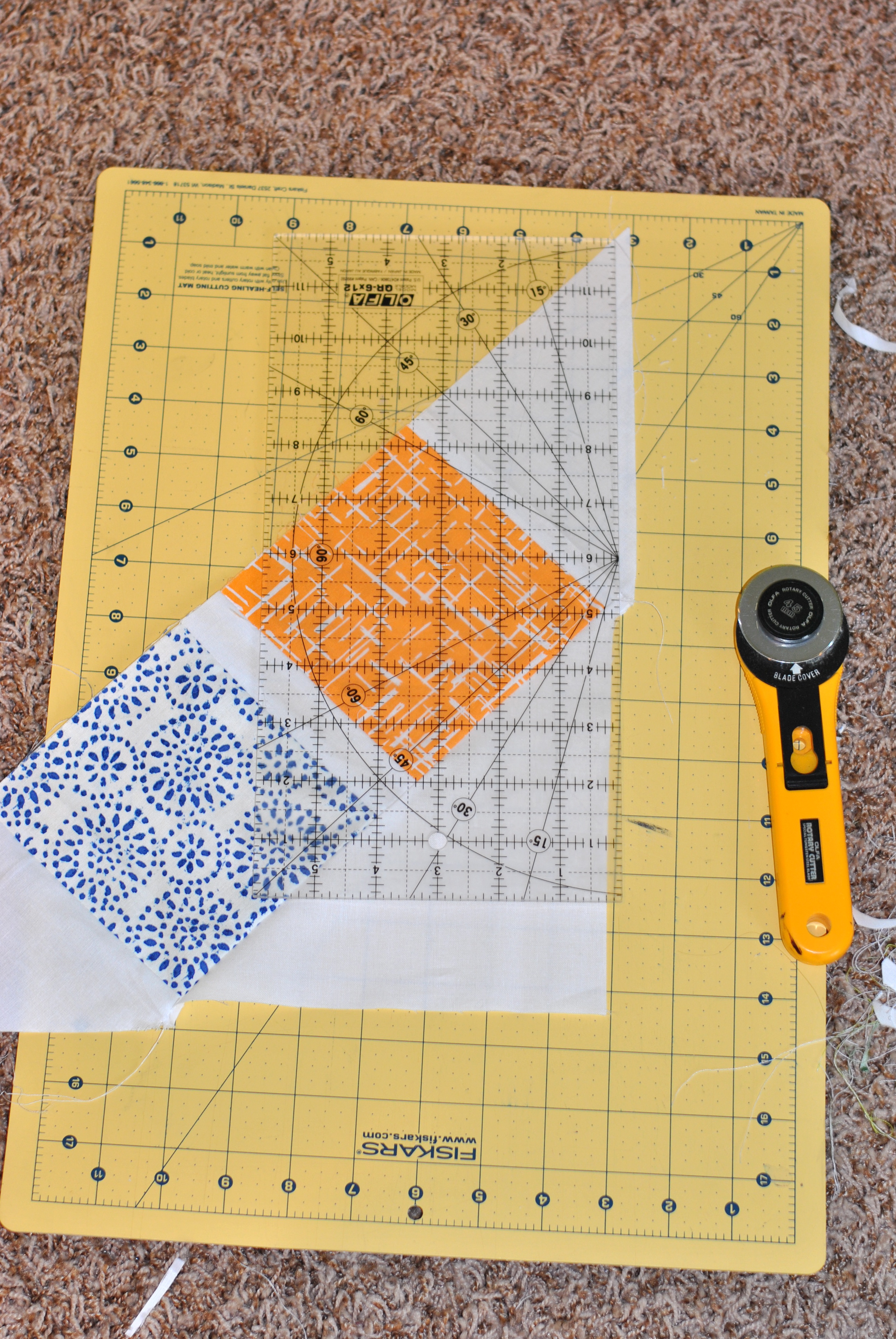 7) Trim the sides of the corner triangles even with a ruler and rotary cutter. (Note: With a 8 3/4" square cut along the diagonal, you shouldn't have to trim like I did here. You'll have extra fabric in the corners! I used a 7 1/2" square.)
8 ) Lay out your remaining sashing strips between each row, and stitch to between neighboring rows to join them. Sew the longer strips first. Trim the excess sashing strips and join them to other strips to get the length you need.
9) Continue adding sashing strips to the rows, pressing your seams as you go. I pressed the seams open, which gives this quilt a crisp, clean look with sharp angles.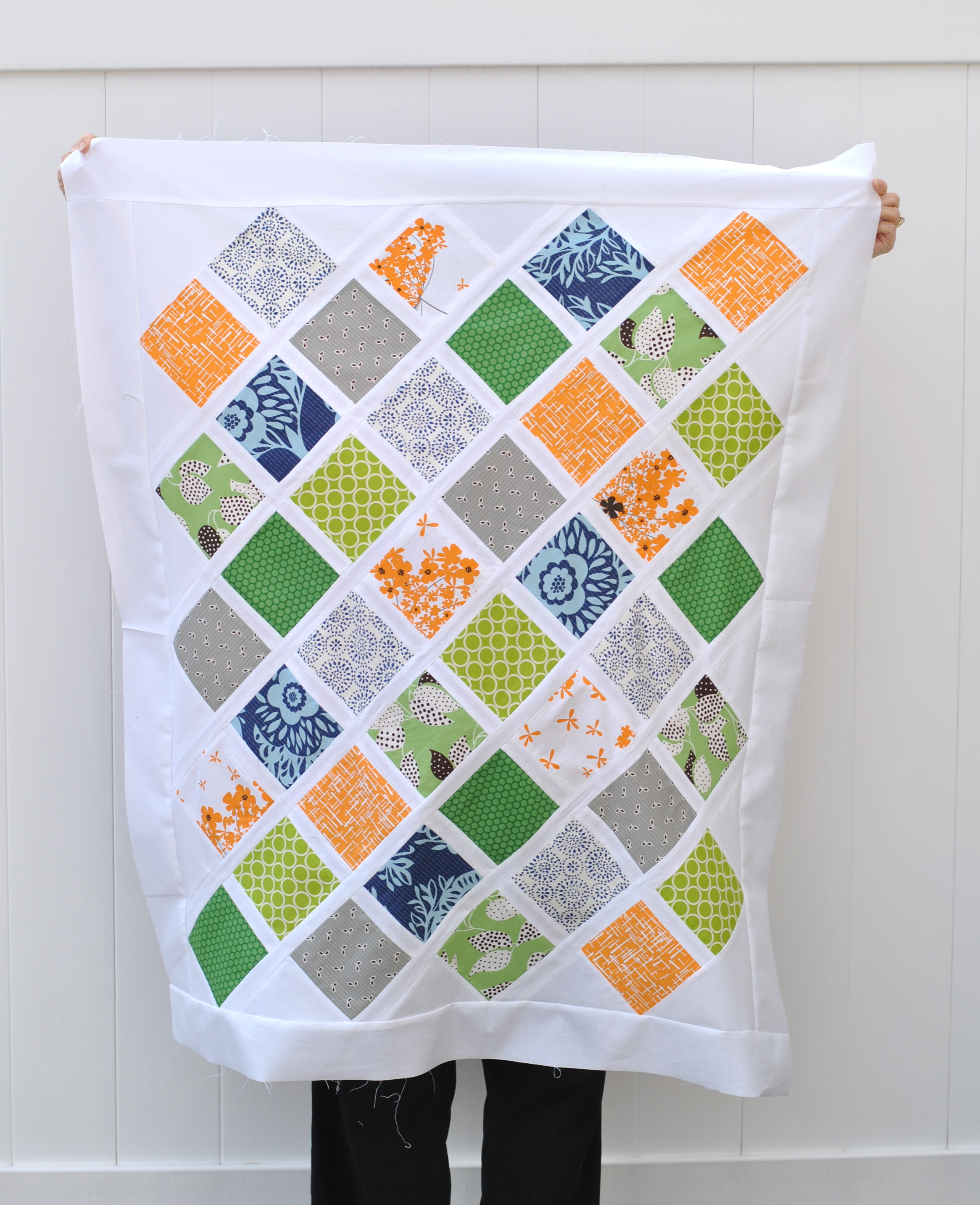 10) Add a 3 1/2″ border to the left and right sides of your quilt. Trim off the excess. Add a 3 1/2″ border to the top and bottom of your quilt. Trim. Press the seams toward the border.
11) Baste and quilt your baby quilt. Trim the borders even around the edges of the quilt, measuring 3″ from the seam. Sew on binding.
I chose wide, wavy lines and a slight woodgrain pattern for quilting this baby quilt. I would have added an extra layer of quilting between each of the wavy lines to make it tighter and more textured, but I ran out of white thread and was on a deadline. I am excited that this quilt gets to stay in the family! It's fun to sew for people you know, isn't it?
I hope you enjoyed this free baby quilt pattern and photo tutorial. If you make this or any projects from Craft Buds, we'd love to see them in the Craft Buds Flickr group!