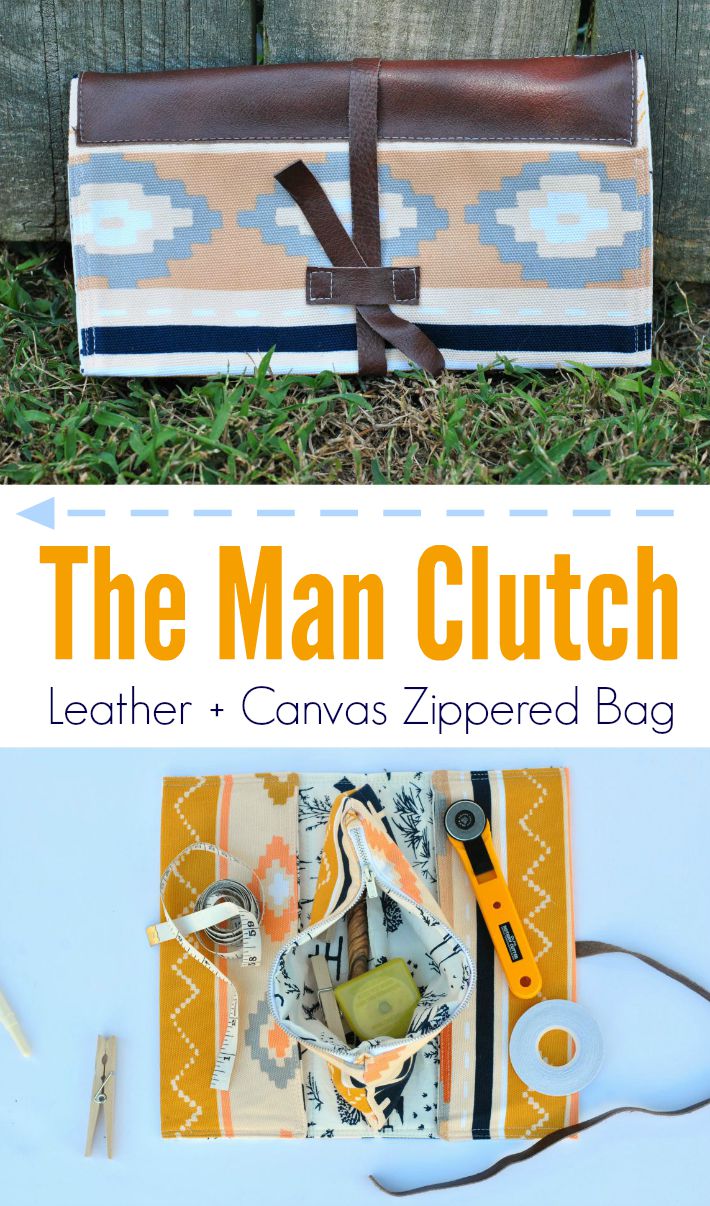 Thank you Sara for having me review a pattern as part of Purse Palooza 2015! Today I'm sharing a pattern from the upcoming book On the Go Bags—15 Handmade Purses, Totes & Organizers (Stash Books, Dec. '15).
I had the privilege of co-writing this book with Janelle MacKay of Emmaline Bags. If you know Janelle, you already appreciate her creativity, humor, and technical expertise, which is really reflected in the techniques and instructions presented throughout the book.
Want to try a brand new bag pattern from Sara Lawson? That's in this book, too! We had several talented contributors teaming up with us on this collab (Sara Curtis, Rachael Gander, Samantha Hussey, Maray Jaracz, Veronica Lovvorn, Jennie Pickett, and Clara Jung, Lorraine Teigland, and Michelle Webster) and I cannot WAIT for you all to get your hands on this. 🙂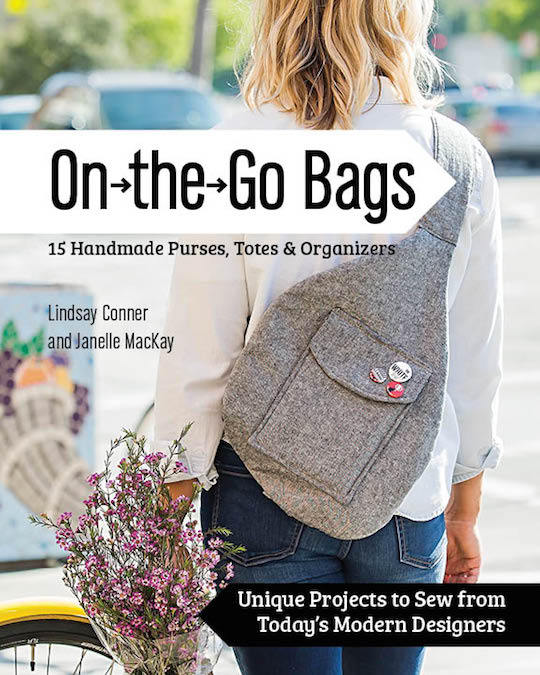 The pattern I'm reviewing today is called "The Man Clutch," and it was designed by Mary Jaracz, who blogs with me at Craft Buds. This pattern got its name because the original was a gift from Mary to her husband, as a fancy way to store a pipe and accessories. The Man Clutch is a leather-accented wallet with two fully-lined side slots, plus a central zippered pouch. Although you can switch up the fabrics, I highly recommend a durable outer fabric like wool, canvas, or home decor weight.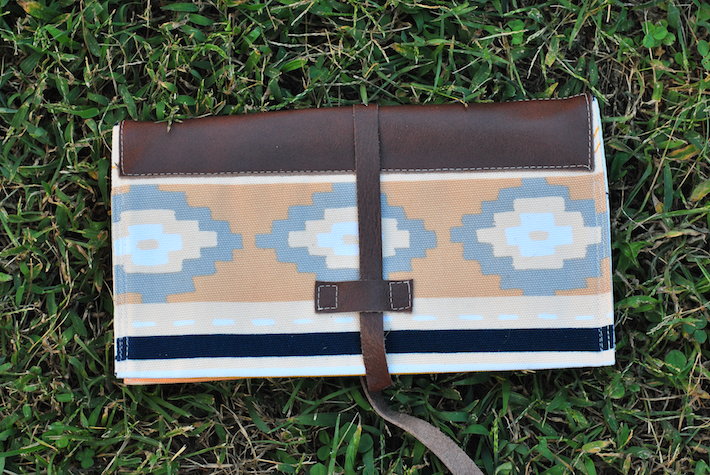 For my version, I was excited to pair some leather scraps with new canvas from Art Gallery Fabrics, in a print from April Rhodes' Bound fabric collection. (You'll see another cotton Bound print as the lining.) The pattern calls for 1/3 yard each of the outer and lining fabrics, plus a 4″ x 20″ scrap of soft, thin leather. (You can probably cut this from irregular scraps, as I did since you can find some great bargains at the Tandy Leather scrap bins.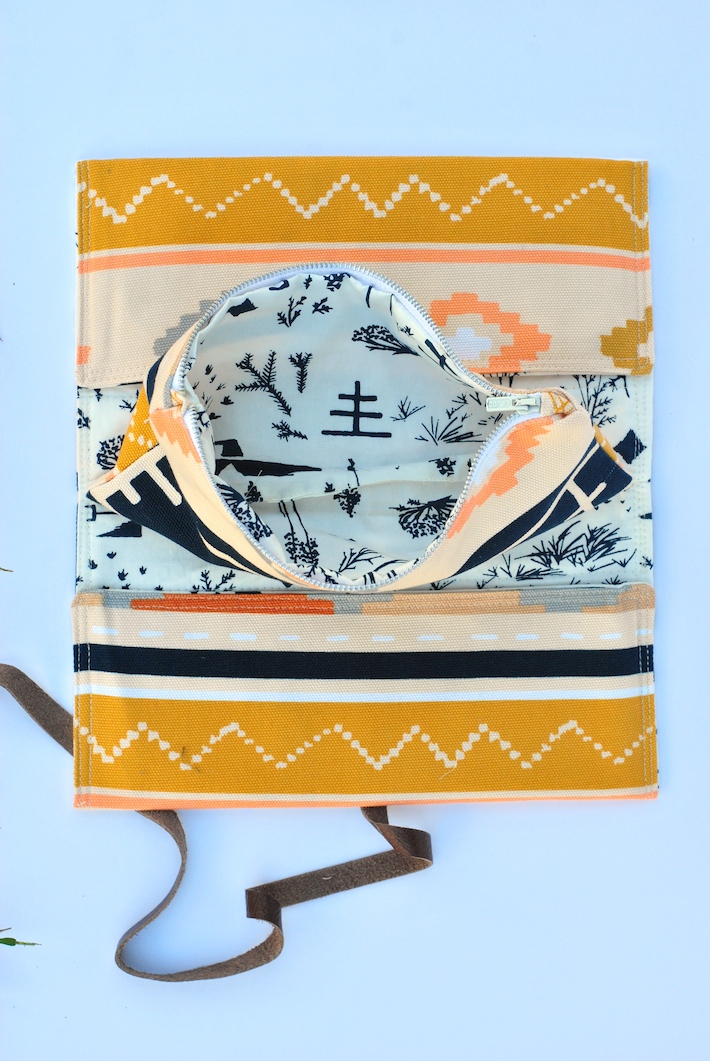 Techniques:
One thing I appreciate about this pattern is that there's a second set of instructions for you to follow if you are leather phobic! You can use an adjustable slider and cotton webbing as an alternate closure if you'd like to avoid the leather altogether. But if you have leather scraps available to you, I'd encourage you to give it a try! It's not that hard to sew with leather (just lengthen the stitch length and go slowly). I even used my regular needle and thread and had no problems sewing the leather!
Aside from sewing with leather, this pattern will teach you to install a zipper in a lined pouch. You'll also do some topstitching!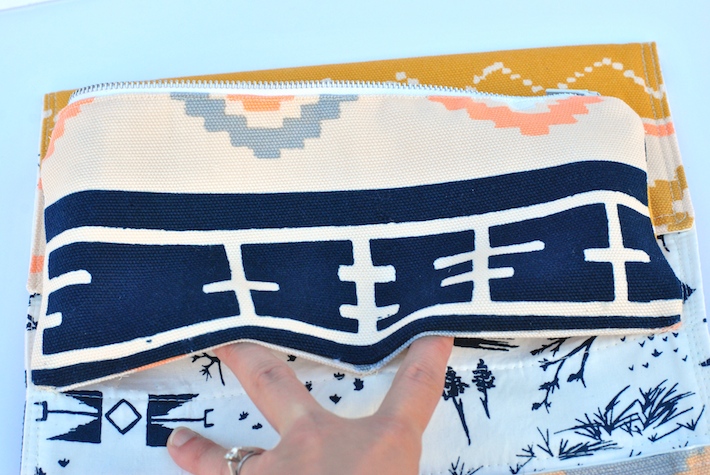 Modifications:
I made one change to this pattern, which I highly recommend if you are not big into hand sewing. The pattern calls for the finished zippered pouch to be whipstitched into the clutch/sleeve as the final step. I decided I could secure the pouch in three key points (far left, center, and far right) with a needle and thread. Result: You can get the same effect with less effort and less visible thread. I did sew at least 10 stitches in each spot, so it's very secure. If these gaps bother you, feel free to secure them all the way across. When the clutch is in use, I doubt you'll notice the gaps!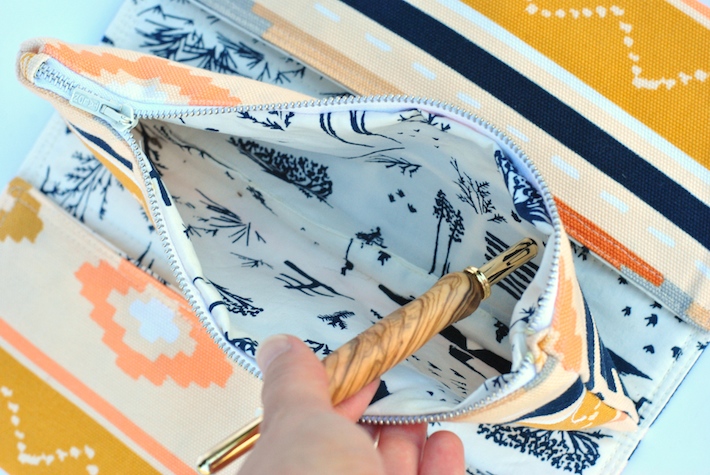 Pattern Review:
This is a beginner-friendly clutch pattern, and it's fully illustrated so you should have no problems trying to follow along. Even if you've never sewn a zipper and haven't messed with leather, I believe you'll be successful!
I really loved making this pattern, and the finished project (10″ wide x 5 3/4″ tall when closed) is a fun size for storing sewing notions, a journal, and pen, or even hand wipes and car essentials. Like the other projects in the book, it has multiple uses, which makes it very versatile and a great gift idea!
If you like the look of this pattern and want to make it yourself, please look for The Man Clutch when On the Go Bags releases this December (available on Amazon by January). I'd love to hear what you think!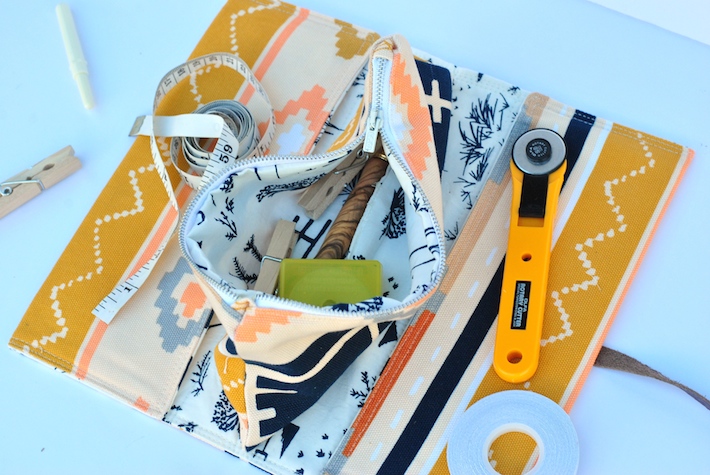 What would you store in your Man Clutch?