Sewing with precision requires practice and skill. Even though it may not seem tricky, sewing requires experience and excellence to get all the elements right. This is why most people prefer attending sewing classes before trying their hands on a piece of fabric.
Are you also planning to join a sewing class in Chicago but are unsure which class is perfect, depending on your skill set? Check out this list of some of the best sewing classes In Chicago, Illinois, and surrounding areas. 
What Should You Look For In A Sewing Class?
Whether sewing is a hobby or you plan to start a sewing business, you should try to master the art. Hence, the sewing class you join must help you learn all the secret tips for becoming a good sewist. 
You must look for the following things while picking a sewing class in Chicago.
The Course's Components 
First and foremost, you must enquire about the course's components. Will they teach you everything related to sewing? Or do they just help beginners get started with sewing?
Knowing about all sewing or stitching patterns is essential, especially if you want to start your own business. You'll be dealing with different customers with different preferences. When you excel in fulfilling all types of sewing needs, you'll be able to cater to a broader customer base.
Again, sewing is not limited to knowing how to thread a needle, run the sewing machine, and stitch the garment. 
Many logical calculations go behind making the perfect product with perfect edges and no thread picking out, giving a perfect finish to the final product. 
Sewing classes should have designated days for addressing each of these concerns. So make sure to enquire about these as well.
Student Teacher Ratio 
Another essential thing to look for while shortlisting sewing classes is the student-teacher ratio. There should not be more than 10 to 12 students per teacher/ instructor. 
Some institutes enroll more students considering the profit margin, which may hamper the quality of the classes. With more students, the instructor won't be able to pay enough attention to each student. 
Lack of attention from the instructor won't fulfill the purpose of joining the class. If the teacher can't help you get the details right, wasting your time and money on the class is no longer necessary.
Price 
The price is the next most important factor to consider while enrolling in a sewing class. Usually, the price depends on the duration and course variety. But some sewing classes provide raw materials in the initial days, adding to the course fees. 
Generally, the prices start from $15 a week per person. If they charge more, ask what additional facilities they will provide.
Time 
Choose a class that fits your everyday schedule. If you are a student or handling other businesses, the class timetable should be such that it does not affect your everyday schedule. 
Along with the time, you should consider the distance from your home to the class so that commuting isn't an issue.
Do They Offer Any Exposure? 
Some sewing classes come with exposure offers. They select their students' best garments/ projects and display them in local workshops or arts & crafts events. These are beneficial, especially if you want to start your sewing business soon.
Essential Skills Every Sewist Should Have Before Enrolling in a Sewing Class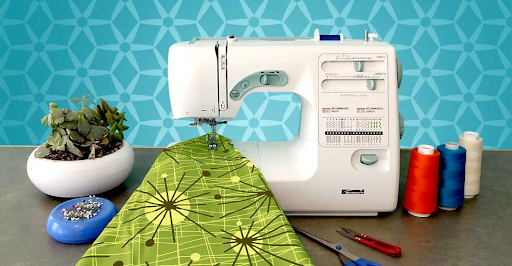 Before we get to the list of best sewing classes in Chicago, let's talk about skills every sewist should know. Knowing them will help you learn to sew better.
Educate Yourself About The Fundamentals Of Sewing  
As I said before, there are a lot of minute details that go behind a perfectly stitched product. Therefore, you must know the primary factors of sewing to produce quality products. 
Spend some time learning about- 
Different types of stitches

Components of a sewing machine

Sewing lingo 

How to thread the needle 

How to adjust machine tension 

Choosing the right needle 

Basic hand sewing, etc. 

How to insert & remove the sewing machine needle, etc. 
Knowing these basic skills is essential for every sewist. I recommend learning these skills before you join a sewing class so you don't have to start from zero.
Perfect Combination Of All The Elements 
Knowing the perfect combination of thread, needle, and fabric is essential for the ideal outcome. The fabric needs different sewing techniques, thread, and needles for a professional finish. 
Pay attention to these little details while attending your sewing class. However, you can't expect to get everything right in your first trial. You have to put different designs to the test, and gradually you'll get better at it. The best works always come after frequent trial and error. 
Patience & Practice 
Patience and practice are the two most essential skills of every sewist. While stitching, you are playing with many elements; hence you must put the time and effort into practice. 
The sewing class can only show you the direction and teach you the fundamentals of the process. But how you carry those lessons forward depends on you.
10 Best Sewing Classes In & Around Chicago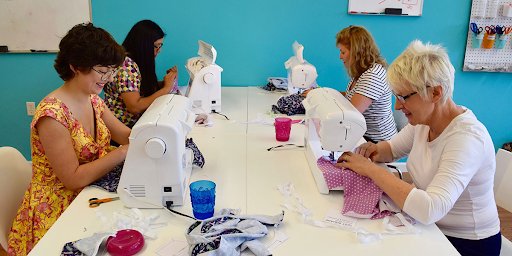 After going through many institutes/ sewing classes in Chicago's suburbs and around the city, considering class duration & curriculum, fees, and the instructors' experience, I have shortlisted the ten best sewing classes in Chicago.
1. Sewing Education At Halsey Onstage 
The Sewing Education At Halsey Onstage is one of the best sewing classes in Chicago. This sewing class has been in the business for 12 years and covers everything related to sewing and costume making. 
There are beginner friendly to advanced courses, so anyone with or without basic sewing knowledge can join the class.
2. Khay's Fashion Lab 
Khay's Fashion Lab is another best option for aspiring sewists. The instructors not only teach garment stitching, but they also teach you to sew bags, shoes, other accessories, and home decor as well. 
You can pick class times and days based on your schedule, making this class accessible to everyone.
3. Aneta Art Classes
Aneta Art Classes is one of the reputed sewing classes in Schaumburg. They provide in-person sewing and fashion design classes in Schaumburg, especially for children ages 8 to 14. 
Their sewing classes are on the expensive side. They charge $265 for the entire sewing course.
4. Sew Crafty Studio 
Sew Crafty Studio offers sewing classes for both kids and adults. They provide sewing classes on making garments, accessories, and much for. They are open during reserved class time only, so get in touch with them to book your slot.
5. Sew Anastasia 
No matter your sewing level, Sew Anastasia has something for everyone. They teach everything from sewing designer garments, suits, jackets, accessories, etc. They also have a YouTube channel where they upload sewing tutorials.
6. Tchad 
Tchad provides sewing classes and workshops where you can learn basic to intermediate sewing. Thanks to its flexibility, these sewing classes are for everyone, including students, adults, and working or non-working people.
7. Making It Sew Fun 
Making It Sew Fun offers sewing classes for kids, teens, and adults. They teach you everything related to sewing, like- operating a sewing machine, working with different fabrics, understanding sewing patterns, using all sewing tools and equipment, and sewing everything like- garments, accessories, crafts, decor items, and more.
8. Ciao Bella Sewing 
Ciao Bella Sewing provides sewing classes for students in community centers, park districts, and schools, making them an affordable choice. They also offer workshops and summer camps where you can learn stitching or sewing as a beginner.]
9. Sewing With Diana 
Diana is an experienced seamstress who has been in the business for more than 26 years. She helps aspiring sewers learn to sew garments, accessories, and more. Diana also organizes short sewing boot camps in other cities for people who want to learn the basics of sewing and general skills.
10. WalkerKD Designs 
The instructor of WalkerKD Designs has been teaching sewing for more than 30 years, making these classes suitable for beginners and advanced sewers. If you want to choose sewing as a career, these classes will teach you everything about this profession. 
The instructor has a fashion and graphic design degree, and you can learn extra skills.
Sewing Classes In Chicago FAQs
1. How Long Does It Take To Learn Sewing? 
It takes almost six months to learn sewing basics. You can continue learning to improve your skills and learn to stitch different things. 
2. Can I Learn Sewing Myself? 
Yes, you can learn basic stitching by watching YouTube videos. But to become an expert, joining a sewing class will help.
3. What Is The First Thing To Learn In Sewing? 
The first thing to learn about sewing is to familiarize yourself with sewing terminologies and the parts of a sewing machine. 
4. What Do I Need As A Beginner Sewist? 
You need all essential tools like a sewing machine, ruler, parchment papers, and a sewing tool kit that includes all the essential accessories.
5. What Is The Best Sewing Machine To Start With?
Brother and Singer sewing machines are the best to start with. They are user-friendly, have all the essential features, and work perfectly well.
Conclusion 
I hope this extensive list of sewing classes in Chicago has helped you shortlist the right option in your budget, suits your time, and covers all the essential areas of the sewing process. 
Are there any other fantastic sewing classes in Chicago that I've missed on this list? Drop the names in the comments section.