For Valentine's Day, I designed this little heart mini quilt. Size it up or down for a wall hanging, pillow cover, baby quilt, or whatever you feel like! When it comes to quilting heart meanings, there are a few things to keep in mind. First and foremost, hearts have long been associated with love and affection. This makes them the perfect symbol to use when creating a quilt that is meant to represent these emotions. Additionally, hearts can also represent strength, courage, and hope – all of which are important qualities to have when facing tough times.
To make a 20″ square finished quilt like the one above, you'll need:
10 3.5″ squares in various shades of reds and pinks (or non-traditional Valentine's Day colors, whatever you feel like!)
26 3.5″ squares for the background
2 border strips 2.5″ wide x 18″ long
2 border strips 2.5″ wide x 20″ long
22″ square fabric for the back
22″ square quilt batting for the middle
90″ binding
My finished quilt is about 20″ square and all of my seam allowances are 1/4″. This is my first quilt, so in the instructions, I'm including some things I learned along the way that experienced quilters will already know, but any other newbies out there might appreciate knowing!
Step 1
Cut all of your squares on the diagonal so you'll now have 20 triangles for the heart and 52 triangles for the background. I cut all of my triangles and 2.5″ strips using my Accuquilt Go! Baby with the 3″ Finished Triangle Die and 2.5″ Strip Cutter. With that, the cutting only takes about 10 minutes since it does multiple layers at a time!
Note: If you want to speed up this block, you can cut 22 3″ background squares and 4 3.5″ background squares. Cut only the 3.5″ squares in half into 8 triangles. Once it's quilted, the background squares will blend together, so go with what is easier for you.
Play with arranging them until you're happy with the look. Below you'll see my layout and I also drew up a diagram to make it easier to see the angles.
Step 2
I chain pieced all of my triangles together to make squares. To chain piece, don't cut your thread after sewing together each set of triangles. Just have the next set ready to go and keep feeding them through your machine until you have a long line. Then cut the thread in between each set and you'll have saved both time and thread!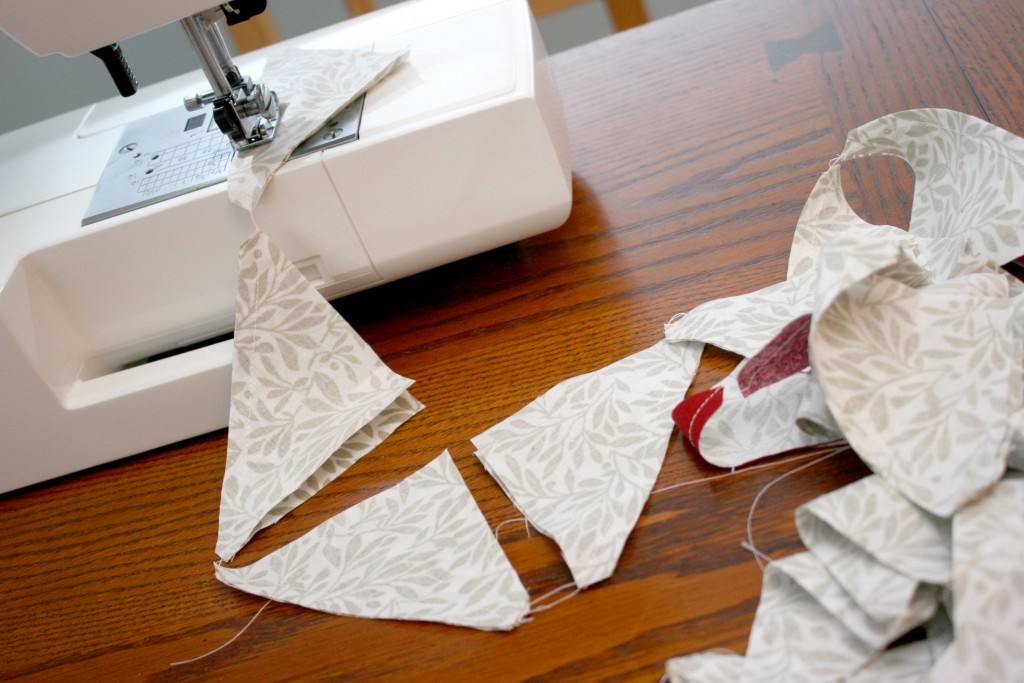 Also, to help with time and accuracy I used my 1/4″ seam allowance foot. It has a guide on the edge that the fabric runs along so every seam is exactly 1/4″.
After all of your triangles are sewn into 3″ squares, open them up and iron them flat. You'll have something that looks like this. Last chance to make any final rearrangements!
Step 3
Sew together each horizontal row of squares. Again, iron the seams flat (which I hadn't done yet in this photo).
Then sew the horizontal rows together. Again, press the seams. If you don't end up with a perfect square, trim the sides to square it up. Next, sew your shorter 2.5″ border strips to the left and right sides. Trim off any excess length. Then sew the longer 2.5″ strips to the top and bottom. Again, trim off any excess length.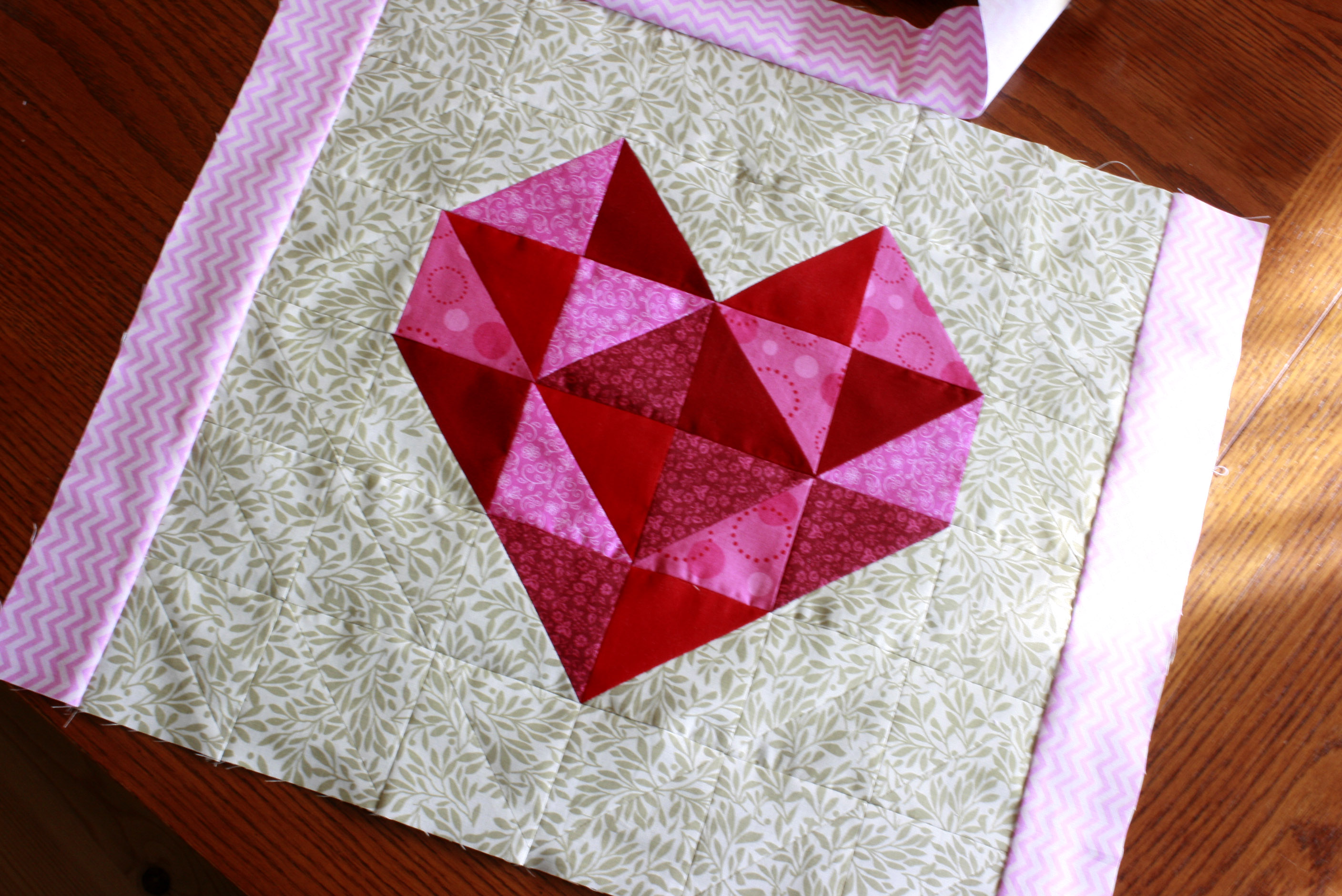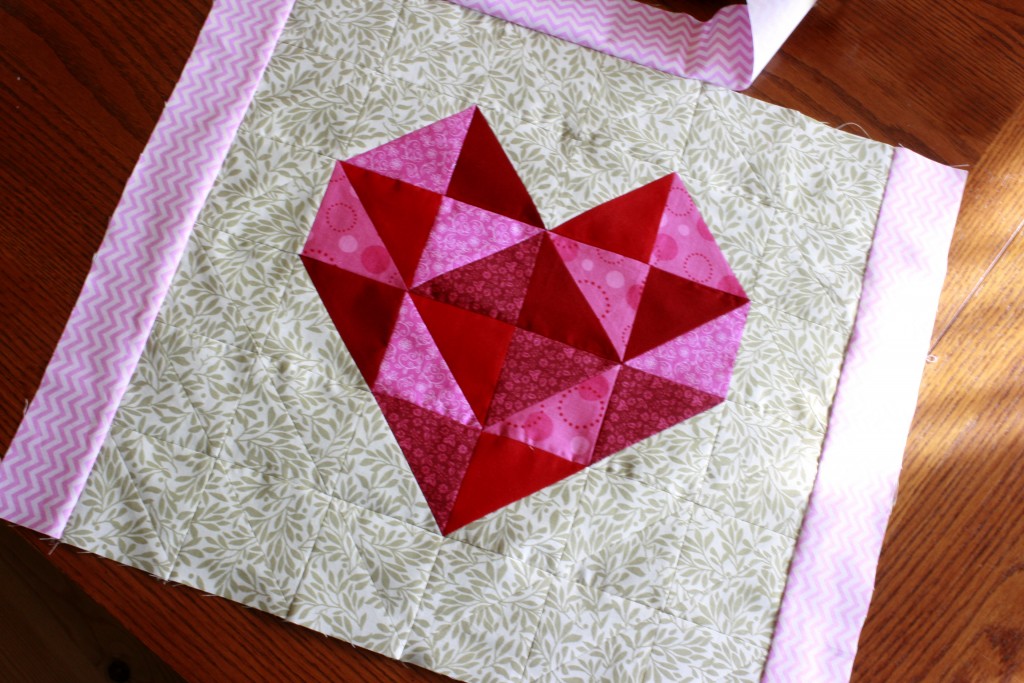 Sandwich together your backing fabric, the quilt batting, and the quilt top. Now you're ready to quilt as desired! I went with straight lines inside the heart and around the border, with a free motion design in the background (the white/natural colored fabric area). To help with accuracy on the straight lines I used a border guide foot. Using that made it super easy to keep my lines perfectly spaced!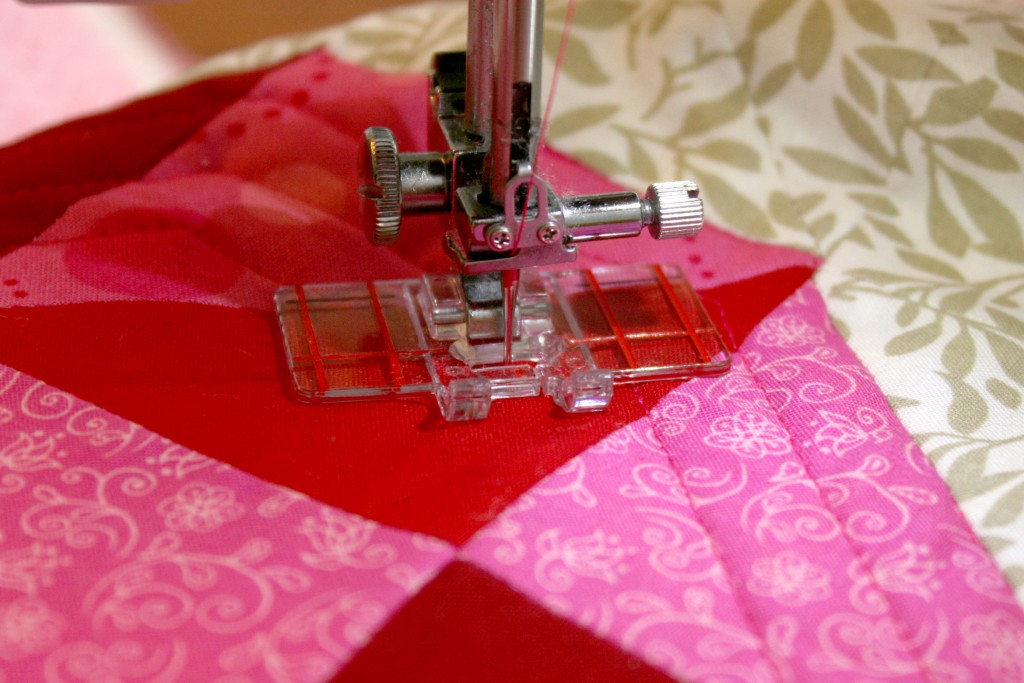 Step 4
After the straight lines were done I planned out my free motion quilting. I made a template on the computer to sketch out different design ideas. Here are two of my ideas and I ended up using one of the left. With this being my first free motion quilting attempt, the little loopy hearts on the right looked a little too daunting!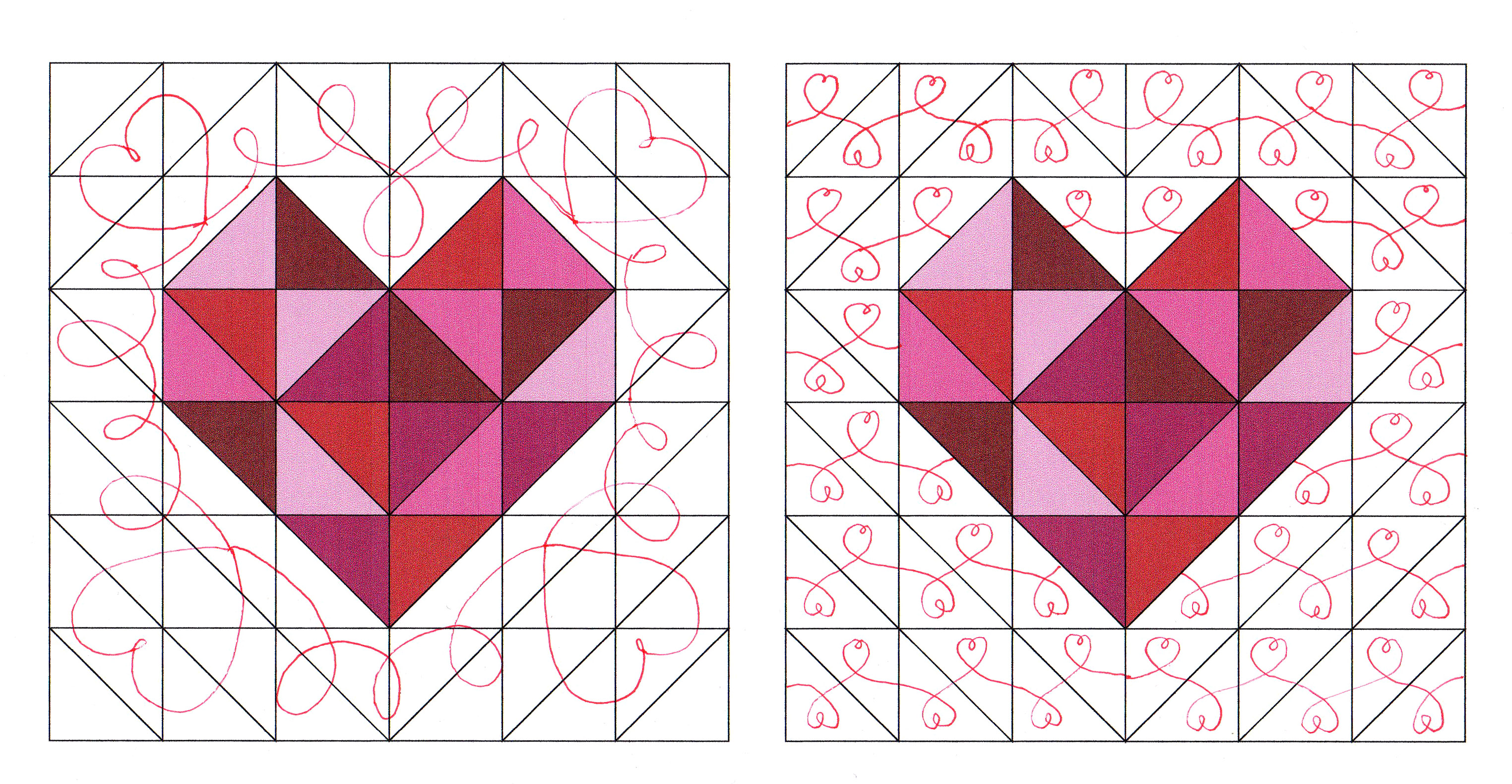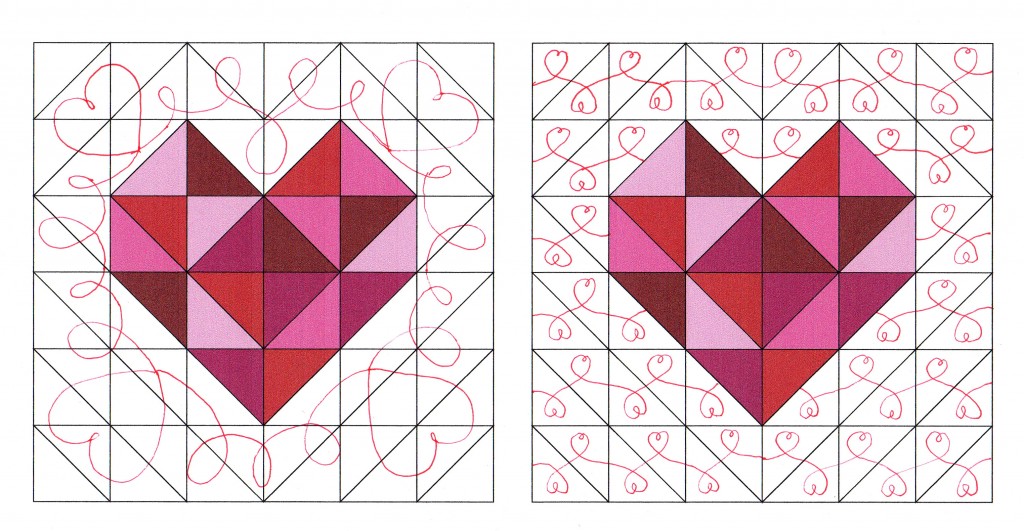 I cut out some heart and teardrop shapes and used a washable fabric marker to trace out my free motion design before stitching.
Here you can see the quilting on the back of the finished quilt! After the quilting is done, trim the edges and add the binding. I used the Cluck Cluck Sew Machine Binding Tutorial for mine.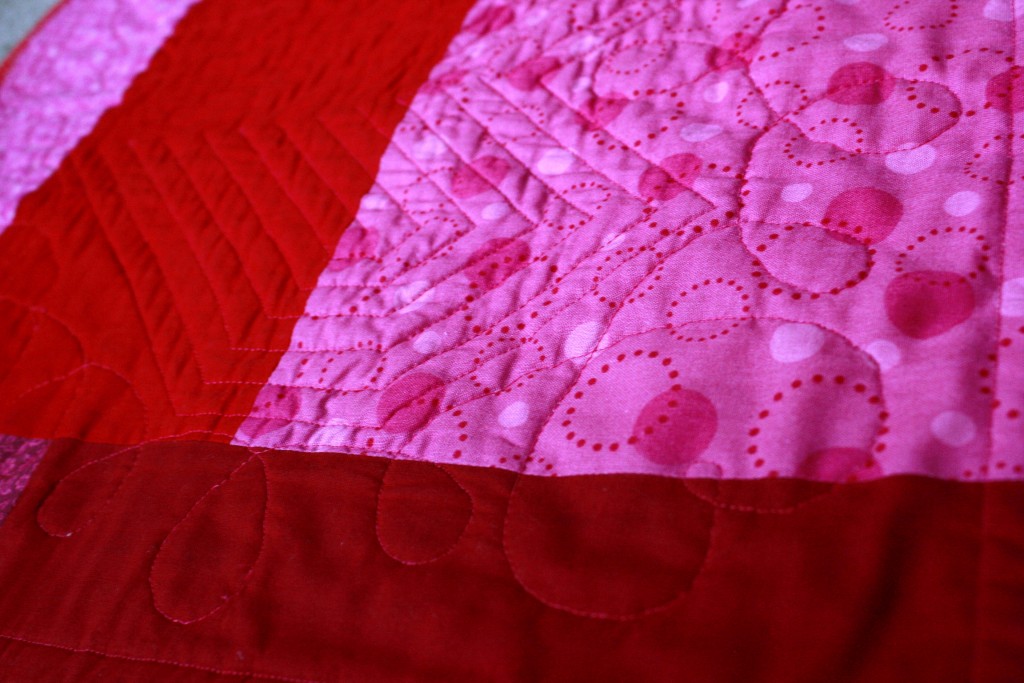 And again, here's the final product. Happy Valentine's Day!