Have you ever marveled at the stone wall designs in an ancient church or palace? Achieving even a proportion of such finesse in your workshop may seem impossible. But why not start the journey by learning to engrave rocks and stones?
The natural stone engraving seems tricky as the material is hard and often uneven. But the best engraving machine simplifies the process. Rotary pens are for hand engraving – like the chisel-and-hammer method. But laser engravers or CNC routers offer quick and accurate results.
How can you hand-engrave stones with finesse? Is it possible to find a laser engraver or CNC router for home use? Let's find out how to engrave stones at home – and look at the engraving machines you can use for this.
Related: How to Engrave Wood? Dremel, Router, Chisel & Cricut
How Do You Engrave Rocks At Home?
You can master various ways to engrave stones. But first, ask yourself, "What tool do you use to engrave rocks?" An engraving pen with a rotary tip means etching the stone by hand. Or, use a CNC router or laser engraver for accurate and fast engraving using computers.
Engraving with a rotary pen is tracing a pre-drawn design or etching along a stencil. The tip rotates at high speed and removes parts of the surface. You can maneuver the tool with your hand as you would while drawing. So it's a manual method.
To use CNC routers or laser engravers, you must transfer the image file of the design image to the machine with computer software. While routers have rotary bits that chip away at the stone to create the design, laser machines use laser beams to burn the design.
Related: Best Laser Engraving Machine for Metal in 2023
How Do You Engrave A Rock Or Stone?
As you have already understood, you can hand-engrave stones with an etching pen with more control over maneuverability and design depth. Or, you can try the machine-supported process with a laser engraver or a CNC router for speed and accuracy.
Let's take a look at how to use different methods and tools to engrave rocks or stones:
a) How to Engrave Stone by Hand with Etching Pen
An etching pen is fitted with a tip that rotates at high speed to chip away at the stone surface. In simple words, the process involves transferring a design guide on the rock and then using the engraving pen to draw or trace along the guide. The steps are as below:
Use a wax-based pencil or a marker to draw a design, pattern, or letters on the stone's surface.

Or, make stencils for rock engraving to stick on the stone. Cut vinyl/contact paper with Cricut. You make it manually with a design printout and a hobby knife.

Place the stone on your work table. Secure it using a

bench vise

or clamp if it has an uneven surface or an anti-slip liner if the stone is flat.

Turn your pen on to

20000-30000RPM

and start tracing the pre-drawn design or the stencil as a guide until you complete your design.

Once done, clean the stone properly. Then, you can coat the engraved stone with latex paint – or buff it with some beeswax and a damp cloth to polish it.
Tips:
Wear eye protection to keep out the bits and pieces of rocks flying around.

While working, dip the stone in a water bowl to cool it and clean its surface.
If you want a visual representation of the steps, check out this detailed guideline.
b) How to Engrave Rocks with Laser Engravers or CNC Routers
Laser engravers and CNC routers both need digital images to etch on the stone surface. The difference is that laser engravers use laser beams to burn the workpiece, while CNC routers use rotary bits that chip the pattern on the stone. Here's how to use them.
Choose a design and upload it to the designing software. You can also create your design using Adobe Illustrator, CorelDraw, etc.

Place the stone in the working bed of the engraving machine. Make necessary adjustments to ensure that it's secure and level.

If you're using a laser engraver, align the beam for a centralized position. If you're going with a CBC router, attach the right milling bit, like v-bits.

Turn the machine on and begin engraving the digitized design on the stone's surface.

Once the process is completed, wash and cool the stone. You can polish the piece and decorate it as you like.
Tips:
Wear eye-protective gear to protect yourself from flying stone chips and UV rays.

Wear a mask that will prevent the inhalation of fumes.
You can learn more about digital image designing for engraving machines for laser engravers and CNC routers.
Related: How to Engrave Metal? Dremel, Cricut Maker & Laser
Best Engraving Machine for Rocks and Stones – Top 4 Recommendations
We checked out various engravers – and finally came up with a list of the best products. Here's a quick look at the top engraving machines you can use for stones.
Dremel 4300-9/64 Rotary Tool: Best Handheld Engraver
NEJE 3 Max A40640 Laser Engraver: Best Laser Engraver for Rocks
Comgrow 2 in 1 ROBO CNC 5000MW: Best CNC Router for Beginners
Valianto Air Micro Grinder: Best Air-Powered Hand Engraver
Best Handheld Engraver for Engraving Rocks and Stones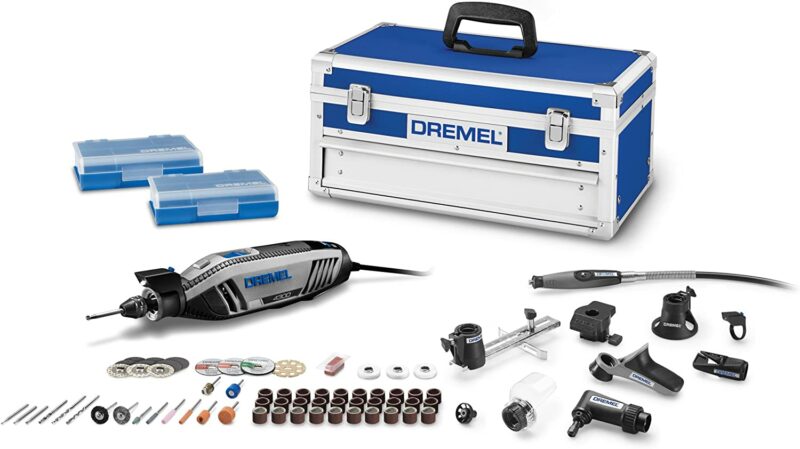 Dremel is one of the best-known brands regarding rotary engraving tools. And, if you are looking for a complete engraving kit, the Dremel 4300-9/64 is an excellent choice. When paired with a diamond bit, this tool becomes one of the most potent stone engravers.
The device is equipped with a powerful motor and can run at 5,000-35,000RPM. The variable speed setting gives you more device control and delivers patterns and depths. It is an engraving kit with a wide range of accessories and attachments for various materials.
Its 360-degree soft grip allows a soft grip that doesn't tire your fingers. Plus, as a corded device, it can run endlessly. Thus, you can work on projects without interruptions. It can be a versatile and advanced tool to cater to your carving, polishing, cutting, and shining needs.
Specifications
Technology – Mechanical Rotary Engraver

Speed – 5000-35000RPM (Variable)
Pros
Versatile handheld rotary tool

Can tackle various materials

Ergonomic and easy to maneuver

Wide range of accessories in the kit

Designed to stay cool and quiet
Cons
We may need extra stone engraving accessories

A little heavier than similar models by competitors
Check the Dremel 4300-9/64's latest prices on Amazon
Best Laser Engraver for Rocks And Stones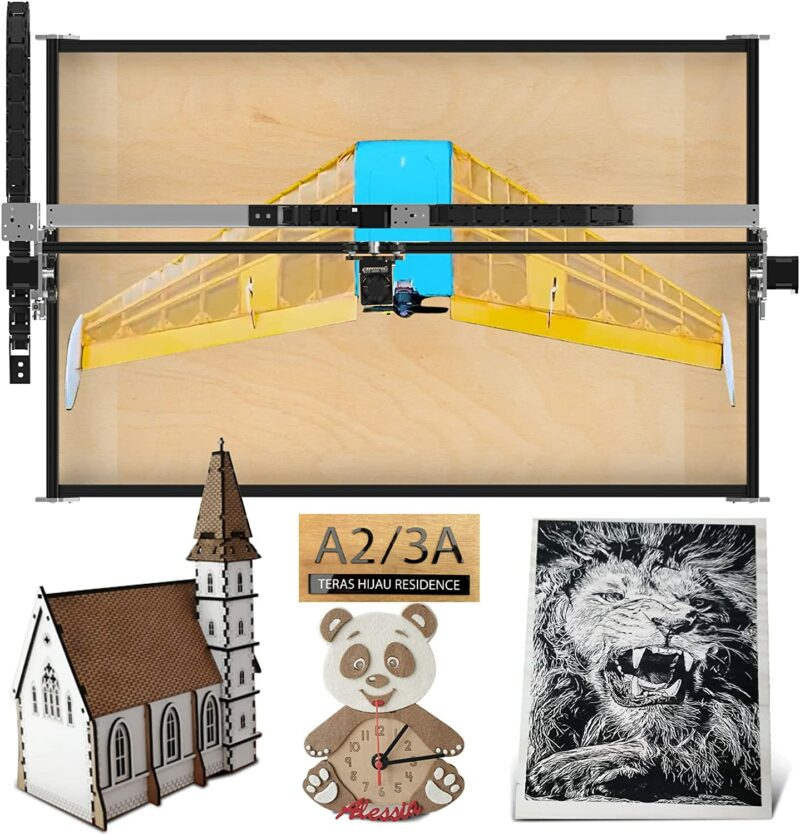 NEJE is a famous brand of laser engravers. Its machines are highly rated for their quality and effectiveness. Our favorite model by this brand for engraving stones is the NEJE 3 Max A40640. It is reasonably priced for an advanced tool that can be used for various engraving projects.
The brand takes pride in the massive size of its 460x810mm working bed. Sure enough, it is larger than most machines you'll find in the market in this price range. It will allow you to work with large workpieces conveniently. It can engrave various materials besides stone.
You'll love the direct stone engraving mechanism without air assistance so that you can freely create any type of design. It is equipped with a double-spot laser module, i.e., it works with two laser beams – with a 0.04×0.06mm focus for incredible precision.
Specifications
Technology – Diode Laser Engraver

Speed – 20000mm/min
Pros
A powerful tool that can cut 20mm materials

All-metal structure for sturdiness and durability

Modular design for easy assembly and upgrades

Extensive compatibility with advanced design programs

A high-speed device with exceptional accuracy
Cons
Poor documentation and instructions

It may take time for beginners to learn
Check the NEJE 3 Max A40640's latest prices on Amazon
Best CNC Router for Beginners to Engrave Rocks and Stones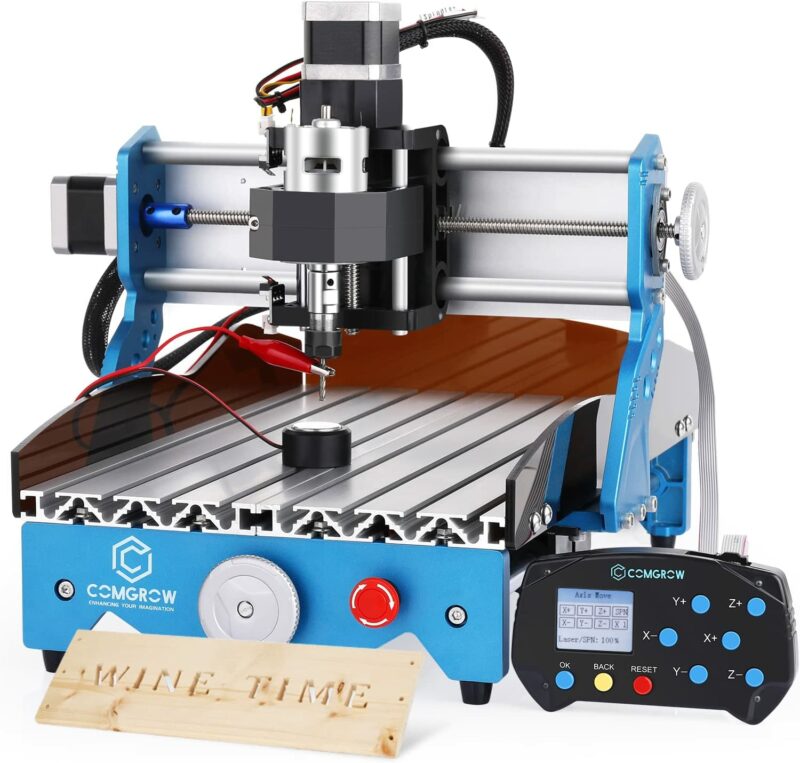 A 3D engraver that's powerful, versatile, and yet reasonably priced – the Comgrow 2 in 1 ROBO CNC 5000MW is an excellent CNC router for new users. It is designed to cater to the various needs of an advanced DIYer or a small business owner, providing superior results.
It is a 3-axis CNC router with milling bits that can engrave beautiful designs and patterns on a wide range of materials, including natural rocks and stones. The spindle speed of the CNC router is 10000RPM, thus improving the productivity of your workshop.
Its superior spindle speed also helps etch stones easier, delivering super-fine designs on any hard surface. Moreover, it is also engineered for offline operations, with a unique offline controller and the ability to transfer files with SD cards.
Specifications
Technology – CNC Router

Speed – 10000RPM
Pros
Compatible with laser module

Extensive software compatibility

Emergency stop and safe barrier for safety

Can use rotary attachment for cylindrical items

Sturdy and easy-to-assemble aluminum frame
Cons
Bed alignment issues reported

May face axis adjustment problems
Check the Comgrow 2 in 1 ROBO CNC 5000MW's latest prices on Amazon
Best Air-Powered Hand Engraver For Rocks & Stones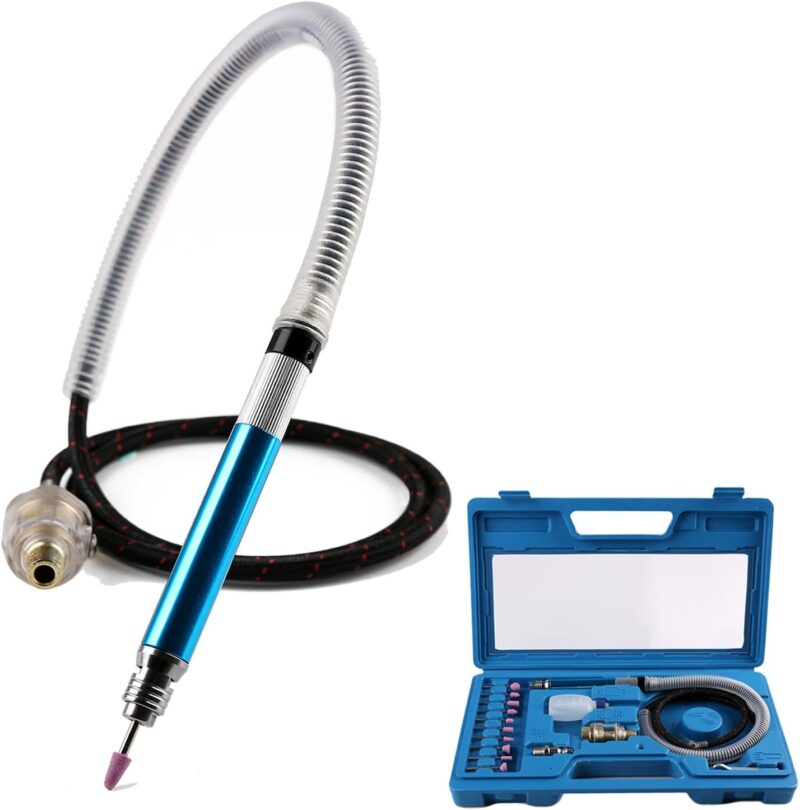 The Valianto Air Micro Grinder is an air-powered hand-engraver perfect for artists who love to create designs by hand. The device works like a push-graver or rotary engraver and allows you to etch the surface of various materials, including stones and rocks.
As a result, you will have more control over the depth and look of the design you carve. You will be surprised to know that this machine can reach a speed of 58000RPM. This feature makes this pen-shaped device capable of achieving incredible precision on various materials.
It has a variable speed control that allows you to manipulate the machine for different types of designs. For your safety, the hose of the pen has a protector, and its rear exhaust can prevent bits and pieces of stone from flying into the eyes and creating noise.
Specifications
Technology – Air-Powered Pneumatic Engraver

Speed – 58000RPM (Variable)
Pros
Engraver kit with a wide range of bits

Excellent speed and variable speed control

Hose protector with anti-chipping mechanism

Clean and noiseless engraving

Exceptional quality at a low price
Cons
Not widely compatible with generic bits

Large quantity of oil use reported
Check the Valianto Air Micro Grinder's latest prices on Amazon
Related: How to Engrave Glass: Step By Step Beginner's Guide
Final Words
Natural stones or rocks can be a great material to work on for crafters who love to engrave. With the best engraving tool, learning how to engrave rocks won't be the big challenge you suspect. And you will soon be creating some fabulous stone-based crafts.
How to Engrave Rocks or Stones FAQs
a) How do you carve words on stone?
Carving words on stones is like engraving any design. It requires using a rotary engraver pen, a laser engraver, or a CNC router. Use a stencil or a pre-drawn guide on the stone to etch words with a rotary pen – or provide the image to the larger devices using design programs.
b) How do you engrave stone with a Dremel engraving pen?
When we think of a handheld engraving pen, Dremel's name comes to mind. You can use a Dremel stone engraving kit with a diamond tip to engrave rocks. Make sure the device runs at a speed of 20000RPM, though you may need to raise it to 30000RPM.
c) How do you engrave large rocks?
For large rocks, the best tools for engraving are laser engravers or CNC routers. Laser engravers use intense laser beams to burn designs on the stone's surface. But CNC routers use milling bits to chip the surface and create designs. They can make designs with depth.
d) Can you engrave stones with a Cricut engraving tool?
The Cricut cutting machine can now be attached with an engraving tool. However, it is not recommended for engraving stones. You can use the Cricut cutter to create stencils on vinyl paper. Stick the stencils on the surface of the stone for easy engraving.