A tremendous offline marketing asset for your company, you can't go wrong with your business card. But do you shy away from the big business card printing costs? If yes, why not design and print them at home to save costs significantly? 
DIY professional business cards are now a reality with cutting machines like Cricut. And mark my words; the entire process is as smooth as you'd want it to be. 
Design your business card, print it on cardstock, transfer it to the mat, and command Cricut to cut it out. 
And it's done! 
Continue reading as I discuss other details of making business cards on Cricut and some cool ideas I personally recommend. Let your creative juices flow! 
Related: Best Sticker Papers For Cricut – 5 Options And Buying Guide
What Size Should Business Cards Be On Cricut? 
What is the standard business card size? You must be wondering about this. Right?
A standard business card measures 3.5 inches in width and 2 inches in height. This size makes it easy to carry and fits any pocket. 
Note: This size is also essential to follow as it needs to be fed to your Cricut machine. 
Related: Best Laptop For Cricut Maker – 5 Top Picks Reviewed
How To Make Business Cards On Cricut?
Now that you know the business card size, let's discuss the steps to make a business card on Cricut. 
Supplies:
Canva software (free or paid)

Cricut machine (any model except Cricut Joy)

Any high-quality cardstock (preferably white)

Design Space software

Any regular printer (inkjet or laser)
Related: What Does Flatten Mean On Cricut? All The Answers
Procedure:
Design Your Business Card On Canva
Launch Canva on your device. Go to the "Create a design" option and search for the Business Cards category. 
You'll find loads of options of varying sizes and shapes. Since we're using Cricut as the cutting machine, search for one with 3.5″ x 2″ dimensions. 
Next, pick any readymade template (free or paid) and use it to design an aesthetic card. If not, use the easy-to-use Canva elements to do this job manually. 
Note: Make sure you design the business card with every detail before it's ready to print.
Related: How to Engrave with Cricut Maker? Acrylic, Wood, Metal
Download The Business Card
Once the design is complete and finalized, it's time to download it. 
Click on the "Download" option at the top-right corner of the screen. Among the various file format options, such as JPG, PNG, SVG, etc., select "PNG" as it's the highest quality available on Canva. 
Save your business card. 
Related: How To Unweld On Cricut – Follow These Quick Steps
Upload The Business Card To Cricut Design Space
The following steps will be carried out in the Cricut Design Space. So, upload the above business card onto the tool. 
Note: By any chance, if the size isn't 3.5″ x 2″, you can alter it at this stage. 
Click on the "Shapes" option and choose "Square" from the menu. 
Enlarge this square in such a way that it measures approximately 6.75″ x 9.25″. This size is what a Cricut machine is designed to "Print Then Cut."
Inside this enlarged square, make many copies of the business card to fill the space. Since we're following the standard size, you'd need a total of 7 such copies. 
Note: Click on the square and either hide or delete it. 
Once done, select all of your business cards and use "Attach" to print them as they appear on the Design Space.
Related: What Can I Make With A Cricut Machine? 15 Ideas For All Levels
In this step, we'll print the business card using cardstock (the best material for business cards due to stiffness) and any regular printer. 
To do so, load the cardstock into your printer. Click on the green "Continue" at the bottom-right corner of the screen. Then, select the "Send to printer" option. 
Click on "Best" on the pop-up that appears, and finally, click on "Print."
Cut The Printed Business Card
Once printed, load the same business card on the Cricut mat and feed it into the machine you have. And with a single "Cut" command, you'll get your DIY yet professional business cards in your hands. 
And that's it!
So, isn't printing business cards an easy and inexpensive affair? 
Related: How to Clean a Cricut Mat – A Step-By-Step Illustrated Guide
Top Cricut Business Card Ideas To Try!
Whether you want a basic business card with your company's logo, name, and type, or a professional one with social media handles and other stuff, check out these fantastic ideas.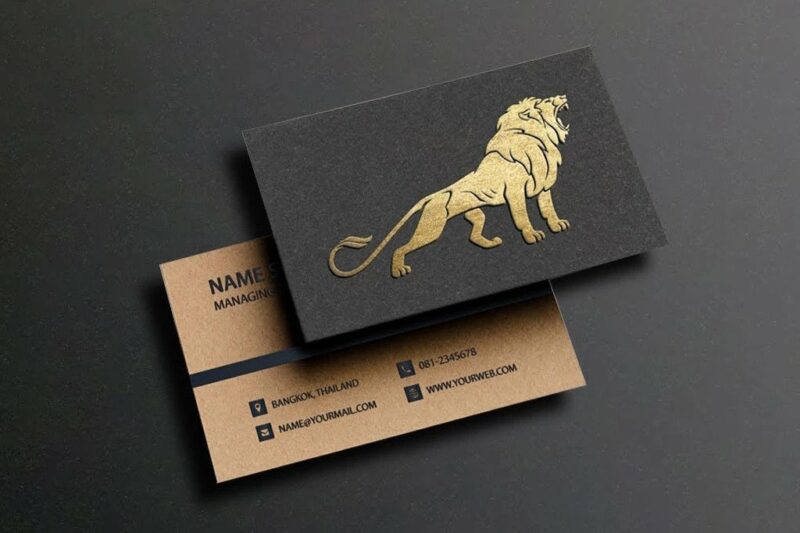 Did you know there's a cool "Foil" setting on Cricut? It gives a fantastic appeal to your business card. So, select the Foil option and get eye-catching foiled business cards. 
What About A Patterned Cardstock?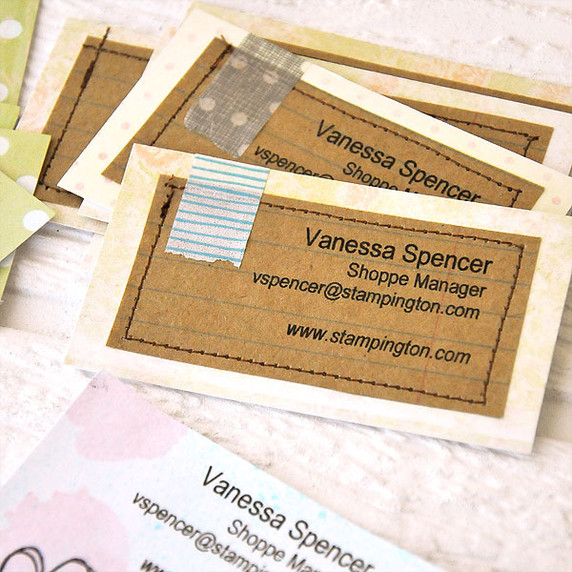 You can also try a patterned print cardstock to print your business card. And then, as usual, cut it using Cricut. All you'd get is a patterned business card. 
Tip: Use multiple patterned papers to achieve a collage effect.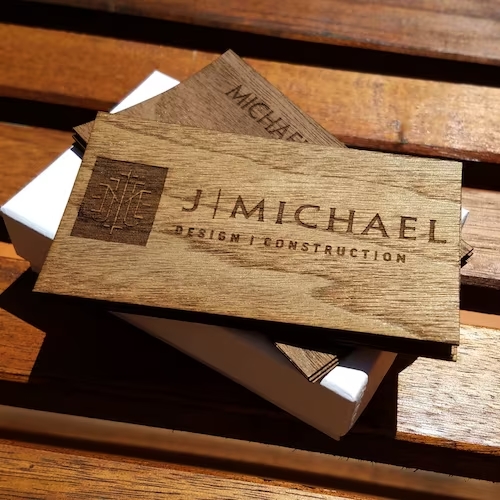 Woodgrain pattern is another excellent tip you can't overlook for your business card. Purchase some woodgrain patterned paper or cardstock from your nearby craft store, print the card design over it, and cut using Cricut. 
While using this idea, make sure the woodgrain shade isn't too dark. 
Metallic Accents Are Worthy
Have you ever wondered how to get those metallic accents on your business card? There's a setting called "Metal" on Cricut that does the magic. 
I suggest this glitter idea on your business card only if your business is about art & craft or something similar. 
To add some glitter to your business card, select the "Glitter" setting on Cricut and add it to your design when it's ready to cut. 
Experiment With Different Shapes & Elements
As you'd know, the Cricut Design Space boasts a vast collection of shapes and other elements. So, instead of mentioning your business's details plainly on the card, experiment with some shapes and elements for a neat look. 
A QR code on a business card? Yes, you read that right. The main motive for adding a QR code is to avoid mentioning every business-related detail directly on the card that would, of course, ruin its aesthetics. 
Instead, you can create a QR code and add it to the card's front or back side. This way, anyone could scan it and read about your business. 
5 Cool Tips To Create Awesome Business Cards At Home
If it's your first time making a business card at home, I suggest you follow these tips to avoid ruining your efforts. 
Don't go fancy with the font style. The font should be easy to read and understand. There are many

professional business card font styles

, for example, Sans-serif, Helvetica, Futura, Roboto, etc. 

Size is another crucial factor to consider while designing your business card. FYI, a standard business card measures 3.5 inches by 2 inches.

Mind the color contrast. If the base of your card is light, use dark-colorer text and vice versa. 

As I said before, business cards are your business's essence. So, please don't change them too often. 

Select a sound color palette for your business card. Ideally, don't go with anything B&W as people tend to keep a well-balanced

colored card 10 times longer

than one that's just monochrome. 

Don't miss the edges. It's important to leave some room around them for a professional look. 
How To Make Business Cards On Cricut (FAQs)
Can You Make Business Cards With Cricut Joy?
Ans: Yes, you can make business cards with Cricut Joy. However, I don't prefer this particular machine since it's time-consuming, and the results don't seem as good as other Cricut machines. 
How To Make Business Cards With Cardstock?
Ans: Cardstock is a suitable paper category for business cards due to its stiffness. Here are the steps to follow to make your business cards using cardstock. 
Design your business card using any software, for example,

Canva

(it saves time, that's why!) Make sure the size is 3.5″ x 2″.

Download this business card. 

Open Cricut Design Space and upload the business card you just downloaded. 

Cut your business card by clicking on the "Make it button" and load your cardstock into the printer. Print the business card. 

Once done, transfer this Cricut business card onto the mat. Insert the mat into the Cricut machine for the cutting part. 
And it's done! 
Can I Print My Business Logo With Cricut?
Ans: Yes, you can print your business logo with Cricut using its "Print Then Cut" functionality. To do so, print your business logo on a piece of paper, place it on the Cricut mat, and feed this mat into Cricut. The machine will then cut the logo with precision. 
Can Cricut Be Used To Cut Metal?
Ans: Yes, the Cricut Maker and Cricut Explore series can cut through thin metal for your projects.
Conclusion
So, here you go. Be it the ease of passing your business information, making an impressive first impression, or building trust, a business card is irreplaceable. And thanks to tech, you need not spend a lot to get them designed or printed from outside. 
With a portable die-cutting machine like Cricut, you can print your business cards at home. Follow the above guide to get started, and don't forget to incorporate the ideas I discussed. You can also check out Jennifer Maker's business card ideas and guides.