Are you planning to start your home business that involves embroidery on the fabric? 
If yes, you must look for the best embroidery machines to boost your production with ultimate precision. But getting your hands on the perfect embroidery machine that meets your business requirement might be confusing. 
What is more complicated is scrolling the products without a clear idea about their performance, features, functionality, etc. 
Therefore, to end all your woes, I have shortlisted the best embroidery machines to help kickstart your embroidered apparel business. 
This list of versatile embroidery machines includes- beginner-friendly, advanced, premium, and the best overall performance products. So there is a machine for everyone. 
Read on to learn more about the top embroidery machines for your in-home studio and what to look for when buying one.
4 Best Embroidery Machines For a Small Business Summary
Features To Consider While Buying An Embroidery Machine For a Small Business 
A machine suitable for a home business should be easy to use without hampering your production. Also, the device should be efficient enough to create intricate designs seamlessly, not excessively heavy, and should fit in your budget too. 
Considering all of these, here are the following features you must consider while getting your embroidery machine- 
Single Needle or Multi-needle
You will be able to create different designs with a single needle machine. But a multi-needle one is more efficient. 
A single-needle machine is often slower with tiny embroidery hoops. This may affect your work pace and create issues while trying complex designs.  
Even though multi-needle machines are better to work with, they are expensive. So if you're starting your home business and don't want to spend too much, you can start with a single needle machine and upgrade it later.
Related: Best Embroidery Machine For Hats And Shirts: Top 5 Picks for 2023
Number Of Heads 
Multiple heads increase the chances that you won't have to rethread the needles more often. A multi-needle embroidery machine should have 15 to 20 heads which are enough to create unique embroidery designs.  
Consider The Hoop Size 
The hoop size indicates the embroidery size or the design size. You're most likely to design different embroidery sizes, so getting a machine with multiple hoop sizes will be beneficial. 
But embroidery machines with multiple hoop sizes are more expensive than the ones with a single hoop size. 
Built-in Embroidery Designs 
Creating embroidery designs from scratch every time is time-consuming. So look for a model with built-in embroidery designs. 
Such machines have in-built embroidery designs and also allow you to save your designs for future use. Most advanced machines nowadays have this feature. 
Ease Of Use & Portability 
Your new machine must be easy to operate. That way, you can save the time you would have spent learning how to operate it and quickly get to work. 
Portability is another factor to consider so that carrying the machine doesn't become an issue if you participate in events or workshops. 
Budget
The market has countless options with advanced to general features. So, ultimately your budget will decide the type of machine you get. 
If you are ready to spend a little above $1000, you'll get an excellent machine to help you run your small business. 
But you won't get a multi-needle machine in that budget. But if the price is not a concern, you can get an excellent embroidery machine backed with fantastic technology for under $10000. 
Here are the primary features you must consider while buying your embroidery machine to run your home business. Now let's go ahead and see which models are the best for the business. 
Related: Embroidery Machine For Hoodies: 5 Best Models to Consider in 2023
Best overall Embroidery Machines For Home Business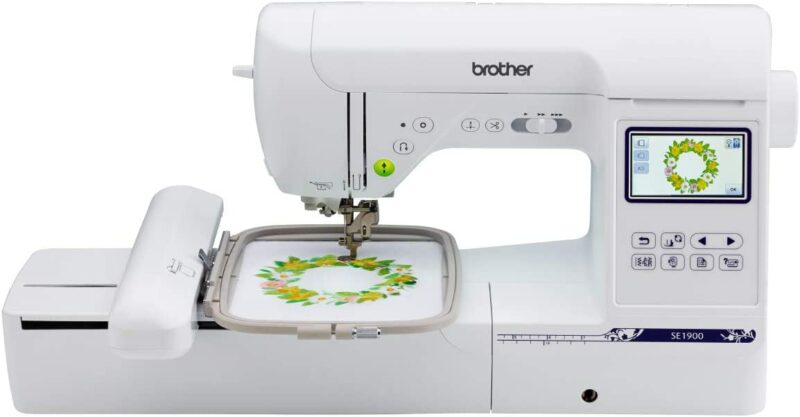 Features 
Weight- 22.05 pounds 

Size- 13.43" x 23.19" x 11.54" 

Hoop area- 5×7" 

Built-in designs- 138 
The Brother 1900 Sewing and Embroidery machine is best for those looking for a multipurpose embroidery machine for home business needs. The model has no complicated features, so it's suited for both beginners and experienced embroiderers. 
Its feather-light weight makes it highly portable, and you can carry it to your embroidery studio or to attend workshops.  
Having more creativity and versatility in your new business help attract more customers. And this Brother embroidery and the sewing machine have precisely what you need. With its 138 built-in embroidery designs plus 11 embroidery fonts, you can get more creative with your production and provide your clients with what they need. 
But you're not limited to just these in-built embroidery styles; you can add up by creating fresh designs with the USB port. Plus, the 3.2-inch LED touchscreen lets you preview and edit your designs before using them, saving fabric and curtailing experimentation time. 
The machine is specifically best for making larger embroideries. The 5"x7" embroidery field will let you create beautiful embroidery designs. The single hoop and 8 sewing feet make the work even more accessible.  
That's not it, the automatic needle threader takes care of threading your needle, and all you have to do is touch the liver.
The Brother 1900 is not simply an ordinary embroidery machine; you can also stitch with it. 240 built-in stitches include some decorative stitches. So you're getting a multipurpose machine while paying just for one. 
Pros 
Multiple built-in sewing stitches and embroidery fonts for monogramming

The LED touch screen display lets you edit and review designs  

 Advanced needle threader and drop-in top bobbin. 

Extremely portable
Cons 
The single hoop affects your work pace.
Check the Brother 1900's latest prices on Amazon
Best Beginner-Friendly Embroidery Machines For Home Business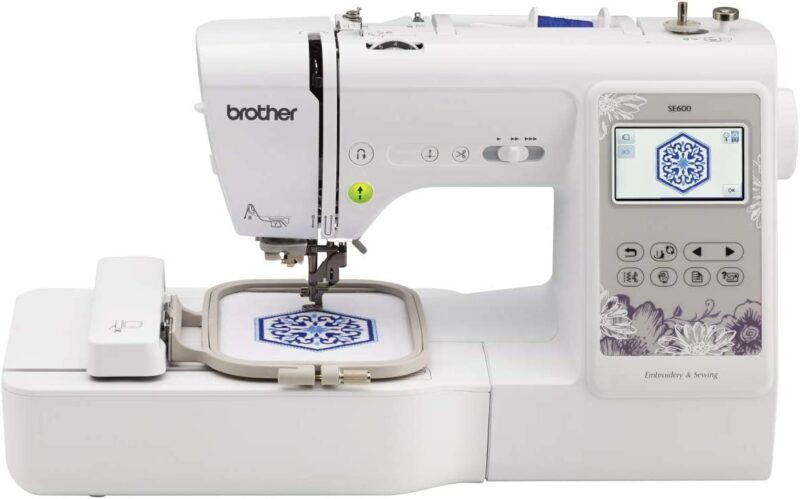 Features 
Weight- 26.24 pounds 

Size- 15.51" x 21.18" x 16.54"  

Hoop area- 4×4" 

Built-in designs- 80 
Newbies starting their embroidery business will find this Brother SE600 Sewing And Embroidery machine handy. As beginners, you don't want a machine that is too complicated to handle because you're still learning and perfecting your embroidery designs.
The automatic features in this machine let you start working as soon as you get it.
For instance, manually threading your needle can irritate you when you have orders to complete.  
But, this machine's automatic needle-threader and drop-in bobbin will save a lot of time without hampering your productivity. 
Customers always love when you can provide them with personalized designs. The Brother SE600 machine has 6 embroidery lettering fonts, letting you carve a personalized touch in your embroidered pieces. 
When it comes to making your business stand out, experimenting with the designs is the key. Plus, getting used to making more designs will also help you master the art. 
This machine has 80 built-in embroidery designs and 103 sewing designs, letting you create eye-catching designs. Again these built-in designs save time that you would have spent thinking about colors and patterns. 
What's more? The 3.2-inch large color screen lets you review your design before embroidering. This again prevents fabric waste as well as saves your time. 
It sews at a speed of 710 spm, meaning you can complete a good chunk of daily orders. Lastly, the 4×4 embroidery area is best for making intricate designs. 
But because it's a single needle machine, you'll have to upgrade to an advanced model as your home business grows. 
However, your remaining features for $399 make Brother SE600 the best beginner-friendly embroidery machine. 
Pros 
Embroidery lettering fonts for making personalized designs 

Large LED screen to review and edit designs 

Automatic needle-threader and drop-in bobbin 

Optimum sewing speed for uninterrupted productivity 
Cons 
A single needle reduces the efficiency of creating multiple designs. 
Check the Brother SE600's latest prices on Amazon
Best Performing Embroidery Machines For Home Business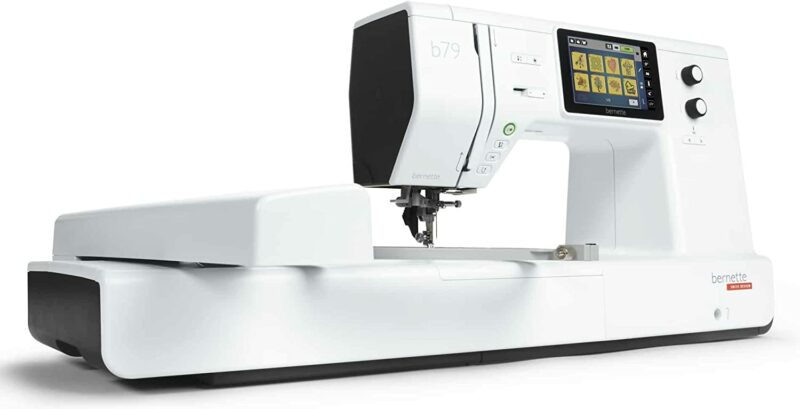 Features 
Weight- 47 pounds 

Size- 20" x 23" x 22"  

Embroidery area- 260 x 160" mm

Built-in designs- 208
This embroidery machine Bernette is our next best model on the list. Its multiple advanced features, ease of use, and excellent performance make it one of the best embroidery machines for small businesses. 
The B79 features a large embroidery area of 260 x 160 mm, along with 208 built-in embroidery designs and 500 stitch patterns. So you'll never run short of new designs whenever your clients ask for something unique. 
Plus, it has a working speed of 850 stitches per minute so that you can complete your orders on time. 
The 5-inch color touch screen display makes it easier to find the right embroidery design and optimize the thread accordingly. The automatic features also allow you to change the length and width of embroidery designs. 
What makes the B79 embroidery and sewing machine even better is its advanced features like- an automatic thread cutter, automatic tie-off function, semi-automatic needle threader, and bright LED lights on the sewing area to help you work effortlessly on your designs. 
Providing your customers with what they need will get even easier with the three hoops the machine comes with. Now finding the right hoop size for each embroidery design just got easier. 
Pros 
Large LED screen to preview and edit designs 

Automatic features make work easier 

Multiple hoops, precise embroidery designs 
Cons 
Check the Bernette B79's latest prices on Amazon
Best Advanced User Embroidery Machines For Home Business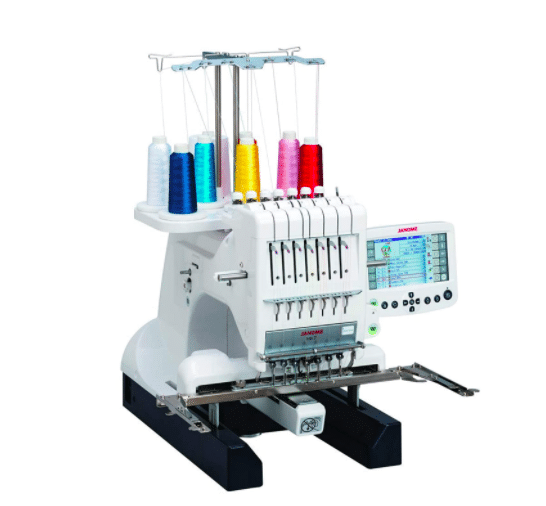 Features 
Weight- 50 pounds 

Size- 17.7" x 25.6" x 26.8"  

Embroidery size- 9.4" x 7.9" 

Built-in designs- 50 
If you have been running your embroidery business for some while and need a machine upgrade, you can check out this Janome MB-7 Seven-Needle Embroidery machine. 
This machine is everything you need to take your home embroidery business to the next level. The 7 needle heads let you set more threads at once, reducing the time needed for thread exchange. 
If your previous machine stopped you from taking bulk orders, that would no longer be a restraint because this machine will boost your productivity. 
This sewing machine is backed with many advanced technologies that care for even the most minor concerns, like a thread cutter. 
And there are 6 LED white lamps over the needle area, which let you see your designs more clearly. Lack of light sometimes complicates working on intricate designs, but these LED lights will let you work on beautiful embroideries even if there is less light in the room.  
The Janome MB-7 has 10 fonts for monogramming and 50 in-built designs. You can use these designs or edit them as per your creative imagination. 
Remote Computer Screen needs special mention because it can significantly help those working on multiple designs. The LCD touch screen that this RCS unit comes with is excellent for viewing and editing your designs. 
There is a USB slot on the side that you can use to connect to your PC or attach a USB stick. 
There is also an independent bobbin winding motor, which lets you wind bobbins while the machine is embroidering. Isn't it a great time saver? 
The list of advanced features continues with stitch time indicator, stitch counter, embroidery area tracing, and much more. So we would say getting the Genome machine would be an excellent investment for your small business. 
Pros 
Multi-needle heads increase productivity 

Stitch counter and indicator 

LED lamps over the needle area help see the designs clearly 

Independent bobbin winding motor 
Cons 
It's not a portable machine. 

Inexperienced sewers might find it difficult to operate.  
Check the Janome MB-7's latest prices on Amazon
Best Premium Embroidery Machines For Home Business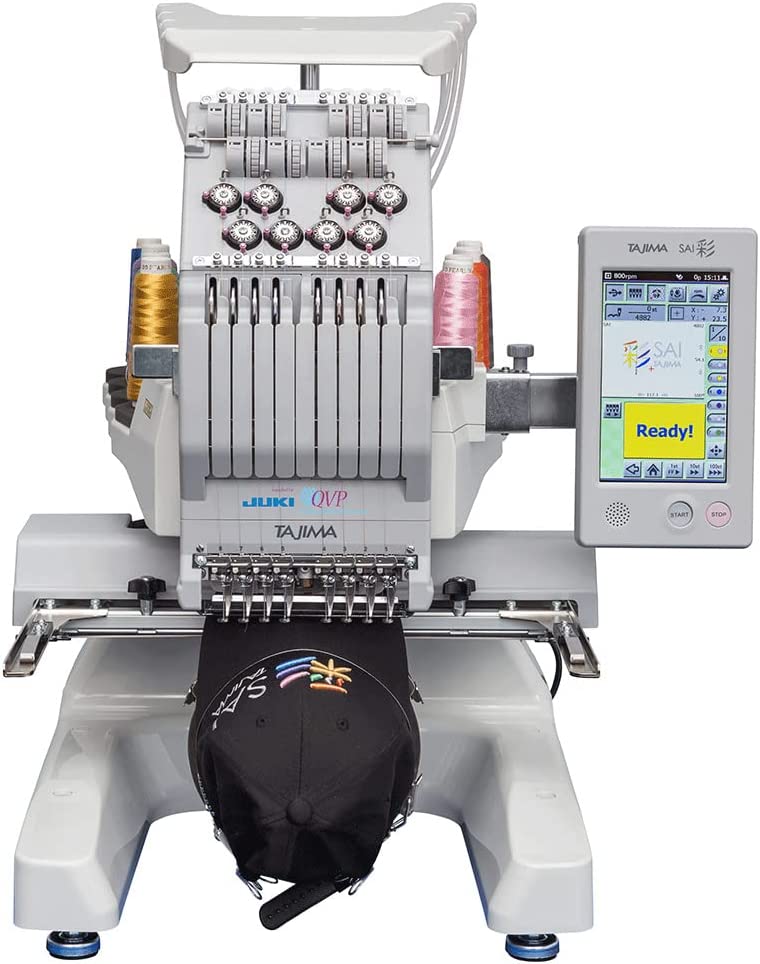 Features 
Weight- 82 pounds 

Size-22" x 26" x 23"  

Embroidery area- 200mm x 300mm  

Built-in designs- 200 
The Juki Tajima SAI 8 needle machine is a favorite among professionals. The tech-savvy features like a 3 ½ x 6-inch touch screen panel, thread detector, and thread counter make working on it more straightforward. 
The machine automatically optimizes most functions, so you don't have to be concerned about every little thing. 
Embroiderers would love using the slim cylinder that makes embroidering in smaller objects like socks, pockets, and gloves effortless. 
The Tajima Writer Plus windows compatible software makes designing and editing even more accessible. The software can convert texts into embroidery or combine already existing embroidery designs and text to create new designs. 
That's not all. With the software, you can change thread color, adjust embroidery position, manage thread, etc., with just a few clicks. This machine is best for those who want to strengthen their design game. 
Plus, portable design, easy lifting, and tabletop readiness make Juki Tajima Sai the best product for small home businesses, studios, and mobile embroidery businesses. 
Pros 
Tajima Plus software makes designing and editing seamless. 

Loaded with advanced features 

The slim cylinder makes designing in small areas easier. 
Cons 
It might take some time to learn the features 
Check the Juki Tajima SAI 8 needle's latest prices on Amazon
Embroidery Machines For Home Business Q&A
Is A Home Embroidery Business Profitable? 
Yes, a home embroidery business can be profitable. If you utilize the right tools and the right crafting process and understand what the market is looking for, there is definite growth in home embroidery businesses. 
What Is The Best Embroidery Machine To Start With? 
The  Brother 1900 Sewing And Embroidery Machine is the best to start with. It's an embroidery cum sewing machine suitable for embroiderers of all levels, and its smaller footprint makes it perfect for in-home use. 
How Do I Start An Embroidery Business From Home? 
First, you must do some market research about the embroidery business and know your target audience. Then you should start looking for a home studio space and invest in good embroidery machines and other tools to help you work more efficiently. 
Takeaway!
I hope these detailed reviews of the best embroidery machine for a home business have helped you choose a suitable machine for your needs. Make sure to pick a machine that's easy to operate and meets your business requirements.
Conclusion 
Finding the best embroidery machine for a small business might seem confusing, but hopefully, this list has made shortlisting your favorite product easier. Consider your requirements, your sewing precision, and the number of orders you get before picking a product.