Do embroidery machines work on hats? Many among you might ask this. And the answer is a big YES! Embroidering hats and shirts have become insanely trendy; craft enthusiasts would agree! 
However, it's also true that manually embroidering hats and shirts, especially hats, isn't easy. And their unique design and unusual materials (for example, felt) are reasons for the same. 
This calls for a professional embroidery machine that can accommodate all kinds of designs and fabrics required to embroider hats and shirts that leave your friends asking: "Hey, where did you get that embroidered fit from?"
But which embroidery machine would fit me well? This must be your next thought. Right?
Read on as I present my thoughts about the top 5 embroidery machines for hats and shirts after using them for quite a long time. Mark my words; all these are worth it! 
Related: Embroidery Machine For Hoodies: 5 Best Models to Consider in 2023
What To Look For In An Embroidery Machine for Hats And Shirts?

 
Accessories such as hats enhance your look by making the attire more polished. However, buying embroidered hats from the market might be hard on your pocket. But if you have a sense of design, you can utilize an embroidery machine and embroider eye-catching hats yourself.  
Various embroidery machines are available in the market that let you make intricate and impeccable hats at home. So it might create confusion. To help you out, I've curated a list of a few things you can consider while buying it.
Every embroidery machine has a different needle threading system, generally designed for the fabrics it's made to cater to. Most of these machines deploy an automatic thread cutting system, which cuts the thread of a particular color and prompts you to change it. 
This feature comes in handy while embroidering colorful hats and shirts, so check it once before buying. 
Another feature worth noting in an embroidery machine is its field space. You'd know that while embroidering hats, an extra field area is required for holding the various materials in a specific position. 
Mostly, the standard embroidery machine has a field area of 4 to 6 inches. However, larger field area machines are also available. 
Note: The embroidery machines with more extensive embroidery field areas are more expensive.
A hat hoop has the basic function of keeping your hat firm while you design the pattern. However, not all machines have one. So, make sure you check this feature while making the purchase.
Note: You can purchase a machine with a built-in hat hoop or one compatible with the same. So you can install the hat hoop as and when required in the future. 
You'll have to spend considerably if you buy a good quality embroidery machine for hats & shirts with additional features. For such a high-priced product, you should always look for a warranty. 
Most embroidery machines offer a one to two-year warranty period, while some offer extended warranties up to 25 years (conditions apply, though!) For example, a Brother embroidery machine for hats comes with a 25-years warranty for the USA only! 
Hence, it's advisable to choose a machine with a more extended warranty period depending on the usage of the machine.
Built-In Designs And Fonts
The next feature is the number of built-in designs and fonts. While searching for the best embroidery machine for hats & shirts, you'll come across models with pre-installed or built-in designs. 
As a thumb rule, remember that the higher the number of built-ins, the more versatile the machine is. 
A high-end machine has almost 400 designs already built into it. As a beginner, 400 designs could be overwhelming, so you can start with machines that have 250 designs. Once you gain experience, you can upgrade your machine accordingly.
The USB port facilitates connectivity with the internet, and thus you can download as many designs as you want if they aren't present by default. 
Luckily, most embroidery machines nowadays come with USB connectivity, thus making it easier to download and create your artwork on the hat. 
5 Must-Try Embroidery Machine For Hats And Shirts
The above buying guide must have cleared your doubts about which embroidery machine to choose. So, let's now go through the five best models that suit your requirements. 
Best Overall Embroidery Machine For Hats And Shirts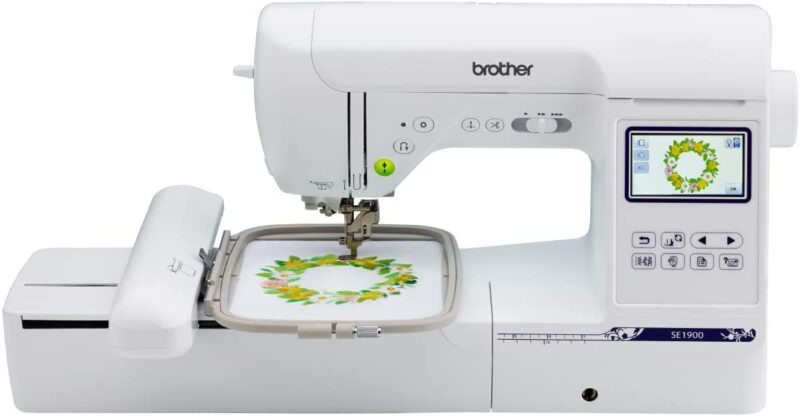 Size – 13.43″ x 23.19″ x 11.54″
Weight – 22.05 pounds
Hoop Area – 5″ x 7″ 
Built-In Designs – 138 built-in designs
Speed – 850 SPM
The first product on the list is Brother's 1900 sewing and embroidery machine. This is a versatile embroidery machine from the brand with best-in-class features to embroider classy hats. 
It's designed for both personal and professional purposes. 
Brother S1900 is pretty simple to use and thus can be used by beginners. You can view the top YouTube tutorials or contact the company's official support team for further assistance. 
Since it is lightweight, you can easily carry it along. Coming to the machine's highlights, you get 138 built-in embroidery designs and 11 embroidery fonts, making it great for executing your creativity on the hats & shirts. 
So, no more casual hats or shirts!
Also, it offers a 3.2-inch LED touchscreen to view even the minutest details of your project and a USB port to import your favorite designs. 
Brother 1900 provides an embroidery field area of 5″ x 7″, best suited for larger embroideries. That's not it; it has a single hoop, eight sewing feet, and an automatic needle threader. 
Apart from this, it has 240 built-in sewing stitches, including ten styles of auto-size buttonholes, making it worth the price. 
Pros
User-friendly

Extremely portable

LED screen that lets you view, edit, and review designs
Cons
The single hoop often creates a problem.
Check the Brother SE1900's latest prices on Amazon
Best Entry-Level / Beginners Embroidery Machine For Hats And Shirts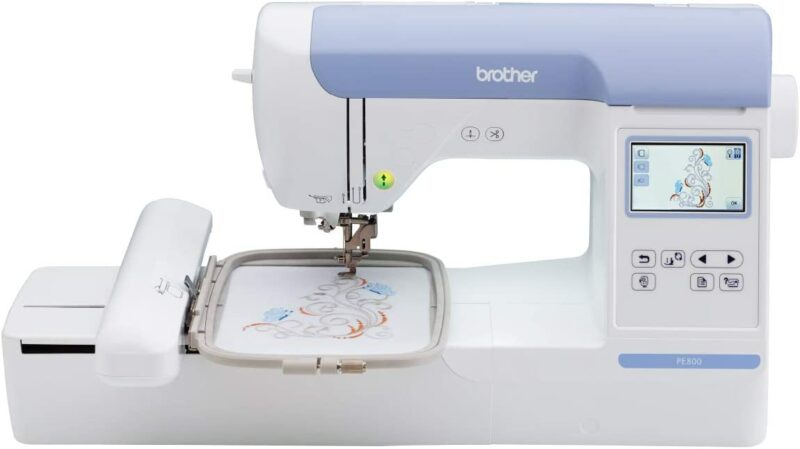 Size – 21.75″ x 19.02″ x 19.09″
Weight – 13.74 pounds
Hoop Area – 5″ x 7″ 
Built-In Designs – 138 built-in designs
Speed – 650 SPM
Another embroidery machine you can rely on is this Brother PE800. It's one of my favorite embroidery machines for beginners. Similar to other Brother models, it's equipped with the latest features that let you give birth to your creative embroidery designs. 
The machine offers the standard 5″ x 7″ embroidery field area ideal for working on essential hat and shirt designs. The company has furnished 138 built-in designs with ten frame designs and 11 built-in fonts (7 English, 3 Japanese, and 1 Cyrillic) to uplift your creativity. 
If you've got more designs saved elsewhere, you can easily import them via this machine's USB port. 
Another key highlight of this machine is its "design editing" feature. This makes it flexible to rotate, provide mirror images, increase and decrease your design's size, and see how you have created your design on a color LCD touch display before you start the stitching part. 
Despite being a cheap hat embroidery machine, it's swift and loaded. Some of my favorite designs the machine offers are beautiful scrollwork, floral, and quilt patterns—plus ten frame shapes and 14 border styles.
Pros
Quick and silent operation 

Amazing thread quality

Extremely light
Cons
Smaller touch screen size
Check the Brother PE800's latest prices on Amazon
Best Premium Embroidery Machine For Hats And Shirts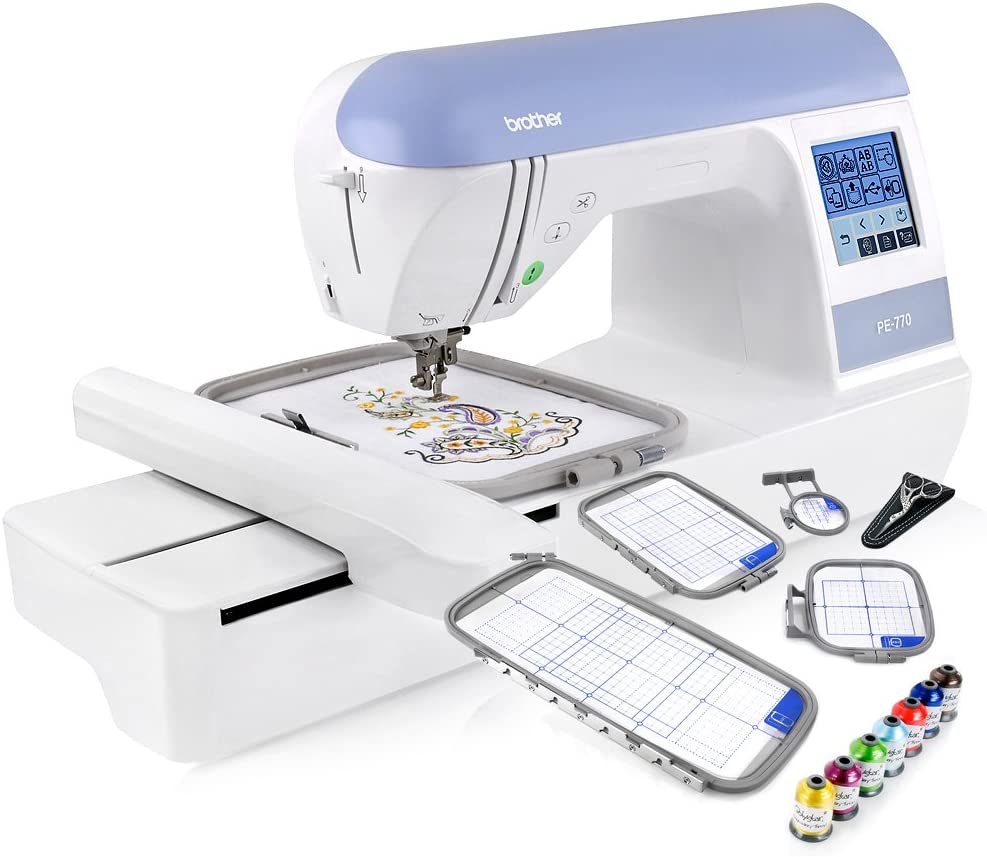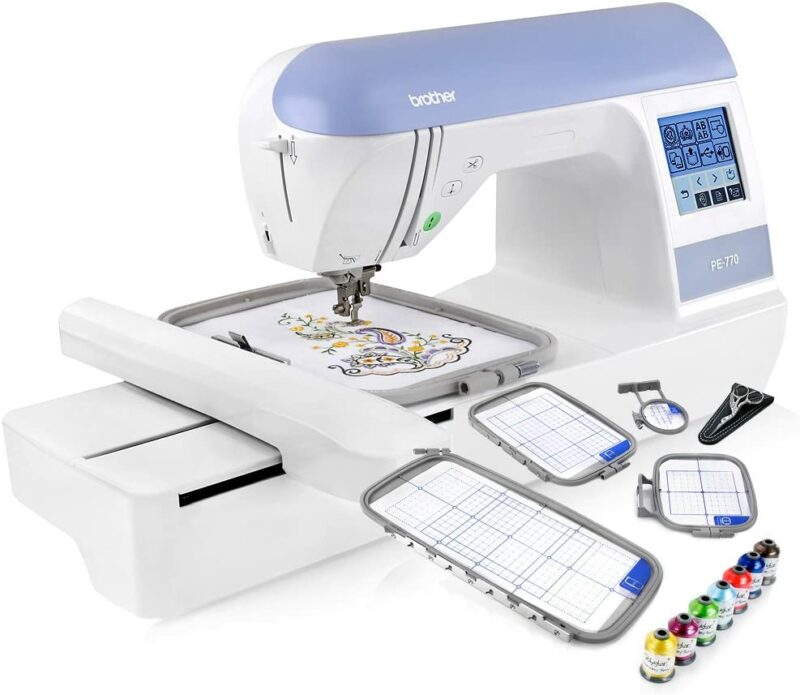 Size – 21.2″ x 16.9″ x 17.3″
Weight – 26.95 pounds
Hoop Area – 5″ X 7″ 
Built-In Designs – 136 built-in designs
Speed – 650 SPM
If you're looking for a more advanced embroidery machine that caters to the toughest hat fabrics, consider the Brother PE770 embroidery machine. The machine features a 5″ x 7″ embroidery field area and is suitable for stitching trucker hats and shirts. 
Besides, the product can be used for embroidering jackets, bags, and other home decor clothes. 
It has a built-in memory to save your best hat and shirt designs for future use and a USB port to import designs from other sources. Additionally, it provides 136 designs that include beautiful scrollwork, quilt patterns, and florals. 
Also, there are ten frames and 12 border styles built into it. Apart from these, the LCD touchscreen offers multiple editing functions such as rotation, mirror image, and one-touch size alteration. This comes in handy when you're embroidering the hat's interior. 
Another cool aspect of the PE770 is its ability to thread both the top thread and bobbin simultaneously. An automatic thread cutting mechanism enables precise thread trimming and consistent stitching throughout the piece.  
Pros
Easy to set up

Built-in USB port

Auto thread cutter
Cons
Its hoop creates a problem.
Check the PE770's latest prices on Amazon
Best Embroidery Machine For Hats And Shirts For A Small Business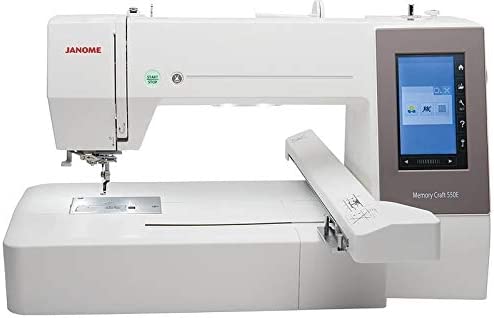 Size – 7.9″ x 160″ x 11″
Weight – 20 pounds
Hoop Area – 7.9″ x 11″ 
Built-In Designs – 160 built-in designs
Speed – 800 SPM
If you're looking for a long-lasting and reliable industrial embroidery machine for hats and shirts, you can't miss the Janome Memory Craft 500E embroidery machine. 
Known for its multitasking abilities and swift operation, this machine has nicely covered all the bases for all levels of designers. 
For example, it has a full-color HD touchscreen with multiple on-screen editing functions. I found these helpful while working with different kinds of shirts. 
These include but aren't limited to enlarging/cropping, rotating, flipping, dragging/dropping, combining, grouping, and zooming. Apart from this, Memory Craft 500E has an automatic thread cutter and an advanced needle threader. 
As I previously said, since it is an ideal model for small businesses, you get a huge 7.9″ x 11″ embroidery field size and 160 built-in designs making it easy to use. You can also use the standard six fonts in three languages to create fabulous monograms for the hats. If required, you can quickly import more designs via the USB port. 
This embroidery machine is an excellent deal to kickstart your small-scale hat and shirt embroidery business. 
Pros
Quick operation 

Sufficient hat hoop size

Comprehensive user manual
Cons
The thread keeps breaking while stitching.
Check the Janome Craft 500E's latest prices on Amazon
Best Portable Embroidery Machine For Hats And Shirts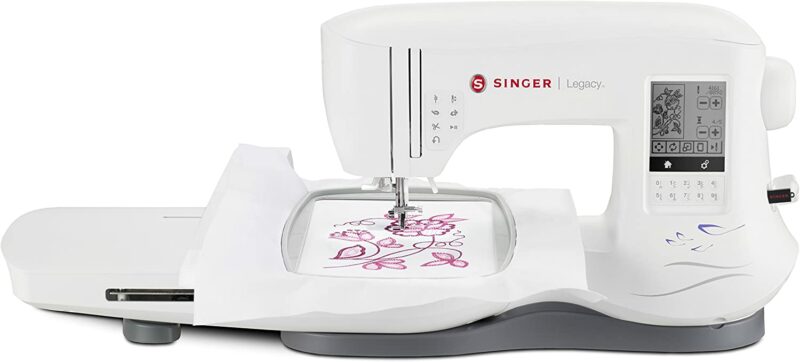 Size – 20.2 x 8″ x 12.2″
Weight – 18.6 pounds
Hoop Area – 7″ x ⅞" 
Built-In Designs – 138 Built-in designs
Speed – 800 SPM
I know how difficult and tiring it is to carry a bulky embroidery machine. Crafters would agree! And that's why the next product in the list is this superlight and portable SINGER Legacy SE300 embroidery machine. 
It's a newly launched stylish machine from the legendary SINGER with over 200 embroidery designs. Yes, you read that right!
Legacy SE300 comprises the latest features required to make dazzling hats and shirts without much effort or spending too much time on any how-to guides. 
It is a sleek machine with a wide variety of stitches. For example, it has 250 built-in stitches, 22 quilting stitches, ten OneTouch basic stitches, 118 decorative stitches, eight basic stitches, 18 satin stitches, seven stretch stitches, 30 heirloom stitches, and 23 elongation stitches. 
It offers an extra 7-⅞" (or 200 mm) workspace, making it suitable for managing larger hat hoops and larger projects (say, industrial projects.)
Apart from these, this newly launched machine has other features to simplify your life as an embroiderer. These include adjustable thread tension, start & stop button, built-in needle threader, thread cutter, three staybright LED light, high sewing and embroidery speeds of 800 SPM and 700 SPM, respectively.  
I won't recommend this SINGER Legacy SE300 to beginners for valid reasons. However, if you're an experienced designer, you would love this! 
In addition, it has got a  USB port to help you transfer all your embroidery designs on the go. Overall, the machine lets you make fantastic embroidery designs on your hats, shirts, and other apparels. 
Pros
Automatic thread tension adjustable makes sewing easy

Quiet operation 

Lightweight design
Cons
Check the Singer Legacy SE300's latest prices on Amazon
All the embroiderers out there, which embroidery machine are you bringing home? 
Conclusion

 
Here you go. Embroidery adds an extra edge to your hats and shirts, making them appealing. However, investing in an embroidery machine can be a tough decision. It's primarily because of the plethora of options available in the market and online shopping websites. 
To help you out, I curated the above list of the top 5 best embroidery machines for hats and shirts. Not to forget the quick buying guide! 
To summarize, you must consider factors such as usage, sewing/embroidery precision, and quality of work before purchasing.