Are you into crafts and want to try your hand at embroidery? Do you own a business that frequently needs embroidering logos on the fabric? If you don't have the time to learn the art, the Brother PE800 Embroidery Machine can be a lifesaver.
Brother PE800 is a computerized embroidery-only machine. It lets users of any skill level quickly get the hang of embroidering designs and logos on fabric. It comes pre-loaded with designs and fonts and has a large LCD screen for easy operation.
What are the great features of Brother PE800? Is it the ideal embroidery machine for you? Let's find out!
Related: Best Embroidery Machine For Hats And Shirts: Top 5 Picks for 2023
Brother PE800 Embroidery Machine: Best Features
The Brother PE800 Embroidery Machine is engineered to let you choose designs already loaded on its database. You can also import your design to this device and get it to embroider it on your fabric. We loved using this tool – and here's why –
a) LCD Screen
The best feature of the PE800 is the large display screen. This display screen allows you to perform many design tasks and view your work. It allows you to edit patterns, access options, find designs, and do anything and everything possible.
b) Easy to Customize
Another great feature of this device is that it is loaded with various options to customize the process. You don't just get to tailor the design of your work. You can also choose from many options to merge designs, move patterns, pick a hoop size, etc.
c) Fonts and Designs
The PE800 comes pre-loaded with 138 designs and 11 fonts, of which seven are in English. That gives you a wide range of options to get creative. Or, you can import your design with a pen drive. You'll discover new ways to use and implement designs every day.
d) Bundle
The Brother PE800 embroidery machine bundle includes tools and accessories, so you don't have to spend extra on these. Hoop rings, scissors, extra needles, bobbins that fit into this machine, etc., are part of the kit – and they come in a bag.
e) Easy Setup
You'll find the machine assembly process extremely easy – whether or not you have any experience. The thread guides are marked clearly – and the automatic needle threader removes the stress of getting the thread through the needle's eye.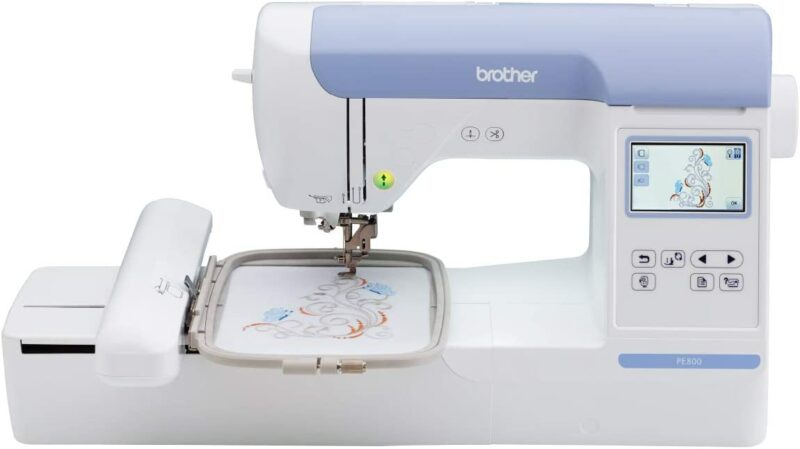 Brother PE800 Embroidery Machine: The Pros and Cons
Pros:
Pre-loaded with hundreds of designs

Color display for accurate understanding

Easy to edit designs on LCD without software

It supports designing and saving on the machine

USB port to import your designs using a Pendrive
Cons:
Cannot embroider designs larger than 5"x7"

Not designed for sewing purposes
Brother PE800 vs Brother PE770: A Quick Comparison
Before PE800 hit the market, the Brother embroidery machine that had taken the world of embroiderers by storm was the PE770. They have similar features, yet PE800 is an upgrade from the previous model.
Both are computerized machines with USB ports to transfer important designs in compatible file formats. Both offer a sizable 5"x7" embroidery area. And both these machines are equipped with an LCD screen to view the designs you want to work with.
Then, why would you pay more for the PE800? The primary reason is the display. It is much larger in PE800 and allows you to take a closer and clearer look at the designs, patterns, fonts, and colors. Plus, the screen goes a step ahead with more functionality.
You can use the screen for adding and editing multiple designs simultaneously. You can access various options and perform functions that won't even need you to use software. From using monogramming fonts to combining patterns: everything is possible.
The drag-and-drop option will surely make your life easier. The screen also lets you view colors accurately – and change them. This, along with the pre-loaded information of thread color codes, makes it easy to change thread in the middle of a big design.
Is Brother PE800 Worth It?
The Brother PE800 is engineered to make embroidery easy for anyone. But looking at the Brother PE800 embroidery machine price, you may wonder – is the device worth the small fortune you'll spend on it? The answer depends on your needs.
It is an advanced machine for embroidery work, allowing you to play around with stock patterns or your own designs. It can work in a jiffy and handle a large 5"x7" design. It also offers a variety of options for customization of the designs.
You can only perform embroidery. It is not an old-school machine for manual sewing and threadwork. It is an excellent choice for experts or pros who design their patterns and need to embroider them on a large scale. It is also an excellent tool for newbies.
If you need to meet the large demands for embroidered products, this is a good machine. Even DIYers who need to put patterns on other projects can use this machine. PE800 is an excellent choice for small business owners to put logos on products.
Brother PE800 Embroidery Machine: How to Use
The steps required to get started with Brother PE800 are quite similar to those of starting the use of any other embroidery machine. Let us guide you through the process!
Start by winding the bobbin. Put it on the spool pin and secure it with a spool cap.

Put the thread through the thread guides marked on the machine.

Pull the thread through the hole in your bobbin.

Place the bobbin on the holder.

The start button will turn yellow, and the winding will start.

Place the bobbin in its case so the thread is in an anti-clockwise direction.

Pull out the thread through the guides and cover the case.

Then, move the thread through guides along the left path to thread the needle.

Pull the thread through the auto thread cutter guide.

Push the lever down, and the machine will automatically thread the needle.

Take the hoop and fix a stabilizer along with the fabric.

Select the hoop style and design with the help of the LCD screen.

Make other customizations and edits.

Press the start button to see the device create magic!
If you have never used an embroidery machine before and want some visual guidance, check out this simple video explaining everything.
Tips for Using Brother PE800
Make sure that the images you import are digitized for embroidery. You can't import random images in JPEG or PSD and expect the device to print them.

You'll find incredible designs and fonts on various sites, including Etsy. Use these on free embroidery software instead of creating designs on costly platforms.

While it is an excellent tool for beginners, there's still a learning curve involved before you can use it. So be patient and allow yourself the time to understand the tool.
Brother PE800 Embroidery Machine FAQs
a) What can Brother PE800 do?
Brother PE800 is an excellent embroidery-only machine that can handle beginner- and semi-expert projects. It performs various built-in designs and imports the user's designs. It has a screen to add and edit patterns, colors, and more.
b) Can you sew using Brother PE800?
Brother PE800 is a machine designed for the embroidery works only. Although it can handle large embroidery projects, it is not designed for regular sewing work. It also cannot perform other functions of advanced sewing machines, like cutting jump stitches.
c) Can you embroider hats on Brother PE800?
Granted, a hat might be an unorthodox choice for embroidering. But you can use the Brother PE800 to embroider hats. Use a 5×7 hoop and place a tear-away stabilizer to secure your hat. If you monitor the process constantly, you'll be able to avoid mistakes.
d) Can you embroider hoodies on Brother PE800?
Yes, you can embroider hoodies on the Brother PE800. This machine has an embroidery hoop that is large enough to accommodate a hoodie. It also has a wide range of built-in stitches and embroidery designs, so you can customize your hoodie with any design you like. Plus, the Brother PE800 has a built-in thread cutter, so you can easily cut the thread after completing each embroidery design.
e) Can Brother PE800 embroider on leather?
Brother PE800 is a versatile embroidery machine that can handle various materials, including leather. You must make sure to choose the right needle for this purpose, and the leather piece you choose should not be thicker than 3 mm, i.e., 1/8th of an inch.
f) What software do you use to convert designs to Brother PE?
To import your design files and convert them into formats that Brother PE can read and use, you need to use the software named PE-Design. It should be installed on your computer. Users suggest other options, like Sew What Pro, Embrilliance, etc.
Final Words
The Brother PE800 can be a great addition to your home setup if your regular projects involve a lot of embroidery work. It is not just for embroidery enthusiasts, though. It can be handy if you run an organization with a regular need for embroidered items.
Instead of taking your orders to a professional tailor, use this machine to save a fortune in the long run. Though it is not for advanced or pro work, it can handle large projects – thanks to its cutting-edge features.