Picking a suitable embroidery machine is something even the pros sometimes get wrong. That's because they skip the basics. I, too, learned it the hard way when looking for an embroidery machine for hoodies.
This article explains how to pick the proper embroidery machine for hoodies. And then, I'll list the best options currently available for you to buy.
Related: Best Embroidery Machine For Home Business In 2023
What to Look for in an Embroidery Machine for Hoodies?
Buying the perfect embroidery machine for hoodies requires careful inspection of all the available options. These machines differ from each other in specific characteristics. These characteristics will help you pick the right model for your embroidery project.
When buying an embroidery machine, here are the things to consider:
Combo or embroidery-only?
There are two types of embroidery machines available: combo and embroidery-only. Combo machines are capable of both stitching and embroidery work, while embroidery-only are — as you might have guessed — only for embroidery.
Why does this matter? Because combo machines usually cost more. And when concerned only with the embroidery functionality, they're inferior.
For example, you'll find fewer in-built embroidery designs on combo machines than on embroidery-only machines. The same can be said for needles and other accessories.
Therefore, consider investing in an embroidery-only machine if you're up for serious embroidery work.
On the other hand, if you only work on enhancement now and then, getting a combo machine makes more sense. With this, you don't have to buy a separate sewing machine.
Every embroidery machine comes with a defined maximum embroidery area size. This is the area within which the stitches are done at one time.
Machines with more extensive embroidery areas are better if you want to work on larger, more intricate designs. Even for larger designs, you'll have to split up the design into individual pieces using a software. But the one with a larger working area ensures you can cover more stitches in one pass.
The lower-tier embroidery machines have around 4 X 4 " of working space. More expensive units will boast twice that size. 
The embroidery area also affects the maximum hoop size you can use. Therefore, checking the working area of a machine is critical.
In-built embroidery designs
Most embroidery machines today are computerized. This means they have built-in memory where you can save designs for future use.
Many top-rated embroidery machines come with a set of in-built designs. These will help you start without having to design the pattern from scratch.
If you're not willing to digitize your artwork for embroidery (a time-consuming process), checking the unit's number of in-built designs is essential.
Related: Best Embroidery Machine For Hats And Shirts: Top 5 Picks for 2023
Top-rated embroidery machines for hoodies have close to 130 pre-programmed designs. Inferior models have far fewer designs.
Single-needle or multi-needle
If speed is your priority, you must decide between a single-needle and multi-needle machine.
A single-needle machine will only work with a single thread at one time. So if you're embroidering a multi-color pattern on your hoodie, it may take an eternity, depending on the size. But a multi-needle machine would cut the time in half. 
While multi-needle embroidery machines have a higher utility, they come with a higher price tag. Therefore, they aren't within the budget of the majority of the hobbyists.
The machines I've mentioned in this article are single-needle machines ideal for home use.
Besides the number of needles, the machine's stitching speed is another factor. Not all embroidery machines stitch at the same rate. So buying a piece that works faster can save you hours and hours in the long run.
For embroidery machines, the speed is calculated in stitches per minute (spm). The higher the spm, the faster the machine works. You can adjust the speed to suit your working style.
Therefore, if you're buying a single-needle embroidery machine, it's important to note the spm.
That being said, here are the five best embroidery machines for hoodies I'd recommend to you:
Best Overall: Brother PE800
Best Entry-level: Brother PE550D
Best Premium: Janome Memory Craft 500E
Best Sewing & Embroidery Combo: Brother SE1900 Sewing and Embroidery Machine
Smart Embroidery Machine: EverSewn Sparrow X2
Best overall embroidery machine for hoodies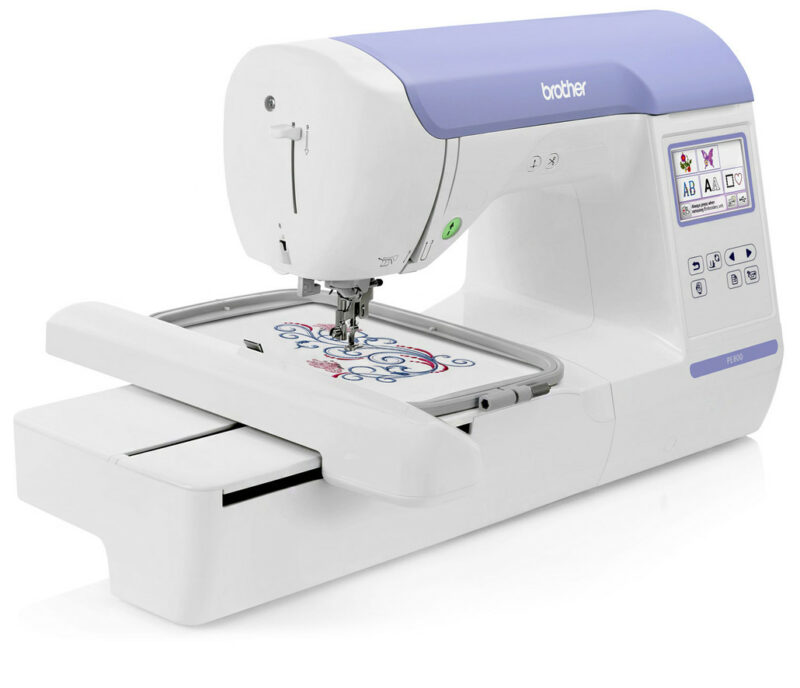 Size – 21.75 x 19.02 x 19.09 "

Weight – 13.74 pounds

Hoop area – 5 x 7 "

Built-in designs – 138

Speed – 650 spm
The Brother PE800 is an all-encompassing embroidery-only machine for beginners and advanced crafters. It has tons of built-in designs to get you started quickly yet allows enough room for experimentation to bring your imagination to life.
The machine has a sizeable embroidery area, allowing you to inscribe large designs easily. A 5 X 7 " hoop is included to make the embroidery work easier.
Creating a design from scratch may take time. Therefore, PE800 comes with 138 built-in embroidery designs. Whether you need a floral design or a minimalistic straight line, you'll find a pattern to suit your preference.
What's even more impressive are the 11 built-in frame designs and fonts, including three Japanese and one Cyrillic font.
You can always load more designs with a USB.
The PE800 features a large 3.2-inch LCD touchscreen color display. It's highly responsive and allows you to select, edit, and preview designs.
The accessories with this machine include an embroidery foot, four bobbins, a needle set, spool set, cleaning brush, seam ripper, and a manual, among other things.
With its 25-year warranty period, you can rely on the PE800 for decades for all your embroidery work. 
Pros
Large embroidery area

11 font styles for monogramming

Full-color responsive touchscreen display
Cons
Check the Brother PE800's latest prices on Amazon
Best entry-level embroidery machine for hoodies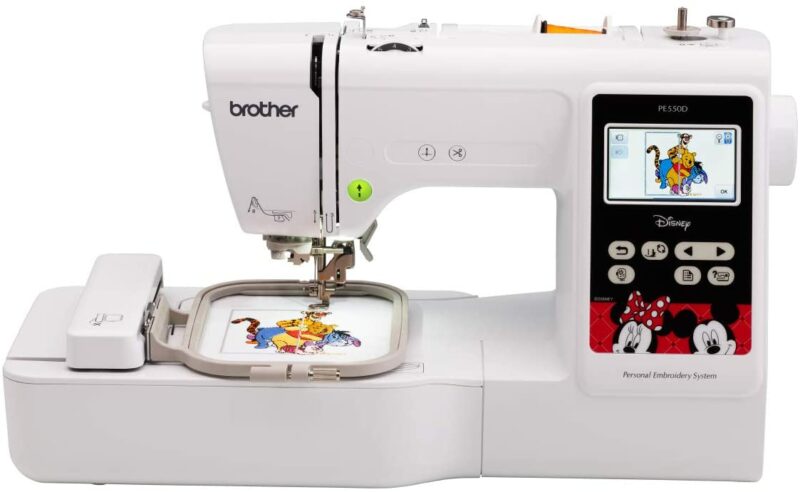 Size – 16.5 x 7.8 x 12 "

Weight – 14.99 pounds

Hoop area – 4 x 4 "

Built-in designs – 125

Speed – 570 spm
The PE550D is an entry-level computerized embroidery machine from Brother. It has all the essential features you'd expect from the Brother brand. And one of the perks of purchasing this model is that it has 45 Disney characters as in-built designs.
There are 125 embroidery designs in PE550D, which are a lot for an entry-level product. You can use these straight off the bat without much tweaking. The 3.2″ color touchscreen display makes it simple to select the design you wish for.
And as already mentioned, there are 45 Disney embroidery designs. Thus, you can turn any regular hoodie into a personalized gift for a Disney fan.
The embroidery area of 4 X 4 " is appreciable, and the automatic needle threader makes the process much easier.
At $400, the PE550D is not the cheapest of the embroidery machines. But it's a good starting point to take your embroidery skills to the next level. To accelerate your learning process, the machine comes with an instructional DVD, bilingual manual, and step-by-step tutorials displayed on the screen.
Pros
Sizeable hoop area

Disney embroidery designs with Japanese fonts

Large color touchscreen display
Cons
Check the Brother The PE550D's latest prices on Amazon
Best premium embroidery machine for hoodies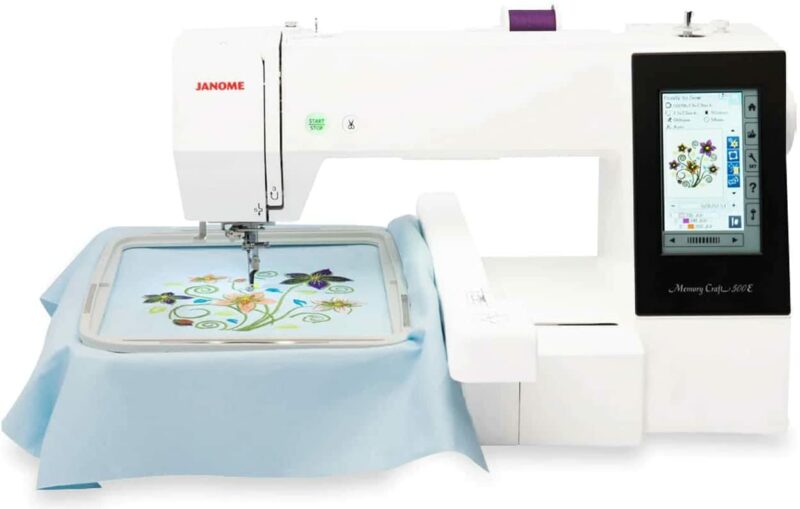 Size – 7.9 x 160 x 11 "

Weight – 20 pounds

Hoop area – 7.9 x 11 "

Built-in designs – 160

Speed – 860 spm
This embroidery machine from Janome is a workhorse. With tons of advanced features, a full-metal body, and a premium price tag, it's a favorite among professionals too.
The 500E features an extra-large embroidery area of 7.9 X 11 " — among the most generous. Also, you have four extra-large embroidery hoops to work with. So no project is too big for this machine. Moreover, it has a top embroidery speed of 860 stitches per minute to help you stay ahead of the deadline.
But that's not all. You also have an automatic thread cutter, an advanced needle threader, and an auto return feature to speed up the process.
With the Craft 500E, you get 160 in-built designs and six fonts. You can edit these designs on the LCD touchscreen display and preview them before embroidering. The editing is supremely advanced; you can resize, crop, enlarge, minimize, and overlay the designs.
Lastly, its full-metal body and scratch-resistant surface are a huge plus. It provides the necessary stability and eliminates any sort of vibration when working. 
Pros
Extra large embroidery hoop area

Advanced design editing on the LCD screen

A high number of accessories included
Cons
check the Janome Memory Craft 500E's latest prices on Amazon
Best Sewing & Embroidery Combo machine for hoodies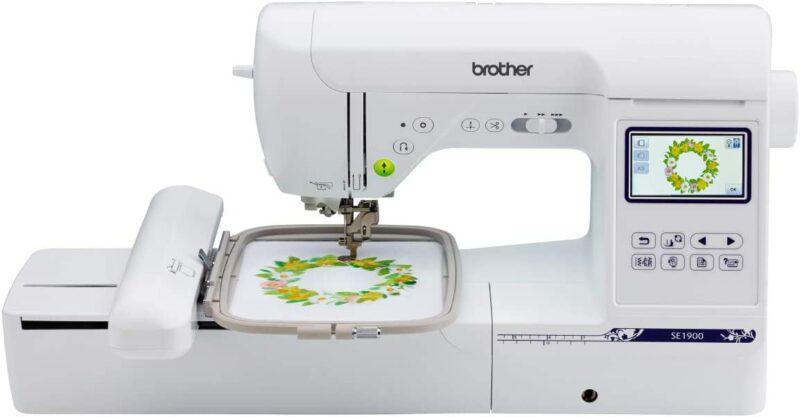 Size – 23.19 x 13.43 x 11.54 "

Weight – 22 pounds

Hoop area – 5 x 7 "

Built-in designs – 138; 240 built-in stitches

Speed – 850 spm
The SE1900 is the ideal tool for crafters working on stitching and embroidery projects. 
For stitching, you have over 240 built-in stitches to choose from. It has an advanced automatic needle threader, an automatic thread trimmer, an automatic reinforcement, and a drop-in top bobbin to help with stitching.
Besides stitching, the SE1900 also handles quilting projects equally well. While no quilting feet are included in accessories, you can always buy one for $10-$15 and get started with quilting.
For embroidery, there are 138 built-in designs to choose from. Of course, you can always upload more designs using a USB. To switch from stitching to embroidery, you must change a few components and select the embroidery pattern on the LCD screen.
The large 5 X 7 " embroidery area offers enough space to work with designs of any size. 
All in all, it's a great combo machine for serious sewists or embroidery artists.
Pros
Ideal for both sewing and embroidery

Large working area

All-metal body for stability and durability
Cons
Bulky and consumes more space
Check the SE1900's latest prices on Amazon
Best smart embroidery machine for hoodies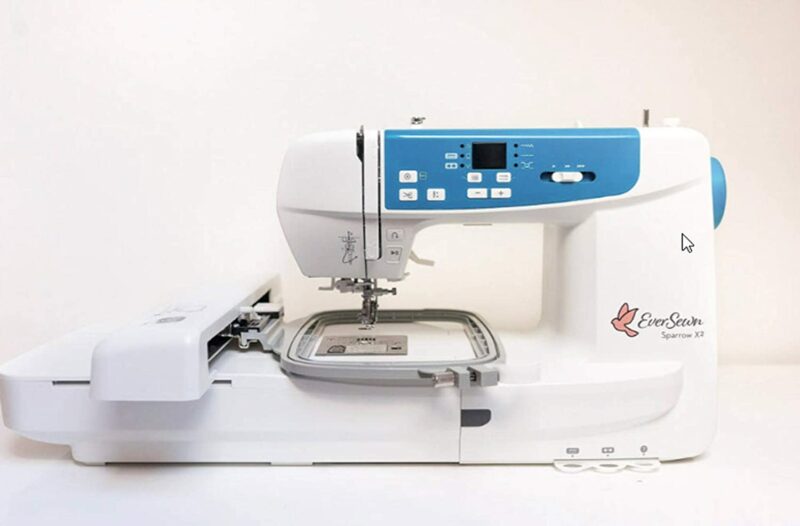 Size – 18 x 8 x 12.5 "

Weight – 20 pounds

Hoop area – 4.75 x 7 "

Built-in designs – 100

Speed – 650 spm
The Sparrow X2 (and the rest of the EverSewn models) are marketed as next-generation sewing and embroidery machines. And that's because it has many tech-enabled features that make embroidering on hoodies fun and exciting.
Among the features, you can connect to the machine with a phone. You can install the EverSewn Pro App on your Android or iOS device and pair it up with the Sparrow X2. Designs are done on the mobile app and then transferred onto the machine for embroidery.
This process is much more seamless and exciting than the old-school USB. Also, you get to work on a bigger screen on the mobile or iPad.
You can initiate the embroidery process from the smartphone. And you don't have to be in front of the machine either while it inscribes the design!
The unit is capable of both sewing and embroidery. It has notable features like the auto threader, thread cutter, electronic tension adjustment, one-step buttonhole, and over 120 different stitches to keep the sewists happy.
Pros
Intuitive mobile app to design embroidery pattern

Capable of both embroidery and stitches 

Large working area
Cons
A limited number of in-built embroidery designs
Check the Sparrow X2's latest prices on Amazon
Embroidery Tips for Hoodies
Irrespective of the embroidery machine you choose to buy, you should know a few tricks before working on your first project. Especially when embroidering on hoodies or clothing, here are a few tips that will radically transform the results:
Use a removable stabilizer like water-soluble or tear-away instead of the left-in stabilizer designed to stay in place. With a removable stabilizer, the back of the stitching will feel soft, while the leave-in stabilizer will feel scratchy. But you should know how to use

stabilizers for embroidery projects

.

Employ a ball-point or round-end needle to prevent the knit material of the hoodie from snagging. It's often annoying and may ruin the overall design.

Weave the start and end of the embroidery design so the stitching doesn't come undone while washing.

Hire a professional embroidery digitizing artist if you're not comfortable with digitizing. Improper digital files will result in incorrect artwork.

Iron the finished embroidery design from the back. It will eliminate hoop markings and wrinkles, giving the hoodie a professional finish.