Embroidery used to be considered a daunting and time-consuming task, but now the time has changed. These days, many highly efficient embroidery machines are accessible, saving time and reducing the effort to half.
An embroidery machine does everything from monogramming hats and shirts to dashing hoodies. Thus, investing in an embroidery machine is worth it if you love transforming dull fabrics into masterpieces using creativity.
And guess what? You can even start your own small home-based embroidery business and make it your side hustle.
But the best embroidery machine is a must for all of the above to turn into reality! And that's the prime motive behind creating this piece, where I've shortlisted my top 5 embroidery machines after extensive research and personal testing.
This article will also cover the essential features that make an embroidery machine the "best."
Features To Consider When Buying An Embroidery Machine
With many available options, choosing the best embroidery machine takes some serious work. There are various things to consider apart from technical aspects.
So, if you're considering an embroidery machine, here are a few features you should consider before purchasing.
The embroidery hoop size or working area is a vital aspect to consider in the first place. It'll decide the price of the embroidery machine as well. The bigger the hoop size, the more the price.
An embroidery hoop size of 4″ x 4″ is considered the smallest hoop size, which is also suitable for beginners. The next size better than this is 5″ x 7″. It is considerable enough for embroidery enthusiasts but will be expensive comparatively. So, keep this in mind.
Note: The hoop size can go up to 7.9″ x 9.4″.
Throat Width (For Quilting)
If you're likely to use your embroidery machine for quilting purposes (if it supports it), don't forget to check its throat width.
The throat width is the space between the body of the machine and the embroidery machine needle.
A wider throat width will help you use a larger hoop, and you can quickly move your fabric.
USB connectivity is another crucial aspect to consider nowadays in machines as you may need to load embroidery designs in your machine from the PC. These ports make it easier for you to do this.
All you need to do is plug in a computer or flash card and download all the designs from the internet directly into your machine. Hence, it gives you the creative freedom to work with various designs.
So, don't miss this feature, as some machines come with pre-installed designs, which will restrict you from using them only. It's better to avoid such machines and pick the ones that allow you to install your embroidery design via USB.
Automatic threading is a great feature; most machines are already equipped with it. This feature automatically cuts the thread and prompts you to change the thread. It makes it easier to work, and most standard machines have this feature.
The LCD screen is one of the advanced features that most new-generation embroidery machines offer. It allows you to create your design and visualize what it will look like on the final fabric, which is fantastic.
Such a screen comes in different sizes based on the machine you are buying, and it's better to opt for a machine with a larger screen as it makes it easy to read.
If you're having difficulty deciding on an embroidery design, the built-in designs will solve this problem. All embroidery machines have specific built-in designs—for example, floral, spiral, straight, zig-zag, etc.
As a thumb rule, the more built-in embroidery designs, the better, but again, the price will be directly proportional here.
Warranty And Customer Support
No matter the machine you purchase, it is imperative to look for a warranty. Embroidery machines don't come cheap; you have to pay a hefty amount, so make sure to consider machines that offer considerable warranty and decent customer support.
What bothers me the most is the embroidery machine's maintenance and repair cost.
Note: Many machines come with tutorials, classes, or some setup booklet that helps you get started.
5 Fantastic Embroidery Machines – Reviewed In Detail
Among the many options available in the market, I've got you some classic picks, irrespective of your skill level or purpose. Check out the following five recommendations!
Best Embroidery Machine For Beginners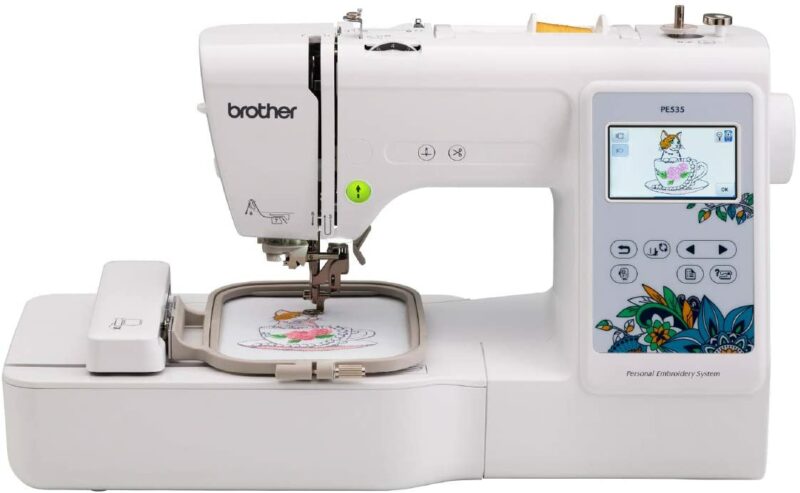 Specifications
Product Dimensions:

7.8″ x 16.5″ x 12″

Embroidery Area:

4″ x 4″

Weight:

14.99 pounds

Speed (SPM):

400

Built-In Designs:

80
Description
Designed for beginners, the Brother PE535 embroidery machine provides immense value and ease of use. This particular piece is loaded with a variety of features that make embroidery a fun thing to do. I feel this is important as novices often lose interest in embroidering initially.
Moreover, you get a 4″ x 4″ embroidery area, ten frame patterns, and nine unique font styles (6 English, 3 Japanese) for some fantastic monogramming on your fabric. Not to forget the 80 built-in designs. Besides, it also has a built-in memory function that allows you to import a design from a USB stick through the USB port.
This embroidery machine has a large LCD color touchscreen display that allows you to watch your design before stitching on the final fabric. You can even utilize the drag-and-drop feature to position and move your embroidery design on display with your finger.
To make embroidery a smooth affair, you get a supplementary DVD with easy tutorial videos and an automatic threading system to help you get started.
The Brother PE535 embroidery machine will make it easier to make personalized gifts for your friends and family. Also, it comes with a 25-year limited warranty, a bilingual user manual, and technical support for the product's life.
Pros
Durable and lightweight design

Easy to carry and store

Great design personalization options

Works with all kinds of fabrics
Cons
It makes a loud metal sound during the operation

Not suitable for professional purposes
Check the Brother PE535's latest prices on Amazon
Best Combo Sewing + Embroidery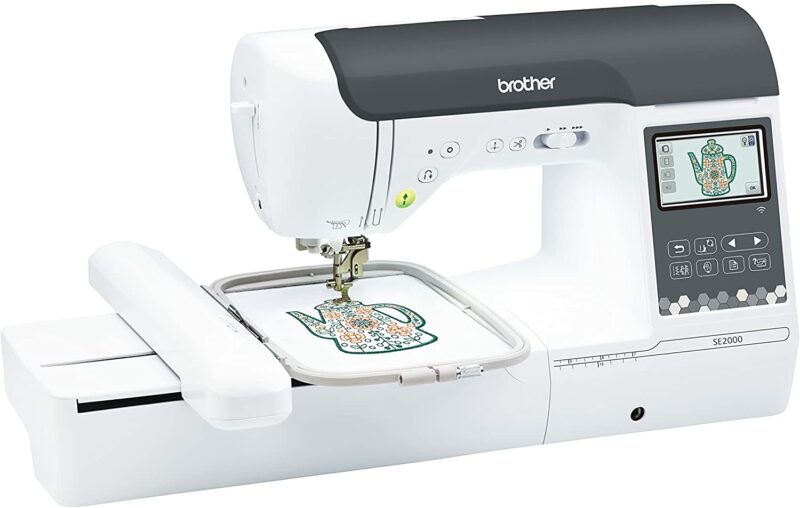 Specifications
Product Dimensions:

17.56″ x 9.49″ x 11.81″

Embroidery Area:

5″ x 7″

Weight:

39.5 pounds

Speed (SPM):

850

Built-In Designs:

193
Description
Brother SE2000 is a professionally engineered sewing + embroidery machine with many features. For example, it offers 241 built-in sewing stitches and 193 embroidery designs, giving you total creative freedom.
Before starting the stitching process, you can view or edit your designs on a large 3″ x 7″ Sew Smart LCD color touchscreen display.
This embroidery machine also has a "My Custom Stitch feature," which allows you to create custom designs and save them in the machine for further use.
Brother has also added its design editing feature to let you change individual embroidery thread colors using the built-in color palette and preview them. The embroidery field is worth 5″ x 7″. So, there's enough space to move your fabric and even work on creating larger designs.
It has 241 built-in stitches, including decorative stitches and ten styles of 1-step buttonholes that are automatically sized to fit your buttons.
Brother SE2000 offers the flexibility to upload multiple pre-design patterns, change colors, and combine designs, making it a fantastic model. However, it doesn't offer a USB port. Instead, it has a wireless LAN and free Design Database Transfer software to transfer embroidery files from your PC to the machine in seconds.
Pros
Immensely diverse in terms of designs

Fastest embroidering speed in its class

Ideal for complex projects

Large embroidery area
Cons
Quite bulky

Wireless connection cause difficulty
Check the Brother SE2000's latest prices on Amazon
Best Embroidery Machine For Hats & Shirts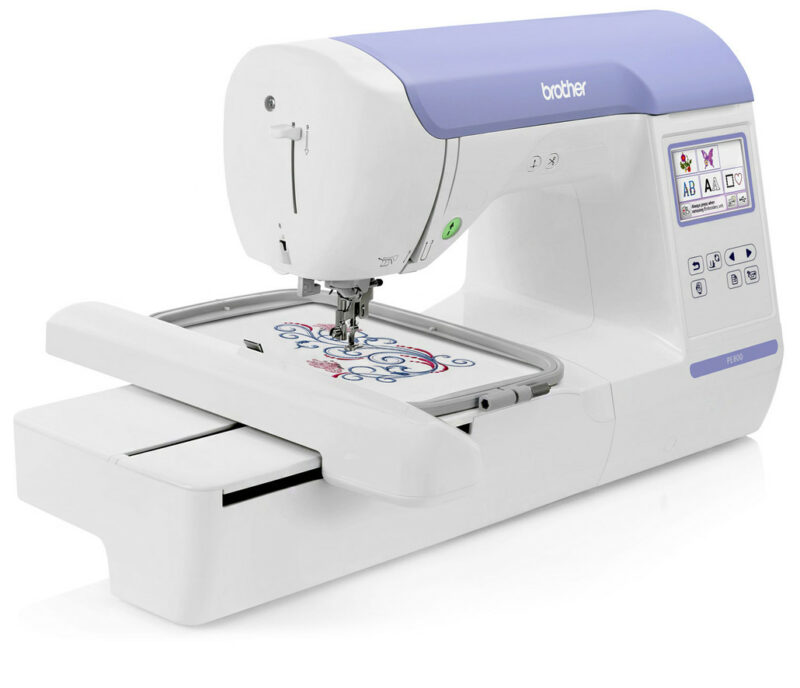 Specifications
Product Dimensions:

19.02″ x 21.75″ x 19.09″

Embroidery Area:

5″ x 7″

Weight:

17.64 pounds

Speed (SPM):

650

Built-In Designs:

138
Description
Are you looking for an embroidery machine that helps you create sensational hats and shirts? If yes, check this out – Brother PE800 embroidery machine.
It offers a 5″ x 7″ embroidery field for more significant works. Talking about the built-in designs, this embroidery machine features 138 built-in designs, including ten frame designs and 11 built-in fonts. So, beautiful hats and shirts are a sure thing.
Apart from this, it also lets you import external design files from compatible sources via the USB functionality.
It's engineered with a design editing feature. This gives you the flexibility to rotate, mirror images, increase and decrease the size of your designs, and view how your designs look on the color LCD touch display before stitching. The automatic threading feature saves you time manually passing thread through a needle.
You also get a complimentary guide that helps you thread the machine, attach the embroidery arm, and more. Overall, the Brother PE800 is perfect for home use for someone looking for a versatile and fast embroidery machine.
Pros
Suitable for all types of fabrics

Beautiful built-in embroidery designs for entry-level projects

Speed and thread quality are great

Descriptive user manual
Cons
Average build quality

Touchscreen often hangs
Check the Brother PE800's latest prices on Amazon
Best Embroidery Machine For Hoodies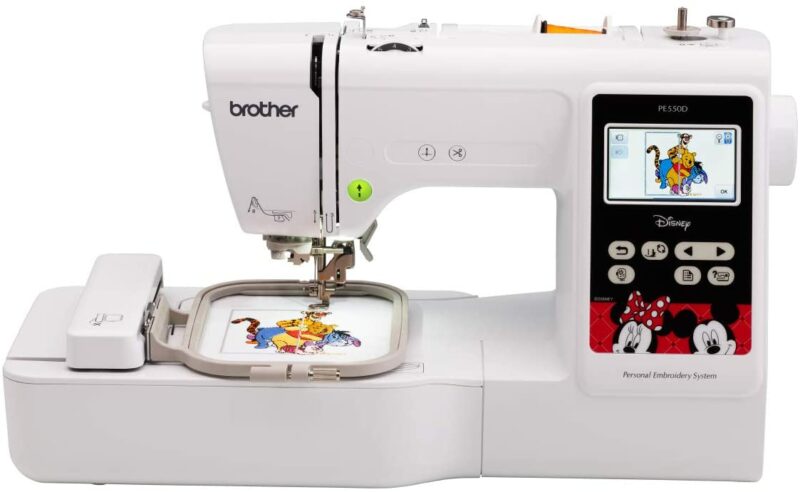 Specifications
Product Dimensions:

7.8″ x 16.5″ x 12″

Embroidery Area:

4″ x 4″

Weight:

1 pound

Speed (SPM):

650

Built-In Designs:

125
Description
If you want to see the magic of Disney unfold in your embroidery design and hoodies, then the Brother PE550D is the option for you. You can't ignore it.
The machine is easy-to-use and comes under $500. Thus, there will be no budget issues. It offers a considerable embroidery area of 4″ x 4″ inches, the best at this price.
You also get a grid sheet and built-in alignment tools that help you align the designs and needle position. This feature comes in handy while increasing and decreasing the spacing between letters, placing text on multiple lines, and more. I found this immensely useful for precise designing on the hoodie (or any fabric.)
If you love adding cool fonts to your hoodie, you can choose among nine (6 English and 3 Japanese) built-in fonts for monogramming and personalization. Add to this the 125 other decorative designs, including 45 Disney designs.
It also features a 3.2″ Sew Smart bright LCD color touchscreen display to help you resize, mirror images, and rotate your design with additional editing features before beginning the embroidering project. Isn't this all worth it?
Pros
A vast collection of video tutorials with projects

Amazing thread quality

Embroiders even the most complex design within seconds

Durable built quality
Cons
The embroidery area could be better.

Hard for beginners
Check the Brother PE550D's latest prices on Amazon
Best Embroidery Machine For A Small Home Business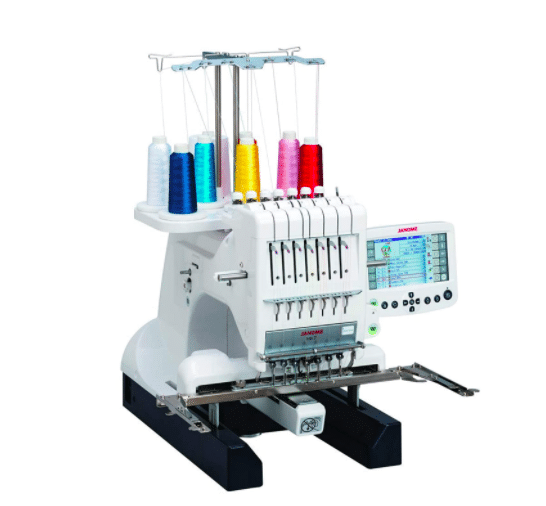 Specifications
Product Dimensions:

9″ x 18.5″ x 12.8″

Embroidery Area:

9.4″ x 7.9″

Weight:

65 pounds

Speed (SPM):

800

Built-In Designs:

50
Description
Lastly, my recommendation for your small home business is the Janome MB-7 embroidery machine. To start with, it's an innovative machine that offers various embroidery file formats used by industry professionals—for example, .jef+, .dst, .jef, etc. So, you can choose any format instead of sticking to just one.
It has 6 bright white LED lights across the workspace, thus illuminating your project and making threading easy at night. Moreover, the machine provides a massive embroidery size of 9.4″ x 7.9″, which is perfect for complex embroidery projects you may need.
Coming to the main thing, the needle – this Janome MB-7 is a 7-needle machine. This makes changing multiple threads while embroidering a walk in the park.
With 50 built-in embroidery designs and ten fonts for monogramming, there's no end to creativity. Further, the MB-7 machine offers a USB port to import designs easily. Another highlight is the embroidery speed of 800 SPM, making stitching faster and smoother.
Apart from these, the other features include programmable thread trimming, adjustable hoop positioning, embroidery area tracing, automatic return post thread break, stitch-out time pointer, and stitch counter.
Pros
Changing threads is super easy

Enlarged embroidery area

Great speed with very minimal noise

Handles complex projects well
Cons
Beginners may have a hard time using this

Thread features are not good
Check the Janome MB-7's latest prices on Amazon
Conclusion
So, here you go. Embroidery is nothing less than an art form. No matter if you're a beginner or a professional embroiderer, a well-equipped embroidery machine is a must to exhibit your creativity and design customized fabrics.
If you want to get into embroidery, this is the right time to invest in a machine and start your hobby. But before making any purchase, consider the features mentioned above and check out my five recommendations to make an informed decision.