Welcome to CraftBuds' drawing haven, where creativity comes alive for everyone! Whether you're an emerging artist or simply seeking a delightful artistic escape, our tutorials are tailored to offer a fulfilling journey. Today, we're stepping into the wilderness with a simple yet engaging guide on "How to Draw a Cute Baby Tiger." With bite-sized video clips detailing each step and a comprehensive video tutorial, we've got you covered on your path to mastering this endearing illustration.
And for those keen on coloring, don't miss out on our special collection: "Free Baby Tiger Coloring Pages." Dive in and let your artistic flair roar!
13 Steps to Learn How to Draw a Cute Tiger
Step 1. The Gaze of the Wild
Begin by sketching two oval shapes for the eyes. Inside each eye, draw a slightly smaller oval to represent the iris.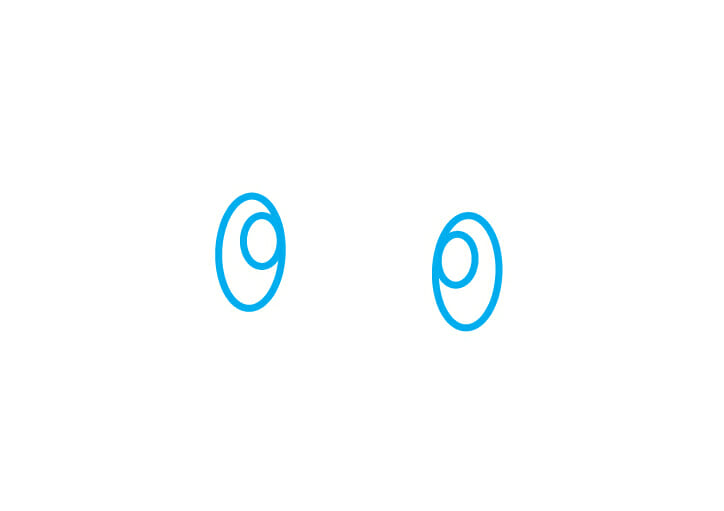 Step 2. Depth in the Eyes
Fill the area between the larger and smaller ovals with black, giving the eyes a captivating depth.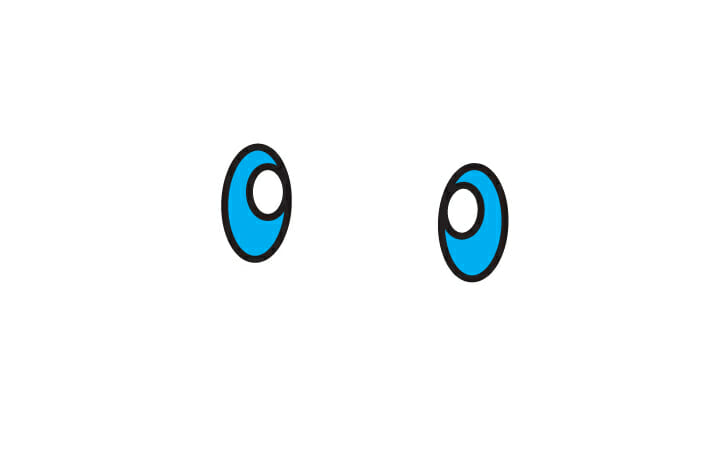 Step 3. Expressive Eyebrows
Above each eye, sketch a waterdrop-shaped contour to represent the tiger's thick, expressive eyebrows.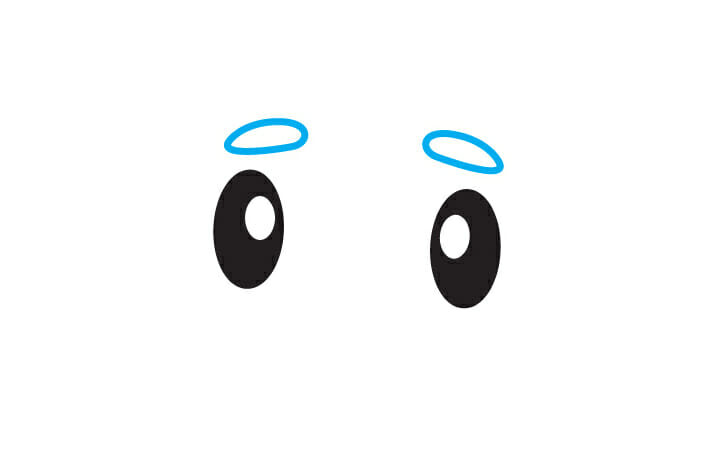 Step 4. Crafting the Feline Mouth
Start with a gentle heart shape to form the upper part of the mouth. Beneath it, sketch a 'W' shape for the tiger's lower lip. Inside this 'W', place three dots on each side, setting the stage for the whiskers.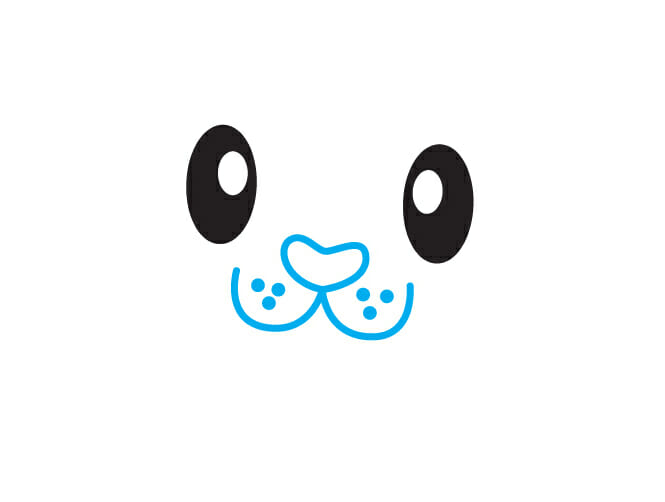 Step 5. Outlining the Tiger Majestic Face
Sketch the face's overall outline, paying close attention to the fur's natural texture. Add details of fur, especially on the sides, for a more realistic feel.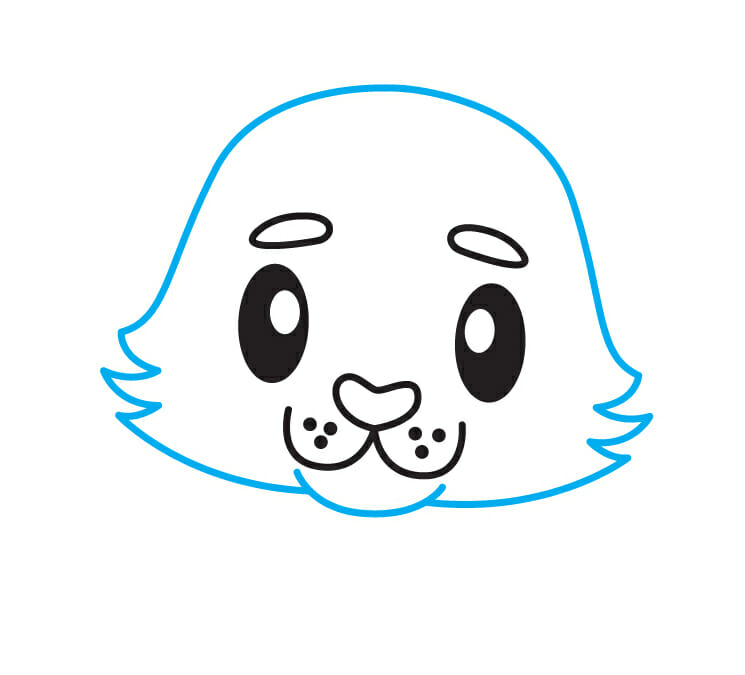 Step 6. Ears Alert to Every Sound
Draw two 'U' shaped contours for the tiger's ears. Inside each ear, add a curved line to represent the inner ear's detail.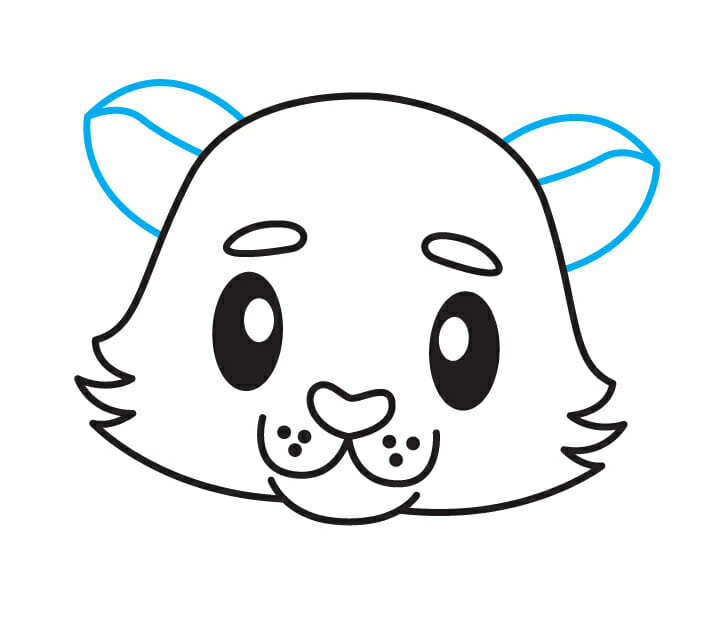 Step 7. Building the Tiger Torso
Sketch two gently curved lines to form the initial outline of the tiger's muscular body.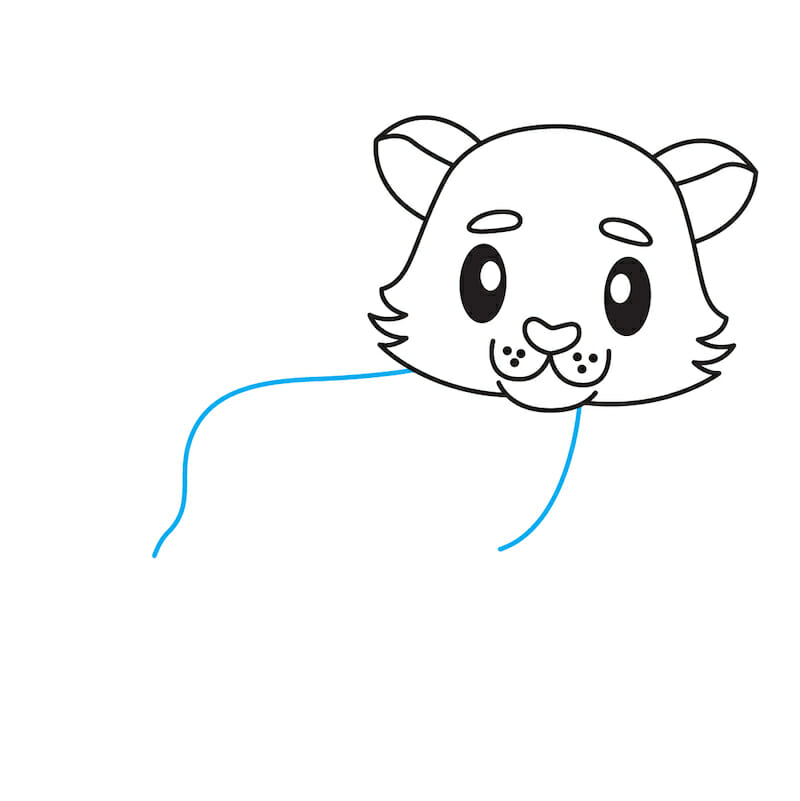 Step 8. The Front Paws
Beneath the body outline you just drew, sketch the first two legs, considering the tiger's stance and posture.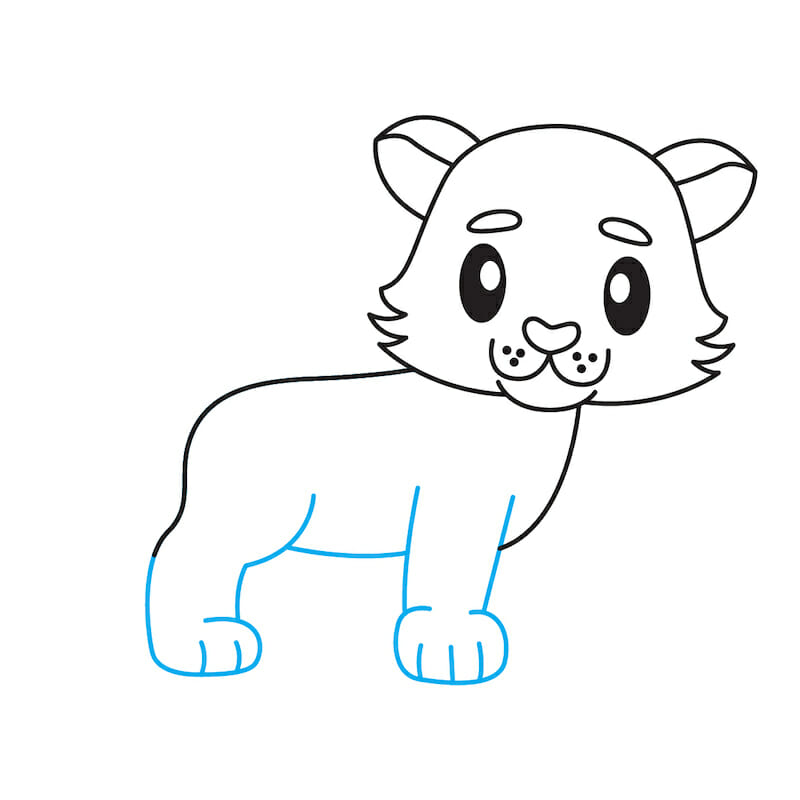 Step 9. Sturdy Hind Legs
To the right of the front legs, draw two additional legs, capturing the tiger's strength and grace.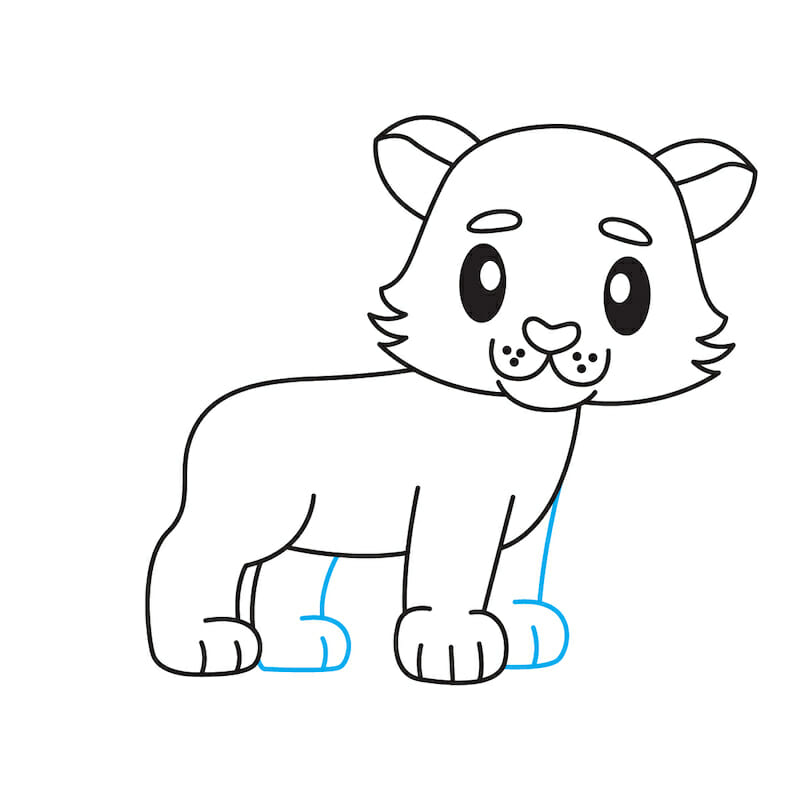 Step 10. Tail with a Twist
Draw a long, snake-like contour for the tail. This is where you can let your creativity shine, giving the tail a unique curl or twist.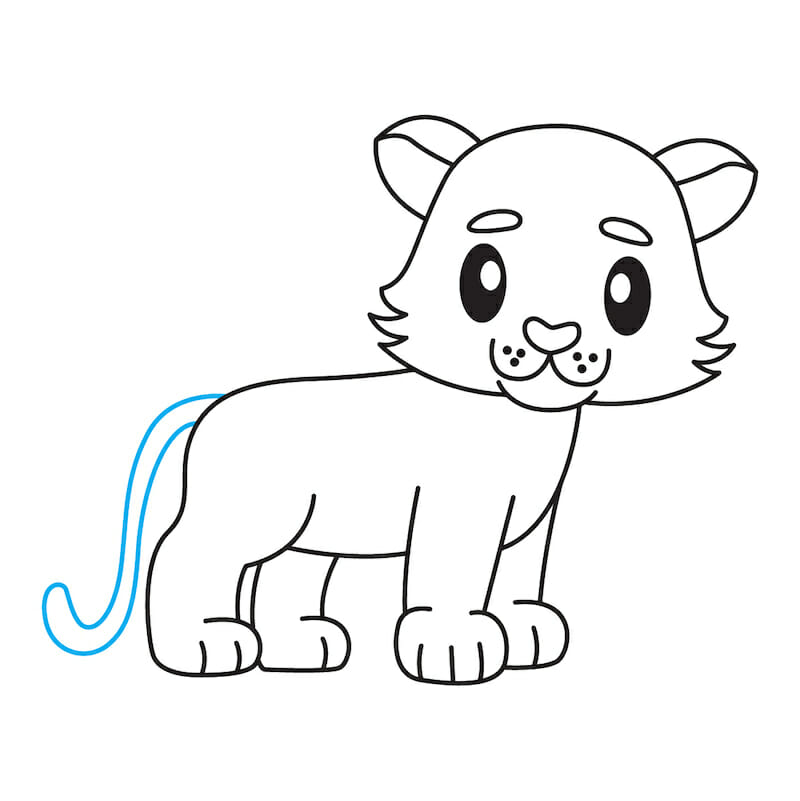 Step 11. Signature Tiger Stripes
Add the iconic tiger stripes across the entire drawing. Remember, each tiger's stripes are unique, so there's no strict pattern to follow. Let your imagination guide you.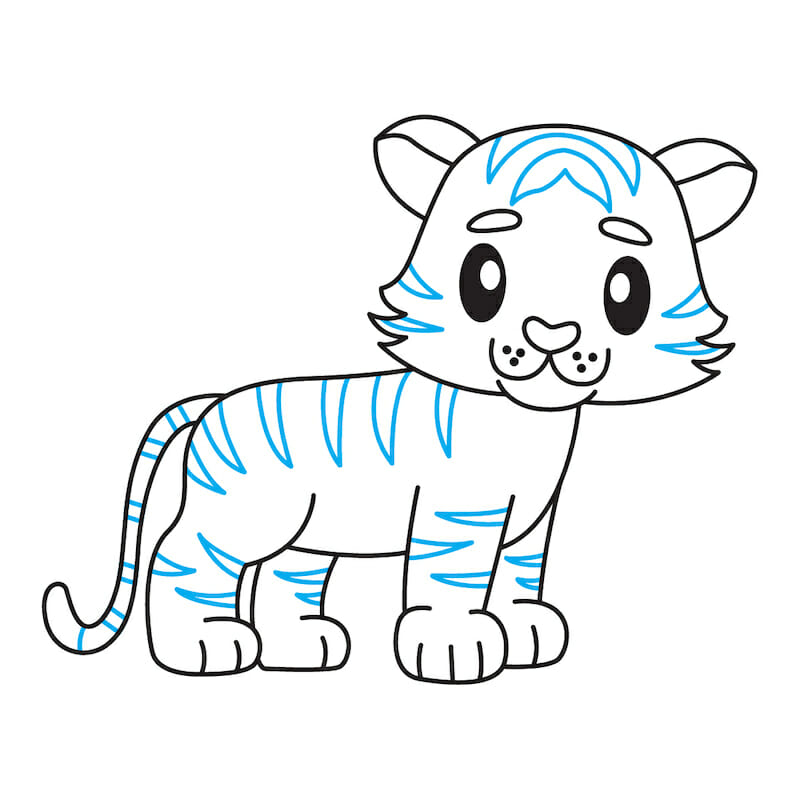 Step 12. The Majestic Completion
Congratulations! You've successfully sketched a tiger. Take a moment to appreciate your artistry.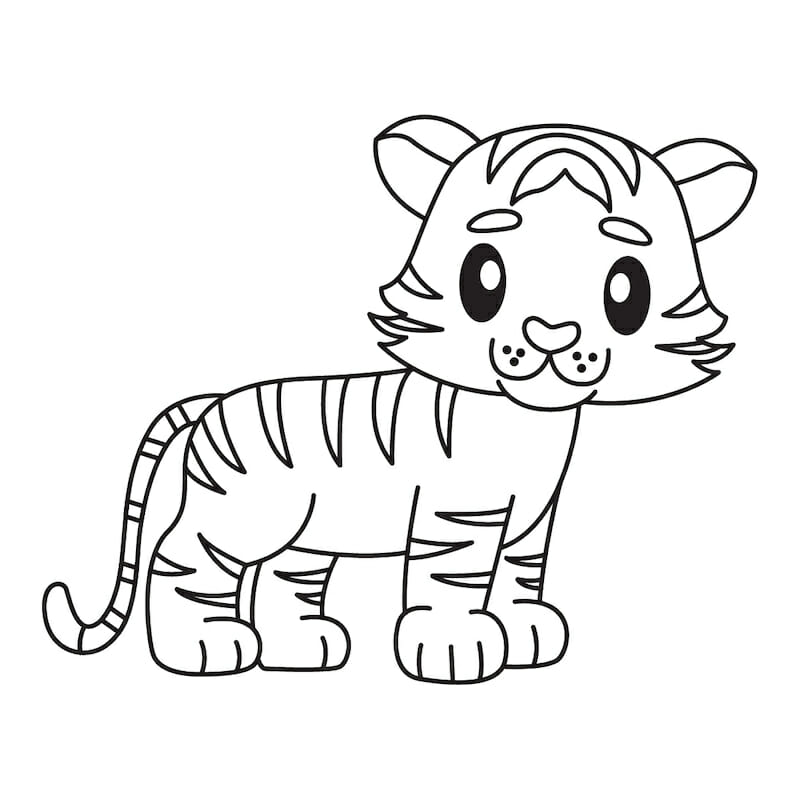 Step 13. Bring it to Life to Your Tiger with Color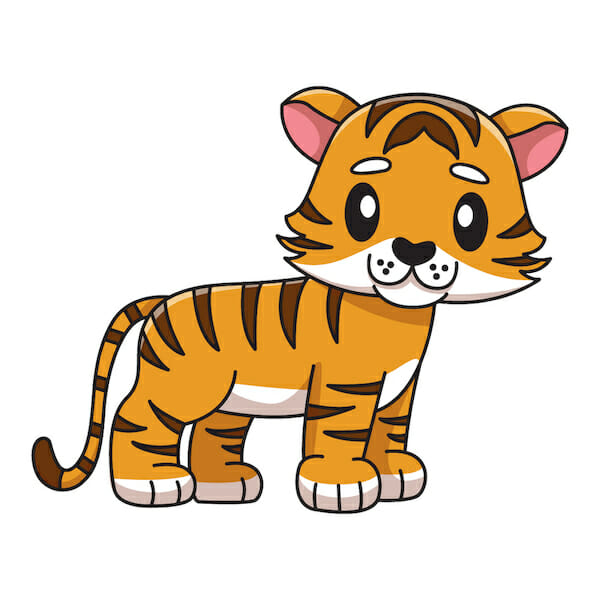 To truly bring your tiger to life, consider adding vibrant colors. Here's a suggested color palette to inspire you, but feel free to choose shades that resonate with you.
More Drawing Tutorials
How to Draw a Tiger Full Length Video Tutorial
Drawing a majestic creature like a tiger might seem intimidating at first, but as we've seen, breaking the process down into manageable steps can make it both achievable and enjoyable. We hope this tutorial has sparked a newfound appreciation for the art and the magnificent world of tigers. Keep practicing, and soon, you'll master the art of drawing these feline beauties. Remember, every artist has a unique style, so embrace yours and let your creativity shine.
Happy drawing!