Welcome to this step-by-step guide on how to draw one of the most iconic video game characters ever—Sonic the Hedgehog! Whether you're a beginner looking for a fun and easy-to-follow tutorial or an advanced artist interested in capturing the essence of this speed-loving blue blur, you're in the right place.
This article features 14 detailed steps with images and videos that will take you from a blank canvas to a Sonic masterpiece. So grab your drawing tools, and let's dive into the world of Sonic!
Suggested Materials
To complete this tutorial successfully, it's helpful to have the following equipment at hand:
Pencil – A standard HB pencil for initial sketches.
Eraser – For correcting any mistakes or fine-tuning your drawing.
Ink Pen or Fineliner – Go over your pencil sketches and add definitions.
Paper – Any standard drawing paper will work, but a sketch pad is ideal for better quality.
Ruler or Straight Edge – Helpful for drawing straight lines, although not strictly necessary.
Colored Pencils or Markers – To add color to your drawing. Choose a variety that will allow you to capture Sonic's iconic blue hue and other necessary colors for his shoes, eyes, and details.
Optional: Blending Stumps or Tissue – For smudging and blending your pencil lines, if desired.
Digital Tablet (Optional) – If you prefer digital art, a drawing tablet can also be used for this tutorial.
With your equipment ready, you're all set to begin your artistic journey into the world of Sonic the Hedgehog. Let's get started!
Draw Sonic The Hedgehog In 14 Easy Steps
1. Draw a Banana Shape with a Nose
Begin your drawing by sketching a shape that resembles a banana. Draw a small oval representing Sonic's nose at the tip of this banana-like curve. This forms the basic outline of Sonic's profile.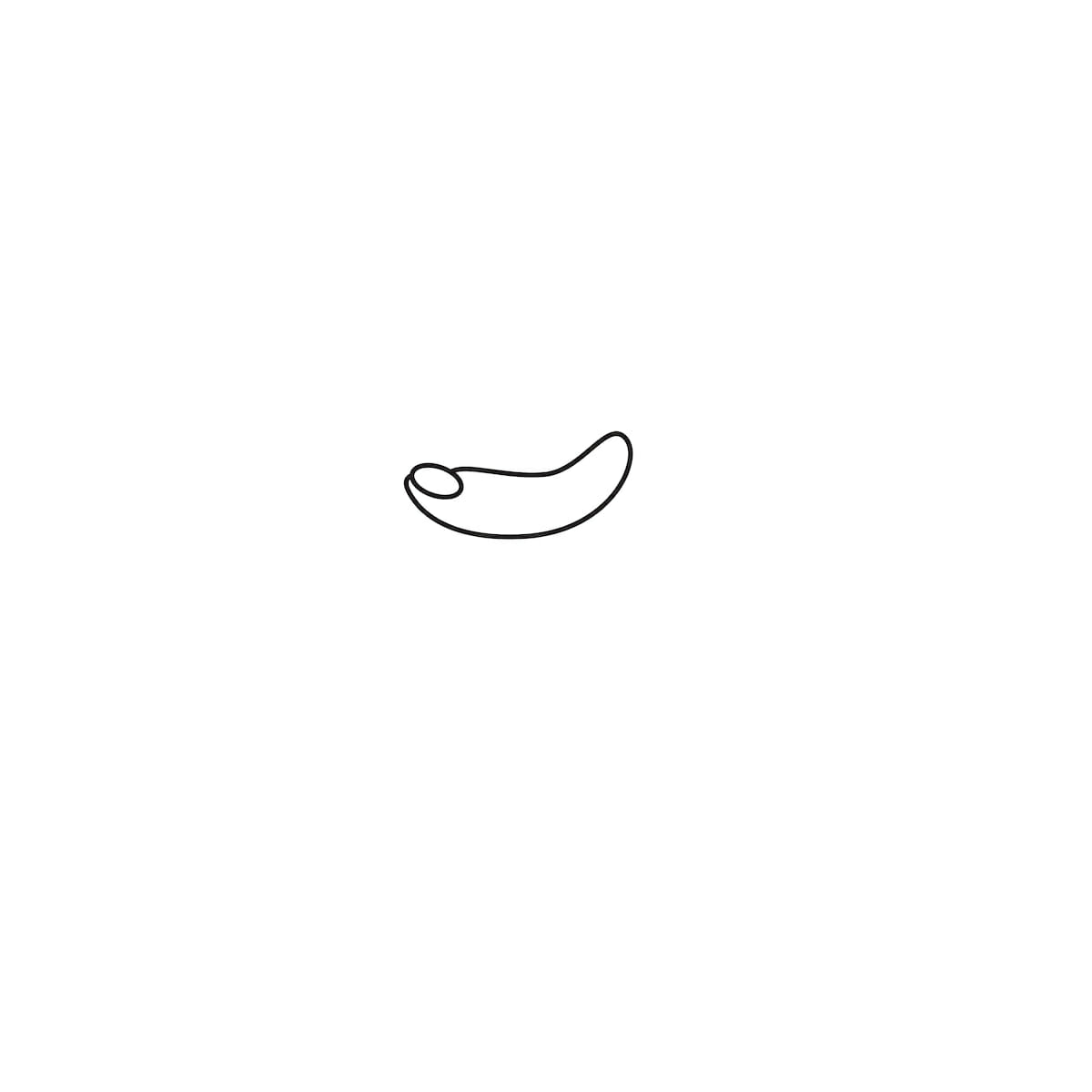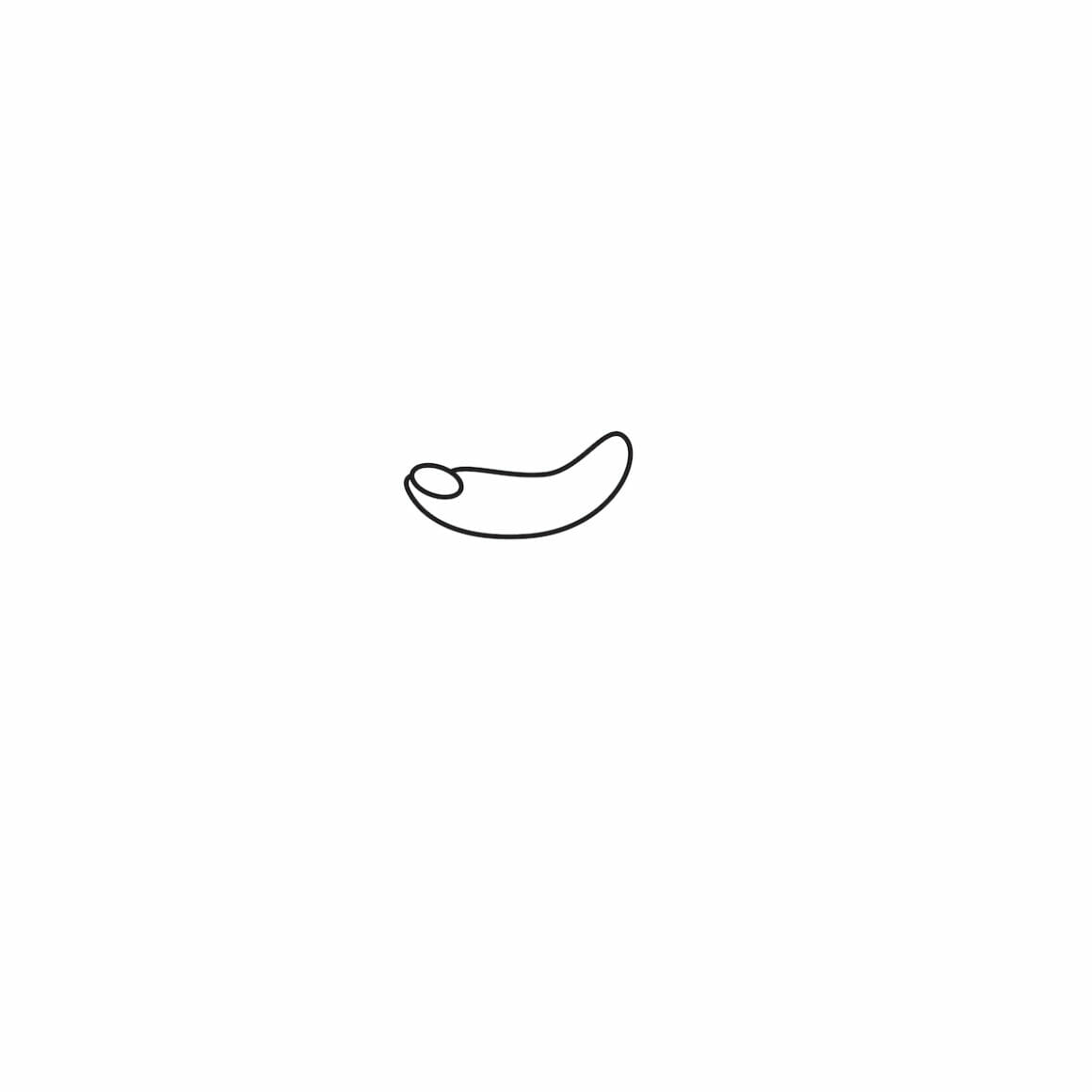 2. Outline the Eye Area
Sketch the outline of Sonic's eye area by drawing a shape similar to a flipped number 3 that faces the nose area. This will give you the base where Sonic's eyes will eventually sit.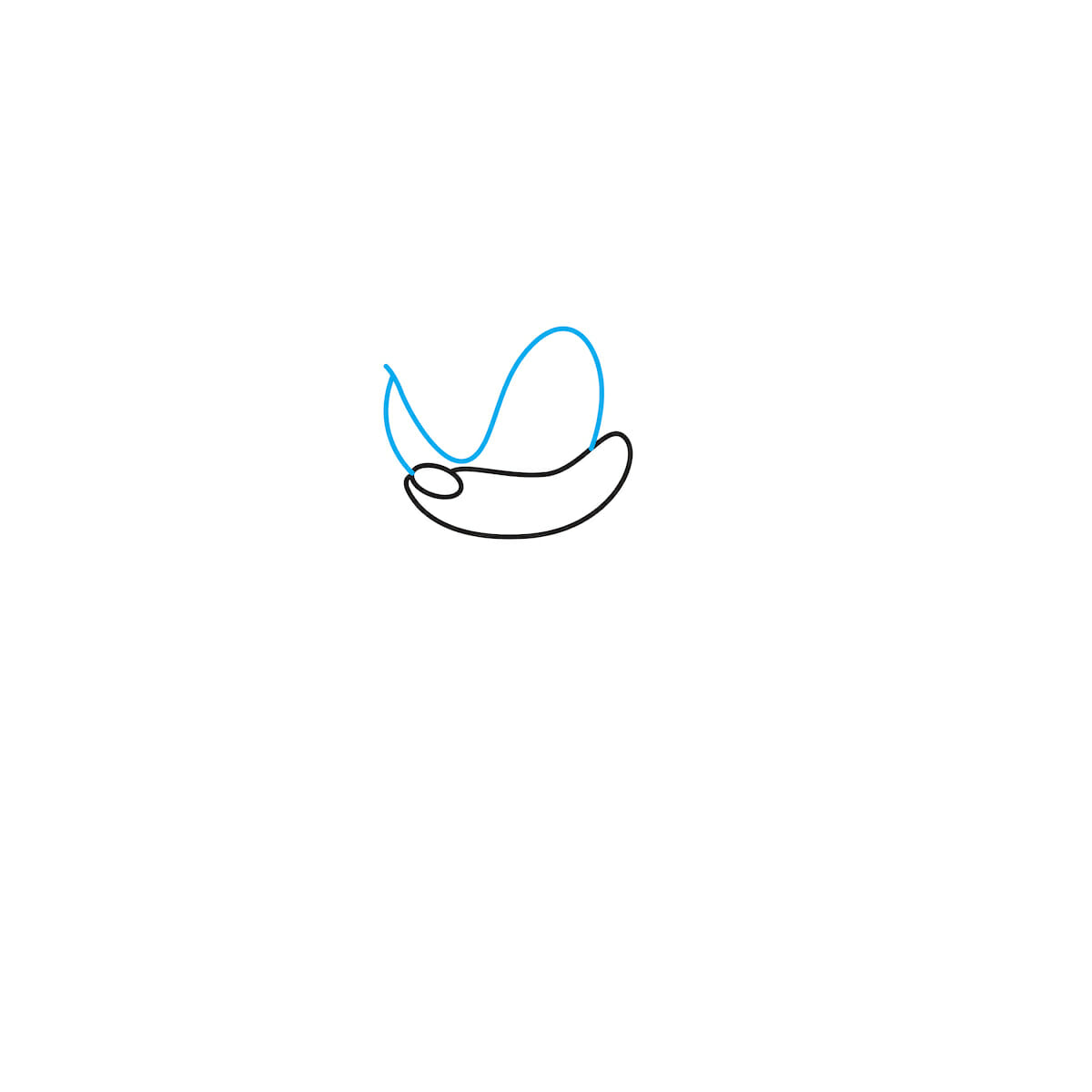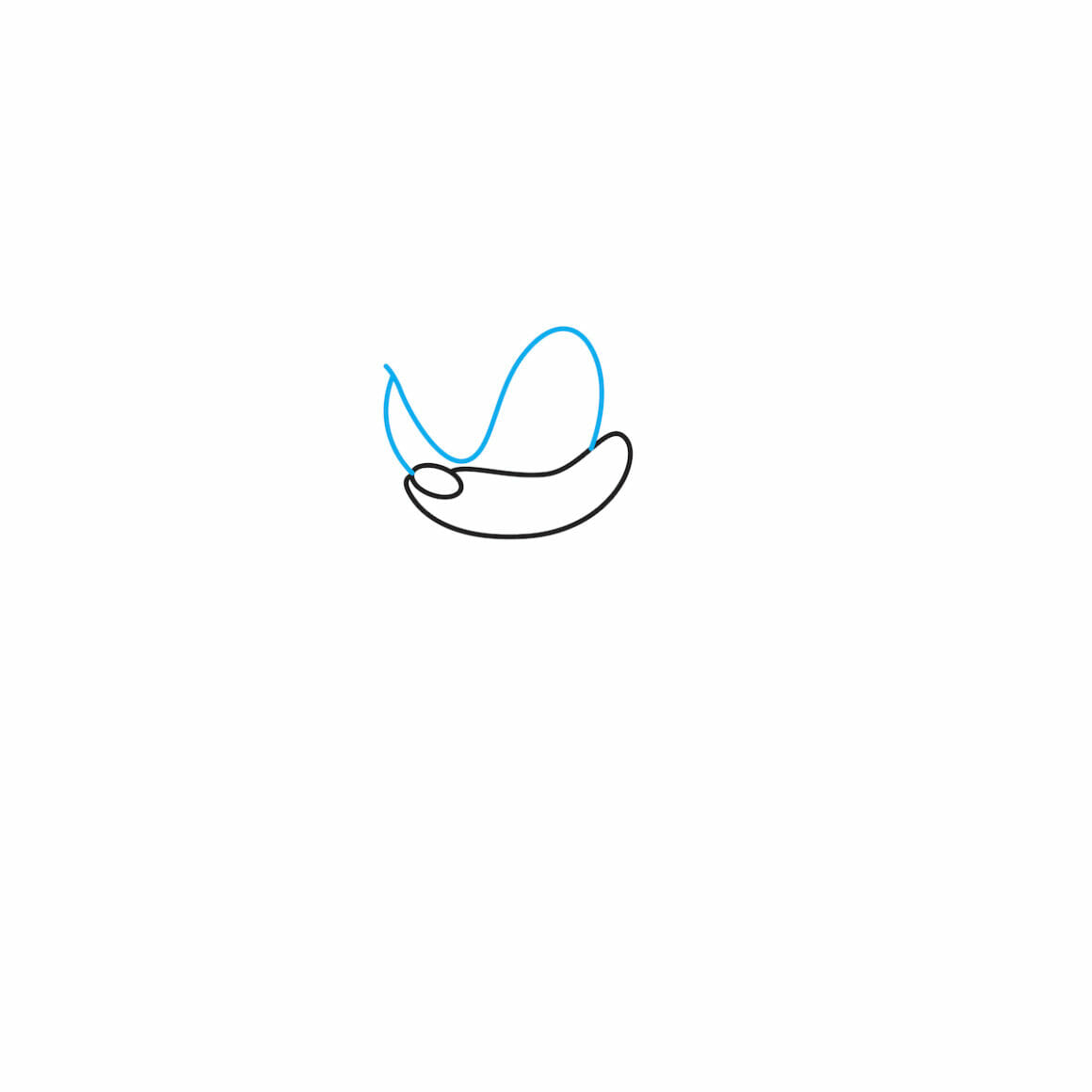 3. Shape the Head
Start by drawing a half-circle over the eye area to represent Sonic's eyebrows. Once you've done that, continue by sketching the rest of the head outline, which should curve around and join back at the nose.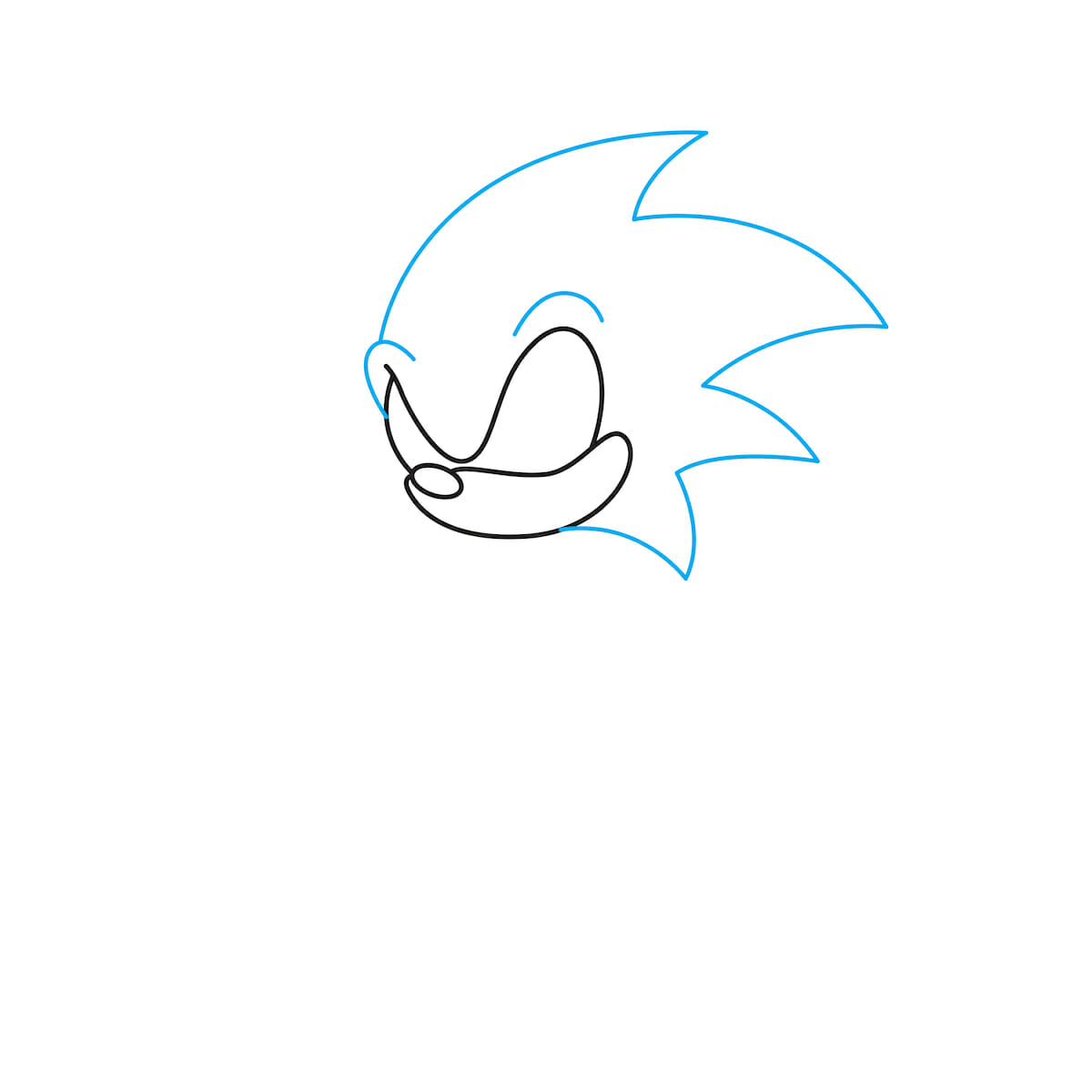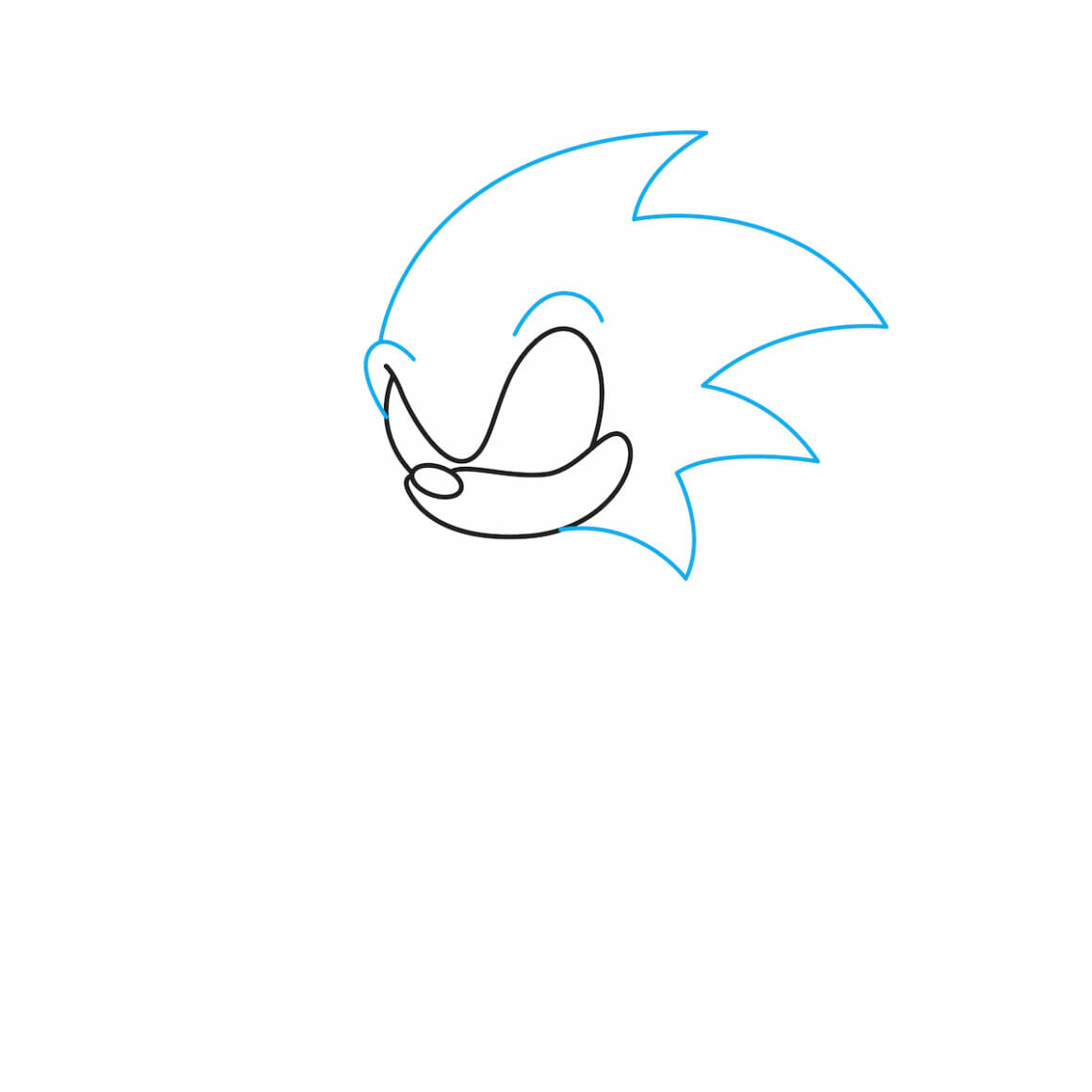 4. Draw Sonic's Ear
Add a triangular shape that protrudes from the area above the eyebrow. This will serve as Sonic's ear.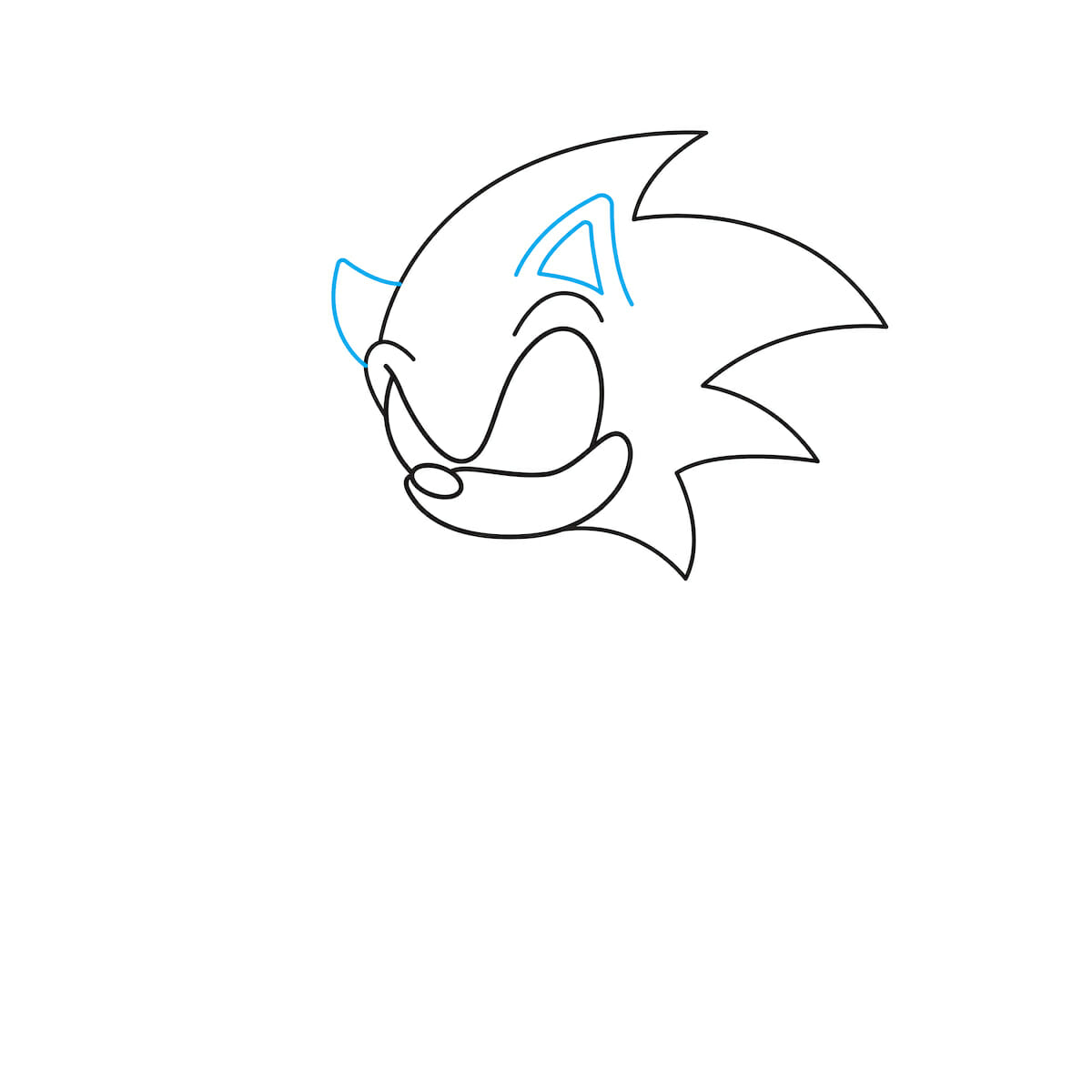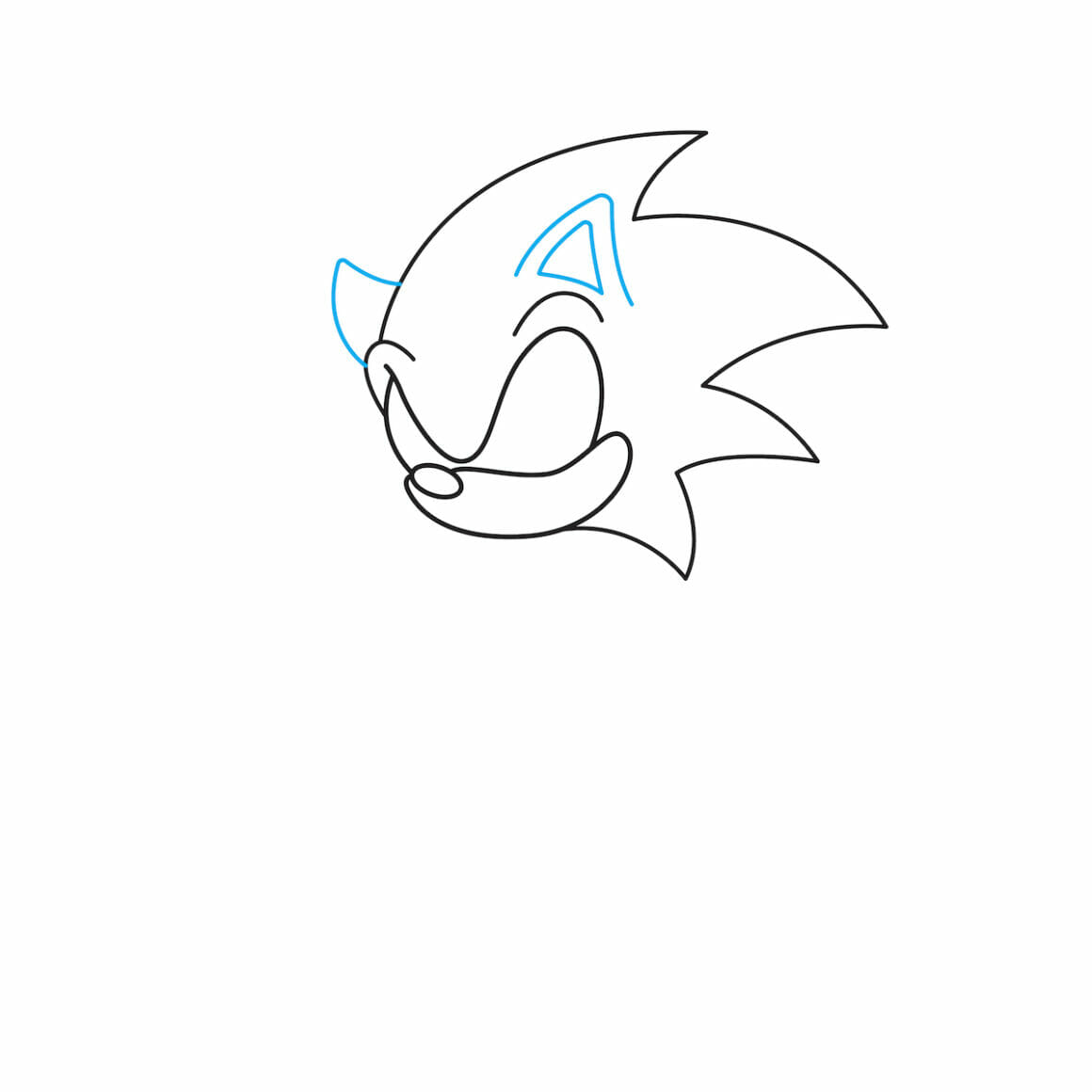 5. Add Eyes and Lips
Now that the head outline is complete draw Sonic's eye in the eye area you outlined earlier. Add a half-oval shape near the bottom of the banana shape to represent Sonic's lip.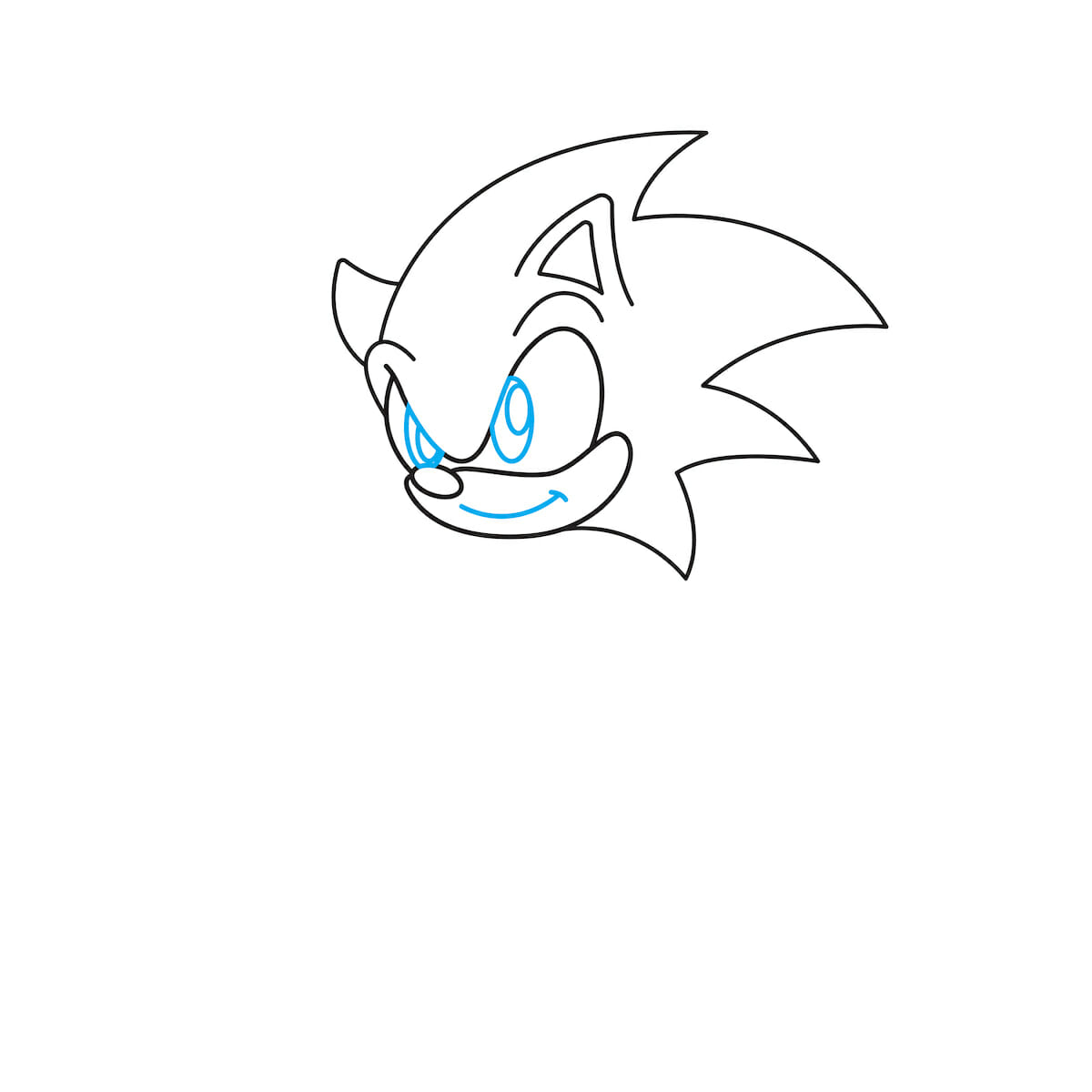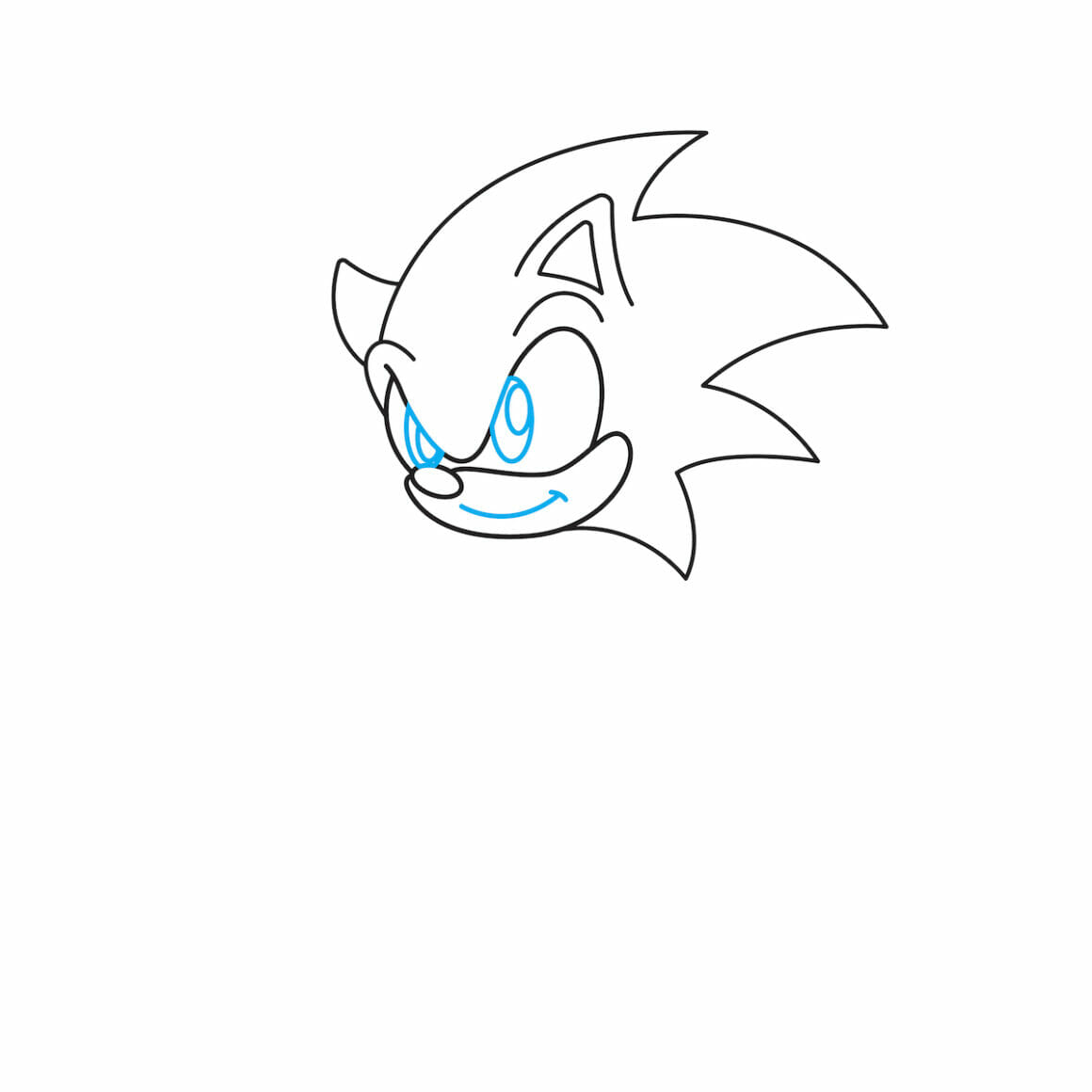 6. Start the Body
Beneath the head, draw a half-oval shape to serve as the upper part of Sonic's body.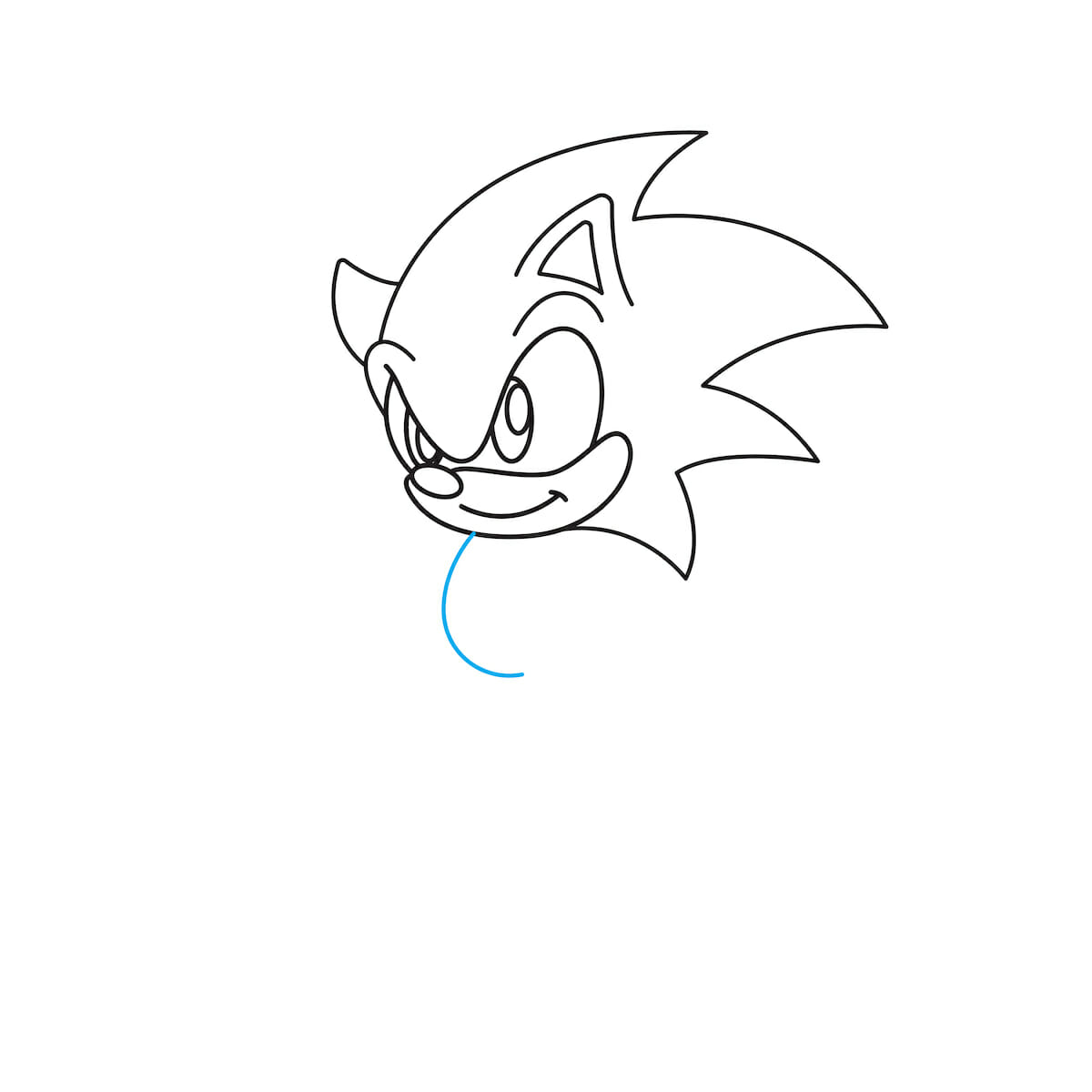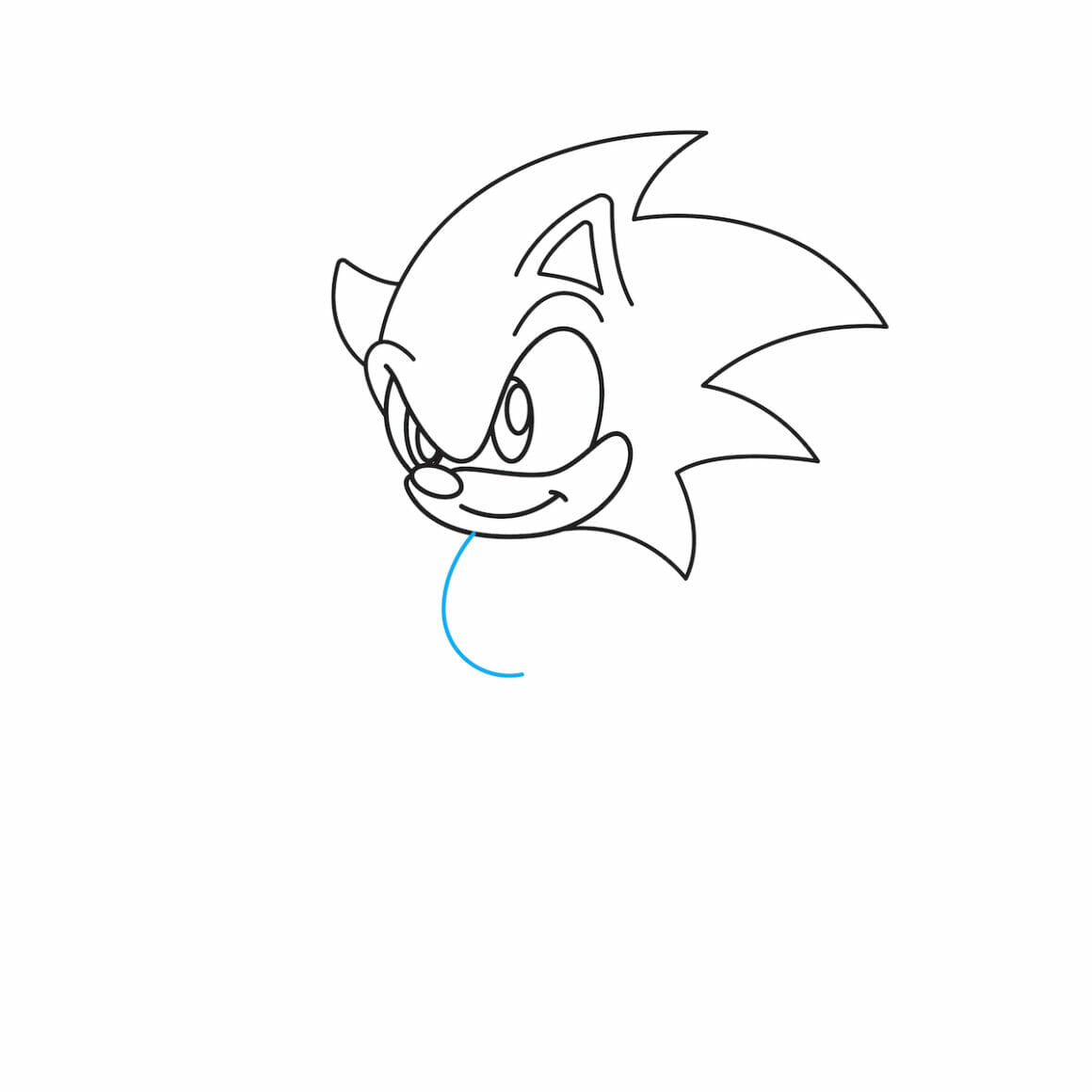 7. Draw the First Hand with a Thumbs-Up
Beside the body, sketch a hand giving a thumbs-up gesture. Remember, the hand's style can vary based on your artistic preference.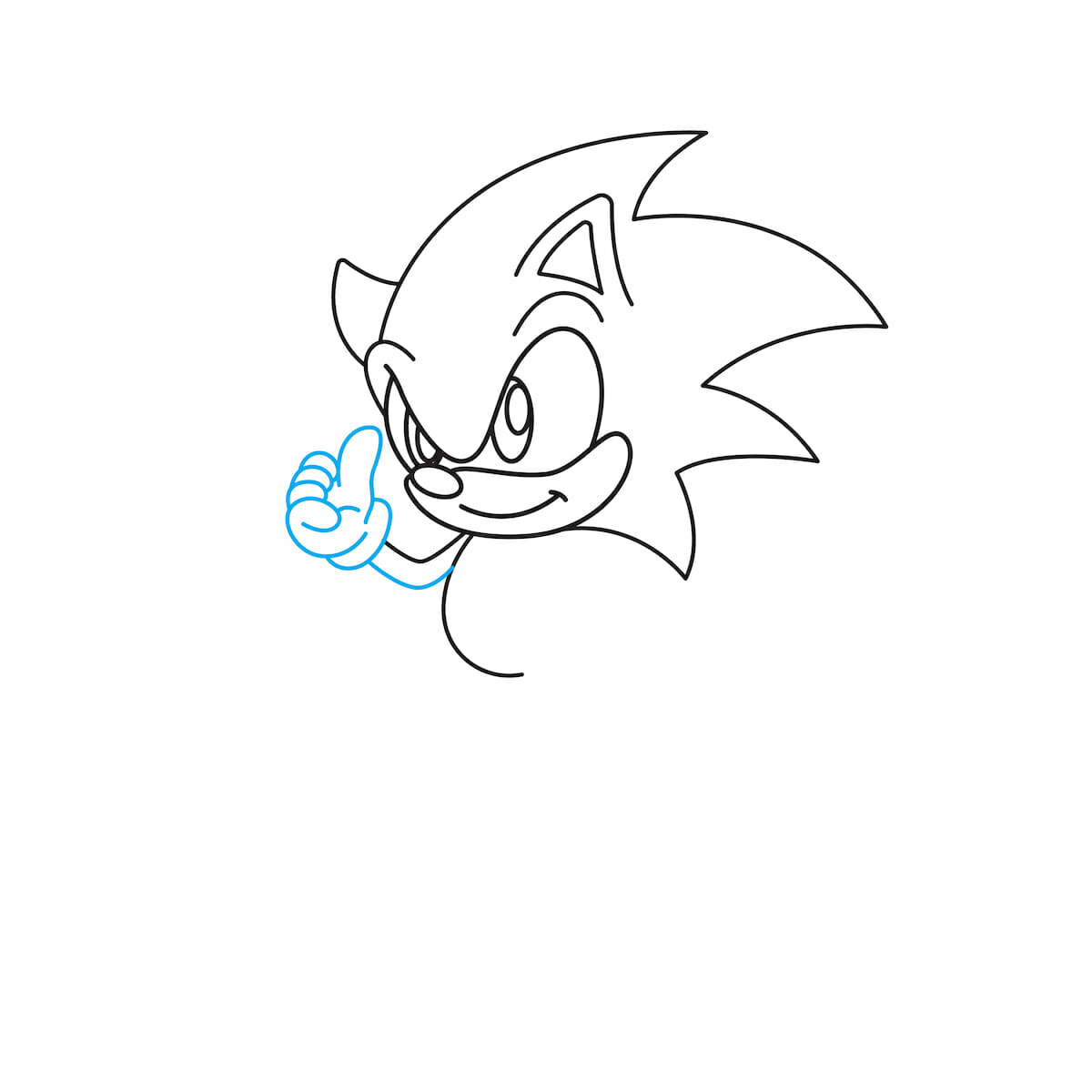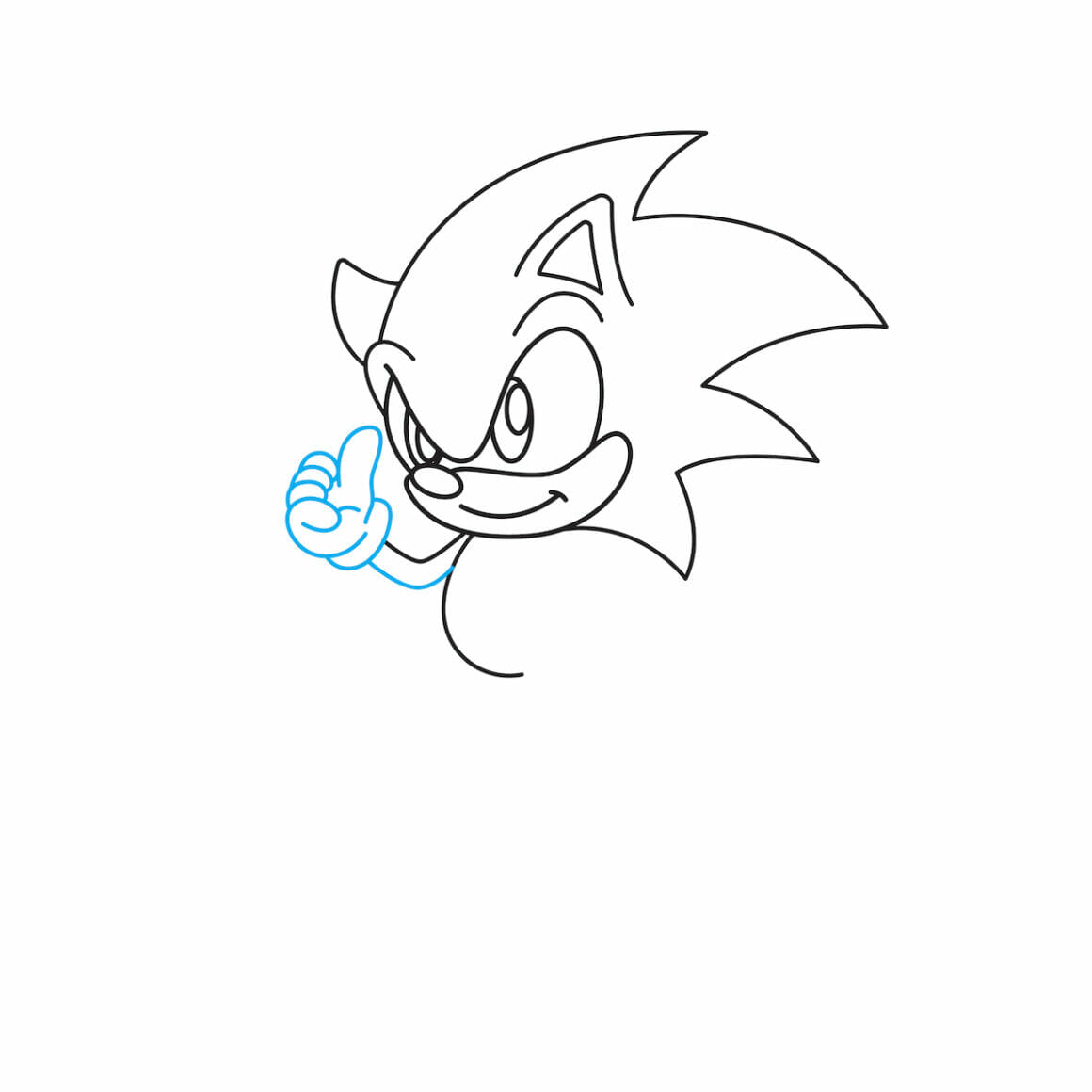 8. Add the Second Hand
Once you've completed the first hand, draw the other hand on the opposite side of the body, mirroring the pose or choosing a different gesture.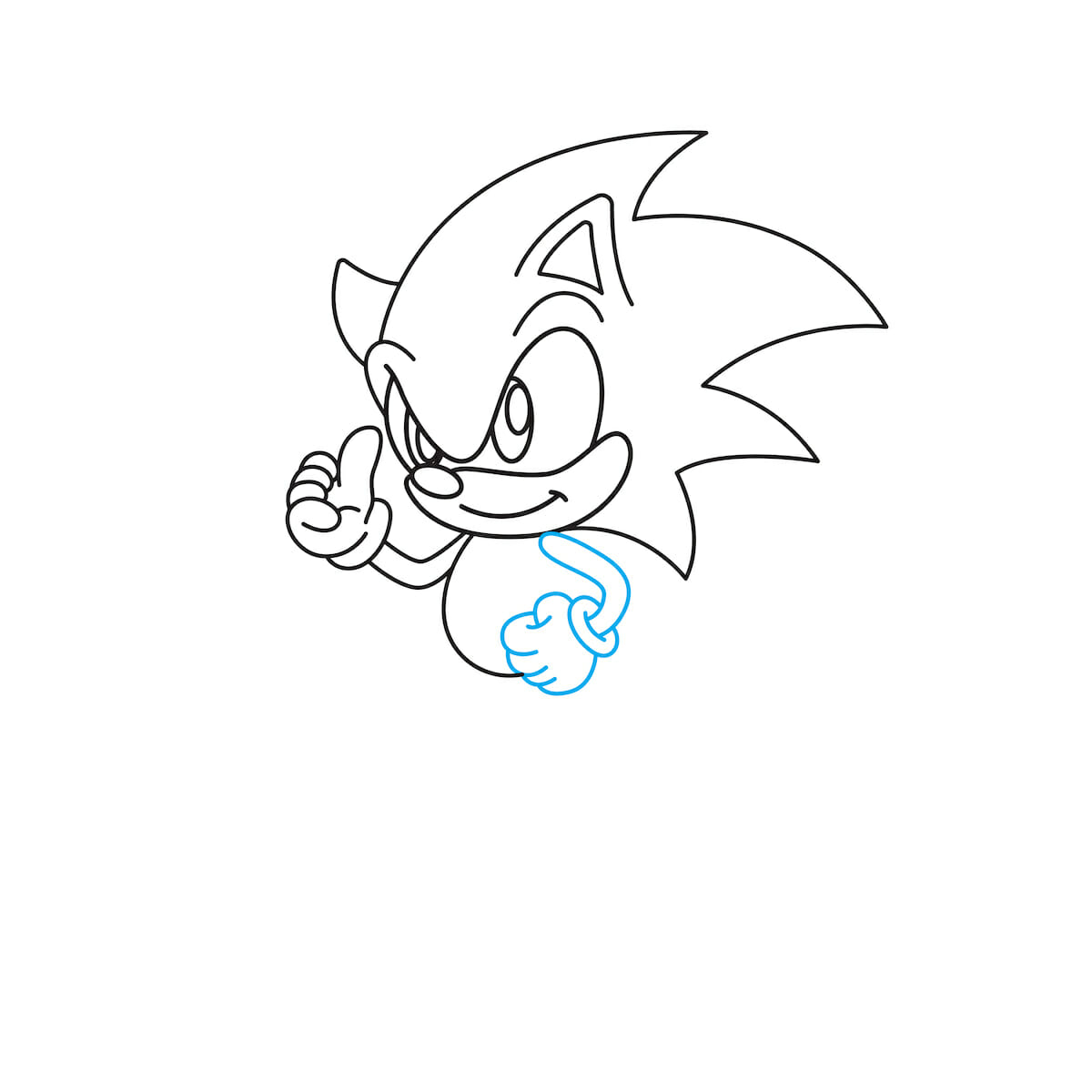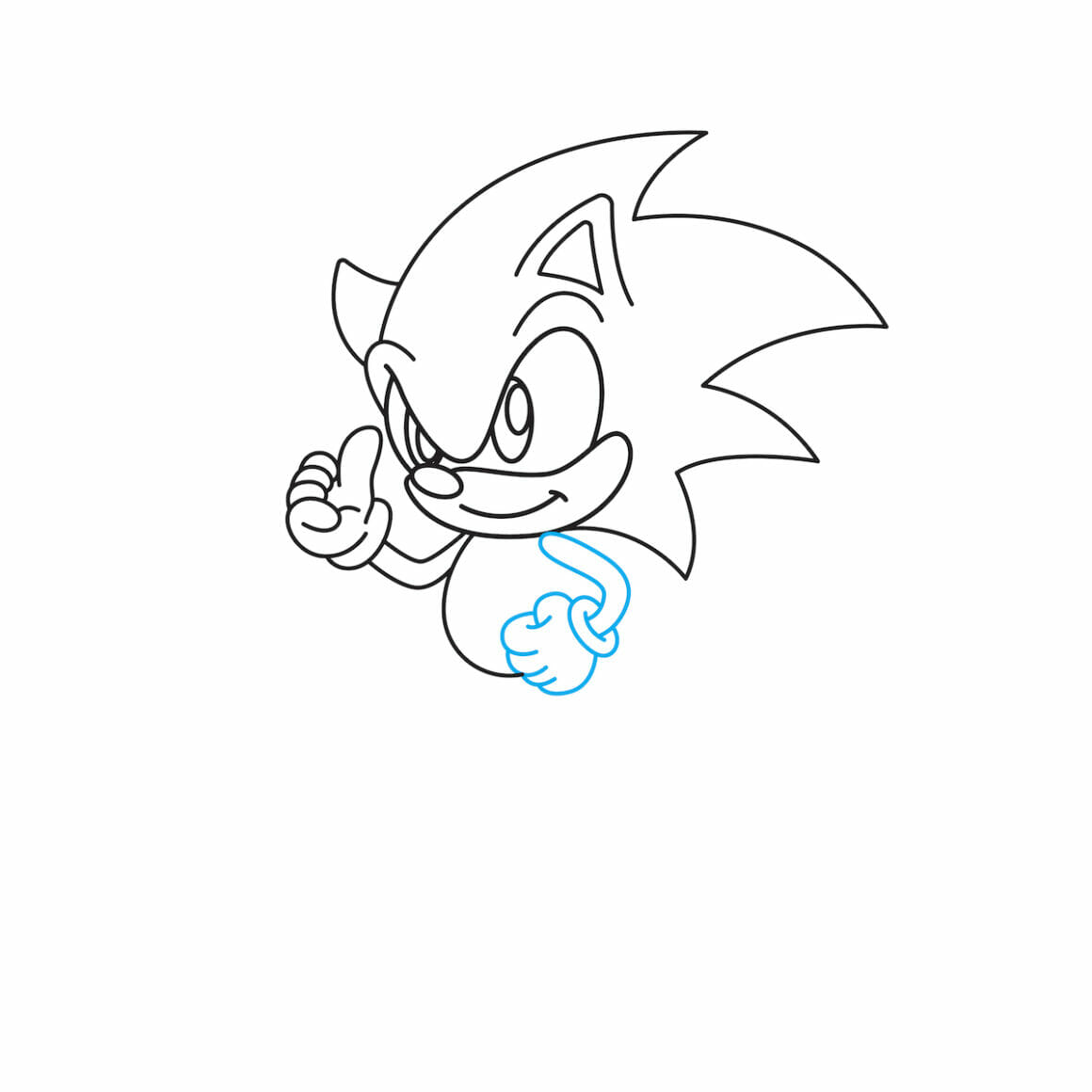 9. Finalize the Body and Add Characteristic Cape
Add another oval to complete the torso inside the half-oval shape you drew for the body. Behind the body, sketch what appears to be a cape to show Sonic's speed trail.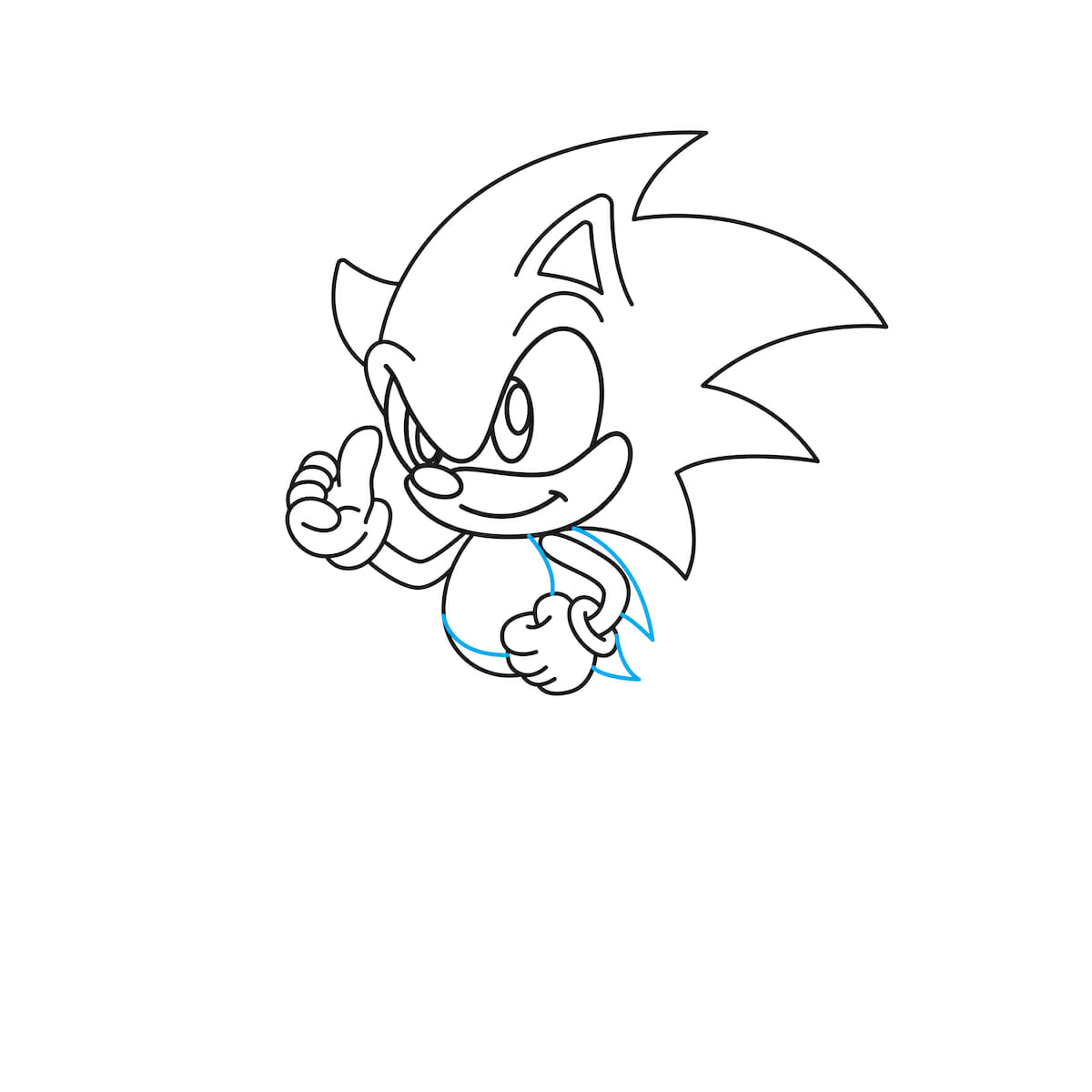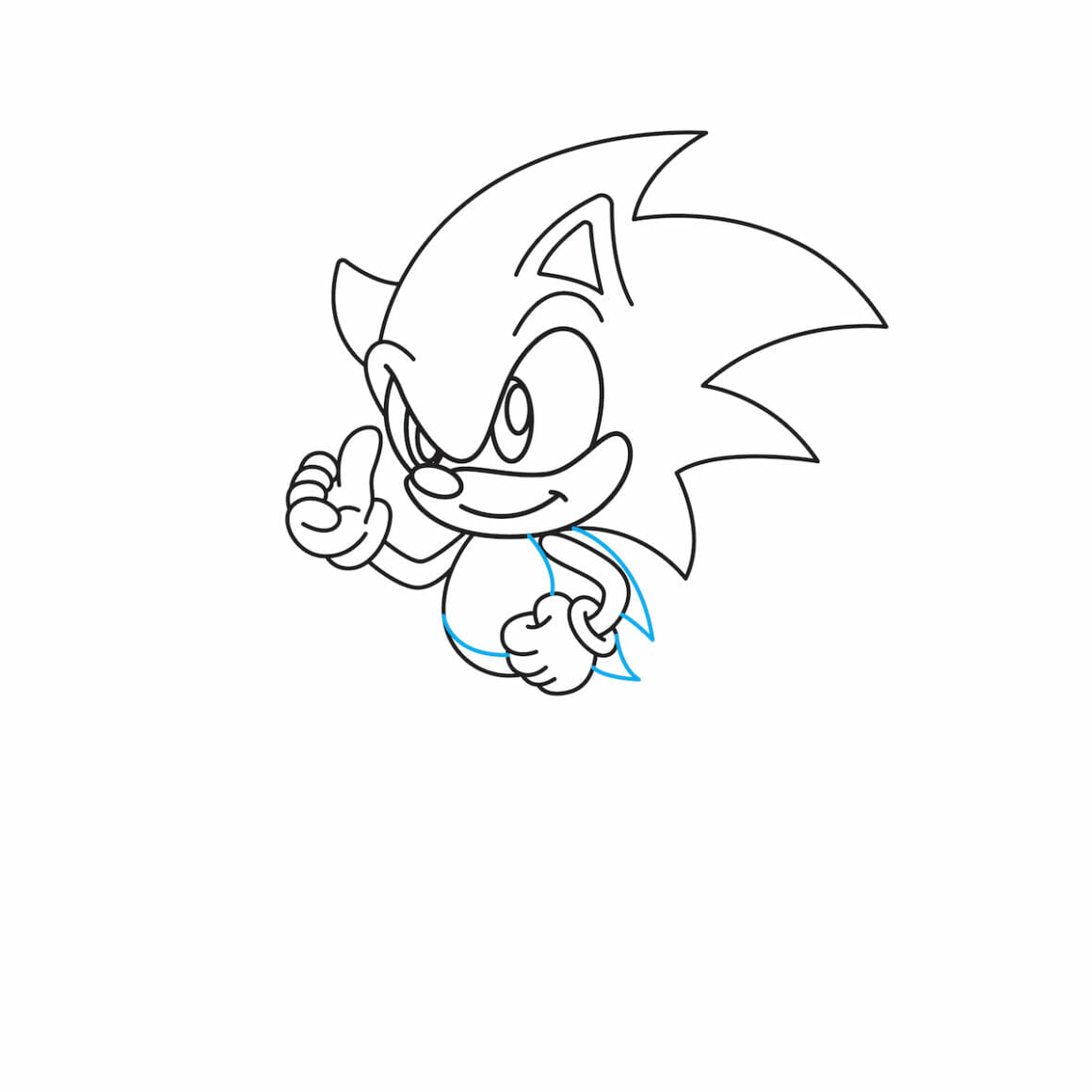 10. Sketch the Legs
For each of Sonic's legs, draw two parallel lines extending downwards. These will act as the guides for Sonic's legs.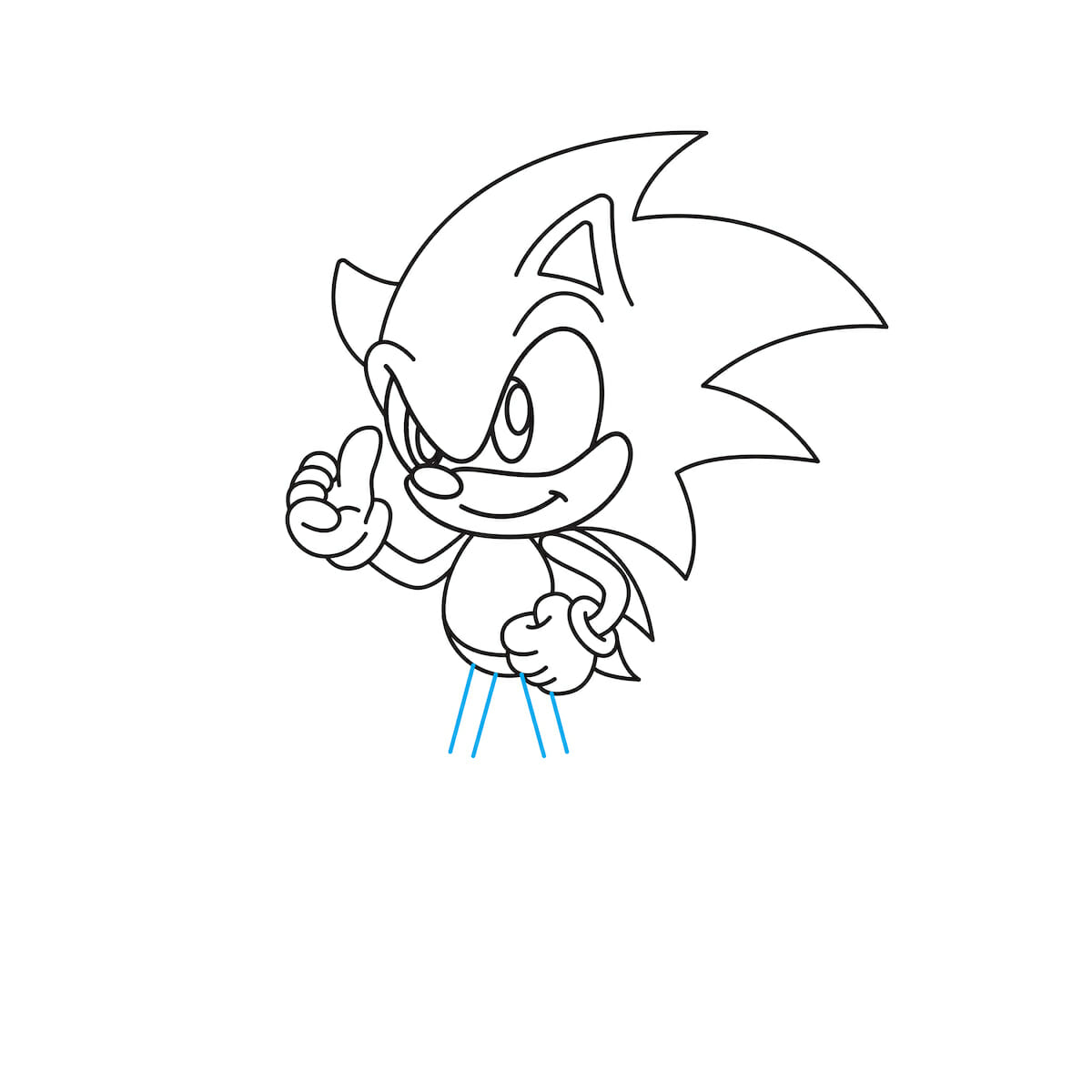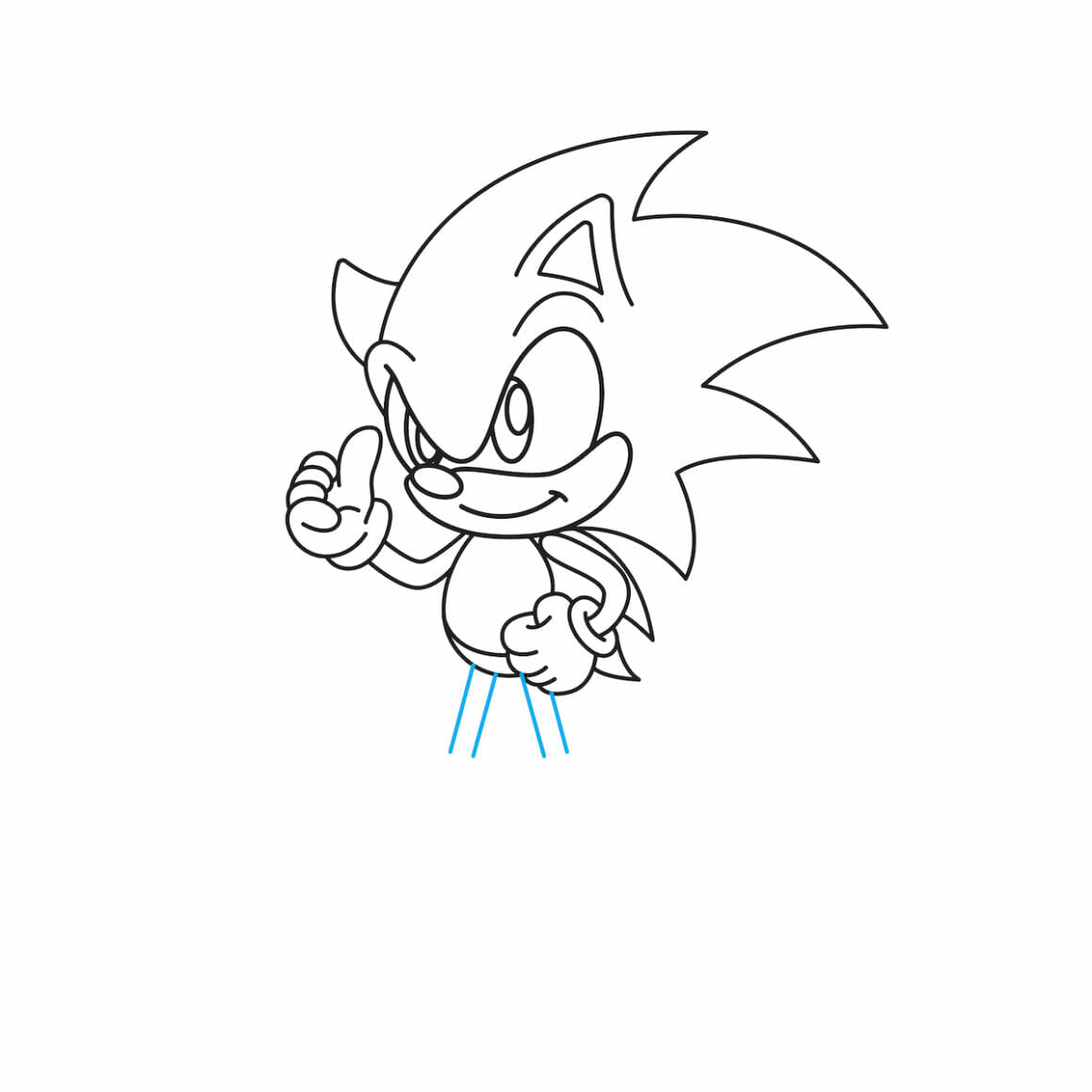 11. Add Socks
At the bottom of each leg, draw what looks like a "double doughnut" shape to represent the cuffs of Sonic's socks.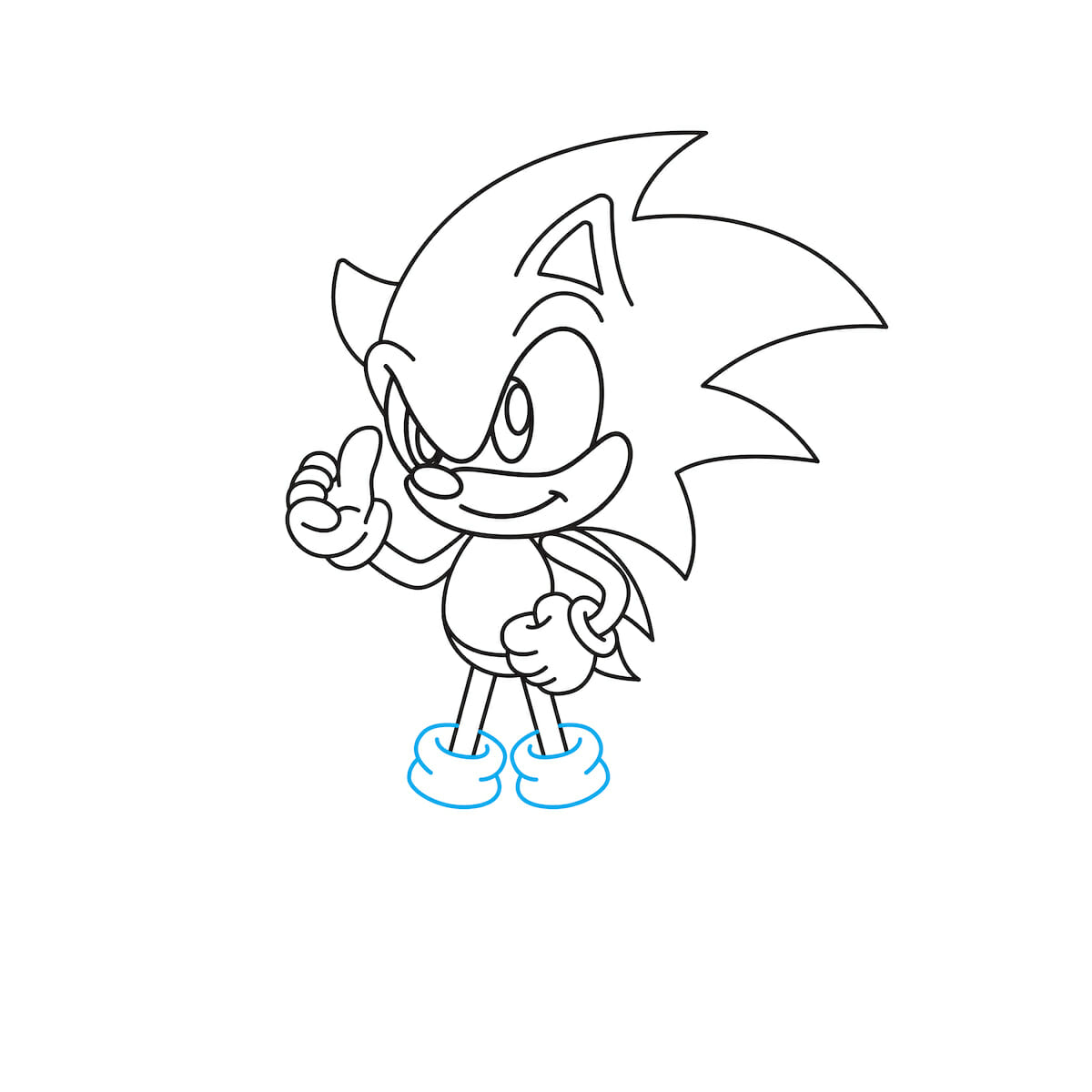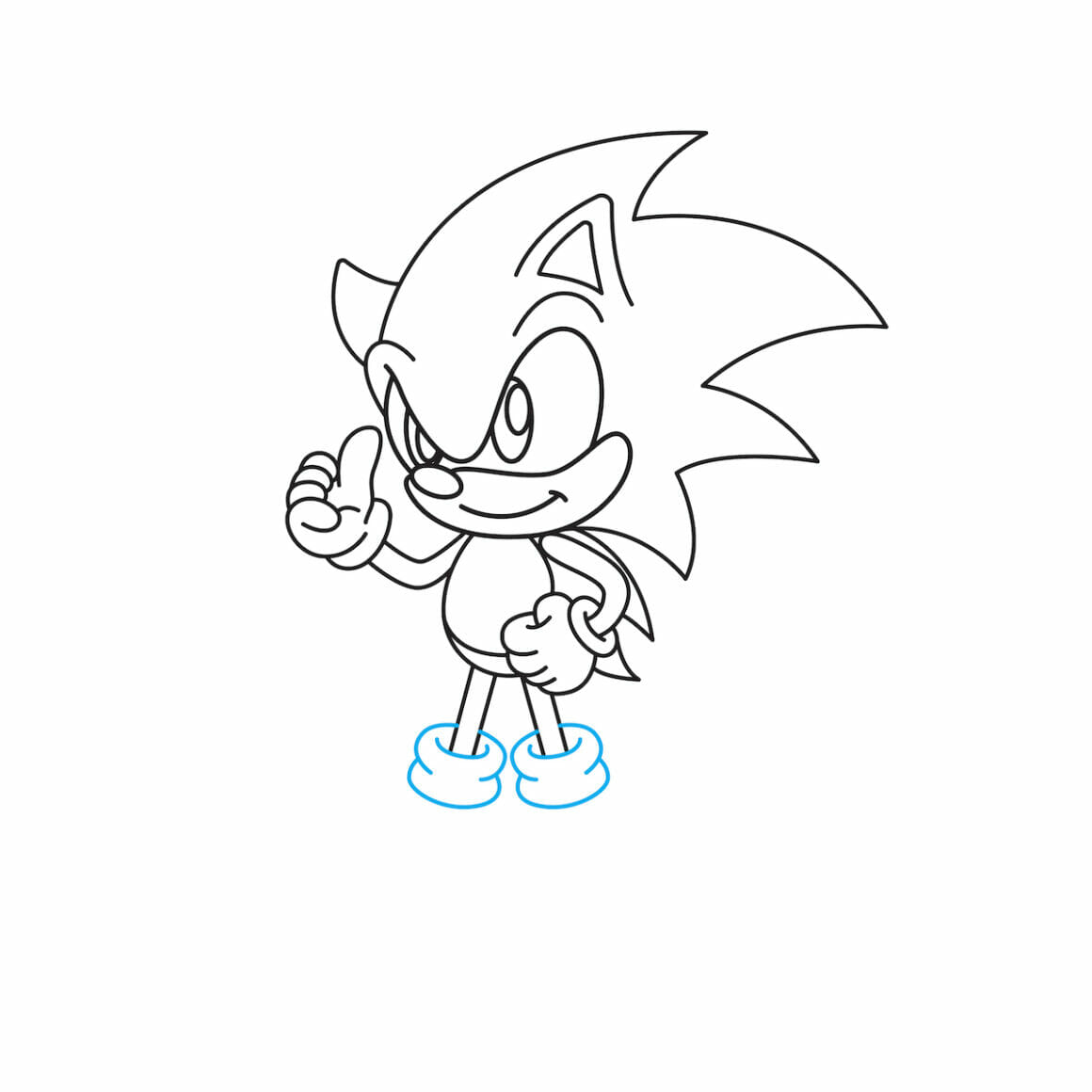 12. Complete with Shoes
Finish the leg area by drawing Sonic's iconic shoes beneath the socks. These can be bulky and should capture Sonic's signature style.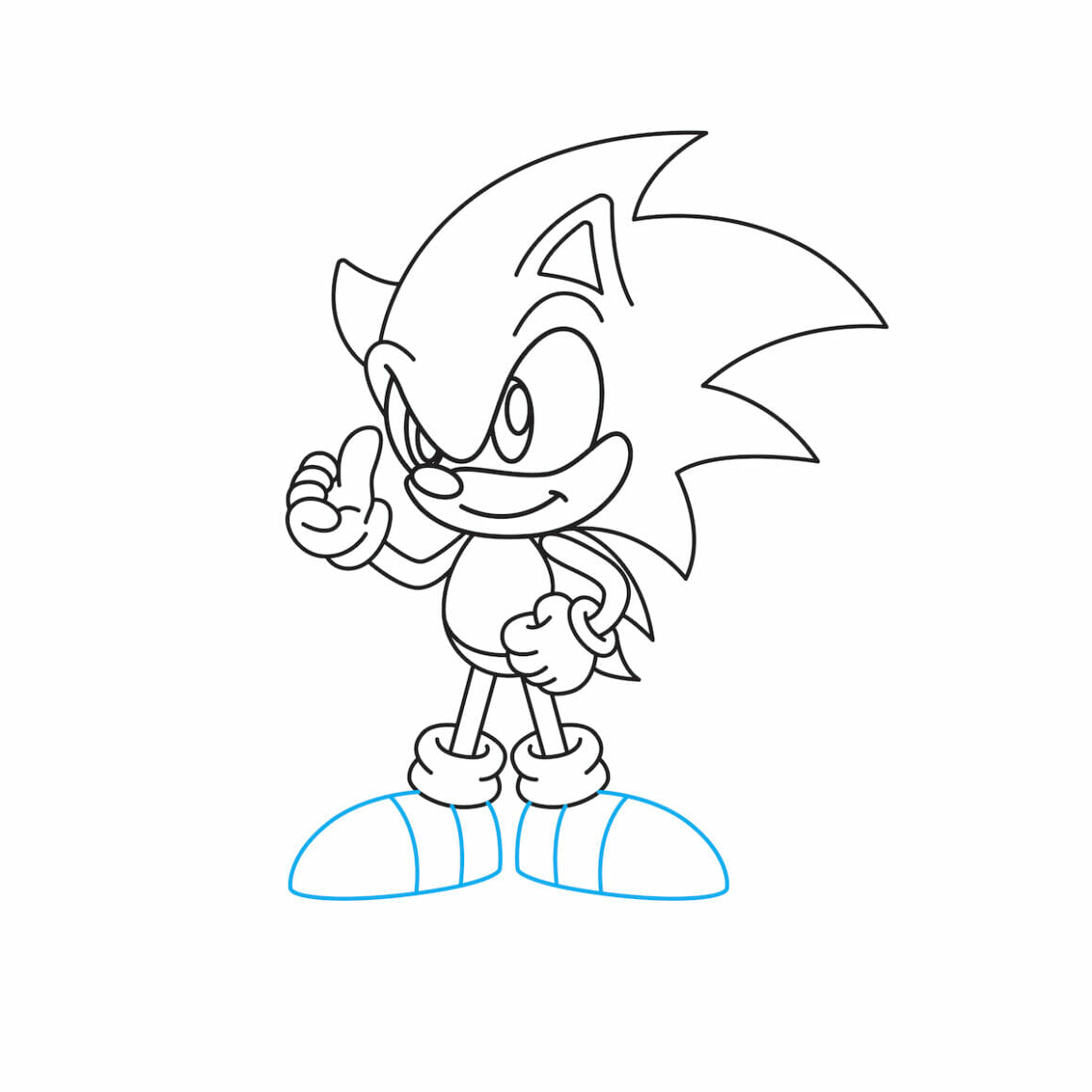 13. Congratulations, You've Drawn Sonic!
Take a step back and admire your work. You've successfully drawn Sonic the Hedgehog!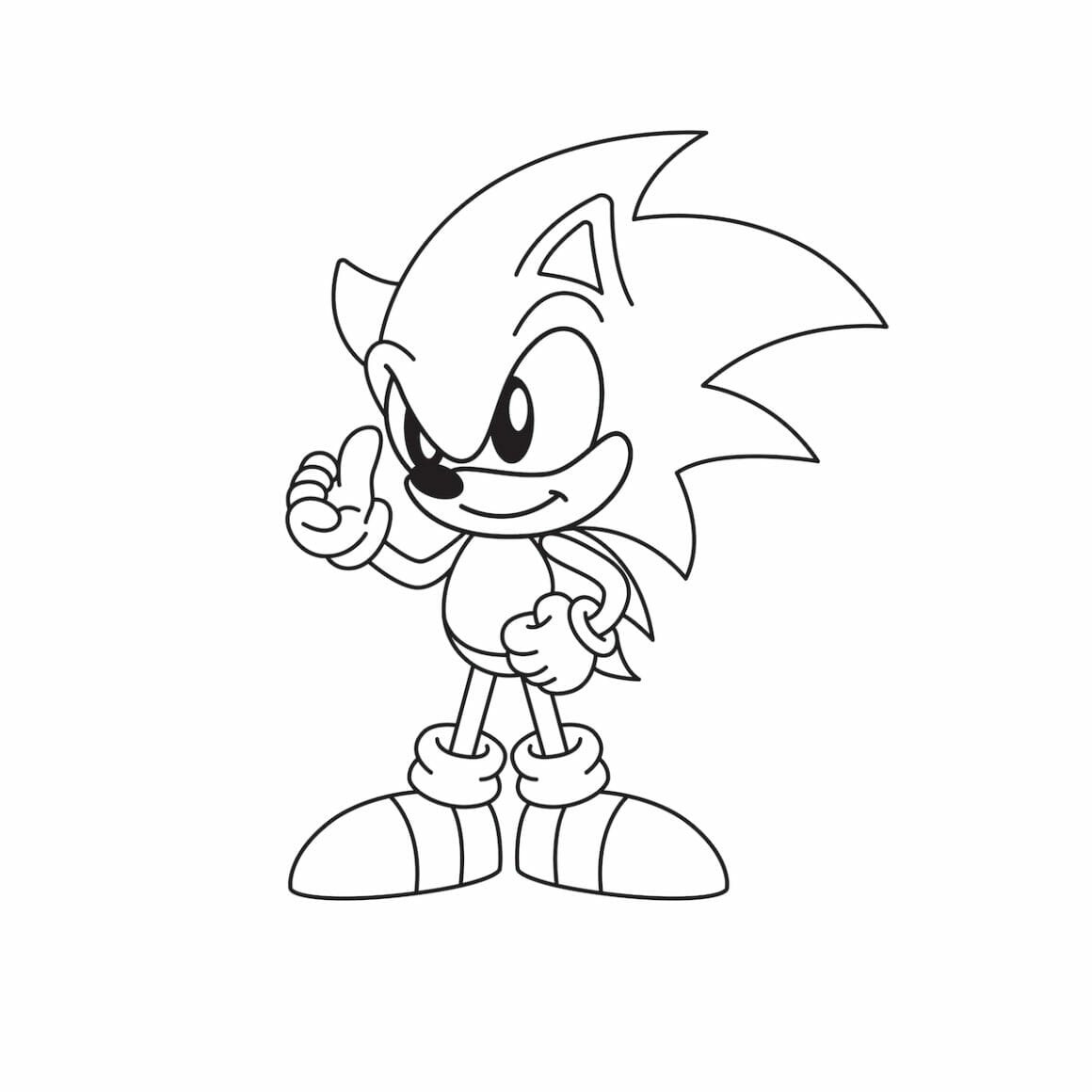 14. Add Color and Details
Now's the time to bring your Sonic to life with colors. Use a variety of shades for his fur, shoes, and other features. Don't hesitate to get creative and add your own flair to the drawing.
Following these detailed steps, you can create your rendition of this iconic character. Happy drawing!
More Drawing Tutorials
Conclusion
Drawing Sonic the Hedgehog can seem like a daunting task, but breaking it down into manageable steps makes the process enjoyable and achievable. We started with the fundamental shapes, beginning with a banana-like curve to outline Sonic's profile and adding an oval for the nose. The eye area followed, designed to resemble a flipped number 3, setting the stage for the facial features.
From there, we sketched out the head and added Sonic's characteristic ears and facial details, including eyes and lips. The body shape came next, a simple half-oval that served as a canvas for adding Sonic's hands, one of which we designed to give a thumbs-up gesture. The addition of a 'cape' brought in a dynamic, action-oriented element to the character.
Legs were straightforward, consisting of parallel lines, with added details like socks and Sonic's iconic shoes to complete the look. Finally, a burst of color brought our Sonic drawing to life, allowing for individual creativity and flair.
By following these 14 detailed steps, you're not just drawing; you're creating a piece of art that captures the essence of this iconic character. Happy drawing!