Welcome to our magical journey of drawing! Today, we'll be guiding you through a delightful experience as you bring to life one of the most enchanting creatures of all – the unicorn! 🦄 With simple steps and easy-to-follow instructions, you'll transform basic shapes into a beautiful unicorn that you'll be proud to show off. So grab your drawing tools, and let's get started!
Draw a Unicorn like an Expert: Top Tips from the Pros
Tips
Start with Light Lines: Begin your drawing using light pencil strokes. This makes it easier to erase and adjust as you go.
Use Quality Paper: If coloring, ensure you're using drawing paper that won't easily tear or smudge.
Practice Basic Shapes: Since the tutorial begins with circles and curves, practicing these on a spare paper can help in achieving smoother lines.
Personalize Your Unicorn: Once you've mastered the basics, feel free to add personal touches like stars, different hairstyles, or unique colors.
Potential Issues and Solutions:
Uneven Eyes:

Solution: Use a coin or any round object as a stencil to get perfectly round eyes. Ensure both eyes are aligned by drawing a light horizontal line as a guide.

Horn Proportions:

Solution: Before finalizing, lightly sketch the horn and see if its proportions match the head. If it is too large or small, adjust accordingly.

Leg Length Discrepancy:

Solution: Draw a horizontal baseline for where all the hooves should end. This ensures that all legs are of the same length.

Difficulty in Coloring Within Lines:

Solution: Opt for finer tip coloring tools for intricate areas. Practicing coloring on scrap paper can also help improve control.

Blended Colors Smudging:

Solution: Wait for one color to dry completely (if using paint or markers) before applying another next to it. For colored pencils, layer lightly and blend using a white pencil or blending tool.

Tail or Mane Not Flowing Naturally:

Solution: Look at references to horse manes and tails. Practice drawing flowing, wavy lines to achieve a more natural look.
Remember, drawing is as much about enjoying the process as it is about the final outcome. Every artist has their own style, and every drawing is a learning experience. Embrace the journey and have fun creating your unicorn! 🦄🎨
13 Easy Steps to Draw a Unicorn
Step 1: Draw The Uicorn'sMagical Eyes
Draw the Gaze: Begin with a circle shape for the eye. Within this circle, draw a slightly smaller circle for the iris. Step 2: Depth in the Eyes
Add Contrast: Shade the area between the smaller and the larger circle with black color, giving depth to the eyes.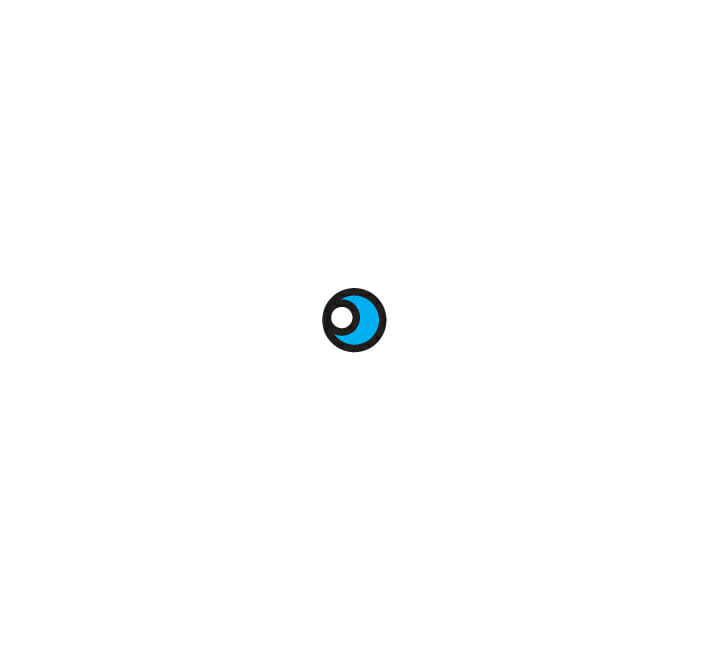 Step 3: Crafting the Unicorn Face
Shape the Head: Sketch the facial contours, making sure to add the mouth and nose to bring character to your unicorn.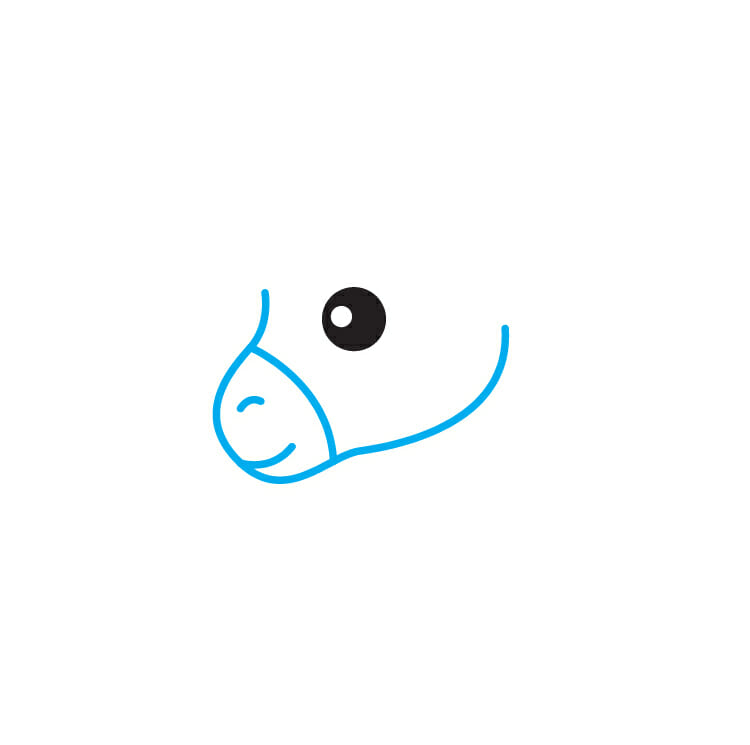 Step 4: The Unicorn's Pride – The Horn
Horn Creation: Draw a "V"-shaped horn protruding from the head. Add some intricate details within the horn for a touch of magic.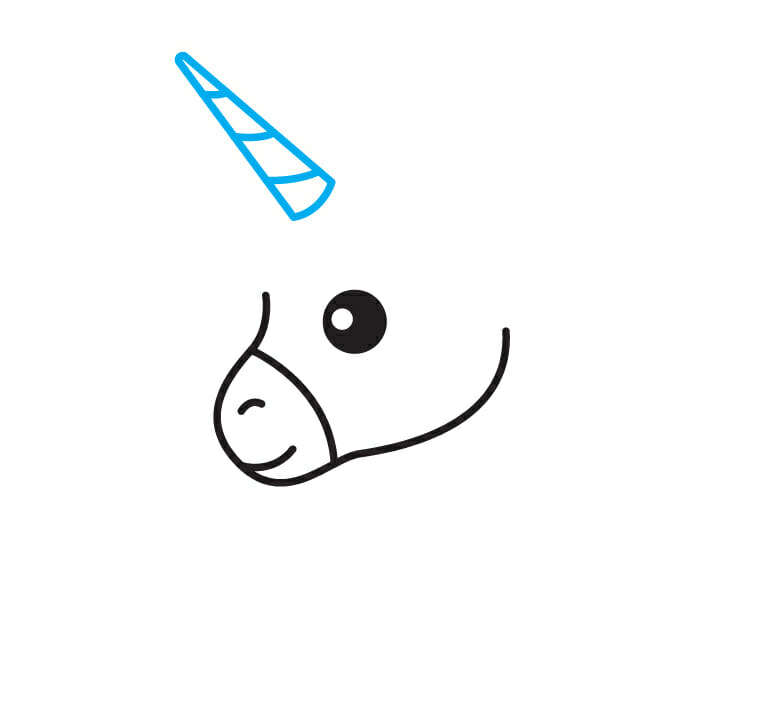 Step 5: Complete the Unicorn Head
Ear Details: Continue shaping the head, and don't forget to draw pointy ears that listen to the whispers of the wind.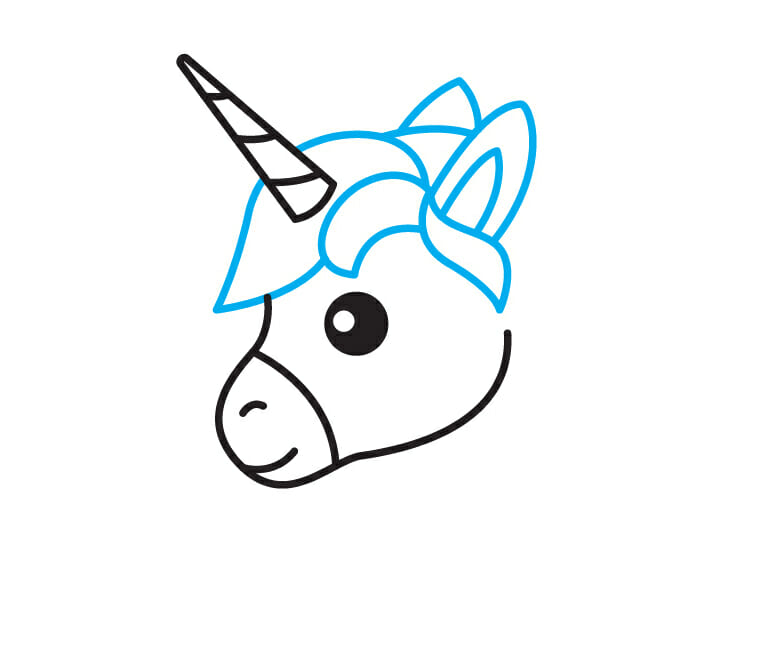 Step 6: Graceful Neck
Extend the Form: Draw two gently curved lines extending downwards from the head to form a slender neck.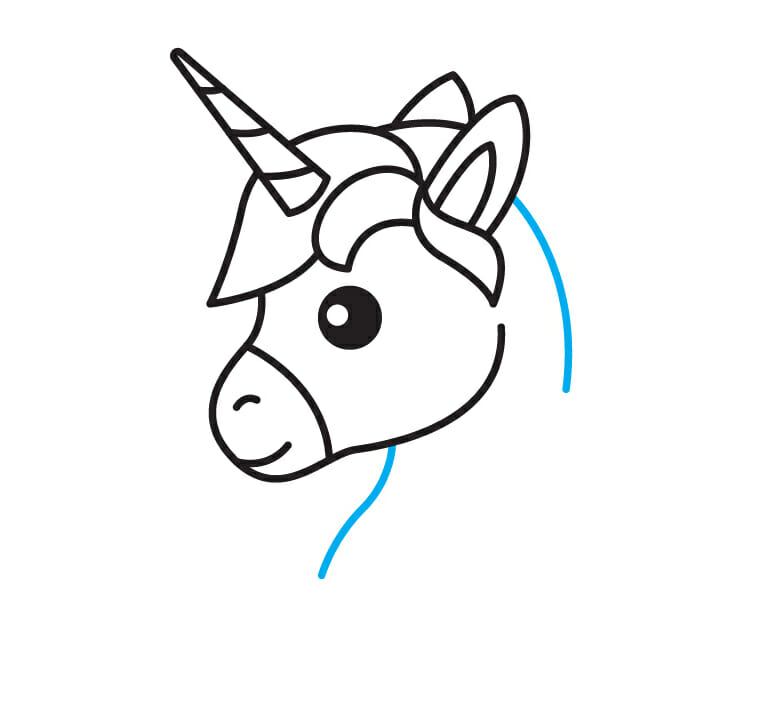 Step 7: Detail The Unicorn Mane
Added Texture: Incorporate some elegant details on the back of the neck to give it depth and dimension.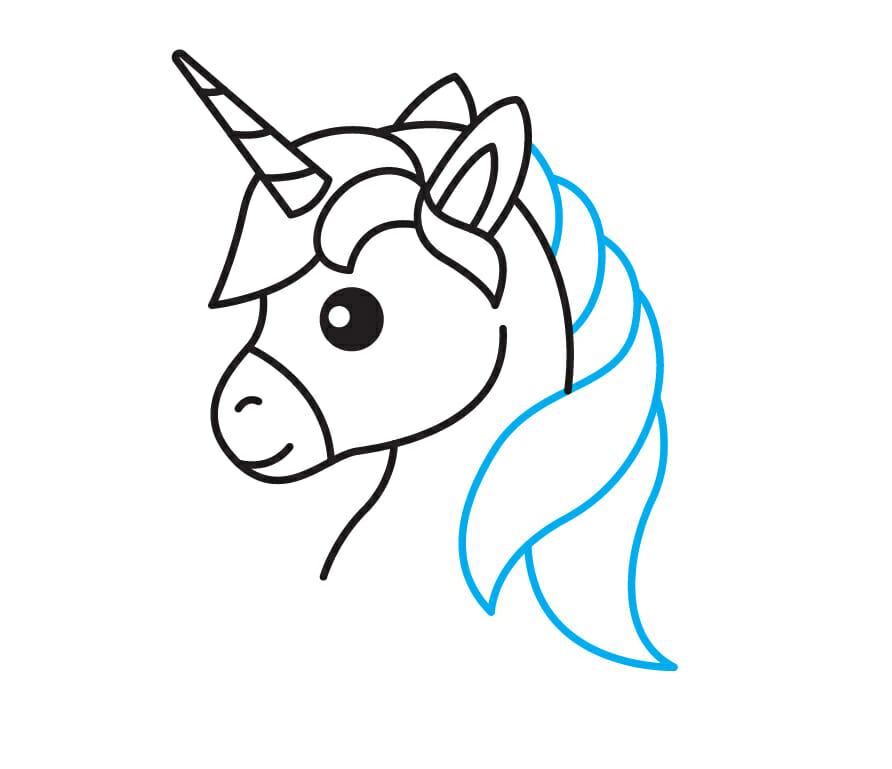 Step 8: Building the Unicorn Body
Front Leg First: Sketch out the upper portion of the unicorn's body and its front leg, capturing its strength and grace.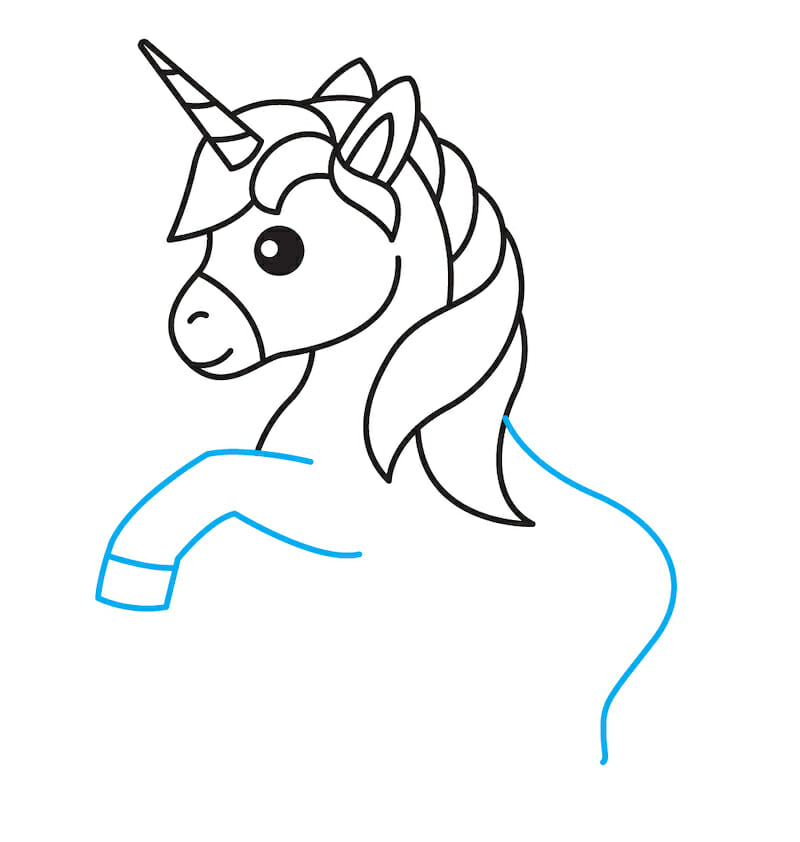 Step 9: Body and Support
Back Leg: Complete the body's outline with another curved line, and then draw the sturdy back leg.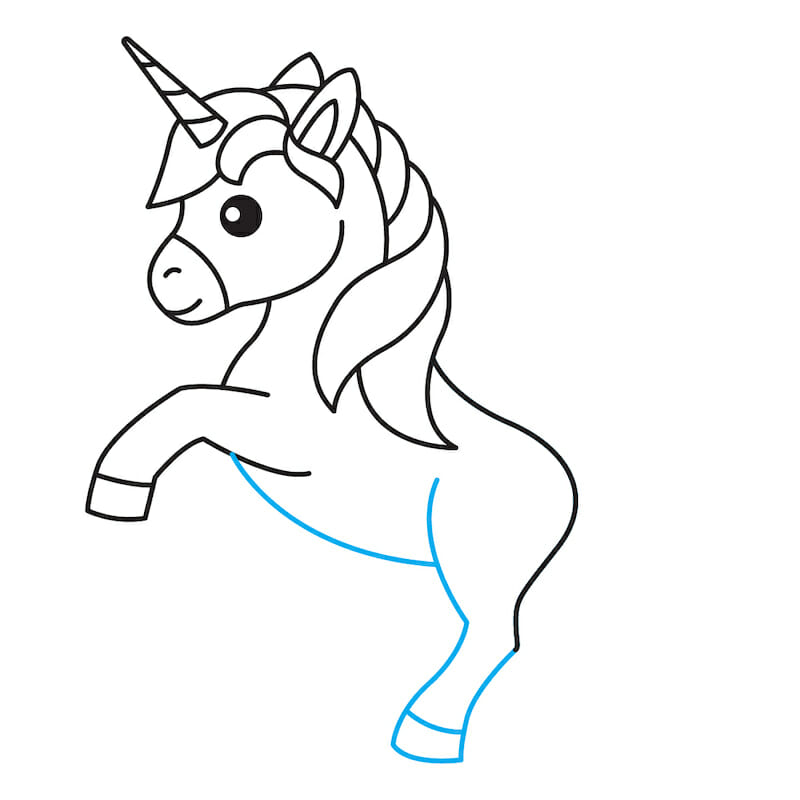 Step 10: Four-Legged Beauty
Stability: Add two more legs to balance out the unicorn, giving it a poised and perfect stance.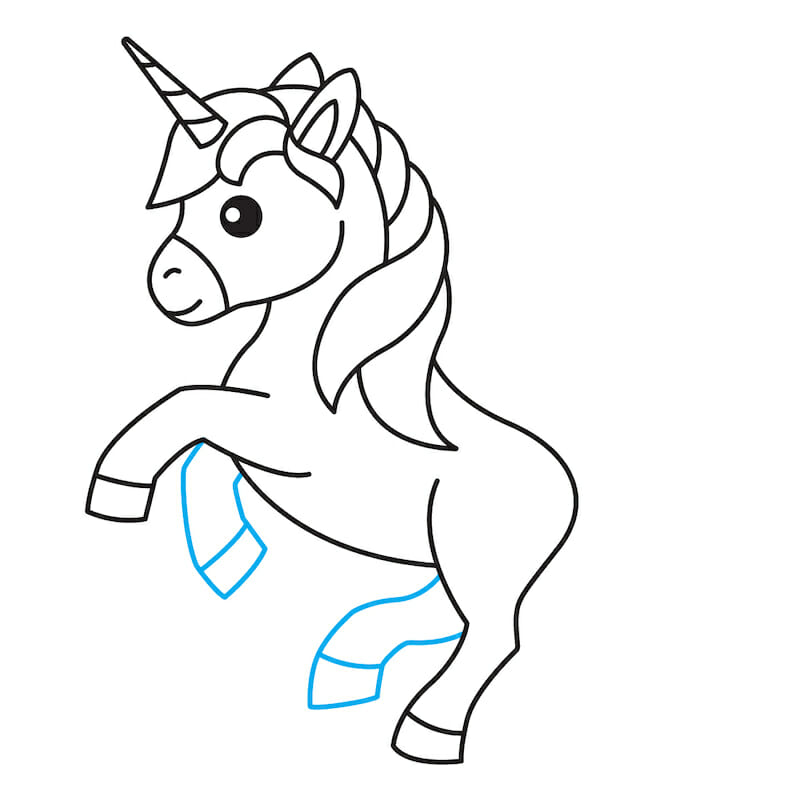 Step 11: Create the Unicorn Flowing Tail
Windswept Wonders: Draw a tail that comprises three leaf-like shapes, symbolizing its flowing beauty.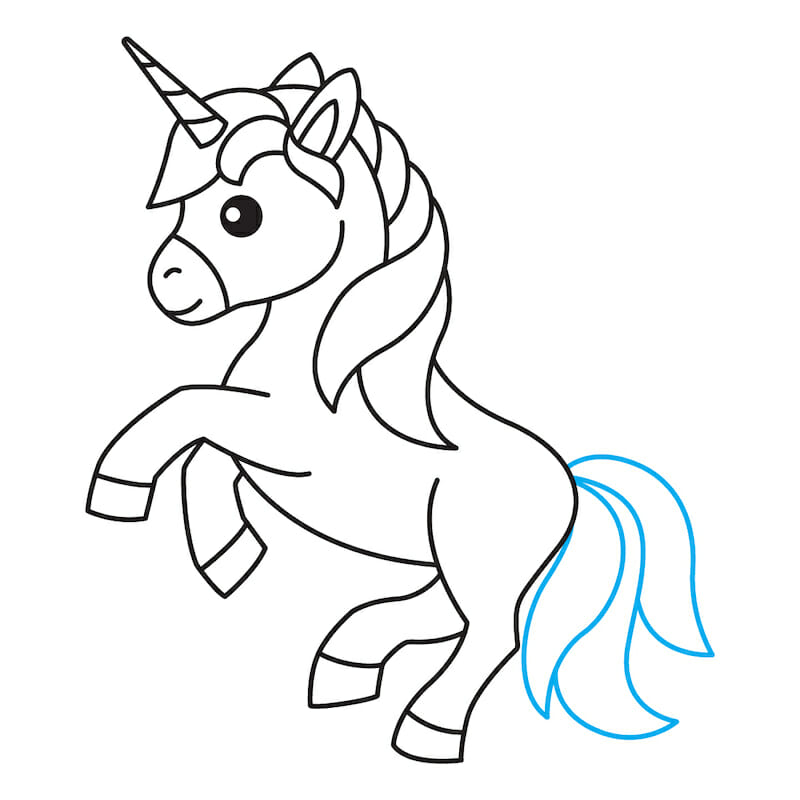 Step 12: Marvel at Your Creation
Take a Bow: You did it! Admire the magical unicorn you've created. Every line and curve has brought it to life.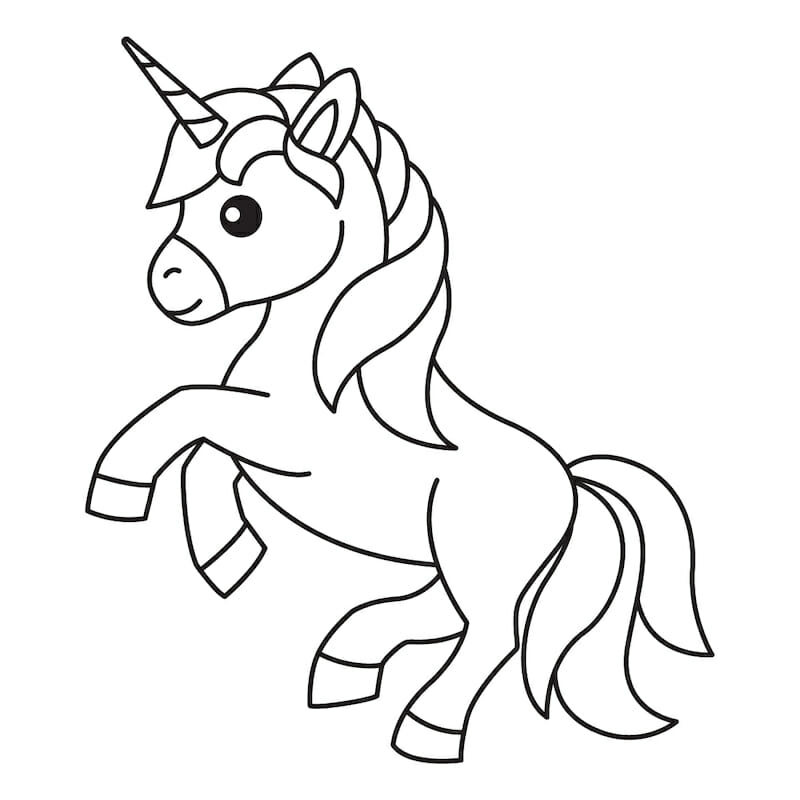 Step 13: A Splash of Color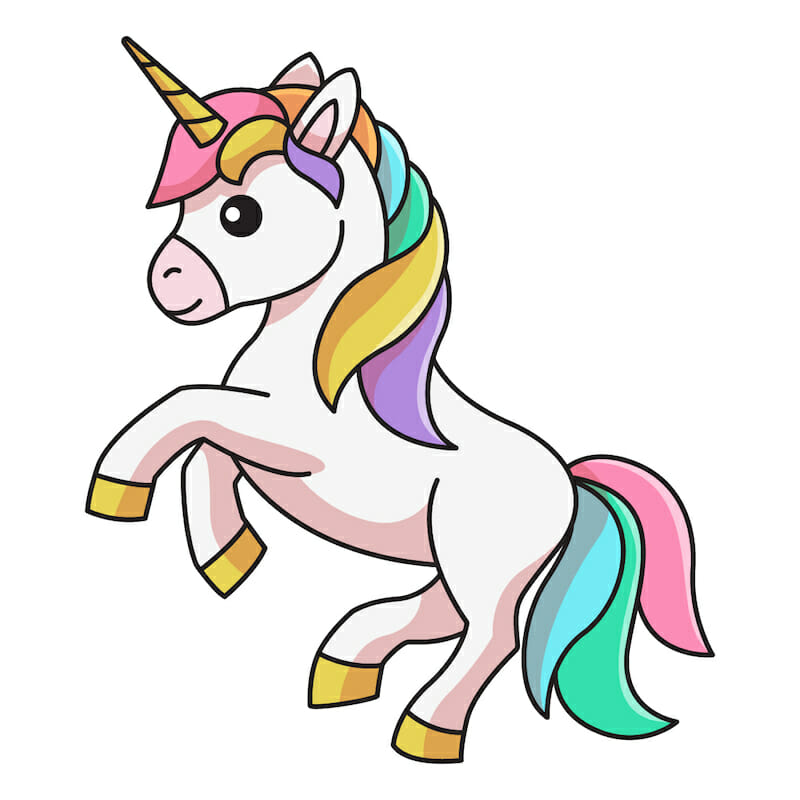 Vibrant Hues: Enhance your drawing's beauty by adding colors. Here are some example colors for reference, but feel free to let your imagination run wild!
How to Draw a Unicorn Full Video Tutorial
More Drawing Tutorials
Remember, every artist has their own unique style, so if your unicorn looks a little different, that's perfectly okay. It's your own magical creation! Enjoy the process, and keep drawing! 🌟🖌🎨