Crochet scarves are garments that never go out of style. They have been a unique fashion accessory for generations, and I'm sure you'd want to add one to your collection, too.
But with so many patterns available, it may be not very clear to shortlist one that is easy to make and takes little time.
Don't worry, I have curated a list of 30 free crochet scarf patterns suitable for all skill levels. Besides, they are the best handmade gifts to surprise your mother, friend, and anyone you're close to.
Crochet Scarf Pattern for Beginners
To make a crochet scarf requires less time, and there's no stitching or a complex shape to follow. So, it's a less complicated task than crocheting tops or sweaters.
Ready to try your hand at making your very own cozy scarf? Don't miss our beginner-friendly 'How to Crochet a Scarf' tutorial—it's the perfect starting point for anyone looking to dive into the crochet world!
Is Crocheting a Scarf Easy?
Yes, it is. Therefore, it can also be a fun project for complete newbies! It's more manageable, as scarves are worked in rows. Hence, you can practice the same stitch over and over again.
How Long Does It Take to Crochet a Scarf?
The exact duration depends on factors like scarf length, pattern complexity, hook size, thickness of the yarn, etc.
But yes, expect to finish a standard-size scarf in 4 to 6 hours max, even if you take short breaks in between!
What Crochet Stitch Is Best for a Scarf?
Is it your first crochet project? Then, a single stitch would be the most basic and easiest pattern to learn. Next, beginners can try the double and cluster stitch. These are slightly complex but create a lovely texture perfect for scarves.
Other stitches that look amazing on a crochet scarf are granite, wattle, shell, spike, and basketweave stitches, among others.
How Long and Wide Should a Crochet Scarf Be?
On average, a scarf is 60 to 70 inches long. The typical guideline says it should be about as long as the wearer's height. For the width, 6 to 8 inches is a common choice. These are only suggestions, of course.
What Materials Do You Need to Crochet a Scarf?
You only need a few basic materials to crochet a scarf and they might already be lying around your house. If not, you'll easily find them in any craft shop:
Yarn: Two to three skeins should be enough for a standard-size scarf.
Hook: The size of the hook depends on the yarn you're using and the pattern you want to create. (An 8mm hook is a good place to start for beginners).
A darning needle to complete the scarf. You can also use a plastic hook instead of a needle.
Best Yarn for a Crochet Scarf
With so many yarn options available, selecting the one that's best for your crochet scarf could be tricky. But the good news is that scarves are crochet garments that can be made from various types of yarn and still look amazing.
But to make sure your scarf retains its shape and quality for at least a few years, you need to pick a yarn that is: durable, split resistant, warm, and easy to wash.
Considering these factors, here are a few of the best options you can use:
Worsted: It maintains the shape and is thick enough to provide warmth.
Cotton yarn: It's best for summer or spring season scarves.
Wool: Very durable and great for making heavy winter scarves.
Acrylic: It's the most common choice, due to its durability, light texture, and it's easily washable.
Alpaca: If you want to make a fuzzier scarf, alpaca yarn is the best.
What Size Yarn Is Best for a Crochet Scarf?
For beginners, medium-weight yarn, like Worsted, would be an excellent choice. As stated, it's not too thick or thin, maintains the shape, and lets the detailing pop.
As you get comfortable with lighter yarns, you can try making a crochet scarf with other yarn varieties like wool or alpaca.
30 Free Crochet Scarf Patterns & Instructions
Here is an extensive list of 30 free scarf patterns that are pretty easy to follow and remember. These scarves will get your crocheting skills improved and prepare you for more complex projects like crocheting dresses, sweaters, or tops.
1. Basic Crochet Scarf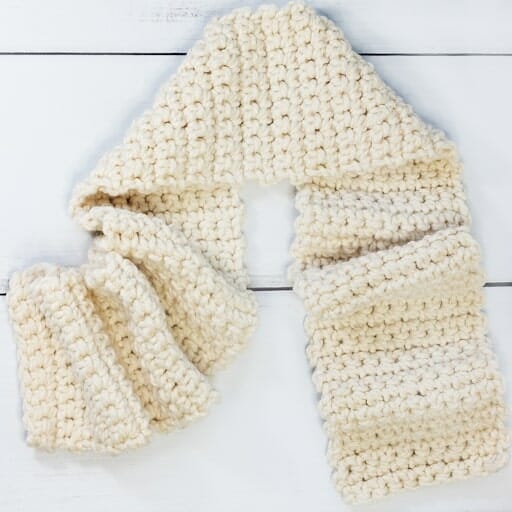 Image by Easycrochet
This simple crochet scarf pattern is perfect for beginners. It utilizes basic stitches and allows you to practice and perfect them while creating a warm, cozy wearable scarf.
Try making it with cotton, acrylic, or wool yarn, depending on how thick you want your scarf to be.
You can check out the complete pattern instructions here.
2. Infinity Crochet Scarf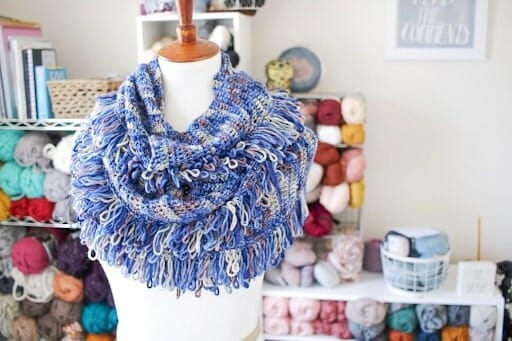 Image by Tlycblog
The infinity crochet scarf is made with half-double crochet stitches. These act as a perfect accessory to include in your collection. Also, the pattern is super easy to replicate. You just need to modify the basic crochet stitches, work them strategically, and voila! You can achieve the ribbed knit look.
Click here to get the detailed pattern.
3. Hooded Crochet Scarf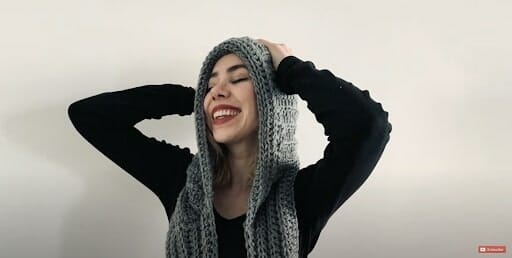 Planning to gift something special to a female friend? Opt for this hooded crochet scarf: a perfect combination of style and utility. The two-in-one accessory will keep your neck and head cozy during chilly days.
Watch the video below to learn how to make it.
4. Chunky Crochet Scarf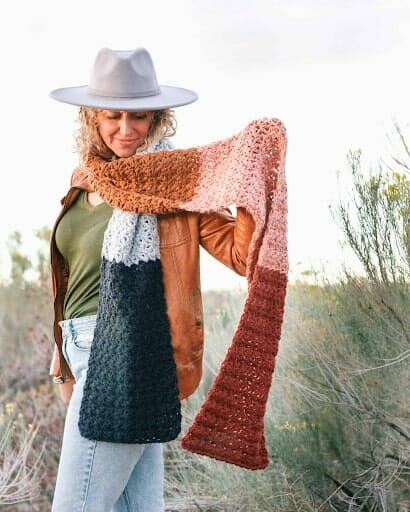 Image by Makeanddocrew
This chunky crochet scarf has a beginner-friendly pattern that goes well with any winter outfit. Try out multiple shades, as shown in the image, or just keep it in one solid color. And you know the best part? This comfortable winter neck warmer can be made within 4 to 6 hours.
Want to check out the free pattern? Click here.
5. Crochet Snood Scarf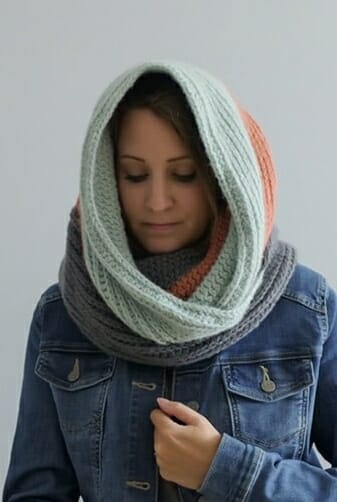 Image by Bhookedcrochet
Want to create a shawl that's elegant and stylish at the same time? Try the Snood scarf pattern. It sits comfortably on the shoulders and makes your outfit look sophisticated.
Opt for this scarf that you can wear in cold weather, as it's a fashionable accessory to cover your head.
You can get the complete scarf pattern here.
6. Tunisian Scarf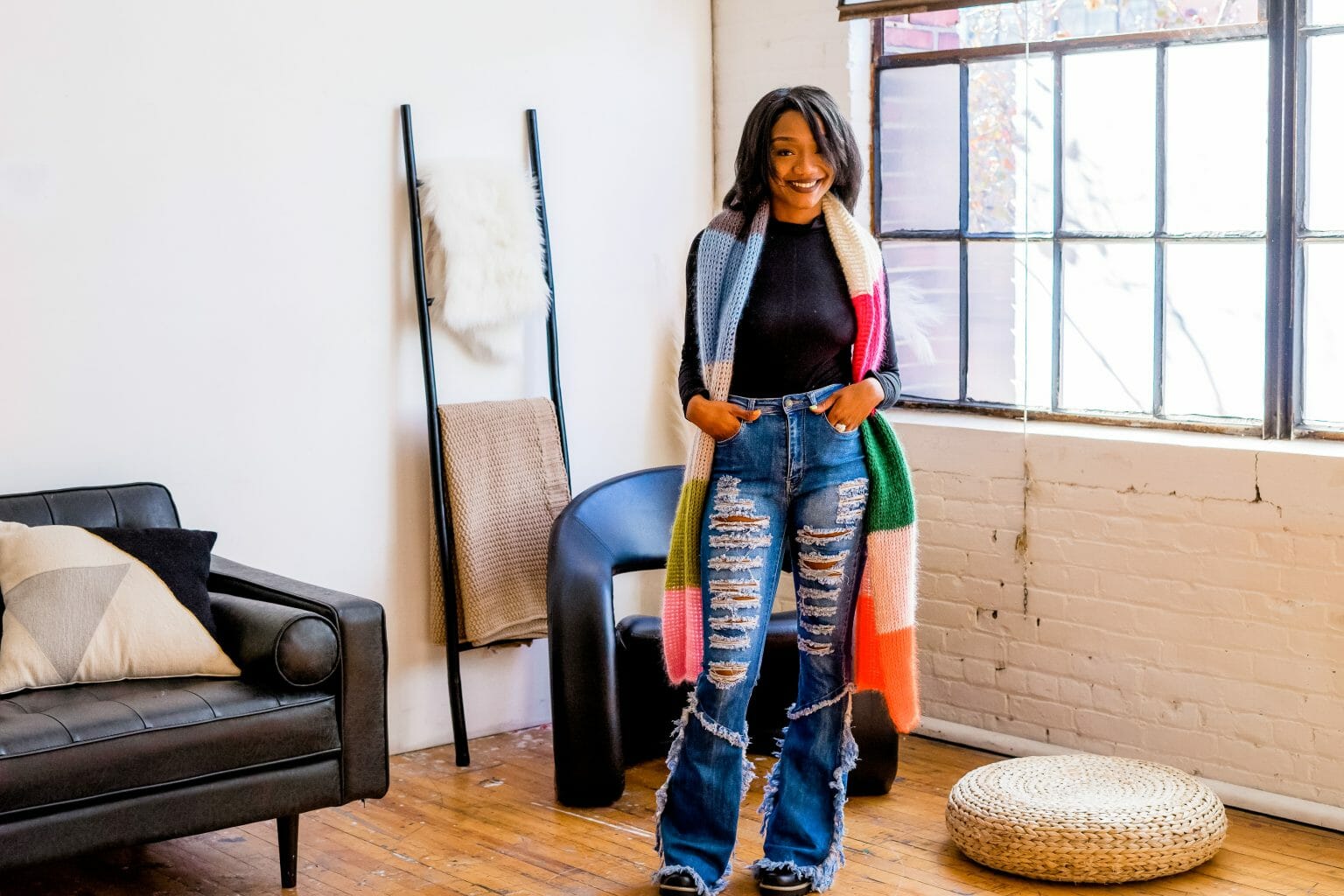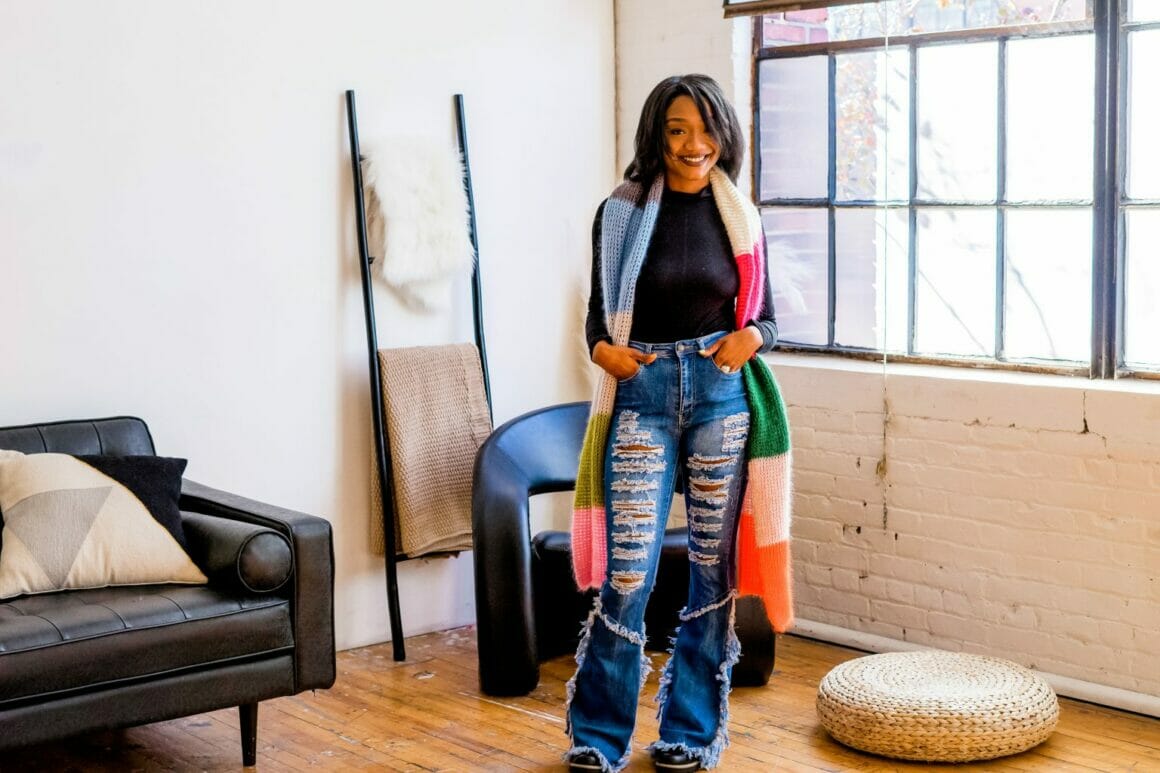 Image by Tlycblog
The Tunisian crochet scarf has a unique technique, like a blend of knitting and crocheting. The back-and-forth motion creates a dense and warm scarf, ideal for windy days.
Get the full pattern here.
7. Reversible Tunisian Scarf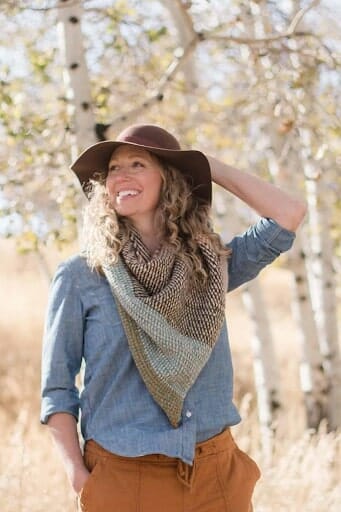 Image by Makeanddocrew
Want to ace your crocheting skills? Then try making this reversible Tunisian scarf with two unique sides and a triangular shape. Wear it over shirts or sweaters and paired with denim pants or trousers. And you will get the perfect look that you deserve!
You can get the complete tutorial here.
8. Easy V-Shaped Crochet Scarf Pattern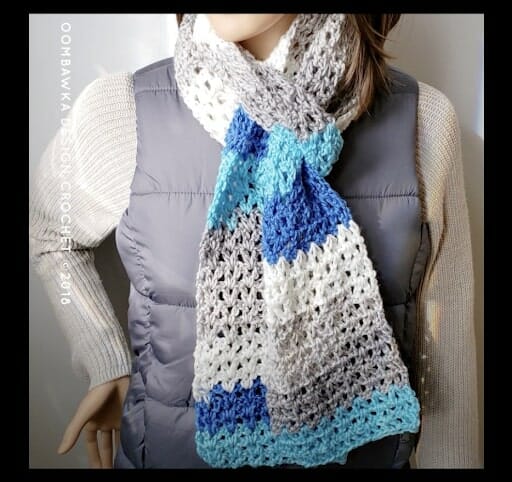 Want to add an intricate touch to a scarf? Then, opt for this V-shaped scarf pattern. It is great for beginners looking to try a new stitch while still keeping things simple. Use cotton or acrylic yarn to make it summer friendly, or use wool if you want a warm scarf for winter.
Check out the video tutorial below.
9. Cowl Scarf with Fringes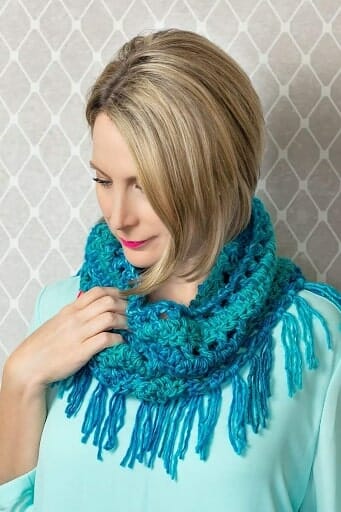 Image by Scatteredthoughtsofacraftymom
The cowl design is an excellent choice if you're looking for a snug-fit scarf. It's similar to an infinity scarf but sits closer to the neck. You need to know the single and double stitches perfectly to master this pattern.
The fringe enhances the look even more, but you can skip it if you want a minimalistic finish.
You can get the full pattern here.
10. 3-Button Crochet Cowl Scarf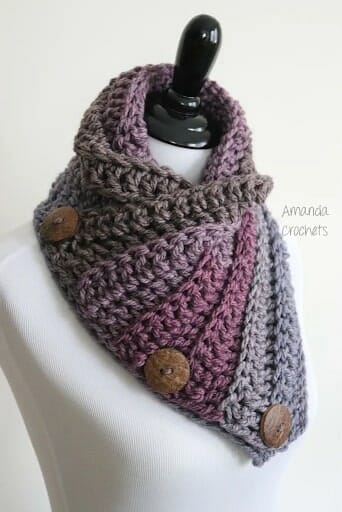 Image by Amandacrochets
This scarf pattern is an elevation of the previous design and comes with a twist. The three buttons give an adjustable fit and unique style statement. The scarf is a lovely combination of style and practicality.
Check out the complete pattern here.
11. Triangle Crochet Scarf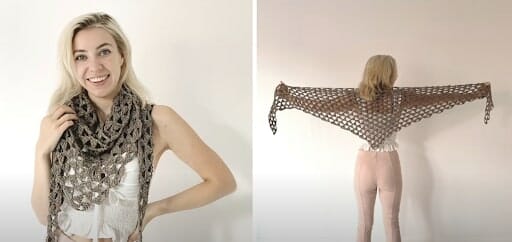 The triangle scarf is a stylish alternative to traditional ones. It's versatile and can be worn in various ways, adding a chic element to your attire. Besides, the unisex design makes it a perfect accessory for both men and women.
See below the videol tutorial.
12. Chevron Crochet Scarf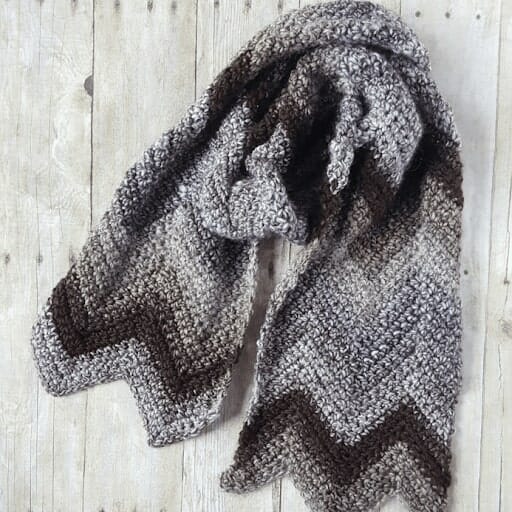 Image by Easycrochet
You must have seen or made chevron bracelets but have you ever thought of making a chevron scarf? The pattern creates the same zigzag design that is visually appealing and makes the perfect accessory to add to your casual wardrobe.
The vibrant pattern and unique design of the scarf are sure to make heads turn.
Check out the detailed pattern here.
13. Braided Scarf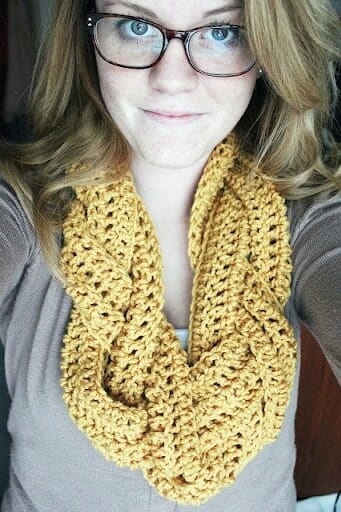 Image by Rookiecrafter
The braided crochet muffler brings a twist to the traditional pattern with its woven design. It's a chic and unique accessory, sure to grab the attention of crochet lovers.
You can get the full pattern here.
14. Oversized Blanket Scarf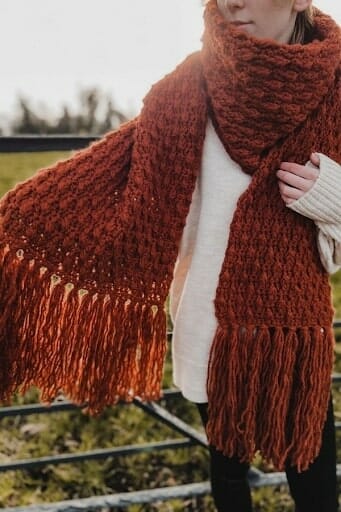 Image by Crochetwithcarrie
This large blanket scarf is a head-turner. It's basically a bigger version of a scarf designed to wrap around your body like a blanket. The design and size are perfect for those cold winter months when you want to keep yourself fully covered.
Check out the complete tutorial here.
15. Griddle Stitch Scarf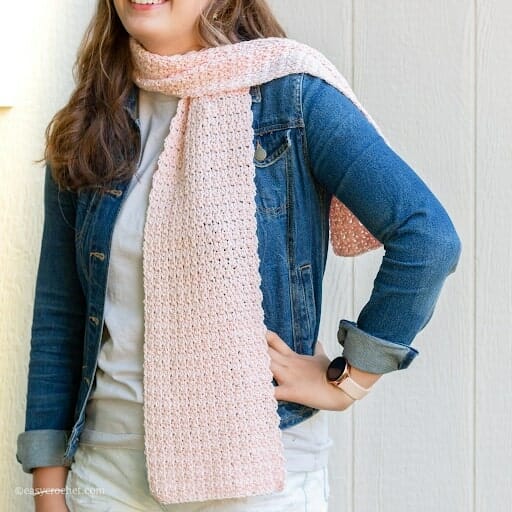 Image by Easycrochet
You can make this simple yet beautiful scarf with two simple stitches: a single crochet and a chain, making it one of the best crochet projects for beginners.
A 4mm hook works best for this scarf pattern, but you can adjust the size as per your desired outcome.
Check out the full guide here.
16. Striped Crochet Scarf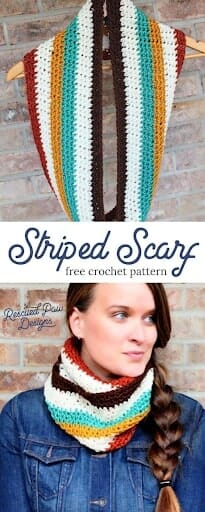 Image by Easycrochet
The striped scarf pattern is a timeless choice that never goes out of style. The design involves altering two or more colors to create the stripes. But if you prefer to have it monochrome, you can use neutral colors like grey, white, or black.
The scarf will add a splash of color to any minimalistic outfit and instantly elevate the look.
Click here to get the full pattern.
17. Surface Crochet Scarf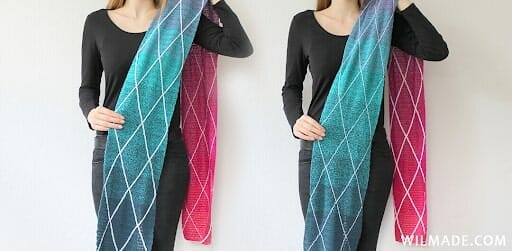 Image by Wilmade
You can make the surface scarf pattern by incorporating slip stitches into a basic design. The method enhances the appearance of a simple scarf pattern and is sure to complement any outfit.
What yarn you want to use is up to you, as the pattern looks great with both lighter and thicker varieties.
You can get the full tutorial here.
18. Puff Stitch Cowl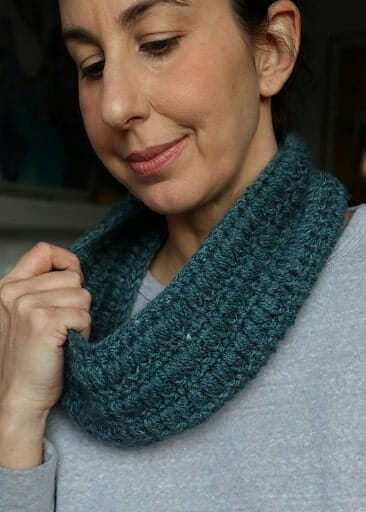 Image by Mypoppet
The puff stitch cowl scarf is one of my favorite designs because it's the perfect blend of style and coziness. The puff stitches create a texture that's classy and soft to keep you warm.
I would recommend using a chunky yarn, as it takes less time, and the puff patterns appear clearer.
Want to check out the full guide? Click here.
19. Sunset Peaks Crochet Scarf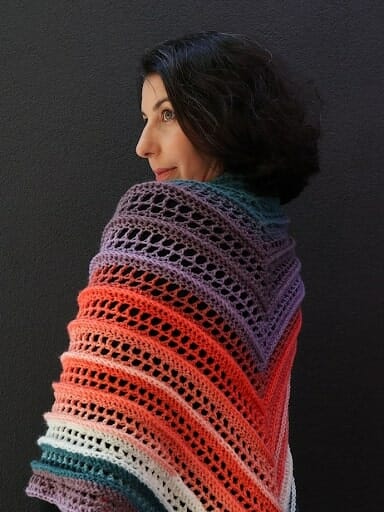 Image by Mypoppet
The sunset scarf pattern introduces a bit of variety to the traditional design and is perfect for those cooler evenings and transitional seasons. You need to use at least three to four different yarn colors to achieve the sunset look, but you can add more shades to make it even more vibrant.
The pattern may look a little complicated, but it is super easy to make using basic crochet stitches.
Click here for the detailed tutorial.
20. Spiral Net Ruffle Crochet Scarf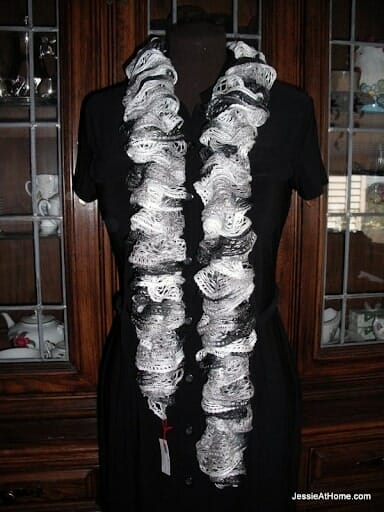 Image by Jessieathome
If you have already successfully made a basic crochet scarf and want to try your hands on an interesting project, you'd love to make this spiral ruffle design. The scarf resembles a boa and is crocheted in circular patterns, making it look like a spiral.
The design is pretty easy; you can finish it within a couple of hours.
Click here for the full tutorial.
21. One-Skein Scarf Pattern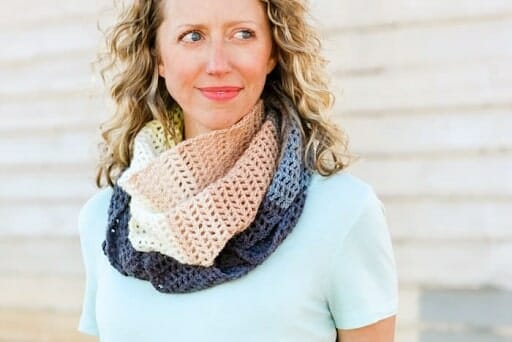 Image by Makeanddocrew
The one-skein scarf pattern is beautiful and fun to make. The design is straightforward, and you can finish the whole scarf in a single sitting. You can either make it in solid colors or add a couple of shades for an interesting finish.
Check out the full tutorial here.
22. Color Block Scarf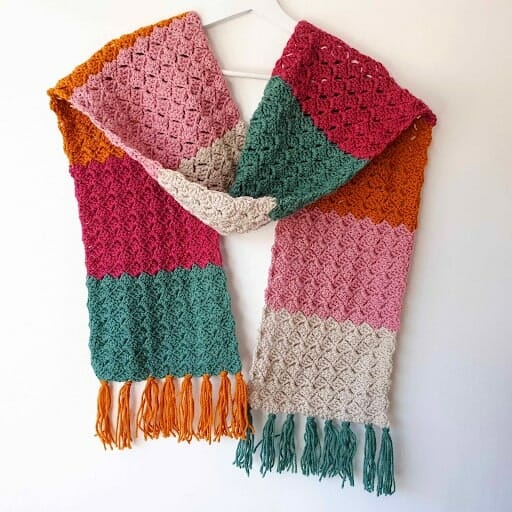 Image by Anniedesigncrochet
Do you have some extra yarn lying around your house? Don't let it end in the trash bin! Instead, make a color-block scarf out of it. This shell-patterned scarf is stylish, elegant, and the perfect accessory to gift your friend.
Want to check out the full pattern? Click here.
23. Ridged Statement Scarf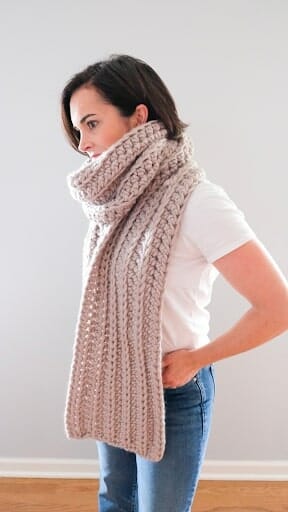 Image by Ashleylillis
Try your hands at this ridged statement scarf if bold and classy pieces are your thing. Make sure to only use chunky yarn for this scarf to make the design pop. This is the best accessory to layer on snowy days and keep your neck and ears covered.
Click here for the full pattern.
24. Granny Square Crochet Scarf Free Pattern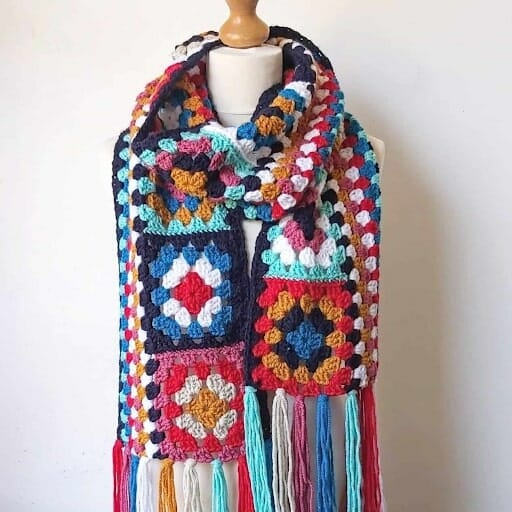 Image by Anniedesigncrochet
This scarf showcases the classic granny square technique. Individual squares are crocheted and then joined together, making this a fun and versatile project.
Click here for the free pattern.
25. Broomstick Lace Infinity Scarf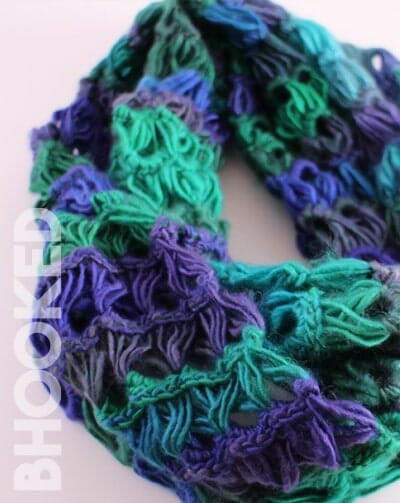 Image by Bhookedcrochet
The broomstick lace crochet scarf features a unique and vintage stitch pattern that creates a lovely, lacy design. It's a wonderful option if you're looking for a different look.
Click here for the full pattern.
26. Crochet Ruffle Scarf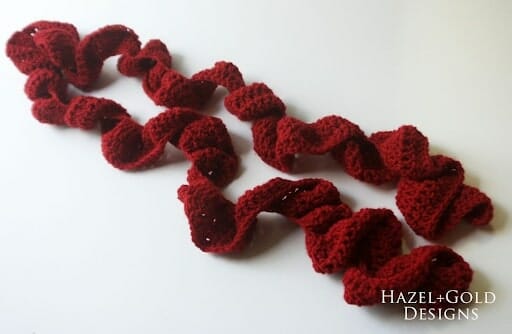 Image by Hazelandgolddesigns
The ruffle scarf is somewhat similar to the spiral pattern and is a must-have for all girls. It uses a special stitch to create the ruffle edge, adding a playful touch to the garment.
Click here for the free pattern.
27. Crochet Pocket Scarf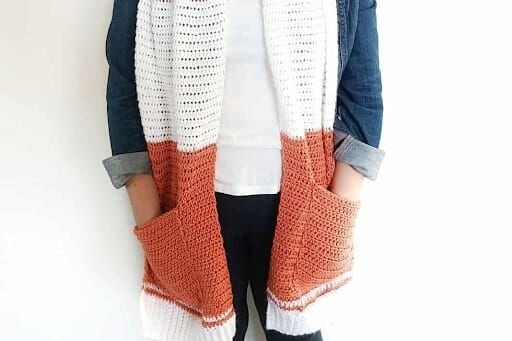 Image by Easycrochet
A crochet pocket scarf is a trendy and functional accessory. The added pockets can keep your hands warm or serve as a place to hold your essentials. Wool or alpaca yarn makes this scarf ideal for colder days. But if you want to keep it light and suitable to wear during transitional months, go with a cotton or acrylic & wool blend.
Click here for the complete tutorial.
28. Bobble Stitch Crochet Scarf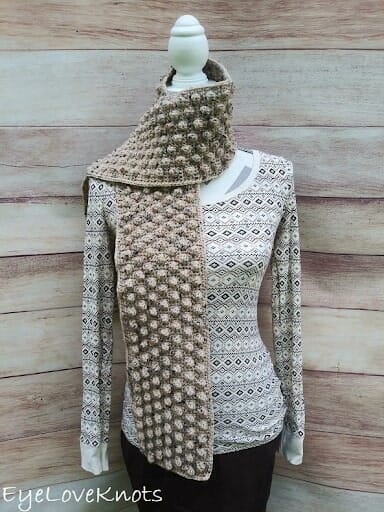 Image by Eyeloveknots
Bobble stitch scarves feature a unique, bubbly texture that's both fun and cozy. It's a great project for those wanting to try a different pattern.
Check out the full tutorial here.
29. Lacy Crochet Scarf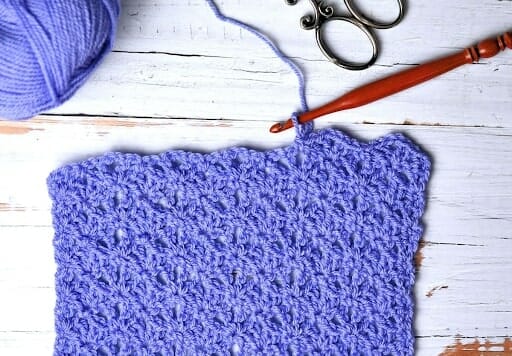 Image by Makeitcrochet
If you're a fan of lacy clothes, you'd love making a crochet lacy scarf. It brings a touch of elegance to any outfit, and the lightweight texture makes it perfect for spring or summer.
Click here for the complete tutorial.
30. Unisex Crochet Scarf Pattern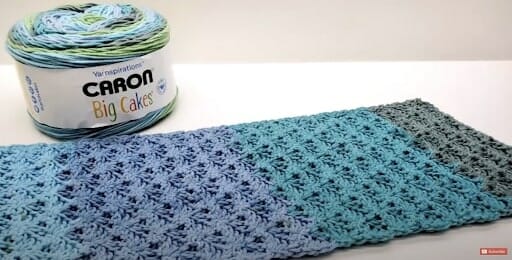 I'm concluding this crochet scarf pattern list with an amazing and unique shawl that will suit everyone. The simple design and neutral colors make it an ideal choice for both men and women.
Check out the video below for the full pattern.
More Free Crochet Patterns
Crochet Scarf Patterns: FAQs
Q: How Many Balls of Yarn Do I Need to Crochet a Scarf?
A: The amount depends on the stitch type and length of the scarf. Ideally, you need 1 ball or skein of yarn to make a short cowl scarf and 3 to 5 balls for a full-length scarf.
Q: Can You Crochet a Fringe for a Scarf?
A: Yes, you can crochet a fringe for a scarf. Fringes not only add a boho touch to your scarf but they're also pretty simple to create. Simply cut lengths of yarn and attach them to the ends of the shawl.
Q: How Many Stitches Do You Need to Start a Crochet Scarf?
A: The number depends on the width of the scarf you want to create. For instance, an average size design requires approx 35 stitches. But don't forget to refer to the chosen pattern, as the starting chain can vary greatly.
Q: How Long Is a Snood Scarf?
A: The ideal length for a snood scarf is 60 to 65 cm. Feel free to adjust it based on how you like it to sit on your neck.
Q: Is It Faster to Knit or Crochet a Scarf?
A: Crochetting is faster than knitting because it uses a single hook and larger stitches.
Related: 21 Stylish Free Crochet Crop Top Patterns
Conclusion
I hope you liked the crochet scarf patterns and are all ready to select the right one. Feel free to always change the hook size, yarn, and some elements of the scarf to give it a personal touch. The final product should reflect your personality, as well as your creative self.
Happy crocheting!