Designing your own crochet shawl can be a thrilling experience, and it's actually much easier than you think. Not only does it bring you the satisfaction of creating something unique, but these stunning accessories also have a timeless appeal that deserves a place in your accessories collection.
Moreover, crocheting a shawl is an ideal project for crafters of all levels, whether you're a beginner or an advanced enthusiast looking to showcase your crochet skills.
If you're passionate about creating intricate shawls and looking for some fresh patterns to embark on, we've put together a collection of 24 free crochet shawl patterns that are sure to capture your heart.
This well-curated list gives you the freedom to experiment with colors, stitches, and styles. And they are ideal for gifting or simply treating yourself with a new shawl.
Let's explore these amazing designs.
Tips for Crocheting Shawls
Crocheting a shawl is an art that allows you to express your creativity. However, to ensure you create a functional accessory, you must keep the following tips in mind:
Understand the pattern thoroughly before diving into the process straightaway.
Choose the right yarn considering the season, occasion, and desired look and feel of the shawl.
Don't ignore the gauge because it's crucial for achieving the right size and look.
Always finish the edges well; otherwise, the shawl may look poorly done.
Don't skip blocking your shawl because the process relaxes and sets the fiber, giving the shawl its shape.
What Are the Basic Crochet Shawl Shapes?
You can make a crochet shawl in various shapes and sizes, as there are numerous patterns to choose from. The most common shapes include: triangular, rectangular, round, side-to-side, and asymmetrical.
What Is the Average Size of a Crochet Shawl?
A standard rectangular or triangular shawl typically measures between 60 inches in length and 26 to 30 inches in width. But you can adjust the size as per your style and intended use.
Related: 15 Crochet Bag Patterns & Kits For Beginners & Seasoned Crocheters
What Is the Best Crochet Stitch for a Shawl?
The double crochet stitch is best for making shawls because it's a taller stitch that makes crocheting very easy. The double pattern is also great for making warm dense shawls.
Related: 30 Free Crochet Scarf Patterns for All Skill Levels
Materials Needed to Make Crochet Shawls
You'll need the following materials to crochet a shawl:
Yarn
Stitch markers
Tapestry needle
Scissors
Measuring tape
Related: 32 Free Crochet Sweater Patterns For All Seasons
Pick the Right Yarn for Your Crochet Shawl
The yarn you choose can make a significant difference in the final product. Therefore, you need to consider the season and stitch details while picking it.
For instance, lightweight yarns like cotton are ideal for making breathable summer shawls. If you want something that's easy to care for, durable, and suitable for everyday wear, go for acrylic yarn.
Wool and acrylic blend yarn is best to make warm winter shawls to keep you cozy. Most crocheters don't recommend using 100% wool because it's harder to wash and can feel itchy on the skin.
But if the above factors don't bother you, you can go ahead with 100% wool yarn as well.
Related: How to Crochet a Basic Beanie Hat – Video Tutorial
How Much Yarn Do I Need for a Crochet Shawl?
You need 3 to 4 skeins of yarn for a standard crochet shawl. Don't forget to check the pattern instructions to not run out of supplies.]
Related: 27 Free Crochet Top Patterns & Tutorials
24 Free Crochet Shawl & Wrap Patterns
I have shortlisted some of the most trending crochet shawl patterns you would love to make as well as wear. From rectangular, circular, to semi-circular, my list has designs that will surely spoil you for choices.
1. Echo Shawl Crochet Pattern
This cute little scarf is one of the best fashion accessories to own. It's not too long and perfect for any weather. I prefer making the echo scarf with lighter yarn like cotton or acrylic to make the design pop.
Click here for the step-by-step instructions.
2. Crochet Triangle Shawl Pattern
The triangle shawl is a fun and unique piece of accessory to add to your collection. The pattern looks classy and goes well with different outfits. Use multi-colored yarn to achieve an ombre look. If you wish to keep it simple, go with solid colors. 
Check out the full free pattern here.
3. Simple Puff & Lace Triangle Shawl Pattern
The scarf's design may feel like the pattern is too complicated to crochet, but it's easier than you think. This exquisite shawl is made with a combination of double crochets and basic puff stitches. There might be a couple of trial-and-error sessions before you memorize the pattern correctly.
Get the complete tutorial here.
4. Basic Rectangle Shawl Pattern
Wrap yourself in this soft, cozy, and extremely stylish rectangle shawl that can elevate any outfit. Make this scarf a little longer than usual to use as a throw blanket. But you're free to adjust the dimensions as per your liking.
Check out the full pattern here.
5. Mimic Crochet Shawl Pattern
This beautiful shawl is made with a combination of V-stitch and moss stitch. It's lightweight, airy, and perfect to use as a cover when it's windy.
But the best part is these mimic shawls look amazing with thicker yarns like wool, so you're free to make a cozier, warmer variety of it.
Want to check the full pattern? Click here.
6. Scroll Lace Scarf Pattern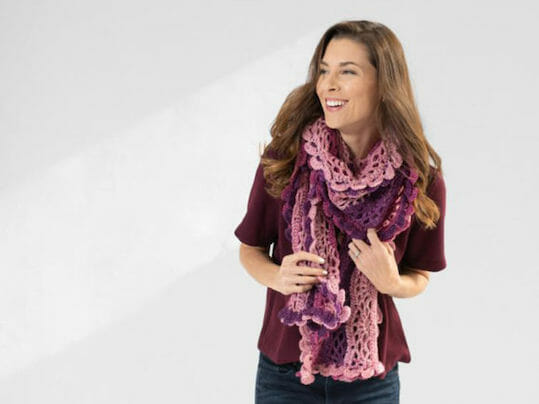 You can wear the scroll lace scarf from both sides, and that's the beauty of it. Well, you need to have some amount of experience to craft this timeless beauty. The shawl looks best when crocheted with worsted yarn and a 6mm hook.
Click here for the full tutorial.
7. Fade Wrap Scarf Pattern
Fade wraps are everywhere, and you'll find every girl owning one. While the OG design requires knitting, you can make a crochet one too. The design is classic and suitable for any age and gender. Pair with a turtle neck top and a pair of plain denim pants, and you're good to go.
Get the free tutorial here.
8. Agape Wrap Crochet Shawl Pattern
I love everything about this scarf. It's chic and minimal, and this particular shade enhances the granny wrap patterns so well. The design works best with cotton yarn, and I recommend using a chunky hook to enhance the design.
The best part is you can wrap it around like a scarf top and pair it with a mini or maxi skirt, and have your perfect spring/summer outfit ready!
Here is the complete tutorial for you.
9. Pocket Wrap Shawl Pattern
We love pockets in everything, so why not add them to shawls? This design is made with a combination of single, half-double, double, crossed half-double, star stitch, and SC patterns. Does it sound too complicated to attempt?
Don't worry; making this shawl is not as complex as it sounds, and the project is suitable for advanced beginners to intermediate crocheters.
You can check out the detailed pattern here.
10. Simple Striped Shawl Pattern
Next up, we have the classic striped shawl, and I'm sure you have seen it on everyone. Striped crochet shawls are one the best projects for newbies to get started. They require basic stitches and can be made with a variety of yarns.
This particular design takes less time, and you can complete one within a few hours.
Take a look at the full pattern here.
11. V Stitch Triangle Shawl Pattern
Advanced beginners would enjoy making this V stitch shawl. You'll be working with open stitches, thin yarn like cotton, and preferably a 3.5mm crochet hook to achieve the design. While it looks amazing when crocheted with multicolored yarn, you can work with just a single shade as well.
Interested to see the full pattern? Click here.
12. Dewdrop Crochet Wrap Shawl Pattern
Looking for a simple, sophisticated, and elegant pattern? Look no further than the dewdrop crochet wrap. The shawl is perfect for spring, summer, or windy days. My favorite element of the shawl is the scalloped border that adds a feminine touch to it.
The pattern is pretty simple, so the project is suitable for beginners to advanced crocheters.
Get the complete tutorial here.
13. Isle Wave Wrap Pattern
Keep yourself warm and cozy with this isle wave wrap scarf. The pattern is on the chunkier side; therefore, using a thicker yarn would give a desirable outcome. You're also free to mix and match multiple shades or keep it neutral, as seen in the picture.
See the full pattern here.
14. Alannah Shawl Pattern
This beautiful scarf requires only double crochet patterns, making it a perfect project for beginners. The colorful design, along with the fringes, adds a playful touch to any outfit. The pattern looks amazing with both thick and thin yarn, so you can make it considering the usage and climate of your area.
Here is the full pattern for you.
15. Wren Sideways Shawl Pattern
Want to try something different from the everyday shawl? Check out this wren design that is crocheted sideways by combining single crochet, chain stitch, double crochet, and puff stitch. The navy blue color enhances the overall look and would look trendy over a plain dress or basic top.
Get the complete pattern here.
16. Beginner Triangle Shawl Pattern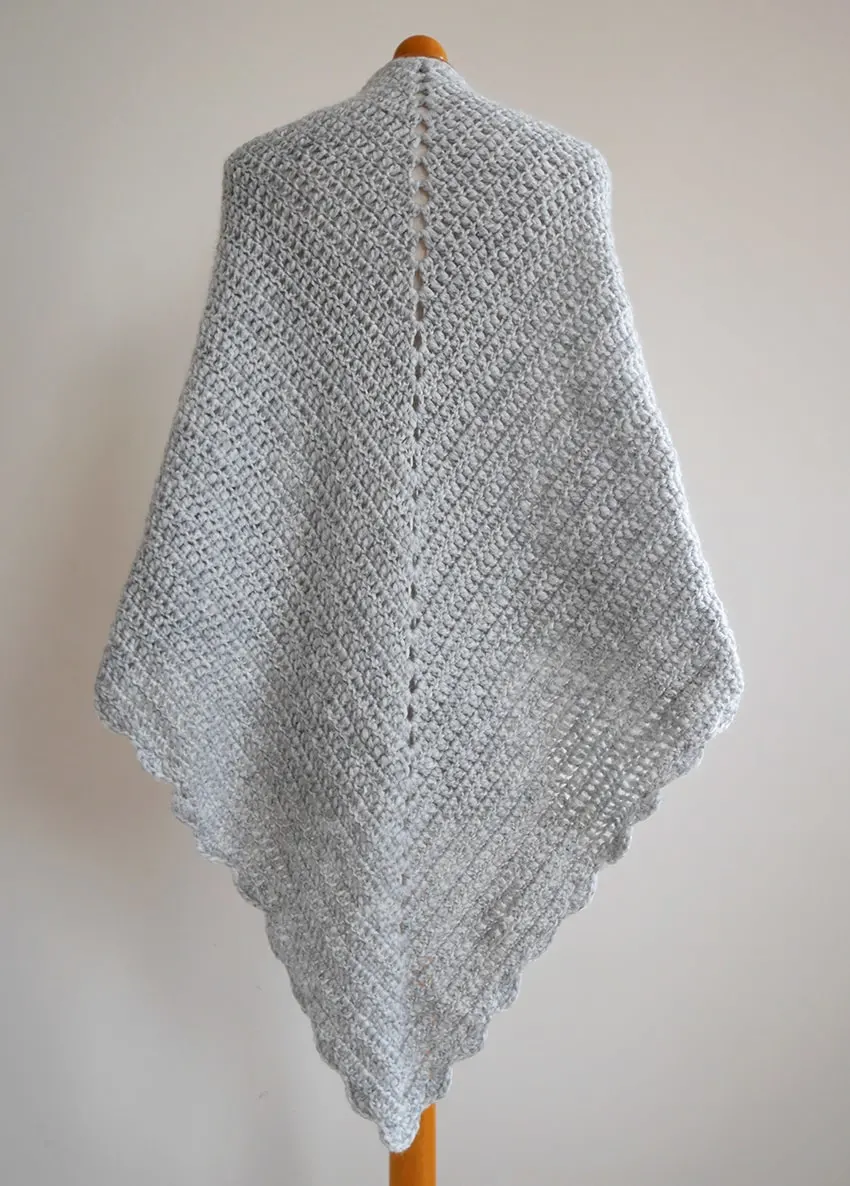 Perfect for those starting their journey into the world of knitting, this shawl is exceptionally easy to make. You can replicate the design by combining chain and single stitches and adjusting the size depending on how big or small you like it to be.
Use worsted yarn if you want a summer-appropriate shawl, or use wool yarn for a fuzzy, cozy finish.
Curious to see the full pattern? Check it out here.
17. Crochet Cake Yarn Shawl Pattern
Like layers of colorful frosting, this shawl features a vibrant mix of colors. You can make this with any cake yarn, preferably with a lighter variety like cotton or worsted to enhance the overall look.
The texture should be not too thick or thin and warm enough to keep you comfortable in the windy or transitional season.
Click here for the full pattern.
18. Popcorn & Puff Stitch Crochet Shawl Pattern
Wrap yourself in a cozy charm with this popcorn and puff stitch crochet scarf. As you can tell, the design requires popcorn and puff stitches along with a few other basic patterns such as chain, slip stitch, double crochet, etc.
Due to the intricate combination of stitches, the project is suitable for advanced beginners and more appropriate for intermediate crocheters.
Here is the free pattern for you.
19. Venus Shell Shawl Pattern
Inspired by the ocean's treasures, this delicate shell shawl mimics the seashell patterns. This one requires easy stitches and can be worked in a one-row pattern; hence, it's a great project for those about to test their crocheting skills.
The shell stitches not only create a beautiful texture, but the scarf is warm enough to keep you cozy.
Get the detailed pattern here.
20. Wishing Well Wrap Crochet Shawl Pattern
This is one of my favorite scarves due to its colorful, vibrant, and easy-to-make pattern. The design may look complicated, but it has a simple combination of double crochet and chain stitches.
Use a color-changing yarn to achieve the desired look and adjust the size based on how big or small you like the scarf to be. Don't forget to add fringes for a more playful touch.
Click here for the detailed guide.
21. Serenity Crochet Shawl Pattern
The graceful design and stunning craftsmanship make the serenity shawl a perfect everyday accessory. The design is particularly suitable for those who love muted and minimal patterns.
You need to master corner-to-corner lace stitches to make this soft lace-looked scarf. Use lace-weight yarn for the best output.
Check out the full pattern here.
22. Durable Friendship Shawl Pattern
The large size and plush texture of the shawl provide ultimate comfort and warmth. Finished with a puff-stitch border, the design is modern, chic, and elegant. This oversized shawl could be the perfect accessory to add to your collection to keep yourself warm and snug, especially during those harsh winter days.
Check out the full pattern here.
23. Timeless Shawl Pattern
The everlasting charm of this timeless shawl will never go out of style, which is why you must try your hands at making one. You'd need to use some cake yarn to replicate the design. I prefer using lighter yarn varieties as these colorful shawls are best worn during spring/ summer.
Here is the detailed pattern.
24. Kaleidoscope Shawl Pattern
There is no better style than the kaleidoscope one to end this free crochet shawl list. It's a vibrant multi-colored scarf with intricate detailing. As you can tell from the picture, the design requires some skill, so the project is best suited for intermediate or advanced crafters.
You can check the detailed pattern here.
Related: 6 Best Beginner Crochet Kits in 2023
Crochet Shawl Patterns: FAQs
Q: Is it easier to knit or crochet a shawl?
A: Crocheting a shawl is faster than knitting. Also, correcting your mistakes while crocheting is easier compared to correcting a wrong knitted pattern, making the process faster.
Q: What are the measurements for a crochet shawl?
A: The measurements will vary for different styles and shapes. For example, a rectangular or triangular shawl is around 60 to 70 inches long and 18 to 20 inches wide. The measurements for different designs are usually mentioned in the tutorials.
Q: How many hours does it take to crochet a shawl?
A: The time required would be different for every pattern and skill level. On average, it should take about 4 to 10 hours.
Q: What is the most popular shawl shape?
A: The most popular shawl shapes are: triangular, rectangular, crescent, circle, and semi-circle.
Conclusion
I hope you found some excellent options in this list of 24 free crochet shawl patterns. Make sure to follow the tutorial correctly and use the right materials to achieve excellent results. I am curious to know which style you liked the most and how your shawl turned out in the comments.